6 Best Vegan Birthday Cakes & 3 Tasty Alternatives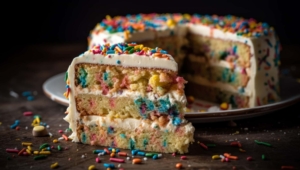 You may follow a vegan diet for ethical reasons or have dietary restrictions. Regardless of what's behind your choice, you deserve a birthday cake that's as good. Better yet, enjoy a cake that's better than your bog-standard 'ordinary' cake with these great ideas below.
Dry, boring-tasting vegan cakes are a thing of the past. Modern plant-based cakes are delicious with creamy, decadent fillings and toppings.
These cakes are virtually indistinguishable from ordinary birthday cakes. Whether you're baking for a birthday boy or birthday girl, here are our top vegan birthday cake ideas.
Vegan Birthday Cake Ideas for Boys
No matter their age, everyone wants a birthday cake that'll make them smile. Cakes for boys tend to be on the plainer side, but they shouldn't be. Boys want fun birthday cakes as much as girls do; doubly so if they're having a vegan cake.
Vegan birthday cakes for boys definitely don't need to scrimp on style and 'fun' factors. Our top cake ideas below prove that in a heartbeat.
Game Console Controller Cake
This is a simple yet very effective cake idea. It's unusual yet so easy to replicate, you'll wonder why you've never thought of it before.
Just follow our basic vegan cake recipe below and frost using your favorite vegan icing. Use white or plain-colored frosting, as this works best. Don't worry too much about making it look perfect.
Next, add a fondant game controller to the top of the cake. Place it slightly off to one side so you have enough space to write a happy birthday message on the top of the cake.
Fondant figurines are readily available online or in cake shops. If you want to get creative, you can make your little controller ahead of time. Properly stored fondant can last up to 2 weeks at room temperature.
Safari Cake
If you're baking a birthday cake for a younger boy, this safari cake will be a huge hit. Simply follow our basic recipe below. Coat the outside of the cooled cake with your favorite vegan frosting.
Then add fondant figurines to the top of the cake. Giraffes, monkeys, elephants, and palm trees are all great choices.
Finish with a numbered cake topper made out of fondant or wood. These make great smash cakes for first birthdays as well. Just be mindful of removing any hard fondant items before letting your little one get their hands into the cake.
Airplane Cake
This is a great cake for both grown-up birthday boys and children alike. To make it, first follow our basic recipe below. Once your cake has fully cooled, you'll need to make your frosting.
Mix your favorite vegan icing recipe or readymade frosting with a little bit of blue food coloring. Frost the cake and add a few white sugarpaste 'cloud' cutouts. If you want to get a bit more creative, you can even use cotton candy for your clouds.
You can easily make these using a simple paper stencil. Add a small fondant airplane to the top of the cake as well as a numbered candle or cake topper, and you're done. Fondant figurines can either be made by yourself or you can buy them online.
Vegan Birthday Cake Ideas for Girls
Most girls love birthday cake, regardless of their age. Whether they're turning 3 or 83, a nice, homemade birthday cake just shows how much you care.
We've compiled our top ideas for vegan birthday cakes the girl in your life will love. These are all easily crafted using our basic recipe, and will look impressive regardless of your level of skill.
Cute Farm Animal Cake
This is a great cake for little girls. It looks impressive, yet really isn't that hard to make. Make our basic recipe below, but bake an 8-inch and a 6-inch round cake tin.
Decide on farm animals you'd like to make and color some fondant icing or frosting with a little bit of food coloring. For instance pink for a little pig, white for a sheep, and brown for a horse.
Next, coat each layer in the frosting of your choice. Cover in a layer of fondant, if you choose to add this. Now add ears and a face for each animal, before stacking them on top of each other. You can double our recipe below to make more layers, for more animals.
Confetti Birthday Cake
Confetti cake is one of the easiest and most fun birthday cakes you can make. This vegan version is no less of a showstopper than its regular counterparts. To make it, start by baking our basic vanilla cake recipe below. Stir some multicolored sprinkles into the batter and bake as normal.
Once your cake is done baking and cooling, frost using your favorite vegan vanilla icing. The whiter the icing, the better. Now add sprinkles around the lower half of the cake. If you like, add more sprinkles to the top. Top with a numbered cake topper candle or wooden topper. Simple, yet so effective.
Say it with Flowers
This is another easy cake design that's really impressive when it's finished. It's also easily the girliest cake here, so it's sure to be a hit with many birthday girls. Make our birthday cake recipe below.
You can add a little bit of orange flower or rose water to the batter to make it extra special. Just be sure not to add too much or your cake will taste too floral.
Once you're done baking the cake and it's fully cooled, frost it with softly pink colored icing. You may add a drop or two of the rose or orange flower water to this as well.
Decorate using organic edible flowers or organic roses and petals. If you like, you can add some edible glitter or caramelized pistachios as well.
Simple Vegan Birthday Cake Designs
As you can see, it's simple to create a birthday cake design that is both stunning and vegan. If you follow our basic recipe below to the letter, then let it cool thoroughly before frosting and decorating it, you're already halfway there.
If you want to change the design ideas we've given slightly, you can do so as well. Instead of using multicolored sprinkles, stick with one color or one type of sprinkles. Instead of using flower waters to flavor your cake, use different essences or even alcohol (if you're making an adult cake.)
Edible flowers, sprinkles, and added fondant figurines can be used interchangeably or together to make a design that's uniquely yours.
The key takeaway should be that you're crafting a vegan birthday cake from scratch. It'll be delicious and will look wonderful, so long as it's made with care and love.
Alternatives to a Vegan Birthday Cake
If birthday cake isn't your thing, that's okay too. Vegan pastries and baked goods are no longer such a rarity. You can purchase or make lots of alternatives, which are as good or better than cake. If the birthday boy or girl isn't a cake fan, below are some great options to surprise them with instead.
Vegan Birthday Doughnuts
Doughnuts are hugely popular, and for good reason: they're sweet, fluffy, and decadent. You can make mini vegan doughnuts yourself by following a simple recipe.
Replace the cow's milk with soy milk, skip the eggs, and use dairy free butter. Mini doughnuts are a great choice as they can just be ball or 'doughnut hole' shaped, and they cook faster.
If that still sounds like a bit too much work, Krispy Kreme actually has a vegan range of doughnuts. You can buy a selection and surprise your birthday boy or girl with fresh vegan doughnuts on their big day.
Vegan Cupcakes
Vegan cupcakes are so easy to make. Start by whipping up the batter from our basic recipe below. Next, divide into 24 small cupcake baking cups and bake.
Once they've cooled down, you can decorate them using your favorite vegan frosting. Vegan frosting can be colored using a few drops of food coloring, just like ordinary icing.
Add individual toppers with the birthday boy or girl's age, depictions of their favorite hobbies or colors, or even pictures of their face. One fun and creative idea is to have toppers made up with photos of them through the years.
Chocolate-Covered Fruit
One surefire way to avoid any kinds of non-vegan ingredients is chocolate-covered fruit. All you need to do is purchase vegan baking chocolate, and you're set. Skewer different kinds of fruit. Bananas, apple wedges, pineapple, and grapes work well. The all-time winner, however, is the strawberry.
Chocolate covered strawberries are always a hit. Add a little bit of edible glitter to make these stand out even more. You can also experiment with coloring your chocolate, provided you use a white vegan chocolate as a base.
Happy Birthday for Vegans: Best Quotes & Captions
Let's face it, happy birthday messages are always nice to receive. You really can't go wrong, so long as they're heartfelt and personal.
If the person celebrating is very outspoken about their veganism, they may appreciate either a serious or a funny birthday message about their dietary choices. Below are a few of ours favorites:
"Happy birthday to my favorite vegan"
"Happy birthday your heartless vegan" (alongside a depiction of vegetables shouting, 'lettuce live' and 'give peas a chance')
"Happy birthday to-fu"
"100% vegan friendly, gluten free birthday cake" (alongside an image of a lettuce with a candle in it)
Here you'll find more beautiful and short birthday wishes.
Beautiful Birthday Gift Ideas
The best gifts, just like the best messages, are thoughtful and personal. Gifting something meaningful to your favorite vegan has never been so easy.
There is so much variety to choose from nowadays, be it vegan edibles, cosmetics, or even wearables. Here are some of our top ideas for the perfect vegan birthday gift:
Personalized vegan leather stationery: a great option if the recipient loves beautiful stationery and notebooks. Vegan leather looks and feels much like the real thing, but is ethically produced and frequently less expensive too.
Vegan bath goodies: think spa day. Fill a gift box or hamper with vegan bath salts, shower gel, and a vegan candle. Soy wax is a great alternative to beeswax. Soy candles tend to burn cleaner and slower than their beeswax counterparts. Alternatively, buy a readymade hamper.
Vegan gourmet hamper: there are plenty of meat and dairy free vegan alternatives to ordinary charcuterie now. You can assemble the perfect picnic basket or wine and 'cheese' hamper. Vegan wine is a great addition to any gift basket and will be appreciated for being totally free from animal-derived ingredients.
Basic Recipe for a Vegan Birthday Cake: A Simple Guide
Once you've mastered vegan birthday cake you may well never resort to making an 'ordinary' cake recipe again — it's that good. This one uses only a few ingredients, and ensures a moist and fluffy finish.
Ingredients:
1 ¾ cups cake flour
1 cup white granulated sugar
1 tsp baking soda
½ tsp salt
1 cup soy or other dairy-free milk
2 tsps vanilla extract
⅓ cup of canola or vegetable oil
1 tbsp apple cider vinegar
Here's how you do it:
Start by preheating your oven to 350 F. Prep two 7-inch round cake tins by thoroughly greasing them with cooking oil.
Sift the cake flour into a bowl to remove any clumps. Stir in the salt, baking soda, and sugar.
Gently whisk in the vinegar, oil, soy milk, and oil until combined.
Pour the batter into the two prepared tins and bake for 25-30 minutes or until brown and spongy.
Leave your cakes to cool before frosting them.
Add jam or frosting between the two layers, then thoroughly frost the entire cake. Decorate using one of our fun cake styling ideas above.
Tips for Baking a Vegan Birthday Cake
Baking a vegan cake is actually not all that tricky. There are tons of ingredient substitutions and tricks to make vegan cake taste… not vegan at all.
Both cake and frosting can be made in ways that make them virtually indistinguishable from their non-vegan counterparts. Don't believe us? Try some of our top tips below.
How to Make the Cake Fluffy
One of the top reasons why vegan cake turns out dense is actually the same reason 'regular' cake turns out dense: you've either used too much flour or not aerated your flour enough.
To counteract this, make sure you use a cake-specific flour and sift it to avoid clumps. Cake flour is lower in protein, making it softer and lighter than all purpose flour.
How to Make Scrumptious Frosting
All you need to make the best vegan frosting is four ingredients: soy milk, powdered sugar, vanilla extract, and vegan butter. Stick-style vegan butter works best as it's a little firmer than others.
This will ensure that your finished frosting isn't too soft and doesn't fall apart. Whip up all of the ingredients in a stand mixer until fluffy and use just as you would any other frosting.
Alternatives to Coconut Oils
Coconut tends to be a relatively overpowering flavor. Not everyone likes coconut, and not every cake should taste predominantly of coconut. This is especially true if you're wanting to try a more classic flavor combination. Fortunately, lots of alternatives are available.
Vegan butter is available with blends of vegetable oils, sustainable palm, soybean, or nut oils. So if you don't want the flavor of coconut in your cake, just choose alternative ingredients.
You might also be interested in...