6 Best Frozen Birthday Cakes + 3 Matching Gift Ideas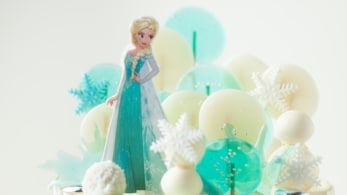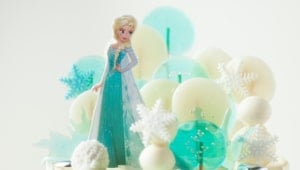 Frozen has been a huge hit with both kids and adults across the world. Here you'll find the best ideas for a Frozen birthday cake and a simple recipe for your homemade birthday cake.
Where to start if you're wanting to make your own Frozen birthday cake? We've compiled a list of the best designs for both boys and girls, as well as the perfect, fluffy Frozen cake recipe (it's white as snow.)
What are you waiting for? Read on to find your perfect Frozen cake to surprise your loved one with.
Best Frozen Birthday Cake Ideas for Boys
Frozen cakes needn't just be for girls. There are plenty of admirable male characters in the franchise, and they make for some really fun cake designs. Whether you're after something a little more subdued or just plain fun (Olaf, we're looking at you), this list has it all.
Here you'll find more birthday cake ideas for boys.
Cute Sven the Reindeer Cake
In the minds of many, there can only be one hero in the Frozen stories (other than Olaf.) It's Sven the reindeer of course, and he looks great on your boy's birthday cake, too.
Simply bake our basic recipe below, cool to room temperature, and frost with snowy white buttercream. You'll want this to look a little messy — as though a reindeer's run right through the fluffy snow.
Add your cute fondant reindeer lying on all fours to the middle of the cake. Cover his back using more white buttercream.
You may even wish to add a little bit of white cotton candy or edible white glitter for extra snowyness. Finally, write the name of your birthday boy on the front of the cake, and enjoy the squeals of delight.
Kristoff Hero Birthday Cake
Kristoff is the charming if slightly bumbling male hero of the first Frozen film. He's a great role model for young boys, and makes for a fun addition to your little one's birthday cake.
Start by baking our basic recipe below and frosting it with white buttercream once cool. Feel free to be a little messy, most Frozen cakes should have an element of snow, and here the buttercream represents this.
Next, you'll want to decorate your finished cake.
Either make or buy a little sugar paste Kristoff in advance. Top tip: fondant figurines stay good in a cool dark place for at least two months, and often longer.
So you can practice well ahead of time if you choose to make one yourself. The best Kristoffs we've seen are sitting somewhat off center of the cake, looking dreamily into the distance.
Next, add a wooden number cake topper and write the words, 'I'm here, what do you need?' in blue frosting. Your heroic Frozen cake is now complete.
Olaf Birthday Cake
Olaf is kind of the star of the show. The little snowman is charming, funny, and a little bit wild. It's no surprise, then, that Olaf makes for a great Frozen birthday cake design.
You can make this one more on the pretty side or slightly more silly — the choice is yours. Start by baking our basic recipe below, cool, and frost with (you guessed it) white buttercream.
You'll want this one to be a little smoother, as Olaf lends all the messiness by himself.
Add white fondant snowflakes and ice crystals (use cookie cutters to make these) around the outside of the cake. You might also wish to add some white sugar pearls or edible sparkles.
Finally, add a funny fondant Olaf to the top center of the cake. You can make a standing up Olaf with his hands in the air, one that's on the verge of falling off the cake, or even one that's half-melted with his head lying next to his body.
Perhaps steer clear of that final one if you're baking this for very little kids.
Best Frozen Birthday Cake Ideas for Girls
Young and slightly older girls across the world love Frozen — that's a fact. Below are some of the best Frozen-themed cake designs for girls and women. They range from the obvious to the more subdued and elegant. Follow them to the letter or personalize to suit your special birthday girl.
Are you looking for more birthday cake inspirations for girls? Here you'll find them.
Frozen Themed Elsa Birthday Cake
The best kind of Elsa birthday cake is arguably the iconic Pinterest-style doll cake. To make this, you'll want to bake our basic recipe below.
Next, layer two tall round cakes on top of one another, sandwiched with buttercream frosting. Carve the top tier in a conical shape to resemble a dress.
Add buttercream frosting all over the outside of the 'skirt' portion of the dress. Put your (clean) Elsa plastic doll into the top of the skirt and add extra buttercream to blend the skirt onto her bodice.
Next, decorate with sugarpaste bows and sugar snowflakes. Edible sparkles are a great addition as well.
Buy or make a white buttercream, then add drops of food coloring and whisk until the color closely matches that of the doll's bodice.
Also ensure your doll isn't wearing any fabric at the bottom, as this would be difficult to clean after you're done with your cake.
Frozen Themed Anna Birthday Cake
Anna is the more colorful sister of Elsa. You can be really creative with an Anna-themed cake and add lots of vibrant colors. Start by baking our basic recipe below and set aside to cool.
Once your cake is about room temperature, add pale blue frosting all over and smooth using a cake scraper. Next, you'll want to add lovely colorful sugar paste flowers all around the cake.
Top with more flowers and a fondant Anna figurine. You can make this yourself in advance or buy a readymade one online.
Write the birthday girl's name on the front of the cake in colorful icing — hot pink or bright blue are great. Enjoy your lovely, summery Frozen-style cake.
Elegant Frozen Cake with Cotton Candy
This cake is a much more subtle Frozen-themed design, but perfect for older fans of the films.
Bake our basic cake recipe below, and allow it to fully cool to room temperature.
Next, prepare four bowls of white buttercream, one larger and three smaller. Add one or two drops of pink, blue, and purple food coloring each to the smaller bowls and whisk.
Frost the cake with all of the prepared buttercreams, creating a very soft ombre or cloud-like effect all over the cake. Smooth using a cake scraper for an elegant effect.
Finally, top your cake with fluffy pale-colored cotton candy. Add a Frozen-themed cake topper or sparkly number. This lovely cake is designed to resemble clouds of fluffy snow. It's especially great as a centerpiece for a birthday party alongside Frozen-themed cupcakes.
Simple Frozen Birthday Cake Designs
The best Frozen birthday cake designs start with a delicious cake… and snow. Follow our basic recipe below to bake a truly tasty cake, then cool to room temperature. The cooler your cake the less likely your frosting will melt, and the less likely you'll find little crumbs in it, too.
Add the whitest buttercream frosting you can make or buy. This is where it gets fun: you have plenty of options to create a snowy-looking cake, including white buttercream, edible white glitter, and even white cotton candy. Fondant snowballs and ice cubes are also fun additions.
The most important thing here is to take your time and have fun. The simplest cakes are frequently the best ones. You can even add Frozen-themed elements by purchasing readymade fondant figurines if you're not confident to make these yourself.
Best Quotes & Captions for a Frozen Birthday Cake
If the birthday boy or girl is a big Frozen fan, you're in luck. It's super easy to incorporate a bit of Frozen magic into their birthday message. Make sure you add a lovely personal message into your card as well. With a mix of both, you can't go wrong.
'To the birthday girl/boy who sparkles brighter every year.'
'Our little princess is turning [age]! We love you so much and think you're cooler than any ice princess.'
'A sparkling birthday wish for you, [name]!'
'A very happy birthday to you, from Elsa, Anna, Olaf, and the rest of the Arrendale crew.'
Here you'll find more funny birthday quotes.
Beautiful Gift Ideas That Match a Frozen Birthday Cake
There are plenty of fun gifts to get a Frozen fan's little heart racing. They may already have quite a few things already, though, so you'll want to get creative.
Fortunately, we've done some of that work for you. Below is a selection of the best Frozen-themed gift ideas to go along with your special Frozen birthday cake:
1. Jewelry: after all, Elsa and Anna are princesses, and little princesses tend to like a bit of sparkle. Blue and white-hued rhinestone jewelry makes for a special gift that little girls are sure to enjoy.
Bracelets, necklaces, little earrings, and even hair accessories are great choices. Frozen-themed 'crowns' are, of course, also very popular.
2. Frozen-themed toys: if your little Frozen fan doesn't already have most themed toys, dolls are a great place to start. There is also an array of other themed merchandise, including stuffed toys, backpacks, dress-up apparel, and even games such as Frozen bowling.
3. Frozen crafting kits: for little fans who already have everything else, a Frozen-themed crafting kit might be a good option. There are plenty of readymade options available, including kits for Frozen jewelry or knitwear.
You can also make your own DIY version by providing white and blue putty, some sparkles, and little tools to cut out shapes.
Basic Recipe for a Frozen Birthday Cake: A Simple Guide
Our basic recipe for a Frozen birthday cake couldn't be simpler, yet it's perfect in every way. Why? Because it's white as snow, and what could be better for this pretty, wintery theme.
Ingredients:
6 tbsps softened butter
⅔ cup of vegetable oil
2 cups of granulated sugar
1 tbsp vanilla extract
2 ⅔ cups of cake flour
1 tbsp baking powder
1 tsp salt
1 cup of room temperature milk
6 large egg whites at room temperature
And here's how you do it:
Preheat your oven to 350 F and grease two 8-inch round cake tins with vegetable oil or butter.
Whisk the butter in a mixer until creamy and pale. Add the vegetable oil and sugar and continue to beat. Stir in the vanilla extract. Set aside.
Mix the flour, salt, and baking powder in a separate bowl.
Whisk the dry ingredients into the butter mixture, alternating with the milk. Make sure you continually scrape the sides and bottom of your bowl, ensuring all ingredients are well mixed.
In another bowl, whisk the egg whites until fluffy and stiff. Gently fold these into the batter mixture and fill into the prepared cake tins.
Bake in the oven for 35-40 minutes. The cakes should be gently browned yet springy to the touch when ready. Top tip: insert a toothpick into one of the cakes and it'll be ready when this comes out with no batter residue.
Cool to room temperature, then frost and decorate per one of our special Frozen-themed designs above.
Alternatives to a Frozen Birthday Cake
Perhaps you can't make a full-sized cake, or you've already ordered a special Frozen-themed cake from a professional bakery. Either way, you can make some lovely alternatives instead of or in addition to cake. Below are some of our favorite alternatives to a Frozen-themed cake.
Cupcakes with Frozen Topper
Our basic recipe above also makes 24 excellent cupcakes. Once they've cooled, add generous swirls of white or pale blue buttercream. Decorate with sugar snowflakes and edible sparkles.
Finally, top with pretty store bought Frozen cake toppers. You can even order personalized ones that include the birthday boy or girl's age.
Frozen Ice Cream Sundaes
One lovely, and quite logical, alternative to Frozen-themed cake is a selection of delicious ice cream sundaes.
Serve some blue and white-colored ice creams in cups and set out a selection of toppings.
White cotton candy looks much like fluffy snow, white edible glitter adds a bit of sparkle, and you can get readymade white and dark chocolate snowflakes. Alternatively, you can even make these and other fun toppings at home, in advance.
Marshmallow Olafs
A fun way to add a bit of Frozen to your party without much effort is to give kids a themed Olaf 'kit'. Add marshmallows, a little skewer, pretzel sticks for arms, a candy corn nose, and some chocolate for eyes.
Done. Allow the kids to enjoy assembling their own sweet treats. This one's great for those ever-popular party bags, too.
You might also be interested in...