7 Best Birthday Cake Ideas for Your Husband + 3 Tasty Alternatives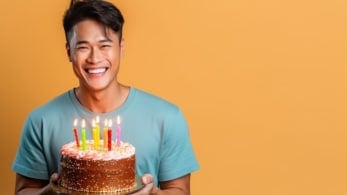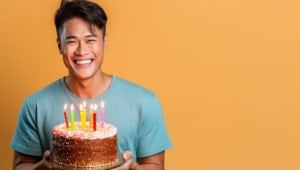 Did you know that the word 'husband' comes from an old Norse term that translates to 'master of the house'? Let's face it, just how often does your husband feel like the master of his home in these modern times? Do you want to make him a birthday cake that shows him just how important he is?
The perfect birthday cake for your husband should be delicious, fun, and appeal to his unique personality. You can make a manly cake, a geeky cake, an elegant one, or something funny. There's a cake out there for every man – and we cover some of the very best in this article.
Best Birthday Cake Ideas for Your Husband
The best ideas are sometimes the simplest ones – this isn't the case for these special cake designs. Our best birthday cake ideas are extravagant and fun.
They're perfect for a milestone birthday or as a unique surprise. Make these as described or let them inspire you to craft something totally bespoke.
Find here more modern birthday cakes for men.
Elegant Waistcoat Cake
This handsome cake is a little like a tuxedo cake, but resembles more of a waistcoat. Why, you ask? It looks more unique and the waistcoat gives the design a cooler vibe. Start by baking our basic recipe below, then frost in white buttercream once cooled.
Gently layer a sheet of white fondant over and around the cake, taking care to match the seams at the front. Add white fondant buttons down the front of the cake to resemble a shirt.
Next, add navy-colored fondant in the form of a waistcoat — with a deep v-shape cut out the top and a smaller v-shape cut out of the bottom.
Angle the sides at the bottom to complete the shape towards the back. Add a blue fondant pocket to the right-hand side of the waistcoat.
Place a fondant pocket square at the top of the pocket, and add two buttons to the front in the same color. Brown or beige look very elegant. Finish with a calligraphy happy birthday cake topper.
Whiskey Barrel Cake
This is arguably one of the trickier cakes you can make, but it is well worth it.
Start by baking our basic cake recipe below but infuse the finished sponge with a few spoons of your husband's favorite whiskey. If you like, add a small amount of whiskey flavoring to the buttercream as well.
A chocolate buttercream works very well for this. Frost the entire cake. Next, use brown fondant to create slats of wood and place these around the exterior of the cake. Add two lines of darker brown fondant to resemble the metal binding of the wooden slats.
Finally, decorate the top of your cake with miniature bottles of whiskey and a birthday message made of gold fondant. This cake is particularly effective for a milestone birthday and great alongside a gifted bottle of special whiskey.
Travel Birthday Cake
Our travel-themed birthday cake is great for the man who loves to see the world. You can make this as intricate as you'd like.
We recommend starting with our basic recipe, then frosting your cake with pale blue buttercream. Add either fluffy white clouds (mini marshmallows or cotton candy are great for this) or a sugar paste map of the world.
Finish your cake design with the silhouette of a plane cut out from black fondant, as well as a dotted line down the cake resembling its journey. Add a simple 'Happy Birthday' cake topper. This cake is especially great if you're gifting your husband a special trip or you're planning an unusual vacation together.
Romantic Birthday Cake Ideas for Your Husband
The most romantic birthday cakes are simple but made with love. Our favorite ones tell a story. They don't just say 'I love you', but express your feelings uniquely towards your husband.
Sweet Silhouettes Cake
This is the cutest birthday cake ever: It's an unusual design that requires quite a bit of time. It's not in itself tricky to make, however, and can be crafted by even the most inexperienced of bakers.
All you need to do is bake our basic recipe below and cool your cake to room temperature. Next, frost with white buttercream and smooth all around and on top of the cake using a cake scraper.
This it where it gets a little bit time consuming: you'll want to cut out silhouettes representing your husband throughout some important stages of his life.
Print these on printer paper first, then lay them on top of sheets of black fondant and cut them out using a sharp knife. Some very sweet options include your husband when you first met, your husband with your children or pets, and your husband and you on your wedding day.
Add these silhouettes all around the cake. Decorate with additional small red fondant love hearts and top with a simple number cake topper.
Best Husband Cake
This isn't all that dissimilar from the cake design above, but a little simpler. Bake your cake, per our recipe below, and frost with white buttercream. Smooth all around and on top using a cake scraper.
Next, add a black fondant silhouette of the two of you to the front side of the cake. Add black fondant lettering spelling, 'BEST HUSBAND' next to the silhouette shape.
Decorate with a 'happy birthday' or name cake topper, and add little red or gold fondant love hearts all over the cake. You may also wish to add a nice gold-colored number candle.
Funny Husband's Birthday Cake Ideas
Some of the funniest cake designs are the most personal ones. They really play on a unique part of the birthday boy's personality, poking fun or highlighting in a subtle, loving way.
Geeky Computer Cake
Our geeky computer cake design is fairly simple to make, though you can embelish it to make a novelty bakery-esque creation if you want to. Bake our simple cake recipe and cool to room temperature.
Frost your cake with a buttercream icing of your choice. Color isn't terribly important on this one, so go with a buttercream your husband enjoys (for example chocolate or cream cheese.) Smooth the frosting all over the cake and around the edges.
Add a little fondant husband to the top of the cake, surrounded by fondant electronics: a little computer, a phone, headphones, and perhaps a gaming device. This cake is great alongside a gifted electronic item your husband's, perhaps, wanted for a while. Finish with sparklers.
Superhero Cake
This cute cake can be made quite quickly and still looks super special. Start by baking our basic recipe below. Frost your cake using blue buttercream and smooth it out all over.
You can achieve a nice shade of blue by buying or making basic white buttercream and adding a few drops of blue food coloring. Just be mindful that your base buttercream isn't too yellow-toned at the start or it'll turn green.
Roll out a sheet of red fondant until quite thin. Layer it over one edge of the cake to look like a draped cape. Add a 'clip' made of gold-colored fondant to the top.
Next to this, place a fondant super-husband. You can buy a little cartoon fondant superhero ahead of time or make it yourself. Finish your cake with the words 'super husband' in red fondant at the front of the cake.
Simple Birthday Cake Designs
The best birthday cake designs are sometimes the simplest ones. If our design ideas above sound a little too out there for you, don't worry: you can still craft a great birthday cake by following some basic steps.
Start by baking our simple recipe below. Ensure you get the highest quality ingredients you can and take your time, following the recipe to the letter.
Baking is quite an exact art, and the more closely you follow the recipe on hand, the better your cake will turn out. Allow time to really cool your cake once it's baked as well. The colder your finished cake, the less likely your frosting will melt or get coated in stray crumbs.
Once you've frosted your cake with a delicious buttercream, make sure it's cohesive: if you're going for a rustic look, use a wide butterknife to create broad strokes all over. If you want a smooth, store-bought look, use a cake scraper.
Finally, add some cute store-bought fondant figurines to your cake. Fondant will keep well in a cool dark place for about two months, so you can get prepared well in advance. Finish with a sweet number cake topper or a nice birthday candle. We like wooden cake toppers for their classic, well-crafted finish.
Best Quotes & Captions for a Birthday Cake for Your Husband
The best birthday messages should be written from the heart. This is especially true when it comes to writing a card for your husband. With that said, it can be hard to find just the right words.
We've come up with some great quotes and captions you can use as inspiration. Incorporate these into your own message or re-word them to suit your needs.
"Happy birthday to the love of my life!"
"I hope I can make you as happy today as you make me every single day. Happy birthday!"
"You're the sweetest husband in the world, and you know I just can't resist anything sweet. Enjoy your birthday cake!"
"The best part of each day is sharing it with a wonderful husband like you. Happy birthday!"
Are you looking for more quotes? Here you'll find them.
Beautiful Gift Ideas That Match a Birthday Cake for Your Husband
If you're trying to buy something for the man who already has everything, you're not allowed. That is why we've compiled our top birthday gifts for husbands. There's something here for every budget, too:
1. Low Budget: personal or handmade gifts are always lovely. You can make a list of all the things you love about your husband, or even have every item printed on a small heart presented in a gift box. This is a great, meaningful gift that truly doesn't cost much.
2. Medium Budget: a little assortment of some of his favorite things is always appreciated. Make him a 'husband hamper' and add a new shirt, some of his favorite shower products, and some of his favorite treats. Things like special chocolates, donuts, or even jerky tend to be very popular.
3. High-End: nothing says 'I love you' quite like a really great coffee machine. There are coffee makers that can do everything a barista can and more. Not into coffee? You can get him other gadgets he'll enjoy such as a fancy mixer, a new video game console, or even a phone.
Basic Recipe for a Your Husband's Birthday Cake: A Simple Guide
This basic recipe will yield the most delicious, moist birthday cake. It's easy to follow and you can even alter it to make it bespoke.
For instance, drizzle whiskey over the finished sponge per our Whiskey Barrel Cake design above. Alternatively, add extracts such as rose, almond, orange, or even rum flavoring.
If your husband suffers from any food intolerances or follows certain dietary restrictions, not to worry: you can replace the eggs with yogurt or aquafaba, milk with oat or almond milks, butter with a vegan substitute, and flour with a gluten free variety.
You may also reduce the amount of sugar used or replace it with coconut sugar or a fruit concentrate of your choice.
2 ¼ cups self-raising flour
1 ½ cups granulated sugar
½ cup salted butter
2 tsps vanilla extract
1 ½ cups whole milk
3 medium eggs
And here's how you do it:
Preheat the oven to 350 F and prepare two 9" cake tins or one 9"x13" pan by greasing them with butter or vegetable oil.
Mix the butter and sugar with a mixer until fluffy and slightly pale.
In a separate bowl, whisk the eggs, milk, and vanilla extract.
Gradually combine butter and sugar mixture with the eggs and the flour until your batter is just smooth but not over-whisked.
Pour your cake batter into the prepared tins and bake for 30-35 minutes. The center of the cakes should be softly browned yet a little springy. A toothpick should come out clean when inserted into the sponge.
Cool your finished cake to room temperature, then frost and decorate per one of our fun birthday cake designs.
Alternatives to a Birthday Cake for Your Husband
Perhaps you've already ordered a special cake from a local bakery and just want to add little extras. Or maybe you don't have time to make an entire cake just now. Whichever the reason, below are some great alternatives to birthday cake which your husband is sure to enjoy.
Birthday Pop Tarts
A fun alternative to cake: Birthday pop tarts – particularly if your husband really loves pop tarts. You can easily make these from scratch at home by using store-bought pie crust.
Cut out two equally sized pieces of pie crust; you can make rectangles, squares, or even heart shapes. Sandwich these with a filling of jam, peanut butter, or fruit jelly in the middle (or a mix), and bake in the oven. Frost with homemade icing and top with sprinkles.
Manly Cupcakes
What, you ask, is a manly cupcake? Simple, it's a cupcake with a mustache. Make 24 of these cupcakes using our simple recipe above (but reducing the baking time a little.)
Once your cupcakes have cooled, frost them with buttercream and top with little mustache toppers. Alternatively, having bespoke toppers with photos of your hubby made up beforehand is fun, too.
You could even use photos of him through the years, for a sweet, if slightly less manly, design idea.
Waffles and Toppings
Waffles should never be missing from any birthday. You can easily whip up a batch using your favorite recipe or store-bought mix. Bake in a waffle mold in the oven or in a waffle maker.
Serve your waffles with a selection of toppings including fruit, chocolates, whipped cream, and a variety of sauces. For the ultimate birthday treat, serve these for breakfast in bed alongside a nice cup of coffee.
You might also be interested in...