18 Best Crumbl Cookie Flavors & 5 Recipe Ideas (+ Complete List)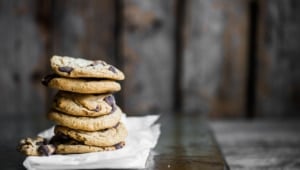 If you've ever had a disappointing cookie, you'll probably know just what was wrong with it. If you've ever had a Crumbl cookie, you'll know why no other cookie could possibly be right again.
Crumbl cookies are delicious morsels crafted with the people who love them in mind. They were first introduced in Logan, Utah, in 2017 by two cousins. What makes Crumbl cookies different is that they're sweeter and chewier than other brands. But what makes them truly unique is the process that goes into their making.
Crumbl cookies are regularly tested by consumers. The aim is to serve the 'world's best cookies' as they say themselves. It started with a humble chocolate chip cookie and has since grown to include more than 250 flavors.
Best of all, if you don't have a Crumbl store near you, it's pretty easy to copy them. This way, you can enjoy America's best-loved cookies at home, and get creative with the flavors too. Be warned, though, it's hard to outshine them on creativity, as you'll see below.
What Crumbl Cookie Flavors Are
Crumbl's menu rotates through different flavors each week. Their gourmet cookies each go through vigorous recipe testing before they're available to buy.
So you know you'll get a truly delicious cookie experience. Some of the top flavors include their original chewy milk chocolate chip, dulce de leche, cake batter, buckeye brownie, maple oatmeal, classic pink sugar, and even a mystery flavor.
Ingredients of Crumbl Cookies
Crumbl cookies all contain a base mixture of eggs, milk, flour, sugar, and vanilla extract. The rest is more or less up to the Crumbl bakers and your imagination.
Further down in this article we'll cover a base recipe that will get you a close copy of Crumbl cookies. You can then experiment with flavors and toppings.
Weekly Change of Crumbl Cookie Flavors
Crumbl cookies change flavor each week. They rotate so you only ever have a choice of six cookie flavors at a time. This gives you the option to regularly try something new.
The idea behind this concept is to keep you coming back for more. Unusual flavors such as the mystery cookie, Biscoff cookies, and candy egg cookies will also have you wanting to experiment with your own Crumbl cookie recipe.
There appears to be no limit to the imagination when it comes to these delectable cookies.
List of All Crumbl Cookie Flavors
Crumbl keep creating new, inventive cookie flavors all the time. Here is a list of the most notable flavors we've been able to find to date, plus a complete list of everything they've created so far in alphabetical order.
A
Aggie Blue Mint
Almond Joy
Almond Sand Dollar
Andes Mint
Apple Pie
Autumn Sugar
B
Banana Bread
Banana Cream Pie
Berries & Cream
Berry Crunch
Birthday Cake
Birthday Cake ft. Oreo
Birthday Cake (Patriotic)
Birthday Cake Valentine
Biscoff Lava
Biscoff White
Chip Blue Monster ft. Chips Ahoy
Blue Raspberry ft. ICEE
Blueberry Cheesecake
Blueberry Crumb Cake
Blueberry Muffin Cookie
Boston Cream Pie
Brownie Batter
Brownie Sundae
Bubble Gum
Buckeye Brownie
Butterfinger
Buttermilk Pancake
C
Cake Batter
Cake Batter Blondie
Candy Corn
Caramel Apple
Caramel Cake
Caramel
Coconut Fudge
Caramel Popcorn
Caramel Pumpkin
Carrot Cake
Cereal Milk ft. Fruity Pebbles
Cereal Milk Sandwich ft. Pebbles Cereal
Chocolate Cake
Chocolate Cake ft. Heath
Chocolate Caramel
Chocolate Cookies and Cream
Chocolate Crumb Cake ft. Oreo
Chocolate Crunch
Chocolate Cupcake
Chocolate ft. Heath
Chocolate ft. Oreo
Chocolate ft. Reese's Puffs
Chocolate Mallow Cupcake
Chocolate Orange Truffle
Chocolate Peanut Butter Chip
Chocolate Potato Chip
Chocolate Strawberry
Cheesecake
Chocolate Toffee Cake
Churro
Cinnamon Fry Bread
Cinnamon ft. Cinnamon Toast Crunch
Cinnamon Pretzel
Cinnamon Swirl
Cinnamon Toast
Cinnamon Twist
Circus Animal
Classic Krispy Bar
Classic Oatmeal
Classic Peanut Butter
Classic Pink Sugar
Coconut Cake
Coconut Cream
Coconut Lime
Coconut White Chip
Confetti
Confetti Cake
Cookie Butter Ice Cream
Cookie Cup
Cookie Dough
Cookies & Cream
Cookies & Cream Milkshake
Cornbread
Cornflake Marshmallow
Cosmic Brownie
Cotton Candy
Cranberry Craze
Cranberry Vanilla
Cranberry White Chip
D
Dark Dream
Dirt Cake
Double Fudge Brownie
Double Trouble
Dulce De Leche
E
Eggnog
F
Fried Ice Cream
Frozen Hot Chocolate
Fruit Pizza
Funfetti
Funfetti Milkshake
G
Galaxy Brownie
German Chocolate Cake
Gingerbread Cake
Gingersnap
Graham Cracker ft. Teddy Grahams
H
Hawaii Rainbow Cake
Hazelnut Churro
Hazelnut Mudslide
Honey Bun
Honey Graham Cracker
Honeycomb
Hot Chocolate
I
Iced Oatmeal
K
Kentucky Butter Cake
Key Lime Pie
L
Lemonade
Lemon Bar Cookie
Lemon Blackberry
Lemon Chiffon
Lemon Crinkle
Lemon Cupcake
Lemon Glaze
Lemon Poppy Seed
Limeade
Lucky Charms
M
M&M Macadamia Nut
Mallow Sandwich ft. Oreos
Mango Frozen Yogurt
Maple Bacon Sugar
Maple Cinnamon Roll
Maple Glaze
Midnight Mint
Milk Chocolate Chip
Mint Brownie
Mint Chip Ice Cream
Molten Lava
Mom's Recipe
Monster
Muddy Buddy
Mystery Flavor
N
Neapolitan
New York Cheesecake
Nilla Bean Cupcake
Nutella Mudslide
Nutella Sea Salt
O
Oatmeal Butterscotch
Oatmeal Chocolate Chip Muffin
Oatmeal ft. Rolo
Oatmeal Raisin
Old Fashioned Doughnut
Orange Creamsicle
Orange Julius
Orange Roll
Oreo
Original ft. Golden Oreo Cookie Pieces
Original ft. Kit Kat
Original ft. Lucky Charms
Original ft. Peanut Butter M&M's
P
Passion Fruit
Patriotic Birthday Cake
Peach Cobbler
Peaches N' Cream
Peanut Butter & Jelly
Peanut Butter Bar
Peanut Butter Brittle
Peanut Butter Brownie
Peanut Butter Chocolate Chip
Peanut Butter Cookies & Cream
Peanut Butter Cup ft. Reese's Pieces
Peanut Butter ft. Muddy Buddies
Peanut Butter ft. Snickers
Peanut Butter Jamwich
Pecan Pie
Peppermint Bark
Peppermint Oreo
Peppermint White Chip
Pina Colada
Pineapple Upside Down Cake
Pineapple Whip
Pink Doughnut
Pink Velvet
Pumpkin Cake
Pumpkin Chocolate Chip
Pumpkin Oreo
Pumpkin Pie
Pumpkin Roll
R
Raspberry Cheesecake
Raspberry Lemonade
Red Velvet Cream Cheese
Red Velvet White Chip
Reese's Chip
Reese's Cup
Reese's Pieces
Rocky Road
Ruby Chocolate Chip
S
Salted Caramel Cheesecake
Samoa
Sea Salt Butterscotch Pretzel
Sea Salt Toffee
Semi-Sweet Chocolate Chip
Sherbet
S'mores
S'mores Brownie
Snickerdoodle
Snickerdoodle Cupcake
Snickers
Sour Patch Kids
Sticky Bun
Strawberry Ice Cream Bar
Strawberry Lemonade
Strawberries N' Cream Strawberry Pop-tart
Strawberry Shortcake
Sugar ft. Mother's Halloween Animals
Sugar ft. Mother's Valentine X's and O's
Sugar shark
Sugar ft. Twix
T
Triple Chocolate Chip
Turtle
Twix
U
Ultimate Peanut Butter Vanilla Crumb Cake ft. Golden Oreos
V
Vanilla Sugar
W
Waffle
Walnut Brownie Fudge
Walnut Chocolate Chip Cookie
Watermelon
White Chocolate Chip
Classic Original Crumbl Cookie Flavors
There are just two classic flavors you can always buy at any Crumbl Cookie. The other four rotate each week. So you'll get something different from their list of 250 flavors and counting every time you visit.
Milk Chocolate Chip
An ooey-gooey classic: This warm butter cookie is chock-full of milk chocolate chips. It's the original classic Crumbl cookie and still hugely popular today.
Classic Pink Sugar
The classic pink sugar cookie is an old-fashioned recipe featuring sumptuous pink almond icing. It's simple, yet delectable.
The Best Crumbl Cookie Flavors
It's hard to choose the all time best Crumbl cookie flavors, especially since they change every week. Below are some of the top-rated cookies that have customers coming back time and time again. These are also among the most frequently copied recipes. More on that below.
Birthday Cake
One of the most popular Crumbl cookie flavors you can get is birthday cake. Of course it tastes just like good old-fashioned vanilla birthday cake. This cookie features cream cheese frosting and sprinkles.
Classic Pink Sugar
This chilled sugar cookie bursts with fragrant vanilla. It's the classic cookie you've always dreamed of, frosted with pink almond-flavored icing. Fortunately, this one's always available.
Milk Chocolate Chip
Another classic, the milk chocolate chip cookie is Crumbl's original recipe that started everything. It's a warm, gooey cookie filled with big milk chocolate chips. Comfort in the shape of a cookie.
Cake Batter
If you sometimes prefer the batter over the final baked cake, this cookie is for you. It's a cake batter flavored-cookie with cake batter cream cheese frosting. There are tiny cake batter balls throughout as well.
Strawberry Cheesecake
Another readily-copied recipe, the strawberry cheesecake Crumbl cookie features a chilled graham cracker base. It's coated in vanilla cream cheese frosting and fruity strawberry jam.
Most Chocolatey Crumbl Cookie Flavors
Cookies and chocolate go together in most peoples' minds. Below, we've compiled the top 5 Crumbl cookies with the most chocolate content. These are gooey treats that will really satisfy your sweet tooth.
Triple Chocolate Chip
The name gives it away: The triple chocolate chip Crumbl cookie features a mix of semi-sweet, white, and milk chocolate chunks. It's a warm cookie, so you'll get lovely gooey chocolate oozing out as you bite into it.
Milk Chocolate Chip
It's worth mentioning the original milk chocolate chip Crumbl cookie again because it really is that good. A simple buttery cookie filled to the brim with sweet milk chocolate chunks. Delicious.
Chocolate Cake
As chocolatey as it gets: The chocolate cake cookie is a chocolate cookie base topped with chocolate fudge frosting and delicious chocolate curls.
Chocolate Covered Strawberry
A fairly classic cookies and cream cookie base topped with strawberry cream cheese frosting and semi-sweet chocolate drizzle. Perfect for a picnic.
Chocolate Crumb Feat. Oreo
A delicious cookie base made of regular chocolate and oreos. This cookie is coated in vanilla cream cheese frosting and oreo bits. If you're an oreo fan, this one should be on your list.
Healthiest Crumbl Cookie Flavors
Let's face it, cookies are hardly healthy. Crumbl prides themselves in having particularly sumptuous cookies, all of which contain butter, dairy, and wheat.
With that said, we've collated some of the cookies with the lowest calorie counts. If you're following a diet but still want a Crumbl cookie, these are the ones to go for.
Pumpkin Chocolate Chip
At 320 calories per cookie, this was one of the lowest-calorie options we could find. The pumpkin chocolate chip is essentially a classic chocolate chip cookie, but with pumpkin. It's a definite seasonal favorite and surprisingly somewhat healthy.
Confetti
At 440 calories this cookie is reasonably low in calories and very fun at the same time. IT's a simple sugar cookie with sprinkles throughout, making it a great addition to birthday parties.
Vanilla Glaze ft. Cinnamon Toast Crunch
This is a cinnamon sugar cookie with a simple vanilla cream cheese glaze and cinnamon toast crunch pieces. It's surprisingly low in calories at 480 calories per cookie.
It's also pretty easy to copy at home, where you can make it low fat by substituting the butter for margarine, for example.
Blueberry Muffin
A muffin-flavored cookie. The blueberry muffin Crumbl cookie is only about 480 calories. It's a sumptuous blueberry cookie topped with creative blueberry muffin crumbs.
Classic Peanut Butter
This classic peanut butter cookie is 480 calories and reasonably healthy too. Peanut butter is loaded with vitamin E, iron, vitamin B6, magnesium, and selenium. So it's a cookie that's also kind of good for you.
Most Unusual Crumbl Cookie Flavors
This is where Crumbl cookies really shine. With over 250 flavors and counting, Crumbl have managed to come up with some very unusual and even strange flavors. Don't worry though, they're all delicious. Below are some of the most out there options to try.
Almost Everything Bagel
By far the most unusual cookie flavor anyone has ever come up with, not just Crumbl: The Almost Everything Bagel cookie. It's a cookie coated in seed mix and topped with cream cheese. Weird, but delicious.
Chocolate Potato Chip
Fighting for first place on the unusual list is Crumbl's chocolate potato chip cookie. This savory-sweet cookie is filled with semi-sweet chocolate chips and coconut. It's then rolled in a mix of butter pretzels and crushed potato chips for the ultimate sweet yet salty treat.
Cornbread
A Southern staple in cookie-form. This cookie has a cornbread base, honey butter glaze, honey buttercream, and a smidge of honey on top.
Eggnog
This one isn't as weird as the rest, but very creative. It's a sugar cookie coated in eggnog buttercream frosting. It's finished off with a sprinkling of ground nutmeg for a perfect seasonal treat.
Fruit Pizza
The fruit pizza cookie isn't actually a pizza, thankfully. It's a delightful sugar cookie coated in cream cheese frosting and topped with fruit. It's a very creative take on a smaller dessert pizza.
Vegan Flavors
Crumbl don't offer vegan cookie options. They also advise that cross-contamination with potential allergens is always a possibility in their kitchens.
This means even if they did have vegan cookies, the dough could potentially contain traces of eggs and dairy. Follow our easy recipe below along with the tips to make them vegan.
Gluten-Free and Dairy-Free Crumbl Cookies
Crumbl don't offer gluten and dairy-free cookies as part of their menu. Cross-contamination may always occur in their kitchens, and the base recipe always contains milk and wheat.
Therefore allergy sufferers aren't advised to try their cookies. Follow our easy recipe below along with the tips to make them gluten and dairy free.
Recipe Ideas and Tips for Using Crumbl Cookie Flavors
Now you know the top flavors Crumbl bakes, you can have a go at making your own. This recipe is a simple way to get a pretty close copy to Crumbl's own delicious cookies. Leave out the chocolate chips and experiment with some of our clever tips below for other flavors and healthier options.
For the perfect homemade Crumbl cookie copies, you'll need the following ingredients:
1 cup salted butter
1 cup granulated sugar
¾ cup brown sugar
1 tbsp of your favorite vanilla extract
2 large eggs
3 cups self-raising flour
1 tsp salt
2.5 cups chocolate chips
Here's how to make the recipe:
Preheat the oven to 375F and prep a large sheet pan with baking paper.
Cream the butter, granulated and brown sugar until you have a light and fluffy mixture.
Whisk in the eggs and vanilla extract.
Mix flour and salt in a separate bowl, then combine the dry and wet ingredients.
Carefully fold in 2 cups of the chocolate chips.
Scoop up ½ cup of cookie dough for each large cookie. Carefully roll each into a ball and squish it slightly into the parchment sheet.
Sprinkle some more chocolate chips onto the cookies.
Bake for 15 minutes or until golden brown.
Allow your cookies to rest for at least 15 minutes after taking them out of the oven. This will give them time to set a little.
Low-Fat Crumbl Cookies
You may be wanting a lower calorie and lower fat alternative to adding butter to your cookies. In this case, we recommend unsweetened apple sauce, canned pumpkin puree or mashed bananas.
Ideally don't cut out all of the butter content in the recipe, but replace half with an equal weight in the substitute. For instance ½ cup of butter with ½ cup of pumpkin puree.
Gluten Free Crumbl Cookies
A great gluten free alternative to self raising flour is rice flour. Plain rice flour has a very subtle taste of rice and generally bakes well, but is a little more dense than ordinary flour.
Fortunately there are plenty of gluten free flour brands that offer self-raising alternatives. In this instance, just pick your favorite gluten free self-raising flour and add the rest of the ingredients as indicated.
Vegan Crumbl Cookies
Vegan butter is probably the first choice to replace regular butter. Coconut oil and nut butters are great options too and will also offer some additional flavoring.
Eggs should ideally be replaced with aquafaba, made from chickpea water. This will render the most similar result, though ground flax seeds and mashed banana are also good choices.
The Ultimate Crumbl Cookie Frosting
If you have your heart set on Crumbl's classic pink sugar cookie frosting, it's actually quite easy to replicate. Just mix ½ cup of softened butter, 3 cups of powdered sugar, 1-3 tablespoons of milk, and a teaspoon of almond extract.
Add a dash of neon pink food coloring and whisk until you get a light, fluffy Crumbl cookie copycat frosting. Substitute the milk with water for a dairy free option.
Homemade Crumbl Cookie Ice Cream
You could make your own ice cream entirely from scratch. Alternatively, you could buy the best vanilla ice cream you can find and cover it in your own copycat Crumbl cookies. Or have a gooey, warm chocolate cookie straight from the oven topped with some vanilla ice cream and extra cookie crumbs.
You might also be interested in...