6 Best Graduation Cake Ideas + 3 Topper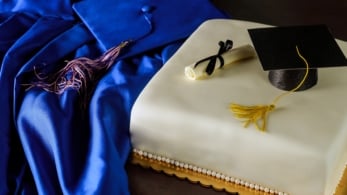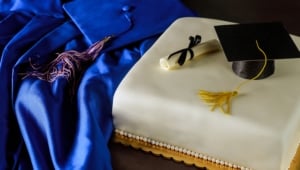 Graduations have been celebrated since 12th century Europe, when scholars would receive their degrees from the very first universities. The word graduation stems from the Latin word for step. Find here the best graduation cake ideas and tasty alternatives.
It comes as no surprise, then, that graduation cakes have surged in popularity in recent years. From elegant cakes featuring the traditional cap and certificate to quirky book-shaped cakes.
From simple bakes with elaborate pre-bought cake toppers to colorful representations of the student's personality. We've put together a list of the best graduation cakes along with an easy how-to for baking a scrumptious cake at home.
The Best and Most Delicious Graduation Cake Ideas for Boys
Our male graduation cake designs are fun and feature subdued hues. Mix and match these with any other ideas in this article to create the perfect graduation cake for your boy. Or just follow our design ideas to the letter to make your Pinterest-worthy graduation cake design.
Young Versus Old Graduation Cake
Young vs old cakes are generally used for anniversaries and special birthdays, but they make great graduation cakes too.
Start by baking our basic cake recipe below and, once cooled, frosting with a buttercream of your choice. Rustic-looking buttercream added using a wide butter knife is ideal here.
Next, draw a line down the middle of your cake using sugar paste. Little red hearts down a line of red fondant look lovely, but any other color will work, too.
Finally, add a 'Then Vs Now' calligraphy topper to the middle back of your cake. Finish with two photos printed on sugar or wafer 'paper' on either side of the cake.
One should depict the graduate as a young boy, just starting kindergarten, and the other now, as a graduate. This is an emotional cake design, but so worth it.
Lego Man Graduation Cake
This fun cake is easy to make yet sure to bring a smile to the recipient's face. Start by baking our basic recipe below and allow your cake to cool to room temperature.
Next, frost your cake in a buttercream of your choice. We prefer lighter cake colors as they're more forgiving, but a dark chocolate cream can be just as effective. Use a cake scraper for a smooth finish, or a broad butter knife for rustic strokes.
Finally, top with a readymade miniature Lego graduate. You can have these made bespoke or, if you can't find one, have a cardboard lego cake topper printed. Ideally, make this cake for a Lego fan and gift a new set alongside your cake.
Navy Blue and Gold Graduation Cake
This is a great cake for both boys and girls, though the colors make it quite traditionally masculine. Start by baking our basic cake recipe below.
Once your cake has cooled to room temperature, frost it using a buttercream of your choice. Roll out a large sheet of navy blue fondant and cover the entire cake, taking care to smooth away any bumps and bubbles.
Top tip: thicker fondant will show less imperfections, though it will taste sweeter, too.
Finally, finish your cake with a small mortarboard fondant cake topper and a sugar paste certificate in front of it. Spell the word 'graduate' in front of the topper in gold lettering.
The Best and Most Tasty Graduation Cake Ideas for Girls
Graduation cakes are universally loved by both boys and girls alike. Our feminine graduation cake ideas are just a touch more delicate and floral.
Feel free to use these to suit a boy instead or mix and match ideas from both of our design idea lists to make your perfect cake.
Floral Letter Graduation Cake
This gorgeous cake will appeal to many a girly heart, but is also really easy to make at home. You can either carve your letter from a cake baked in a rectangular tin or buy a letter-shaped cake pan.
Start by baking our basic recipe below and cool to room temperature. If you're using a regular cake tin, lay a paper cut-out of the first initial of your graduate on the cooled cake and cut using a sharp knife.
Frost with a buttercream of your choice. You don't need to make your buttercream look all that even, as you'll be decorating it next.
Pipe buttercream flowers in the same color all over your 'letter.' You can use the same pipe nozzle for each flower or mix them up to give it the look of a bouquet. Finish with a graduate cap cake topper. If you like, write 'Congratulations, name' on the plate next to the cake using fondant or chocolate writing.
Pink Pearls Graduation Cake
The cutest cakes are often the simplest, and this design proves just that: bake our basic cake recipe below (or your favorite recipe) using two round tins.
Once cooled, frost between the layers and stack, then frost all over the cake. Take care to smooth the buttercream all around and on top of the cake using a cake scraper.
You may wish to color the buttercream or keep it a simple white or ivory.
Finally, add some ready made sugar pearls of different sizes evenly spaced all over the cake. You may also wish to add more at the base of the cake and gradually decrease the numbers until you reach the top, for a sort of ombre effect. Finish with a calligraphy cake topper.
Girl Graduate Silhouette Cake
Another very cute cake design that couldn't be simpler to make: start by baking our basic cake recipe below and cool down.
Next, frost your cake using your favorite buttercream and smooth with a cake scraper. Finally, add a fondant-print out of your girl graduate.
You can get pretty cartoon-ized drawings of girls walking 'away,' wearing a cap and gown. Add this to the front of the cake and press down gently until none of the edges roll up.
Top tip: any printed fondant or wafer should be created by a professional unless you own a food-safe printer and food dye for it at home.
More Graduation Cake Ideas
Graduation cakes are no longer just reserved for university graduates. There are plenty of other times for which such a cake would be well-suited. Below are some of the most popular occasions for graduation cakes and simple design ideas for these.
High School Graduation Cake
For many, high school is the beginning of adult life. It therefore makes sense to celebrate your high school graduation with a fitting cake.
Cakes that represent year books are a great choice for this: either craft a cake in the shape of a book or make a simple round, frosted cake.
Add yearbook 'messages' all over the cake using fondant. You can make this simple cake in black and white coloring or cover it with multi-colored writing.
Nurse or Dr Graduation Cake
Any medical studies are worthy of celebrating. A graduation cake for a Dr or nurse might feature some fitting attire made from fondant, a stethoscope, or even some 'pills' (Tic Tacs work great for this purpose.)
White buttercream frosting works best, for a lovely clean look. This type of cake also works well with a little lookalike cake topper, depicting the new medic in their scrubs.
Kindergarten Graduation Cake
Nothing's quite as cute as a kindergarten graduation cake, except of course the little kindergarteners themselves.
As your little one gets ready to embark on their primary school journey, make them a cake to celebrate their kindergarten graduation. Frost your cake with white buttercream and decorate it with colorful fondant crayons or letters of the alphabet. Top with a mini graduate cap and a tiny 'diploma' and serve.
Simple Graduation Cake Designs
The best cake designs are frequently the simplest, that's a fact. If you're not confident enough to produce a Pinterest-worthy cake with oodles of sugar work, don't worry.
We have some simple tips for you to make your cake a showstopper without the fuss.
Play with different shades of buttercream: some of the simplest designs can be achieved by simply splitting your buttercream into a few different bowls.
Add varying amounts of the same color of food dye to each bowl and mix well. Frost your cake using the different 'colors' from dark to light as you go up the cake. Use a cake scraper for a smooth design or a broad butter knife for rustic strokes.
Buy a fancy cake topper: you can purchase a wide selection of graduation cake toppers online, including bespoke ones. Buy something pretty made from glitter card or wood and add it to your simple cake.
A nice cake topper that's been well-made can easily elevate an otherwise bland cake design.
Use the best ingredients you can afford: half the battle, when it comes to cake baking, is using great ingredients.
If you use high-quality vanilla extract, top chocolate chips, and fresh ingredients, you're half-way there. Next, just follow the recipe and take your time with your bake. Then you're more than likely to create something delicious that will be enjoyed by your graduate and their guests.
The Best Graduation Cake Topper
If you're baking a very simple cake with just a delicious buttercream, as above, you'll probably want to decorate it with an extra special cake topper. There are a few standard designs available for graduations. The ones below are our favorites.
Graduate Cap or Mortarboard
Graduate caps (or mortarboards for looking similar to brickmason mortarboards) are the standard cake topper design for graduation cakes.
You can get simple graduate cap silhouette toppers in black or glitter card, and bespoke ones which feature the name, class, or degree of the graduate. All of these are lovely touches for your graduation cake.
Calligraphy Quote
Calligraphy quote toppers that say 'Congratulations', 'Happy Graduation', or just the name of the graduate are all great choices. You can get these in a variety of finishes from card and plastic to wood.
Gold and silver glitter toppers are very popular. You may also wish to get a cake topper featuring the class year of the graduate in a dual-tone of black and, for example, gold.
Graduate Silhouette
These are very cute, though perhaps a little more on the feminine side: graduate silhouettes feature a cute silhouette of a graduate with their cap and gown either standing, sitting, or even throwing their hands in the air in celebration.
You may wish to get this kind of cake topper made of black card and finish it with a gold calligraphy name in front of the silhouette.
Quotes & Caption for a Graduation Cake
You might be looking for the ideal message to write on your graduation cake or for a little quote or caption for a special card or social media post. We've collected some of the loveliest messages to choose from.
Top tip: add these to your own personal caption. Personal messages are always great, and in combination with a poignant quote they're just perfect.
'Make today your day, you've done it!'
'On to your next adventure, name'
'Believe in yourself. We're all so proud of you!'
'Congratulations name, you've done it!'
'I wish you so much success as you continue to chase your dreams and goals. Congrats, graduate!'
'Now get out there and change the world.'
'May your cap fly as high as your dreams.'
Here you'll find more quotes for graduation.
Basic Recipe for a Graduation Cake: A Simple Guide
This simple recipe for a delicious graduation cake could not be easier to make. If you take your time and follow the steps below, you're almost guaranteed a tasty cake that is sure to impress.
You can even alter the recipe slightly to make it bespoke: for instance, you may substitute the vanilla extract for another flavor such as orange, rose, or almond.
You could add a few drops of food coloring, cocoa powder, sprinkles, or chocolate chips.
If you suffer from any food allergies or have to follow certain dietary restrictions, don't worry: you can substitute the eggs with yogurt or aquafaba, the milk with oat or almond options, and the butter with coconut or vegan butter.
You can also replace the flour with a gluten free variety and either use less sugar or an alternative such as coconut sugar or fruit concentrate.
Ingredients:
2 ¼ cups self-raising flour
1 ½ cups granulated sugar
½ cup salted butter
2 tsps vanilla extract
1 ½ cups whole milk
3 medium eggs
And here's how you do it:
Preheat the oven to 350 F. Meanwhile, prep two 9" cake tins or one 9"x13" pan by greasing them with butter or coconut oil.
Whisk the sugar and butter with a mixer until fluffy and slightly pale in color.
In a separate bowl, mix the eggs, milk, and vanilla extract until there are no more streaks.
Gradually whisk the butter and sugar cream together with the eggs and flour until just combined and smooth.
Pour your cake batter into the prepared tins and bake for 30-35 minutes. The center should be springy when pressed and softly browned. Top tip: use a toothpick to prick the sponge. If it comes out clean, your cake is done.
Allow your cake to fully cool to room temperature, then frost per one of our delicious graduation cake design ideas above.
Alternatives to a Graduation Cake
If you're leaving the graduation cake to the professionals or just want to add some little extras, you're in luck. Below are some of our favorite alternatives to graduation cake, which are sure to impress your graduate.
Elegant Black and White Graduation Cupcakes
You can craft these lovely cupcakes using our basic cake recipe, but divide the batter into 24 cupcake liners instead.
Reduce the baking time slightly and use the toothpick trick (above) to check whether your cakes are done. Once your cupcakes have cooled, hollow out a little of the tops using a teaspoon.
Fill with dark chocolate ganache. Frost generous swirls of dark and white chocolate buttercream on top of each cupcake. Finally, top each black and white graduation cupcake with a little mortarboard topper.
Graduation Cookies
You can get really creative when it comes to cookies. Start by preparing the dough for your favorite sugar cookies and roll out. Cut out a mixture of mortarboard shapes and circles.
You can get a special cookie cutter for the graduate caps online ahead of time. Ice the baked mortarboard cookies using black icing and the circles in a soft color of your choice.
Finally, decorate the circle cookies with fondant messages such as 'congratulations', 'graduate', 'you did it', and 'class of …'
Graduation Cheese Board
A graduation cheese board may seem like a strange idea, but it's really fun and surprisingly easy to do. Plus, it's a great alternative for those who don't love sweet treats or those who have to follow dietary restrictions.
Start by setting out a large wooden cutting board. Chop up cubes of hard cheeses and cold meats, and set aside some olives and croutons.
Spell out the word 'GRAD' in large letters using your prepared delicacies. Surround with more cheeses, meats, fruit, and dips.
You might also be interested in...