6 Best 1st Birthday Cakes & 3 Great Alternatives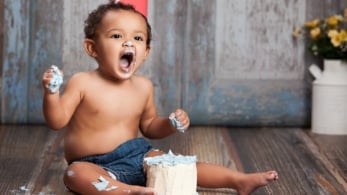 First birthdays are always particularly special. They mark a milestone where your precious little one stops being a tiny baby and starts their journey into toddlerhood. A first birthday is also usually an occasion the parents especially enjoy. Are you ready for the most memorable 1st birthday cakes ever? Then read on.
Children's birthdays are always a great occasion to celebrate with family and friends. None is more special though than the very first birthday.
It marks your first year going through parenting this new little being. Plus one-year-olds are particularly cute and won't mind having their photos taken next to your perfectly color-coordinated cake and decorations.
Here you'll find simple birthday cake ideas.
1st Birthday Cake Ideas for Boys
Here's your chance to go all out with baby blue cake and decorations — or not. We're particular fans of the simple ombre cake, which looks stunning even if you make it a little rustic.
Our other top cake options have been continually popular for a while now. They're timeless classics we're sure your little boy will look back on with joy in years to come.
Here you will find more ideas for a boy's birthday cake.
Hot Air Balloon Cake
Hot air balloon cakes may sound daunting to make, but they just use some clever little tricks. The main idea behind a hot air balloon cake is the topper: Usually, a small fondant bear or animal in a fondant basket is sitting beneath a hot air balloon lifting them upwards.
You have two simple options here: You can either make the topper entirely out of printed card, including the animal and basket. Alternatively, you can make a hot air balloon out of a styrofoam craft ball, which you'll cover entirely with fondant icing.
Pierce the ball with two cocktail skewers and stick them by either side of the basket to complete the illusion.
Safari Animal Cake
There are plenty of opportunities to get creative with a safari animal cake. From soft-hued icing and simple plastic animals to plenty of fondant foliage, it's a fun cake. 'Wild One' cake toppers make for a popular play on words for your wild little one-year-old.
A safari theme is also an overall great choice for a 1st birthday party. You can get cute safari animal birthday invitations or prints. Balloons in different shades of green and 'wild' snacks for kids and grown ups complement the theme perfectly. Think plenty of fruit and a fun bbq.
Simple Ombre Cake
A simple ombre-style cake is by far one of the classiest, most elegant 1st birthday cakes you could have. It's easily made even by baking novices, so you don't have to splash out on a professionally-baked one if you don't want to.
Simply bake two layers of our basic sponge recipe — you'll want this cake to be taller rather than wide, so 9" pans are a good choice.
Frost between the layers, then frost all the way around and on top. Really take your time to ensure a smooth, even finish, especially on top.
Use small amounts of frosting tinted with blue food coloring to slowly create the blue to white ombre effect from the bottom up to about the middle of the cake. Finish with an elegant 'one' cake topper made of gold or silver glitter card, or wood.
1st Birthday Cake Ideas for Girls
Whether you're planning a full-scale princess bash or something a little more funky, below are our top ideas for your girl's 1st birthday cake. All of these are fairly easy to replicate at home.
Alternatively, you can show this article to a bakery of your choice, and they'll be able to make the best first birthday cake for your little girl.
Are you looking for more birthday cake ideas for girls? Here you'll find them.
Everything Pink Cake
There are lots of variations of this whimsical cake. Start by adding a little bit of pink food coloring to your favorite frosting recipe and coat the entire cake. A smoothly-iced cake will look very elegant, while a rougher finish will give a rustic appearance.
Once you're done the possibilities are endless: Add a pink fondant crown to the top of the cake for a simple princess cake. Use a flower pipe nozzle to place delicate pink roses or daisies on the cake.
Replicate the ombre idea we suggested for boys with darker pink and white frosting. Or just add a large number 1 and keep it simple yet pretty.
Unicorn Birthday Cake
The ultimate Pinterest cake is actually very easy to replicate. Simply coat your cake in your favorite buttercream or fondant icing. Add black fondant eyes and lashes to the front of the cake.
If you like you can dust a little bit of edible pink food coloring on the 'cheeks' of the unicorn. Now add a fondant unicorn horn, which you can either make yourself or readily purchase online.
You may either complete the cake by adding fondant unicorn ears to the top, or skip this and just pipe lots of colorful unicorn 'hair' across the center. You can get creative with the colors you use or just pipe different shades of pink for an especially girly 1st birthday cake.
Forest Animal Cake
This is one of the sweetest cake ideas we've seen to date. Start with a clean, ivory-colored frosting smoothed all over the cake. Next, decorate it with little fondant forest animals, foliage, and mushrooms.
This cake looks nicest with subtle, neutral colors, though you can easily add some soft pink extras. Try and replace red toadstool mushrooms with pink flowers and add pink details to the animals. You can also add a pink number 1 cake topper or your baby's name in pink writing.
Simple 1st Birthday Cake Designs
Remember that the simplest designs are often the best. This goes for 1st birthday cakes just like any other cake. A well-baked cake that is beautifully frosted will look stunning with just a simple 'one' cake topper. You needn't learn how to make fondant animals if you don't want to.
Follow our basic recipe below for a scrumptious vanilla sponge that both children and adults will love. Then decorate it with your buttercream or fondant of choice and any extra ornaments you may choose.
Remember you can buy lots of readymade fondant figurines online, giving you plenty of options for your perfect cake design.
Alternatives to a 1st Birthday Cake
Not everybody loves cake. Below are some of our top alternatives to birthday cake for a one-year-old's party. Some of these make great alternatives for sharing or to place in party bags. And our last tip is a special favorite for the birthday girl or boy themselves.
Cupcakes
You can use our basic cake recipe below to make 24 delicious cupcakes. For a quick and easy birthday party treat, frost in the colors of your theme.
Alternatively, use two shades of pink or two shades of blue icing for a pretty girl or boy color scheme. Cupcakes are also a good option for sharing with younger party guests, as they're easy for little hands to hold.
Cookies
Cookies are a lovely alternative to cake and can easily be added to party bags without getting too messy. You can use cutters in accordance with your chosen theme.
Safari animals are a popular choice, as are little baby rompers and teddy bears. Sugar cookie icing in different colors is quick and easy to make and looks lovely and glossy.
Smash Cake
Traditionally smash cakes were 'smashed' into the birthday boy or girl's face for their first bite. Nowadays, parents are a little more gentle, and prefer to take photos of their one-year-old devouring bits of their first birthday cake on their own.
You can reduce the amount of sugar in our cake recipe below for a less sugary option toddlers can enjoy. Bear in mind that babies younger than one should not have honey in their cake, so don't be tempted to substitute the sugar with it.
Happy 1st Birthday: Best Quotes and Captions
The best captions for your little one's 1st birthday come straight from the heart. You'll know best what special moments you want to highlight from their first year, and what parts of their quirky, unique personality you may wish to share. With that said, here are a few ideas to start with:
"Happy 1st birthday! For such a little person you've caused quite the uproar. We can't quite decide who loves you more."
"Have dreams as tall as a giraffe and as wide as a rhino. You're a wild ONE today, baby."
"You're our little sunshine and the brightest star we know. We love you to the moon and back!"
1st Birthday Gift Ideas
Besides a fantastic 1st birthday cake and cute decorations, you'll obviously want presents. Finding the perfect present for a one-year-old baby may sound tricky. After all, they can't do all that much yet, and won't have truly distinct likes or dislikes.
However, there are some presents that are always a hit: Developmental toys such water drawing mats, building blocks, and stackable toys of any kind are always good relatively and mess-free.
You can also get wooden or soft toy foods, including birthday cake. This is a particularly cute option if your little one doesn't eat a lot of solids yet, as they can have their own cake anyway.
Lastly, musical toys and wooden puzzles are always fun. Young toddlers seem to have a particular love for wooden puzzles that also make noises.
Standing toys and bouncers are good options for those who aren't too steady on their feet yet. Make sure you always pay attention to weight and height restrictions if you purchase these.
1st Birthday Party Ideas
If you're planning a real showstopper 1st birthday cake, a cake smash party will be high on your list. Many parents like to designate a photographer to take pictures while their little one takes apart the birthday cake, shovelling fistfuls into their mouth.
If this sounds like you, you may wish to get some cute props such as fairy lights and a big sheet for a backdrop. Just make sure you never leave your baby alone with items such as fairy lights, as they can pose a strangulation hazard when left unattended.
If a cake smash sounds just a little too messy for you, we recommend a themed party. A safari theme works well with the safari cake we've listed above. A teddy bear picnic is another popular choice. Young guests may even like to bring their own teddies to the fun and serve them pretend food.
You may also wish to have a more elegant afternoon tea for the adults. This is where you can go all out with pink or blue themes, lots of balloons, and pretty lights.
Balloon arches have become increasingly popular and are relatively easy to make yourselves with a ready to inflate pack you can order online. These also present great photo opportunities for yourselves and your special baby.
Basic Recipe for a 1st Birthday Cake: A Simple Guide
You can easily amend this cake by removing some of the sugar or adding cocoa powder to make a chocolate cake.
Those with dietary restrictions or food allergies also have options: Replace the flour with a gluten free alternative, use coconut oil instead of butter, substitute the whole milk with oat or almond milk, and use aquafaba or yogurt instead of the eggs.
You also have the option to get creative and add sprinkles or food coloring to the batter. This will result in colorful bakes and fun for the whole family.
2 ¼ cups self-raising flour
1 ½ cups granulated sugar
½ cup salted butter
2 tsps vanilla extract
1 ½ cups whole milk
3 medium eggs
And this is how you do it:
Preheat the oven to 350F and grease two 9" cake tins or one 9"x13" pan with cooking oil or butter.
Use a mixer to cream the butter and sugar until it's a pale and fluffy mix.
Mix the eggs, milk, and vanilla extract in a separate bowl.
Gradually stir the egg mixture into the flour and buttercream until you have a smooth batter.
Pour the cake batter into the cake pans and bake for 30-35 minutes. The center should be softly browned and springy when pressed.
Leave your cake to cool to room temperature before frosting or decorating it. This cake recipe goes particularly well with a simple buttercream.
You might also be interested in...