6 Cocomelon Birthday Cake Ideas + 3 Tips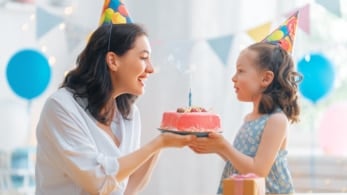 Cocomelon was first created on YouTube in mid-2006. Ironically, the series was first created by founder Jay Jeon and his wife to entertain and teach their own kids. Below we've assembled some of our favorite Cocomelon-inspired cake ideas for both boys and girls.
What's especially nice about Cocomelon is that you can easily take inspiration for a wide variety of cakes. The bright colors and many different characters and themes make creating a great birthday cake design a breeze.
Cocomelon Birthday Cake Ideas for Boys
Cocomelon makes for some great birthday cake inspiration. With their bright colors and various themes, there's something in there for every little boy who loves the show. We've compiled our favorite Cocomelon cakes for boys below.
JJ Rainbow Cake
JJ is the loveable baby boy at the center of Cocomelon's videos. He's a fun little guy, and looks perfect dancing on top of a light blue cake in the shape of a little fondant figurine.
To make this cake, bake our basic recipe below and frost with pale blue buttercream. Decorate the front center with a fondant rainbow and the birthday boy's age.
Next, add little yellow fondant stars all over the cake. Finish with a sugar paste JJ character on top.
You can either make him in advance (fondant figurines stay good for at least 2 months when kept in a cool, dark place) or buy him ready-made.
Cocomelon Logo Cake
The Cocomelon logo is a loveable melon-shaped and colored face with antennae on top, and a ladybug on the side of its head. It lends itself perfectly to being made into a cake.
Bake our basic recipe below, then frost with green buttercream. Cut equally-wide strips of pale and darker green fondant and layer them around the cake to create its distinct pattern.
Cut out the face from nude-colored fondant and add the eyes, nose, and mouth.
Add the finished face to the front of the cake. Top the cake with a number or name cake topper and fondant ladybug. Buy melon logo-themed gift bags and napkins to complement this lovely cake.
JJ and TomTom Beach Cake
This sweet cake is all about the Cocomelon beach song. Bake our basic recipe below and cool to room temperature.
Next, set aside two or three bowls of buttercream colored with varying amounts of blue food coloring. Use these to frost the cake in a kind of blue ombre effect, to represent the ocean.
Use a wide butter knife to make a sort of rustic wave pattern all over the cake.
Finally, add JJ and TomTom fondant figurines to the top of your cake. You might want to give them little swimming toys, a beach ball and inflatable ring, along with a bucket and spade, all made of fondant.
Finish with the birthday boy's name on the front of the cake, made of sugar paste letters. Top tip: use cookie crumbs or leftover sponge to represent beach sand at the base of the cake.
Best Cocomelon Birthday Cake Ideas for Girls
Cocomelon lends itself well to girly birthday cakes. Whether you're wanting to make a pretty pastel pink cake with some of their sweet characters, or aiming for something really bold and bright, we've got you covered.
Here you'll find more girl's birthday cake ideas.
Cocomelon Animal Cake
Cocomelon features lots of cute animal characters, including the bear, the little pigs, the elephant, the little mouse, lamb, and the ducklings. Pick your favorites and create this sweet birthday cake design.
To recreate it, bake our basic recipe and cool your finished cake to room temperature. Frost using pastel pink buttercream.
You can add a drop or two of pink food dye to white buttercream or add a few drops of natural beetroot juice to achieve the same effect.
Add a pastel-colored fondant rainbow and clouds to the front of the cake. Next, add fondant animals to the top of your cake, alongside a cute number candle.
You can make or buy your sugar paste animals. Fondant keeps well in a cool dark place for at least two months. To finish the cake, add an optional sprinkling of edible pink glitter.
Jojo and Mommy Cake
You know the 'My Mommy is the Best' song? This cake aims to recreate just that. Start by baking our basic recipe below, and frost with a pale yellow buttercream once cooled.
Make fondant daisies in different colors and space them out evenly all over the cake. Add mommy and Jojo made of fondant to the top, along with a large number cake topper just behind them.
Top tip: if sugar paste work really isn't your favorite, you can buy your fondant figurines ahead of time. Alternatively, have a wafer or fondant disc printed with a picture of your favorite Cocomelon ladies, and skip the separate number topper.
Cocomelon Fruit Cake
Cocomelon have a few different fruit-themed songs, including their Yes Yes Fruits song, nursery-themed songs, and the Rainbow Popsicles song.
You can make the cutest cake drawing on this theme. Start by baking our basic recipe, then frost using pale yellow or pastel pink buttercream.
Decorate all around the cake with pastel-colored fondant fruits. Top tip: use cookie cutters to cut out fruit shapes from sheets of fondant, then finish each piece of fruit before adding it to the cake.
Add a fondant Cocomelon logo (the melon 'face' with the antennae and ladybug) to the top, alongside a fun number candle. This particular cake is great for a Cocomelon picnic theme, alongside a buffet of healthy fruits. Why not add homemade Cocomelon rainbow popsicles to the mix, too?
Cocomelon Birthday Cake Ideas for 1st Birthday
You can go two ways with a first birthday cake, as far as we're concerned: either make a very pretty 'smash cake' for photos or make a healthy little cake for your baby to enjoy. Of course you may also do both.
For a smash cake, just follow any of our Cocomelon design ideas but be mindful of any fondant figurines as these may present a choking hazard.
Use edible printed wafers instead and steer clear of adding too much or any sugar to your recipe. Don't be tempted to replace this with honey either, as honey isn't good for little ones under the age of one.
Find here more cake ideas for a 1st birthday.
Cocomelon Birthday Cakes for 2nd Birthday
You can get pretty creative with 2nd birthday cakes, as by this point most children will be eating tons of different foods.
We'd still advise you to put away any small fondant figurines your little one could be tempted to eat. These could be choking hazards, and may also damage little teeth.
Opt for healthy ingredients and try our tips on adding hidden vegetables into your cake. You may also want to include your nearly 2-year-old in the making of the cake.
Just help them with anything hot and keep them away from sharp knives. Little kids will love stirring and tasting the batter (so make sure they do before the eggs are added.) Most of all, have fun with it. You can use any of our Cocomelon designs above.
Simple Cocomelon Birthday Cake Designs
Some of the best birthday cake designs tend to be the simplest.
Don't worry if you don't feel confident enough for a multi-tiered Pinterest-worthy creation — you don't have to. Just follow our simple tips to make your Cocomelon cake your own:
Start by baking the best sponge cake possible. You can use our basic recipe below or choose another favorite cake recipe. Just make sure you use the best ingredients available to you and follow the directions. Take your time and always allow your cake to cool fully before frosting it.
Next, use a delicious homemade or store bought buttercream to frost the entire cake. Use a cake scraper for a smooth finish or a wide butter knife to add a rustic pattern, ripples, or waves around the cake.
Steer clear of very dark food colors, which can show imperfections more and tend to taste a little artificial. Dark chocolate buttercream is fine.
Decorate your cake using a store bought Cocomelon cake topper of your choice. There are many different options available, from fondant figurines to printed wafer or fondant discs. You can even buy personalized versions of these.
That's all: so long as your cake is made with love and care, it'll be a delicious surprise for your little Cocomelon fan.
Best Quotes & Captions to Write on Cocomelon Birthday Cake
Cocomelon offers plenty of inspiration for lovely birthday messages. Below, we've compiled some of our favorites, which you can work into your own message or caption:
"C is for Cocomelon 'Letter' is for 'Name" (for example 'J' is for 'John')
"Today is the day, it's your birthday!"
"My baby is the best, he/she is the best there ever was. My baby is the best and I love him/her just because… it's your birthday! Have the best day ever!"
Here you'll find more beautiful birthday wishes for kids.
Beautiful Gift Ideas That Match a Cocomelon Birthday Cake
Cocomelon has grown into a huge brand since its inception nearly 20 years ago. It's no surprise then that there are so many different gift ideas available.
Light-Up Toys: there are plenty of light up toys available. From JJ dolls with sounds to a Cocomelon boombox, microphone, and the famous yellow bus.
Most of these toys are aime dat very little kids, so they're great gift ideas for first or second birthdays.
Cocomelon Plushies: you can get JJ and co as plush toys to cuddle and love. There are even Cocomelon logo backpacks made of a plushy material. The latter is particularly good as a present for preschool kids who love Cocomelon.
Pretend Play Toys: pop up buses to play along to the Wheels on the Bus videos are great fun. These can easily be folded and put away for another day, and will be enjoyed by young kids and their older siblings alike.
Recipe for a Cocomelon Birthday Cake: A Simple Guide
Our basic recipe is a remake of a modern classic, incorporating lots of good ingredients for a light, fluffy sponge.
If you or your little one have any food allergies, don't worry, you can easily make some swaps:
Just replace the flour for a Gluten Free variety, the butter for a vegan butter or coconut oil, the eggs for aquafaba or yogurt, and the milk for oat or almond milk.
Ingredients:
2 ¼ cups of cake flour
1 ½ cups of granulated sugar (or coconut sugar)
2 ¼ tsps baking powder
¾ tsp salt
1 stick of softened unsalted butter
7 large room temperature eggs (separated)
⅔ cup room temperature whole milk
½ tsp cream of tartar
2 teaspoons of vanilla extract
And here's how you do it:
Preheat your oven to 325 F and prep an 8-inch cake tin by greasing it with butter or oil.
Combine the dry ingredients in one bowl: whisky the flour, a ¾ cup of the sugar, baking powder, and salt.
In a separate bowl, whisk the butter, egg yolks, and milk until smooth.
Mix the flour and butter mixture together until you have a smooth batter. At this point you may wish to add in a little bit of grated vegetables.
Next, beat the egg whites in a separate bowl, adding in the cream of tartar and vanilla extract. Carefully add the remaining sugar and continue to whisk until stiff and glossy.
Fold the egg white mixture into your batter and fill your prepared cake tin.
Bake your cake until golden brown (about 45 minutes), then reduce the oven temperature to 300 F.
Bake for another 35 minutes or so or until a toothpick comes out clean when poked into the sponge.
Allow your cake to cool before frosting and decorating per one of our yummy cake design ideas above.
Tips on How to Make a Cocomelon Birthday Cake
You may be wondering how you can make your Cocomelon cake fun but healthy, too. Below are our top tips for creating a healthy and nutritious cake your little one will love. These tips can easily be used for other recipes too, so make sure you save them for later.
Use Less Sugar
Too much sugar can cause a variety of health issues for children, including ones that will only become present in later life. It's a good idea to reduce sugar in your bakes or replace it with a healthy substitute such as coconut sugar or agave syrup.
All sugars aren't recommended below the age of one, so use sparingly.
Hide Grated Veggies
You can make your Cocomelon cake a lot more nutritious by hiding grated or pureed vegetables in it. Simply grate or puree your chosen veggies and add them to the batter.
Firmer varieties that don't water down the cake too much are better. Pumpkin, beetroot, zucchini, or even eggplant are all good choices.
You can even use avocado to substitute some of the fats used and increase the amounts of vitamins B6, C, E, and K. Or substitute one of the eggs with mashed banana for an extra kick of potassium, and vitamins B6 and C.
Alternatives to Cocomelon Birthday Cake
Sometimes you just need a little extra that isn't an entire cake. The alternatives below are perfect as birthday add-ons or treats for little guests. They're also great Cocomelon-themed DIY projects if you've already ordered a professional cake, for example.
Cocomelon Cupcakes
You can easily make 24 yummy cupcakes using our basic recipe above. Bake them in multi-colored cupcake liners, cool to room temperature, and frost with your favorite buttercream.
When they're done, add Cocomelon-themed toppers or edible wafer discs depicting all your favorite characters. These are an easy treat to make together with siblings who are wanting to contribute, too.
Cocomelon Birthday Buffet
The ultimate alternative to Cocomelon birthday cake has got to be an elaborate buffet per the Breakfast Song. This particular fan favorite lists a lot of different morning treats.
Make a selection or all of: pancakes, bacon, ham, buttered toast, berry jam, eggs cooked in different ways, waffles, yogurt, sausage patties, muffins, fruit salad, and coffee cake.
You might also be interested in...