9 Best Wedding Cake Ideas + 3 Tasty Alternatives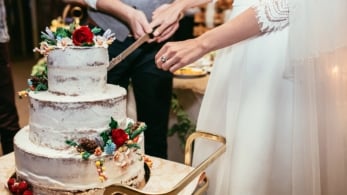 Wedding cakes have been an integral part of weddings since the times of the Ancient Romans and Greeks. Here you'll find the best (and modern) wedding cake ideas as well as tasty alternatives and a simple recipe.
Way back then, grooms would traditionally break bread over the head of the bride. This signified the lady's submission to her new husband. Thankfully, the days of breadcrumbs intermingling with bridal hair and veil are long gone. Today's cakes are a different story altogether.
Modern wedding cakes are everything: they incorporate tradition, style, beautifully flavored sponge (and sometimes savory alternatives.) There are styles that suit every bride and groom.
The Best Wedding Cake Ideas
Choosing a wedding cake for your big day is one of the most enjoyable parts of the planning process. There's the cake tasting and discussing what might go best with your day and the food being served.
And then there's choosing the right style. Below are some of the top wedding cake design ideas we've come across to date. We hope these serve as inspiration for your own special cake.
Naked Wedding Cake
Naked wedding cakes first became popular in 2013. They're essentially stacks of delicious, moist sponge with no or minimal icing. The individual tiers tend to be filled with jam, buttercream, or ganache.
The outside of each layer is usually decorated with icing sugar, fresh fruits, flowers, and sometimes herbs. This is the perfect cake for a rustic wedding.
Italian Wedding Cake
Italian wedding cake is actually a traditional bake from the South. It's made up of rich layers made with buttermilk and coated in shredded coconut.
This cake is great for a wedding or a bridal shower (or any other important occasion.) The Italian wedding cake is particularly lovely for a simple garden wedding.
Small Wedding Cake
Small wedding cakes needn't be boring. They can be just as impressive — if not more so — than their multi-tiered counterparts.
Serve a small wedding cake at a micro wedding, an elopement, or even as a separate cake for just the two of you.
Small wedding cakes are often decorated with edible flowers, sumptuous buttercream, and delicate fondant ornaments. In short, small wedding cakes can look every bit as grand as bigger ones.
Hawaiian Wedding Cake
Hawaiian wedding cake tends to be made of a basic yellow sponge. It's soaked in pineapple juice and topped with layers of crushed pineapple, pudding, and a whipped coconut topping.
It's a great DIY wedding cake option, though it's better suited to smaller weddings and backyard beach 'dos. You can easily make a Hawaiian wedding cake yourself for a bridal shower or engagement party, too.
Wedding Cake with Flowers
Most cakes look great with flowers, be they fresh or fondant florals. We think rustic cakes frosted with broad strokes of buttercream or naked cakes look best with fresh flowers.
Make sure you stick to edible, unsprayed flowers such as roses, citrus blossoms, daisies, dandelions, honeysuckle, lilac, pansies, clover, lavender, sunflowers, and violets.
Flowers are a beautiful addition to cakes for any wedding theme or setting. Top tip: look into the meanings of flowers for a sweet hidden message.
Sunflower Wedding Cake
Sunflowers symbolize unfaltering faith, as well as turning towards brightness and optimism. They're also edible, making them the perfect decoration for a beautiful wedding cake.
Enjoy your sunflower wedding cake by having several layers of delicious sponge frosted with white buttercream. Place sunflowers on the top tier as well as a little bit on each tier.
Pair them with edible herbs for a beautiful rustic look, ideal for summer weddings.
White Wedding Cake
One of the classiest, most timeless wedding cake designs is arguably the pure white cake. It tends to be made of a selection of beautifully baked sponge and frosted with white buttercream.
Many white cakes are then also covered in smooth white fondant, and carefully decorated with flowers or foliage.
You've probably seen giant white wedding cakes on social media, layered with an abundance of roses. This type of cake is great for a classic wedding style with tons of guests.
Top tip: pair this very elegant cake with a small, fun cake topper for a quirky surprise.
Boho Wedding Cake
Boho wedding cakes have become increasingly popular in recent years. They tend to be pure white or naked cakes with some white buttercream frosting.
Autumnal decorations such as wheat toppers and neutral-hued florals are placed on the cake.
Boho cakes are at once vibrant and subdued in color, with little structure to the decorations. They're great for outdoor or barn weddings, or more informal affairs.
Donut Wedding Cake
Last on our list is the donut wedding cake (which isn't exactly a cake, but too fun to miss.) Donut cakes are essentially stacks of glazed donuts.
These are sometimes presented like a croquembouche (more on that further on in this article.) Donut cakes tend to be sweet creations decorated with pretty florals.
They're perfect for fun-loving weddings, including more formal affairs. Donut wedding cakes are a great way to showcase your quirky side, regardless of your wedding theme.
Simple and Classy Wedding Cake Designs
If you're making your own wedding cake or enlisting friends or family to help, you may wish to aim for something very simple. Don't let this alarm you, the most basic cakes are often the loveliest.
Creating a simple wedding cake will encourage the baker to put more of their time into making a truly great sponge and frosting. A great-tasting cake is ultimately the most important.
The Best Wedding Cake Topper
The best cake toppers should, of course, be ones you love and which reflect you as a couple. If you don't like the idea of a traditional bride and groom topper (or if you do), it's all fine. With that said, we've collected some of the top wedding cake toppers you could have for your inspiration.
Peg Doll Cake Topper
Peg dolls are incredibly versatile and cute. You can readily get hand-painted ones online.
Generally, you'll be sending the artist pictures of yourselves, as well as what you'll each wear on your wedding day (just be careful not to CC in the future spouse.)
They'll then paint the peg dolls to be miniature versions of you. This can also include any children or pets. What's best is you can display your peg dolls on a favorite shelf for years to come, so they're not just for the big day.
Lego People Cake Topper
Lego toppers are similar in that you can keep and enjoy them long after your wedding.
These are also made using pictures of yourselves and your wedding outfits, but using readymade lego pieces rather than paint.
Lego cake toppers are especially fun if one or both of you have a little geeky side. They're also great paired with an otherwise very traditional cake, for a quirky surprise.
Wooden Calligraphy Toppers
Wooden calligraphy toppers are by far the simplest and, perhaps, most common toppers. These are easily produced by online retailers and can be personalized to show any name or phrase.
Some popular options include 'Mr & Mrs Name', 'Always' (from Harry Potter), 'Forever', 'Lobsters' (from Friends), 'Finally', 'Meant To Be', and the list goes on. Feel free to be creative with this, too.
Some couples have opted for funny quotes, for example, 'Two Less Fish in the Sea.'
Tips on How to Choose the Perfect Wedding Cake Topper
Choosing the perfect cake topper should be fun rather than stressful. If you're starting your search by thinking about what others may think, you're already doing it wrong. Below are some simple tips on how to choose your very own perfect wedding cake topper.
Choose Complementary Colors
Start simple: what colors are you using in your wedding? If you're aiming for a cohesive look, complementary colors are a good idea. Different shades of the same color or colors opposite on the color wheel tend to work very well.
Reflect Your Individual Personalities
It's your wedding. Your friends and family will be attending your celebration because of you and your future husband or wife. Therefore, it makes sense to choose decor that really reflects who you are. Pick a cake topper that showcases who you are as people.
Feel Free to Be Quirky
On that last note, it's fine to get a little quirky with your cake topper. Cake toppers tend to be rather small in the grand scheme of your big day, so it's ok to pick something a bit fun. Lego or peg dolls are quirky and fun. Feel free to get inventive and enjoy the process.
Best Flavors for a Tasty Wedding Cake
Modern wedding cakes are available in nearly any flavor you can dream up. Dr Pepper flavor? Yes. Nutella? Yes. Champagne? Of course.
Whichever you choose, it's sure to be a delightful treat for your guests. Below are some of the most popular wedding cake flavors we've come across to date.
Vanilla
Vanilla has forever been one of the most popular wedding cake flavors — cake flavors in general, even. Vanilla is at once simple and decadent, and can easily be spruced up with any number of sumptuous buttercream toppings. If you choose vanilla, it's sure to be a crowd pleaser.
Chocolate
The second most popular flavor is another well-known standard: chocolate. Chocolate comes in many varieties from different places throughout the world. Dark chocolate is particularly luxurious and strongly-flavored, making for an excellent wedding cake.
Spiced Carrot Cake
This is really two flavors in one, as both spiced cake and carrot cake are delicious on their own.
Both feature a selection of fragrant spices that work perfectly for both Fall and Winter weddings. For a real showstopper, try having a pumpkin-spiced cake with delectable cream cheese frosting.
Lemon
People tend to either love lemon cake or feel fairly indifferent about it. Lemon cake tends to be very moist and offer a nice balance of sweet and tart. Lemon oil, zest, and juice all add plenty of flavor to a cake. Pair with a beautiful cream cheese frosting.
Olive Oil
Olive oil cake is usually flavored with some kind of citrus zest, bringing out the fruitiness of the oil itself.
It's a denser cake than other flavors, but also incredibly juicy and moist.
Best of all, olive oil cake tends to stay fresh for a little longer, meaning it's perfect prepared ahead of your big day.
Basic Recipe for a Wedding Birthday Cake: A Simple Guide
The best cakes are, it's said, the simplest ones. Your wedding taste should taste good, first and foremost. Our basic recipe is for an irresistible vanilla cake made with tons of vanilla extract.
Using the best ingredients you can afford and taking the time to follow our basic recipe will ensure a fantastic cake. You'll then be able to decorate it any way you like to craft a wedding cake you'll love.
Top tip: if you have any food intolerances or dietary restrictions you can make some simple changes.
For example, you can replace the cake flour with a gluten free variety, the butter with vegan butter, the eggs and egg whites with yogurt and/or aquafaba, the milk with oat or almond milk, and the sour cream with a plant based sour cream.
You may use less sugar or replace it with coconut sugar or a fruit extract, too.
Ingredients for one 9" tier:
3 ⅔ cups of cake flour
1 tsp of baking powder
¾ tsp of baking soda
2 cups of granulated sugar
1 ½ cups of softened salted butter
3 large eggs (at room temperature)
2 large egg whites (at room temperature)
1 tbsp high quality vanilla extract
¾ cup of full-fat sour cream (at room temperature)
¾ cup of whole milk (at room temperature)
The Recipe
The recipe is quit easy, but involves a lot of steps. Here's how you do it:
1. Preheat your oven to 350 F and prepare your 9" cake pans by greasing them with butter or oil. Three 9×2" pans are ideal. Line each with baking paper for easier removal after they're baked.
Mix the dry ingredients in a bowl, including the flour, baking powder, and baking soda.
In a separate bowl, whisk the butter and sugar until pale and creamy.
Add the eggs and egg whites as well as the vanilla extract until smooth and streak-free.
Add the sour cream and blend, then gently whisk in the dry ingredient mix until just combined.
Slowly pour in the milk and blend until just combined. Pour the batter into your cake tins.
Bake for around 25 minutes or until the cakes look just browned and are springy to the touch. A toothpick inserted into the sponge should come out clean.
Once your cakes have cooled you can assemble them in any way you like, using buttercream between each layer and on top. You may also bake additional layers using less ingredients and smaller cake pans.
Alternatives to a Wedding Cake
With wedding cakes becoming ever more expensive, you may wish to look into other options that don't cost the world. Alternatively, you could whip up a few extra treats with friends and family to share on your big day (without overwhelming yourself though, please.) Below are some of our favorite options.
Elegant White Cupcakes with Topper
White cupcakes are a wonderful treat for a wedding or even a bridal shower. To make these, whip up your favorite cake recipe. Add the batter to white cupcake liners in a cupcake tin and bake, as directed.
Once they've cooled, frost with sumptuous swirls of white buttercream. Add sugar pearls or edible white glitter if you like.
Finish with a glittery white card topper. Toppers with your name in calligraphy or ring silhouettes are particularly sweet for this.
Wedding 'Cheese' Cake
'Cheese' cakes aren't actually cake, but rather cakes made of individual wheels of cheese. If you decide to make one of these yourself, start with harder cheeses at the bottom and softer ones on top.
Be mindful that these shouldn't be kept in the sun or a warm room for too long; otherwise cheese starts to get a little too fragrant. Decorate your 'cheese' cake with sumptuous fruits such as figs and grapes, as well as dried or fresh herbs.
Wedding Croquembouche Tower
Croquembouche is by far one of the most wonderful desserts you could ever ask for, particularly when it comes to a wedding. Croquembouche 'cakes' are made from a multitude of choux pastry balls filled with ganache or cream.
These are then bound together by threads of delicious caramel.
Croquembouche is particularly good for a wedding because it looks so impressive. It's also quite averagely priced, coming in quite a lot more budget-friendly than a regular cake.
Did You Know? How Much an Average Wedding Cake Costs
With ever-rising costs of ingredients, today's wedding cakes definitely aren't cheap. On average, American wedding cakes cost anywhere from 125 to over 1,000 dollar.
Most couples tend to budget for around $350 for their delicious wedding cake. The key here is to do your research early and book your cake vendor early to lock in any potential deals.
You might also be interested in...