No Eggs – No Butter? Peanut Butter Scones And Lemon Lime Sunshine Cake From My Sweet Vegan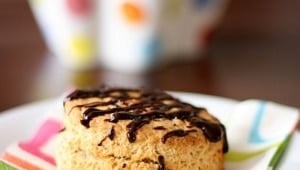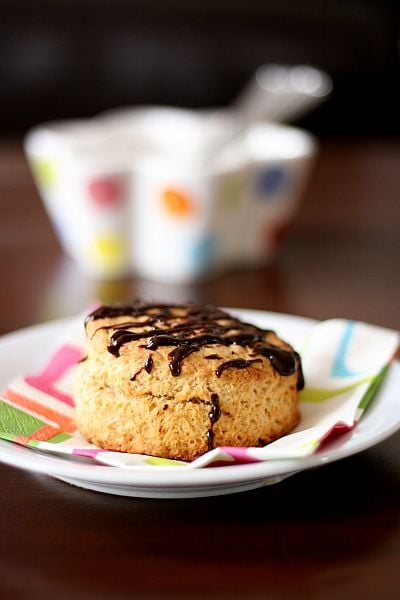 Baking without eggs and butter past midnight a couple of days ago…"Why would that be?" you might be wondering. Did I run out of baking supplies when a sweet craving hit? Was I cramming in homework at the last minute? None of the above…although I did in fact re-do a post just to update the pictures as Santa finally delivered my present and accessories. Looking at the old shots could not do these baked good justice anymore. So I decided to bake them again and pretended today was December 25th…any excuse to stay in my pjs on my day off is a good one in my opinion. But why out of all the things I could bake, did I decide to make vegan scones and cake?
Well, a couple of months ago, I received a copy from my dear friend Hannah's first cookbook, aptly titled My Sweet Vegan. I got to baking her Lemon Lime Sunshine Cake that very same day and about every other weekend since then. Same with the Peanut Butter Scones, they are on B's list of most requested breakfast items. I feel bad because I have been telling everybody about this book, promising Hannah and her publisher a review of the recipes I have tried so far and in the end I keep it all to myself. No more! The book is a perfect reflection of Hannah's personality, warm and friendly, inviting you to try new things and be opened to the world around. When I first got to know her, I had no idea this very mature soul both in her writing and approach to food, came in such a young and cute package.
Look at that breakfast of champions! That is one awesome Peanut Butter Scone! I love to make these for brunch and take them (minus the glaze) to the gym when the 4 o'clock sugar craving hits. In that spirit, the book is written with the whole spectrum of dessert lovers in mind, vegan or not, and it reads like a novel. Hannah generously gives us her tried and true, favorite recipes as well as tips and tricks to achieve the best tasting treats. Reading through it is like spending time with a good friend over a good brownie or a cup of coffee. Did I say brownie? Yes…and many more like Strawberry Love Muffins, Butterscotch Blondies, Whoopie Pies, Mocha Devastation Cake, Ginger Dream Pie, Five Minute Coconut Fudge….and I am just scratching the surface.
Although not vegan, B. and I do respect the animals that feed us, giving them the day off once in a while. I am more into tofu, soy milk agave nectar, with a weakness of vegan "cream cheese" than he is, but he is a good sport and when I told him I was going to bake from Hannah's book, he took it upon himself to give me the "Carnivore opinion". So far, everything has been a hit and when he asked about all these alternative items, I handed him the book where Hannah explains in detail her vegan ingredient guide at the begining. I added that if he flipped a couple more pages, she had a section entitled "Tools of the trade" where she explained everything anybody needed to know for baking. His response "I might have agreed to try vegan, but am still not ready to step into the kitchen, meat-lover or not…nice try!" Ah well, can't blame me for dreaming!

See my midnight snack right out of the oven…? That's the Lemon Lime Sunshine Cake baked in individual portion instead of a Bundt pan, so I feel even more virtuous stuffing my face eating dessert. I have stopped counting the number of times I have taken this to our weekend oyster roasts with the neighbors. Everytime I make it I end up skipping the glaze that is supposed to go on top because somehow the yogurt, lemon and lime juice and sugar in the batter end up forming their own curd around the edges so that just a dusting of powdered sugar suffice.
I made the big mistake a couple of weeks ago to lend it to my friend "Lucy-The Vegan"…I thought I would never see it again. It appeared she was baking her way through it with great success and that is no small testimonial to Hannah's recipe when you know that Lucy is not much of a dessert person and a novice baker. I love baking from it because I can relax, kick back, knowing that Hannah has tried her recipes several times and gives us only her favorites. I can open the book at any category (sweet tarts, cookies and bars, cakes and cupcakes, pies and tarts, miscellaneous morsels and desserts) and just make up a treat. Some items take a little longer than others but are by no means daunting or intricate. I also really like the food allergy index at the end of the book. I have more and more clients with food allergies or dietary restrictions so I know that I can bake something without second guessing if I did not sneak in something they could not have without even paying attention.
What is next on the baking list from My Sweet Vegan? Well, I am baking the Triple Threat Chocolate "Cheese" Cake to a friend's baby shower tomorrow and the Cookies and Creme Pound Cake for my mother in law's garden club next week.

What? No recipes? In the spirit of supporting writers and young writers out there, I strongly encourage you to buy the book. I have already gotten a couple more for wedding and birthday presents and both recipients fell in love with the recipes, feel and gorgeous pictures taken by Hannah.