6 Best Pink Birthday Cake Ideas + 3 Tasty Alternatives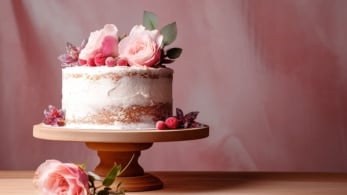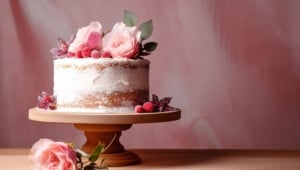 A Pink birthday cake is associated with femininity, baby girls, and sweet 16th birthdays. Yet there's so much more to it than that. Pink is a vibrant color with lots of lovely meaning. It symbolizes sweetness, romance, femininity, charm, and tenderness. Here you'll find the most beautiful ideas for a pink birthday cake.
The color pink tends to be either loved or loathed. However, as with all colors, there are so many nuances and different shades.
You can easily incorporate pink into a birthday cake regardless of whom you're baking it for. Don't believe us? Have a look through our excellent pink birthday cake designs for boys and girls.
Pink Birthday Cake Ideas for Boys
If pink birthday cake doesn't sound very boyish to you, think again. We're not talking about making a little boy love a Minnie Mouse cake either (though if he does that's fine).
There are quite a few well-loved characters who are most definitely pink. Below are the best pink birthday cake designs featuring just those — especially for boys.
Here you'll find more birthday cake ideas for boys.
Pink Mr Men Cake
Mr Men characters are colorful, fun little blobs, each with a different personality. You can easily make this unisex cake by following our simple recipe below. Next, coat in subtly pink frosting. Decorate with colorful fondant Mr Men people. Add the birthday boy's name made from multi-colored sugar paste letters.
Top tip: you can make your sugarpaste Mr Men characters ahead of time to practice. Fondant figurines stay good for up to two months so long as they're kept in a cool, dark place.
Bear in mind that fresh fondant hardens after a while, so work with it while it's fresh, then store your finished figurines for as long as you need to.
Pink Kirby Cake
Kirby is a lovable character who has featured in many Nintendo games over time. He's very pink and a little reminiscent of a big ball of bubble gum.
The perfect Kirby cake should follow our basic recipe below before being baked in a semi-circle cake tin. Allow Kirby to fully cool before coating him in pink frosting. Add pink fondant on top to make him look smooth.
Next, add Kirby's feet, hands, and face using different colors of sugarpaste. You can follow a picture for his features or make a simple stencil out of paper.
If all that sounds a little too tricky, you can also follow our Pink Panther cake guide below and swap Pinky for a sugar paper print out of Kirby instead. In this case, add some sugar paste or sugar paper stars to finish the look.
Pink Panther Cake
The Pink Panther has been a beloved character since the early 60s, when he first came to the big film screen. You can easily make a pink birthday cake version.
It's the ideal bake for classic film fans and those who love the adorable pink character. You needn't make the entire cake pink either, unless of course you want to. Start by baking our basic recipe below, then frost in a butter cream of your choice. Neutral colors or pastel tones work best.
You can add the Pink Panther to the top of your cake in one of two creative ways: either, buy a sugar paper print out and lay it flat on one side of the top of the cake.
Alternatively, make or buy a fondant Pink Panther figurine to have him 'pop out' of the top of the cake. Finish with some pink sugar paw prints and a birthday cake topper.
Pink Birthday Cakes for Girls
The pink birthday cake is the somewhat stereotypical girly treat. We cover the typical girly cake, but also delve into some quirky alternatives for those girls who love pink but perhaps not overly sugary, girly things.
Bear in mind that, if pink is the important theme here, you can make any of these more pink by following our little hacks in the recipe section of this article.
Are you looking for more birthday cake ideas for girls? Here you'll find them.
Pink Princess Castle Cake
You might have seen the pink princess cakes on social media featuring dolls stuck in fluffy frosting — and you may or may not have found those a little much. This cake is a little more subtle on the princess theme yet so beautiful, and perfect for both young and old(er) birthday girls.
Start by baking our basic cake recipe below and allow the finished cake to cool. Next, frost entirely with pale pink buttercream. You don't need to be too careful with this; a slightly rustic finish is perfectly fine.
Making your cake into a princess castle couldn't be easier: just print your preferred castle on your preferred cardstock (it shouldn't bend easily) and pop it on top of the cake.
The fun bit here is that you can select any castle you like — from Disney's castle to a cartoon version or even a local attraction. Ideally print the castle in a similar hue to match your cake — and your perfect pink princess castle cake is done.
Pink Gingerbread House Cake
This is a fabulous choice for a wintertime birthday. It's also the only 'cake' that won't quite work with our basic recipe below, though you could easily combine it with a cake.
In this instance, you'll want to use your cake as a sort of pedestal for the gingerbread house. Frost the cake with the whitest buttercream you can manage, to resemble snow.
If you're skipping the cake, that's fine as well. In this case, you'll want to build a basic gingerbread house — either following your favorite recipe or using storebought gingerbread pieces.
Once done, frost the outside using pale pink icing for the outer walls, and white frosting for the roof and any hanging 'icicles.'
Add a little wreath made of pastel-colored candies above the door and write the birthday girl's age in front of the door using pink icing. A sweet, wintery surprise for any pink-loving girl or woman.
Pink Tractor Cake
Some girls just love the idea of farming — perhaps they're already farmers or look after a small allotment or plot in their back garden.
Whatever the reason, they're sure to love our pink tractor birthday cake. Bake our simple recipe below, then coat the entire cake in white buttercream once it's fully cooled.
Use stencils or cookie cutters to cut out your tractor and any trailer from pink fondant. Top tip: roll out your fondant slightly thicker so it's easier to transfer to the cake.
Add the tractor to the front of the cake and finish with any little details using a darker pink sugarpaste.
Next, add the birthday girl's name to the top of the cake using the same pink fondant. Finish with a selection of store bought sugar animals (or make these yourself ahead of time if you're extra crafty.)
Simple Pink Birthday Cake Designs
The best birthday cakes are tasty, and our simple recipe below will help you achieve just that. Once you've crafted your perfect sponge, there are three steps to designing your ideal pink birthday cake:
Make or buy the best frosting or buttercream available. If you're coloring your frosting pink, you'll want a base that's as white as possible rather than yellow-hued. A frosting that's too yellow will turn orange or peach once you add pink food dye. Make sure your frosting is light and not over-whipped.
Steer clear of food dyes that are too bold. Subtler shades of pink will always look classier and prettier. The same goes for fondant, which should also be kept to softer hues. If you want to add bolder colors, keep those for the decorations.
Keep decorations to a minimum. Rather than overwhelming a pretty cake with lots of different elements, stick to a few that fit the theme. And if you're really stuck for ideas, fresh organic edible flowers in pink hues look wonderful on a well-iced cake. Pink roses are particularly nice.
Best Quotes & Captions for Pink Birthday Cakes
The best captions and birthday messages are from the heart. However, if you're trying to incorporate a touch of pink into your birthday card, you might be scratching your head.
Fear not, we have the perfect selection of inspirational pink-themed messages for you. Just pick one and add your own spin on it to suit the recipient:
"Pink is more than a color. It's a lifestyle, an attitude and a statement."
'"You're as beautiful as a rose."
"Life's better in pink. Happy Birthday!"
"Think pink."
Here you'll find more beautiful birthday quotes and wishes.
Beautiful Gift Ideas That Match a Pink Birthday Cake
Many people love the color pink. It's at once a color signifying romance, innocence, fun, and relaxation. Pink somehow works for everything, regardless of the occasion. It's especially fun for birthdays though, so if the birthday boy or girl likes pink here are some great gift ideas:
Pink Spa Day: you can get anything from fluffy slippers and soothing eye masks to pink-hued salts, soaps, creams, and even candles. Make up a hamper of your favorite pink spa accessories or buy a readymade version online.
Pink Flowers: did you know that pink roses in particular signify admiration and happiness? If roses aren't your style, you can also gift pretty pink peonies, carnations, lilies, orchids, or hydrangeas. The latter look particularly good in pots, which can be transplanted to a garden.
Pink Accessories: if your birthday girl is into pink accessories such as leather handbags or scarves, there are plenty to choose from here. Many brands create beautiful soft real and faux leather bags. Soft pink hues look particularly classy and will go with almost anything.
Pink Foods: a box of pink candies go well alongside a nice bottle of rosé wine and a pretty pink glass. You can even get pink chocolate, such as the classic Lindt Lindor truffles.
Basic Recipe for a Pink Birthday Cake: A Simple Guide
This recipe will yield the most delicious pink birthday cake or 24 tasty cupcakes. You can change it to your liking to suit any dietary needs, too.
For instance: you may replace the eggs with yogurt or aquafaba, swap the milk for oat or almond varieties, change the butter to a vegan butter, and so on. You can also replace the sugar with coconut sugar, agave syrup, or a fruit concentrate of your choice.
2 ¼ cups self-raising flour
1 ½ cups granulated sugar
½ cup salted butter
2 tsps vanilla extract
1 ½ cups whole milk
3 medium eggs
And here's how you do it:
Preheat your oven to 350 F and grease two 9" cake tins or one 9"x13" pan in preparation using butter or cooking oil.
Whisk the sugar and butter in a mixer until fluffy and slightly pale in color.
Mix your eggs, milk, and vanilla extract in a separate bowl until these are thoroughly combined and smooth in texture.
Gradually add the butter and sugar cream to the eggs and the flour until you get a smooth, lump-free batter.
Pour your batter into the prepared tins and bake them for 30-35 minutes. When done, the center should be softly browned but still a little springy to the touch.
Cool your finished cake to room temperature. Now frost and decorate it per one of our fun designs above.
Hacks to color your cake extra pink or make it more bespoke
If you're wanting a really vibrant pink hue for your cake but also prefer natural ingredients, we have the best solution for you:
Simply boil two cups of fresh or frozen raspberries with ¼ cup of water. Strain through a sieve after about five minutes, then return to your saucepan and reduce until you only have around ¼ cup left.
Add this mixture to your cake batter for a vibrant burst of color along with a delicious raspberry flavor.
You can take this up a further notch by adding flavors such as rosewater and almond. This will give your cake a touch of macaron-flavor, which is absolutely mouthwatering.
It'll also make your cake a truly bespoke creation. You can play with more or less of the natural pink food dye and added flavors to create a cake that is entirely yours.
Alternatives to a Pink Birthday Cake
Perhaps you don't have time to make a cake or you just want something in addition to a storebought cake. If pink is the theme, we've got you covered with ideas and special extras you can quickly make at home.
Strawberry Cupcakes
Did you know? Strawberry muffins are a great extra to any party buffet, as well as being scrumptious on their own. You can use our basic recipe above to make 24 delicious cupcakes.
Add freeze dried strawberries chunks to the batter. These will make the batter cakes slightly pink in color, while also adding a delicious sweet and tart flavor.
Frost using vanilla buttercream, then top with more freeze dried strawberry pieces or a fresh strawberry each. Scrumptious.
Birthday Macarons
Macarons aren't the easiest baked treat to make at home, though they're a real showstopper once you've mastered them.
Use the macaron recipe of your choice and add a tiny bit of pink food dye to make your batter subtly rose-colored. You can flavor your macarons with plain vanilla, which is delicious.
Alternatively add a few drops of rose water to the buttercream for a unique burst of soft, floral flavor.
Pink Rice Krispie Treats
If you've ever made Rice Krispie treats these are just that, but with added pink food coloring. You can make several batches in different shades of pink using your favorite recipe.
Alternatively, these are great topped with sprinkles or shards of peppermint candy. They're a great addition to a birthday buffet as well as a baby shower.
You might also be interested in...