6 Best Red Birthday Cake Ideas + 3 Tasty Alternatives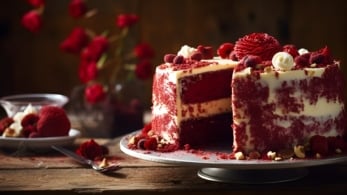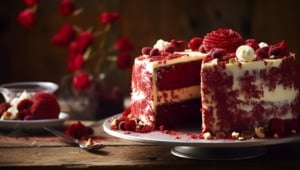 Everyone knows that red has forever been the color of love. Yet it's also been renowned for being a color of extreme things: adventure, danger, seduction, and passion. Find here the best red birthday cake ideas for boys and girls.
Red birthday cakes are for bold, bright birthday parties. These are not demure or subtle in any way. If you're having a red-themed party or want to shine with a red cake design, it's going to draw attention.
Below are some of our very best red birthday cake designs. Paired with our delicious basic recipe in this article, your red cake is sure to be a show stopper.
Red Birthday Cake Ideas for Men and Boys
Red birthday cakes show how much you love the recipient. They're fun, eye-popping, and absolutely delicious (provided you have the right recipe — which you do, below in this article.)
From elegant cake to something a bit more fun, your birthday boy will be ecstatic about his birthday cake.
Here you'll find more trendy birthday cakes for men.
Elegant Red Birthday Cake
This is the simplest version of a red birthday cake you can make: start by baking our basic red velvet cake recipe below. Allow your cake to fully cool, then frost using red buttercream.
The darker the red the more eye-popping the contrast will be. Frost as evenly and smoothly as you can using a cake scraper.
Once the buttercream looks perfect, add some edible gold flakes up the center of the cake. The effect you're aiming for is that of a gold and red geode or marble slice.
Once you're done, simply add a gold cake topper. A large number looks great, as does a simple calligraphy 'Happy Birthday' or the birthday boy's name.
Red and Black Birthday Cake
Our red and black birthday cake design looks both sophisticated and a little on the wild side. To recreate this, bake our basic red velvet cake and cool. Frost using black or very dark chocolate buttercream.
Try to make this as smooth as possible using a cake scraper. You may wish to layer a sheet of fondant over the top to make it as black as possible.
Finally, decorate your finished cake using red ornaments: dark chocolate covered strawberries look great, as do edible red roses. For a cake that's on the spookier side, add a sugarpaste skull and some red writing – perfect for a Halloween-time birthday.
Red Spiderman Birthday Cake
Spiderman cakes are perfect for both big and small boys. The best yet simplest Spidey cake goes like this: bake a basic red velvet cake per our simple recipe below.
Cool and coat in red buttercream. You'll want your buttercream to be very smooth rather than rustic. Next, use dark chocolate sauce or soft icing to draw a web design all around the outside of the cake, working your way inwards.
Finish with a fondant Spiderman figurine. You may purchase one of these ahead of time or make it yourself, depending on how confident you feel in your sugarwork. Add a simple number candle and enjoy the questions of, 'did you really make that yourself?'
Red Birthday Cakes for Women and Girls
Red is a romantic, bright color perfect for both women and girls. With the help of our basic red velvet cake recipe further on in this article, you can craft a breathtaking design.
Below are some of the simplest yet most impressive red birthday cake designs for ladies. Copy them or make them your own, either way you're sure to delight your birthday girl.
Here you'll find more beautiful girl's birthday cake ideas.
Red Velvet Berry Birthday Cake
You have several options for recreating this special cake. Either way, start by baking our basic red velvet cake recipe below and cool your cake to room temperature.
Next, frost between the layers using red or white buttercream. Frost around the sides and top of the cake. Finish the sides with a slightly rustic pattern by smearing the buttercream upwards with a knife or cake scraper. You want to see a sort of wide-edged vertical stripe pattern.
Finally, add a selection of red berries to the top of your cake: raspberries, strawberries, and halved cherries (without the stones) are beautiful and delicious. Serve with fresh cream.
Classy Red Rose Birthday Cake
This cake is easy to replicate provided you have a rose piping tip. You can readily get this in a local baking shop or online. To make it, bake our basic red velvet recipe below and cool.
Frost the entire cake using red buttercream. You needn't do this too smoothly, as you'll add the roses all over the cake on top. Next, use your rose flower piping tip to add red buttercream roses all over the sides and top of the cake.
Finish this beautiful cake with a pretty calligraphy cake topper in gold or basic wood. A topper that reads 'Happy Birthday' and potentially the birthday girl's age and name is lovely. You can order personalized ones online.
White and Red Floral Cake
This pretty cake is fairly easy to recreate and looks stunning. To make it, you'll want to follow our basic red velvet cake recipe. Once your cake has fully cooled, frost with a basic white buttercream, but set aside a little bit of it in a separate bowl.
Add red food dye to this and frost the bottom third of the cake. You'll want to blend the red buttercream upwards a little bit, for a slightly ombre effect. The frosting should be reasonably smooth; a cake scraper helps with this.
To finish the design, add a large red fondant or sugar flower to one side of the cake, and dot bits of edible gold flake on the buttercream. This is one cake that doesn't suit a regular topper or candle well, so you'll want to stand any candles in front of the cake.
Alternatively, write the birthday girl's name on the serving platter in red or gold icing.
Simple Red Birthday Cake Designs
Depending on how red you want your cake to look, this color can be really easy for creating your perfect cake design:
Red velvet cake is great for when you just want a simple red-colored sponge, but don't mind the outer decorations being something else.
Simply frosted with a delicious cream cheese buttercream, red velvet cake looks perfect when cut open. It's easy to make and tastes scrumptious, which is half the battle.
If you're after an overall design that's redder than just the inside, you'll want to follow these simple tips:
Use high quality food dye for your buttercream or frosting. A deep, rich red looks better than a lackluster, pale tomato.
Edible flowers and berries are your friend: red roses, strawberries, raspberries, and currants all look great, and can even be mixed and matched.
Red glazes and sauces make for a great, easy addition. Raspberry is particularly popular for its sweet and tart flavors.
If all else fails, less is generally more: a few well-made red fondant flowers, a red cake drip, or a gorgeous red topper are better than too many badly done red elements.
Best Quotes & Captions for Red Birthday Cakes
The best birthday messages come from the heart — and none more so than those with a red theme. Red is the color of love, so a loving message is key. With that said, you may be stuck for a little inspiration.
Below are some of the best birthday messages that go perfectly with a red birthday cake. You can modify these or work them into a loving message of your own.
'Wishing you a very Happy Birthday and a year filled with love, adventure, and prosperity.'
'Happy Birthday to the man/woman of my dreams. Sending you hugs, kisses, and lots of birthday wishes.'
'Roses are red, violets are blue, honey is sweet, and so are you. Happy Birthday!'
'You are proof that the perfect guy/girl exists. Happy Birthday!'
'Happy Birthday! I hope all your special dreams and wishes come true this year.'
Here you'll find more funny and beautiful birthday wishes.
Beautiful Gift Ideas That Match a Red Birthday Cake
Red is a joyful, vibrant color that inspires plenty of great gift ideas. Whether you're planning a red-themed birthday party or the person celebrating just loves the color, these red gifts will delight them. There's even room for a fun little pun card for a 'red-iculously' good present.
Red food hamper: red foods are abundant, and make for a great homemade hamper. You can include red candies, chocolate, and fruit such as apples, strawberries, and cherries. You can even include some red-colored drinks such as wine or juice, and red wax-coated cheese.
Red candles: you can get a variety of scented red candles that the birthday girl (or boy) is sure to love. From small votives to elaborate glass jars filled with a yummy red candle, there's something for every budget.
Quirky red gifts: you can get just about anything in red. There are red stuffed toys that are fun for children and grown-ups alike, red Lego construction kits, red glasses and mugs, and even red chocolate 'rose' bouquets.
Basic Recipe for a Red Birthday Cake: A Simple Guide
The best cake you can make for a red color birthday theme is of course… a red velvet cake. Traditionally red velvet cake was red because of the raw cocoa powder reacting with the acid in the vinegar and buttermilk.
Nowadays, red food dye or beetroot is added to achieve the deep red coloring.
Ingredients:
2 ⅔ cups of cake flour
¼ cup of unsweetened cocoa powder
1 tsp baking soda
½ tsp salt
½ cup of unsalted butter
1 ¾ cups of sugar
2 large eggs
½ cup of vegetable oil
red food coloring or beetroot powder
2 tsps of vanilla extract
1 tsp distilled white vinegar
1 ⅓ cups of buttermilk
And here's how you do it:
Preheat your oven to 350 F. Prepare two 9" cake tins by greasing them with butter or your choice of cooking oil.
Mix the dry ingredients in one bowl: blend the cake flour, baking soda, cocoa powder, and salt.
In a separate bowl, mix the butter and sugar until light and creamy. Add the eggs, food dye or beetroot powder, vanilla extract, vinegar, and buttermilk.
Next, slowly sift the dry ingredients into the wet ingredients while continuing to mix. A stand mixer is helpful here. Blend until everything is fully combined and you have an even, lump-free batter, but take care not to over-mix.
Add the batter to the prepared cake tins and bake for about 30 mins or until a toothpick comes out clean when inserted into the sponge. The finished cakes should be lightly browned and springy to the touch.
Once your cakes have fully cooled, you can frost and decorate them per our cake design ideas above.
Alternatives to a Red Birthday Cake
If you don't have time to bake an entire red birthday cake or someone else already has the cake covered, don't despair. Below are some great alternatives to red cake that are sure to impress.
These make fantastic additions to a red birthday buffet or red party favors to give away at the end of the day.
Birthday Waffles with Berries
We've yet to meet anyone who doesn't like waffles. Homemade waffles are particularly good when they're fresh from the oven or the waffle maker.
Serve them while they're still warm and add a selection of red berries. A homemade red sauce made from fresh or frozen raspberries and sugar is another delicious addition, especially in combination with fresh whipped cream.
Chocolate-Covered Strawberries
Who doesn't love chocolate-covered strawberries? If strawberries are in season you'll definitely want to make these. Just get the largest berries you can, wash, and dry fully.
Next, dip in a melted chocolate of your choosing. White, milk, or dark chocolate are all great options. You can even use red or pink chocolate. Finish with a little bit of edible glitter.
Red Velvet Birthday Cupcakes
For a quick and easy red birthday treat, follow our simple recipe above to whip up 24 red velvet birthday cupcakes. Once they've cooled, you can make red buttercream frosting.
Frost with even swirls and a sprinkling of red sprinkles or edible glitter. These red velvet cupcakes also make a great gift for Chinese New Year.
You might also be interested in...