The 9 Best Chocolate Syrups + 3 DIY Tips (With or Without Sugar)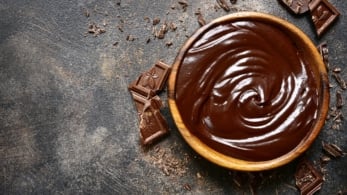 Chocolate syrup: Sweet, gooey, and delicious, it's great over waffles, ice cream, or just drizzled straight into your mouth. This sugary condiment is universally loved, whether in drinks or food. We'll delve into some of the best chocolate syrups below, as well as how to make your own.
While there are only three main types of cooking chocolate (white, milk and dark), there are hundreds of uses for these. Syrups were first commercially introduced by the Hershey Chocolate Company.
Nowadays, you can easily re-produce your own delicious versions, both with and without sugar for a healthier alternative. If you want to get really creative, our magic chocolate shell recipe will surprise you.
Ingredients of Chocolate Syrup
There are two main types of chocolate syrup. You can easily make both from scratch in your own home, and neither will take more than about 10 minutes.
If you're making a regular chocolate syrup you can add to drinks or desserts, follow the first recipe further down the page. For this you'll need the best chocolate powder you can find, water, sugar (or one of the sugar alternatives we've suggested below), and a pinch of salt.
We recommend using a top quality chocolate powder as these will generally be less grainy, and make for a smoother, more rich and chocolatey syrup.
The second method actually only uses two ingredients: chocolate chips and coconut oil. If you're feeling lazy, you can even combine the two in a microwave-safe bowl and melt them that way, before stirring.
What's great about this method is that it's pretty healthy, and offers a fun little party trick when poured over ice cream. More on that later.
Here you will find the best vanilla syrups.
Types of Chocolate Syrup
There are also three main types of chocolate syrup, though purists would likely disagree. Real chocolate syrup will almost always be dark and contain little other than sugar and cocoa. Chocolate sauces will generally offer more actual chocolate content than their syrupy counterparts.
White Chocolate Syrup
If you're thinking of those delicious white chocolate Starbucks drinks, you're in luck. White chocolate syrup is actually pretty easy to make (just combine white chocolate chips and milk and gently heat and stir until you get your desired consistency).
As white chocolate isn't available in powder form, it does make more of a sauce than a real syrup. This is why many use white chocolate flavored syrups such as Monin's White Chocolate Syrup instead. These use mostly sugar as well as natural flavorings.
Dark Chocolate Syrup
Dark chocolate syrup is the one generally preferred by chocolate purists. It tends to be richer and more chocolatey than others.
As far as dark chocolate syrup is concerned, you can get both real chocolate syrups and flavored options. A real chocolate syrup is easy to make at home, and we've gone into two great ways below.
Syrups tend to contain sugar, but sugar-free alternatives can be crafted just as easily. There are some hugely popular chocolate syrups available to buy, such as Routin 1883's Premium Chocolate Cookie Syrup.
However even the best brands will contain mostly sugar and flavoring. Your homemade version will cost a fraction of the price and we'd bet it'll be just as delicious.
Here you can learn more about the health benefits of chocolate.
Milk Chocolate Syrup
If you've gotten this far, you'll know by now that most storebought chocolate syrups are mostly made of sugar and flavors. With that said, you can use milk chocolate chips in your own recipes. Heat a very simple milk and chocolate blend for a similar syrup to the white chocolate syrup we mentioned above.
Milk chocolate syrups as such don't really exist, though you'll have seen and perhaps enjoyed Nesquick or Hershey's options for milkshakes. Mixed into either cold or hot milk, these make for delicious, quick drinks you can quickly enjoy at home.
The Best Chocolate Syrup Brands
There are 100s of chocolate syrups to choose from today, though only a few are favoured by restaurants and coffee shops. Below we cover some of the most popular brands of traditional chocolate syrups, white chocolate syrups, and sugar-free chocolate syrups.
Bear in mind that sugar free or gluten free syrups have only become popular relatively recently, so there are plenty more smaller brands to choose from online.
Traditional Chocolate Syrup
Traditional chocolate syrups are those you probably know and love best: We're talking dark, syrupy goodness. Traditional chocolate syrups are generally made using cocoa powder and sugar. They're delicious over ice cream or in flavored drinks.
Bosco Chocolate Syrup
Invented by an Italian immigrant by the name of Salvatore Bosco, this famous chocolate syrup has been around since 1928. It's still popular today and can be bought online or in most larger grocery stores.
Hershey's Chocolate Syrup
The oldest commercial chocolate syrup is still popular today. You'll always recognise a Hershey's chocolate by its taste, which is unique to the brand and delicious. Sadly, Hershey's doesn't actually contain very much cocoa.
Fox's U-bet Chocolate Syrup
Originating in Brooklyn, New York in 1900, Fox's U-bet is one of the oldest and most-loved chocolate syrups around. It's especially popular to make an American drink called an 'egg cream.' Simply mix 2 tablespoons of Fox's U-bet syrup with 1 ½ ounces of milk and a ¾ cup of seltzer.
Ghirardelli Chocolate Syrup
More of a sauce than a syrup, Ghirardelli chocolate syrup is especially good over ice cream. It's sold in a squeeze bottle and comes out like a rich chocolate cream. The premium version of this sauce is made with real chocolate, making it an indulgent addition to any recipe.
Routin 1883 Premium Chocolate Syrup
This is a great chocolate syrup approved by the Vegetarian Society. Routin 1883 syrups are both gluten and cholesterol free, but made up entirely of sugar, colors and artificial flavors. Still, this is a popular chocolatey syrup that tastes great in coffee.
Monin Premium Chocolate Syrup
Monin's Premium Chocolate Syrup is flavored using real cocoa as well as other natural flavorings. Their syrups are particularly popular for use in coffees and milkshakes, but are also great over ice creams and desserts.
Best White Chocolate Syrup
There aren't too many white chocolate syrups, and for good reason: White chocolate syrup itself doesn't really exist as there isn't any white chocolate powder.
Therefore, white chocolate syrups are all made using flavoring and sugar. White chocolate sauces made with real chocolate do exist, but are generally a bit thicker.
Torani White Chocolate Syrup
Torani's Chocolate Bianco syrup is made of cane sugar and flavoring. It's frequently used by coffee shops and consistently gets great reviews. Torani also sell an excellent 'puremade' white chocolate sauce.
This one is made with real white chocolate and condensed milk, so it's extra rich and delicious.
Monin Premium White Chocolate Syrup
Popular French syrup brand Monin crafted this chocolate syrup after their President requested something that tastes just like his favorite white chocolate brand. It's a delicious syrup, surprisingly made using strawberry juice as one of its ingredients.
Best Sugar Free Chocolate Syrup
Sugar-free chocolate syrup options are still relatively new to the market. It's a little trickier to get a nice, viscous chocolate drizzle with an artificially sweetened mixture.
Walden Farms, below, have done a pretty good job, and there are some others being developed. In years to come there will surely be far more options.
Walden Farms Chocolate Syrup
At nearly zero calories, Walden Farms chocolate syrup offers a great alternative for those needing to follow a sugar-free diet. This particular syrup is also gluten free and dairy free.
Recipe: How to Make Simple Chocolate Syrup Yourself
There are two main ways for making your own simple chocolate syrup: The first is perfect for drinks and when you're craving a 'regular' chocolate syrup. It can easily be made with and without sugar.
The second actually doesn't use any sugar at all and offers a lovely surprise over ice creams and chilled desserts. (Alright, it's more of a chocolate sauce, but the syrupy consistency and wonderful ways you can use it will make up for that.)
Simple Chocolate Syrup with or without Sugar
1 ½ cups water
1 ½ cups cane sugar (alternatively honey or coconut palm sugar)
1 cup of the best cocoa powder you can find
1 pinch of salt
Mix all of the above ingredients in a small saucepan. Stir constantly over a low heat until the mixture begins to thicken. Take the syrup off the heat before it begins to boil and pour it into a jar or heatproof container. Use once it's sufficiently cooled down or refrigerate for up to two weeks.
Honey or coconut palm sugar make great healthier alternatives for regular sugar. If you want to go completely sugar free, a granulated sweetener will work as well. This won't thicken your sauce, however, so you'll have a much runnier syrup than normal.
Magic Hard Shell Chocolate Syrup
2 cups chocolate chips (semisweet or dark is preferred)
⅔ cup of coconut oil
Add both ingredients to a small saucepan. Gently heat while stirring constantly. Take the syrup off the heat before it begins to bubble and store it in a heatproof container at room temperature for up to two weeks.
This syrup will solidify at cooler temperatures, creating a 'hard' chocolate shell. It's great over ice cream and makes a fun surprise for kids.
Tips for Homemade Sugar Free Chocolate Syrup
If you're following dietary restrictions or want a lower-calorie syrup, below are some tips on how to craft something sugar free or low in sugar.
Bear in mind that sugar substitutes generally also contain sucrose and glucose, though they will be healthier. Sweeteners are a great alternative, especially when you select a natural option, but they'll make less viscose syrups.
Use Sugar Substitutes
If you're steering clear from refined sugars, there are some excellent alternatives to use in your chocolate syrup recipes. Some of the most popular ones are coconut sugar, honey, agave nectar, and maple syrup.
Date paste or syrup is also popular and offers and almost chocolatey taste of its own. Date syrup is a particularly good choice as dates are a known to be rich in antioxidants and support gut health.
Use Sweeteners
Not all sweeteners are created equal. If the thought of cooking up a chocolate syrup with sweeteners has you pulling up your nose, please think again. Stevia is a great, natural sweetener which is low in calories.
You can also get sweeteners made from certain fruits and roots, such as monk fruit sweetener and yacon syrup. So if you simply must satisfy that sweet tooth but don't want anything artificial, there's plenty of options.
Make a Sugar-Free Recipe
Not all chocolate syrup recipes require sugar. As you can see from our recipe for the magic hard shell chocolate syrup above, it's completely possible to make a delicious sugar-free syrup.
Recipes such as ours also offer added health benefits besides being sugar-free. For instance, using coconut oil gives you the benefits of good fatty acids, as well as anti-inflammatory properties.
Popular Drinks and Food with Chocolate Syrup
Here are some of the most popular drinks and foods to make with chocolate syrup. If you love chocolate, you might be tempted to just pour it over everything anyway. In that case, enjoy.
If you're still needing inspiration, below are some of our top suggestions for both hot and cold days, as well as an all-time favorite for cocoa lovers.
Ice Cream
Ice cream is a wonderful treat on a hot day, even more so when covered in chocolate syrup. Our magic hard shell chocolate syrup recipe is a great choice for when you want to surprise children or make yourself an extra special treat.
For a lower calorie alternative, make or buy a chocolate syrup that contains cocoa powder and sweeteners. Enjoy with your favorite low fat ice cream treat.
Hot Milk
Nothing says comfort quite like a mug of hot cocoa. The French are particularly good at serving up their chocolat chaud. Try and gently melt some good quality chocolate in a small saucepan with milk and a bit of cream.
Stir until the chocolate is fully melted, but make sure you don't boil the mixture as this will turn the chocolate grizzly. Enjoy your hot drinking chocolate as soon as it's fully blended. Alternatively, a good quality chocolate syrup in a cup of hot milk is delicious as well, and lower in calories.
Starbucks White Chocolate Mocha Syrup
Per the Starbucks website, this is just a mix of their signature espresso, steamed milk, and their special white chocolate sauce.
The good news is, you can easily replicate this special treat at home: Just mix white chocolate, heavy cream, and some sweetened condensed milk in a saucepan. Gently heat (but not to boiling) until the mixture is completely blended and smooth.
Allow it to cool and add to your favorite mock-Starbucks drinks, then top with whipped cream for a decadent indulgence at a fraction of the price.
If you're craving chocolate but can't have it as part of a dietary restriction, fear not. There are plenty of excellent alternatives available.
You could opt for a chocolate-flavored syrup that's low in calories such as the Walden Farms syrup above. However, if natural syrups are your preferred choice, the alternatives below are just as delicious and good for you to boot.
Here you will find the best sugar-free starbucks drinks.
Best Alternatives to Chocolate Syrup
Looking for alternatives to chocolate syrup? No problem, there are numerous sweet variants, which we present to you in the following.
Date Syrup
As mentioned above, date syrup is a great choice for those looking to cook up a natural, refined sugar-free chocolate syrup. Dates are also a great alternative, because date syrup tastes quite chocolatey itself. Plus they're really healthy and good for your gut health.
Maple Syrup
A lovely natural alternative to chocolate syrup is maple syrup. You can use it to sweeten drinks, coffees, and desserts. Maple syrup is said to help with high cholesterol levels and support a good digestive system. It doesn't taste like chocolate though, unfortunately.
Honey
Another great natural alternative to chocolate syrup is that age old favorite: honey. Honey has forever been lauded for its many health benefits, and contains less fructose and glucose than refined table sugar. It's lovely over ice cream and offers a similar consistency to some chocolate syrups. Again, it doesn't taste like chocolate though.
You might also be interested in...