6 Best Unicorn Birthday Cake Ideas + 3 Tasty Alternatives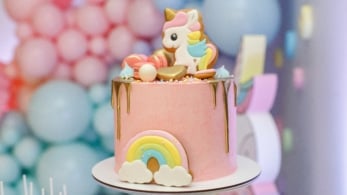 Rainbow unicorn cakes have been popular for nearly a decade now. Yet the history of the unicorn birthday cake dates back to 1977, when Phyllis Hirsch wrote a recipe for a 'Rainbow Dream Cake.' In this article you'll find the most delicious ideas for a unicorn birthday cake.
Rainbow unicorn cakes come in all shapes and sizes: from full-scale unicorns to subtle, neutral-colored creations. You can make your unicorn cake as simple or extravagant as you dare.
We've included a basic recipe for the most delightful rainbow unicorn sponge, too (you can skip the rainbow coloring if you like.) Read on to find out more.
Unicorn Birthday Cake Ideas for Boys
Unicorn cakes needn't just be for girls – you can make a great boy unicorn cake, too. Below, we give you some great design ideas for boys' unicorn birthday cakes. From sweet blue designs, to simple, elegant varieties. Or feel free to mix and match to create your own unique design.
Here you'll find more birthday cake ideas for boys.
Blue Unicorn Birthday Cake
For a really cute blue 'boy' unicorn cake, start by baking our basic recipe below. Frost with pale blue buttercream.
This is easily achieved by adding a drop or two of blue food coloring to the whitest buttercream you can make or find (avoid yellow hues, as these will turn it green.)
Smooth the buttercream all over your cake using a cake scraper.
Next, add two white fondant ears and a silver-colored sugar paste 'horn' to the top of the cake. Add swirls of darker blue buttercream around the ears and down the back of the cake; this is the unicorn's hair.
Take care to add a little to the front as well. Finish with fondant eyes at the front of your cake.
Elegant Unicorn Cake
This is amongst the most basic designs, and can easily be made to suit both birthday boys and girls. Bake our basic recipe below and cool to room temperature. Next, frost your cake with white buttercream.
You can smooth this all over using a cake scraper, or opt for a slightly more rustic finish by making sweeping strokes with a broad butter knife.
Decorate your cake with a fondant or (clean) plastic unicorn and a large candle. Cute little cartoon unicorns look best for this, as do sparkly candles.
Green Forest Unicorn Cake
This little unicorn is a forest dweller. It's a lot like the popular 'Pinterest'-style cakes which are now so popular, but with a twist.
Bake our basic recipe below and frost with a white or ivory-colored buttercream of your choice. Smooth all around the cake and set aside a little bit of buttercream.
Add a gold-colored fondant horn and ivory sugar paste ears to the top of your cake.
Next, use swirls of the ivory buttercream and two shades of green buttercream to add 'hair' to the top and back of the cake. You can use the same trick we used above and add a few drops of green food coloring to separate bowls to create your different colors.
Complete the cake with two gold fondant strips and 'lashes' for eyes at the front. This is a great cake for Spring-time and St. Patrick's day, too.
Unicorn Birthday Cakes for Women and Girls
The original unicorn cakes could probably not be much girlier if they tried to be. It goes without saying, then, that there are plenty of varieties of cute unicorn birthday cakes available to bake and replicate. Our favorites are listed below, and range from modern to super retro.
Rainbow Unicorn Birthday Cake
Our ultimate rainbow unicorn cake is modern and a bit different from those you've likely already seen everywhere. To make it, bake our basic recipe below and cool to room temperature.
Next, frost the top of the cake using white buttercream frosting. Frost the sides and smooth well using a cake scraper, but allow an 'edge' at the top of the cake.
Next, carefully frost a layer of pale pink buttercream to about the middle of the cake, smoothing with the scraper. Follow this with a smaller layer of pale yellow buttercream just below, then a layer of pastel blue, and a tiny layer of pale green.
Decorate the top left and bottom right with balls in the same shades of white, pink, yellow, blue, and green. Add a fondant rainbow to the top of the cake, and a small sugar paste unicorn in the middle.
Top tip: this cake looks particularly great amidst a decor of pastel rainbow balloons.
Pink and Gold Unicorn Cake
This cake design is the standard 'Pinterest' style cake that was first popularized in 2015. Bake our simple recipe below, then frost with white or ivory-colored buttercream and smooth well.
Add a golden fondant unicorn horn to the middle of the cake, and white sugar paste ears with pale pink centers to either side.
Use ivory, pastel pink, and darker pink buttercream to frost swirls around the ears and horn, as well as a little to the front, and down the back of the cake for 'hair.'
Finish your cake with gold fondant eyes at the front of the cake. These should be little lines with 'lashes' at the outer edges, to give the impression of the unicorn 'smirking.'
Phyllis' Rainbow Dream Cake
The original rainbow dream cake — as far as we were able to find — consisted of a fairly colorful creation with a big unicorn on top. To replicate your own retro-style version, start by baking our basic recipe below.
Next, frost it with ivory-colored buttercream and smooth all over using a cake scraper. Drizzle hot pink icing over the top of the cake, so it runs slightly down the edges.
Add a large fondant unicorn to the top front of the cake, with a sugar paste rainbow standing on fondant clouds behind it.
Decorate the remainder of the cake with big, brightly colored fondant flowers. You'll want these evenly spaced all over, and in a variety of hues. Present this bold and fun cake to a retro-loving unicorn fan.
Simple Unicorn Birthday Cake Designs
You don't need to make an elaborate Pinterest-style unicorn cake to have a bit of magic in your baking. Some of the simplest unicorn cakes are also the best.
If you want a truly simple unicorn cake, start by baking our basic recipe below. Frost with a delicious buttercream.
Top tip: you can tint your buttercream any color of your liking by adding a drop or two of food coloring and whisking until it's fully combined.
Add a store bought fondant unicorn to the top of your cake, and decorate with edible glitter. Finish with a glittery number cake topper — numbers that have been written out in calligraphy are particularly nice. For example 'one.'
As you can see, some of the simplest designs are frequently also the nicest. The most important thing is that your cake tastes delicious and is made with love. Then you can't go wrong.
Best Quotes & Captions for Unicorn Birthday Cakes
Some of the most memorable birthday cards you'll ever receive won't be particularly eloquent — they'll just come from the heart and express just how much you mean to the person.
With that said, it's great to be able to tie in a theme. Our quotes and captions will give you the inspiration you need to write a heartfelt message with a unicorn-themed twist.
"Wishing you a birthday as magical as you are."
"Lessons from a unicorn: there's magic inside you, anything is possible, and as long as you believe in yourself you don't need wings to fly."
"Magical birthday wishes to you, little unicorn."
Here you'll find more funny birthday quotes.
Beautiful Gift Ideas That Match a Unicorn Birthday Cake
Unicorn-themed gifts are lots of fun and come in all sorts of shapes and sizes. If the birthday girl (or boy) just loves unicorns, we've got some wonderful inspiration for your special gift:
1. Unicorn pillow: unicorn pillows are available in lots of different varieties – some even light up and sparkle. A fluffy pillow is ideal for younger unicorn fans. Light-up unicorns or ones that change color when you brush them are particularly fun.
2. Unicorn bath goodies: this is a great DIY gift for most age groups, including adults. Simply fill a large mason jar with a variety of rainbow-hued bath bombs, lip balms, and bath salts. Add a homemade label, along the lines of 'unicorn bath jar.' Delight your unicorn fan with this special, budget-friendly present.
3. Unicorn crafting kit: unicorn crafts range from paint-your-own unicorn kits to unicorn-themed miniature terrariums with artificial plants and little lights. You could even gift a DIY unicorn flower pot or unicorn night light kit. When it comes to unicorn-themed gifts the options are truly endless.
Basic Recipe for a Unicorn Birthday Cake: A Simple Guide
With the help of this simple recipe, you'll be able to make a delicious unicorn birthday cake. Alternatively, use the same batter to make 24 yummy unicorn cupcakes instead.
You can even alter the recipe to suit any dietary restrictions or food allergies.
For example, you can swap the milk for almond or oat varieties, the eggs for aquafaba or yogurt, the butter for a vegan alternative, and the flour for a gluten free one.
You may reduce the amount of sugar in the recipe if you need to, or replace it with a fruit concentrate or coconut sugar.
Best of all: you can add rainbow-colored sprinkles to the batter to create a funfetti effect throughout the baked sponges. If you wish to do this, just add 1/2 cup of the sprinkles of your choice in step 4.
Ingredients:
2 ¼ cups self-raising flour
1 ½ cups granulated sugar
½ cup salted butter
2 tsps vanilla extract
1 ½ cups whole milk
3 medium eggs
And here is how you do it:
Preheat the oven to 350 F and grease two 9" cake tins or one 9"x13" pan with butter or cooking oil.
Whisk the sugar and butter in a mixer until these are fluffy and well-combined.
Whisk the eggs, milk, and vanilla extract in a separate bowl until these are smooth and creamy.
Gradually add the butter and sugar mix to the eggs and flour and stir until you have a smooth batter. For extra airiness, sift the flour into the batter while mixing.
Pour the batter into your prepared tins and bake them for 30-35 minutes. When done, the center should be softly browned yet springy when touched. You can use a toothpick to poke into the sponge. If this comes out clean, your cake is done.
Cool the cakes to room temperature, then frost and decorate per one of our unicorn designs in this article.
Alternatives to a Unicorn Birthday Cake
If you don't have the time to make a unicorn-themed cake or have left that particular portion of party-planning to the professionals, don't despair: below are some excellent unicorn-themed treats that take a lot less time and will still impress young (and older) guests.
Unicorn-Shaped Pop Tarts
Homemade pop tarts are very easy to make and a fun addition to any party. These are particularly great if you want to involve children or younger siblings in the baking fun.
Start by cutting out unicorn shapes from pre-rolled store bought pastry dough with a large cookie cutter. You'll need two for each pop tart, one for the bottom and one for the top.
Fill each unicorn with a filling of your choice (for example peanut butter mixed with jam). Press firmly around the edges to seal, and bake in the oven per the dough package instructions.
Unicorn Cupcakes
You can easily make unicorn cupcakes using our basic recipe above. Use 24 unicorn-print cupcake cases and fill with the batter. Bake for a slightly reduced time, checking your cupcakes per the toothpick method.
Once they're done and cooled to room temperature, frost with a buttercream of your choice. Add rainbow sprinkles and unicorn cake toppers.
Rainbow Unicorn Cookies
Cookies are easily made with little helpers. Follow a recipe of your choosing and roll out your chilled dough until it's about 1" in thickness.
Cut out using unicorn cookie cutters and bake per your recipe's instructions.
While your cookies are chilling, mix two cups of powdered sugar, a teaspoon of vanilla extract, and 3-4 tablespoons of milk or water. This will make a lovely, medium-thick sugar icing.
Divide it into a few bowls and add a few drops of different food coloring. Use the icing to decorate your unicorn cookies to make rainbow unicorns.
You might also be interested in...