6 Best Elegant Birthday Cake Ideas + 5 Tasty Alternatives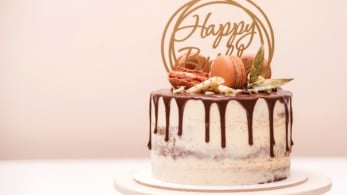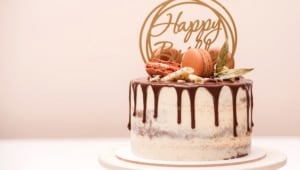 Whether you're celebrating a milestone birthday or just want a classy, special day, sometimes you just need an elegant cake. While themed, funny cakes are great, it's nice to have a birthday cake that's just completely beautiful. Here you'll find the best elegant birthday cake ideas for boys and girls.
What makes a birthday cake elegant? We think it's the use of high quality ingredients and a thoughtful finish. These cakes shine because it's obvious how much care went into making them.
If you're looking to recreate any of our designs at home, don't let that worry you: all of the elegant birthday cake designs below are simple to replicate. They just look incredible.
Elegant Birthday Cake Ideas for Men and Boys
Elegant cakes for men and older boys are generally simple yet delicious. You'll want to steer clear from excessive decorations or too much color. Follow our three elegant design ideas below to craft something showstopping that's also easy to recreate at home.
Here you'll find more beautiful birthday cake ideas for men.
Elegant Navy Blue and Gold Cake
The navy blue and gold cake is easy to scale if you're having a large birthday party. In this instance, just double the amounts in our basic recipe below. Once you've finished and cooled your cake, frost it using a dark buttercream — a sumptuous chocolate is good.
Next, layer navy blue fondant sheets on top of the cake. Smooth the fondant all around and on top of the cake taking care to leave no bubbles or tears.
Decorate your cake with specks of edible gold flakes and gold fondant 'balls.' Finally, add a gold number topper. This is a great cake for an elegant milestone birthday.
It can also easily be made bespoke by adding one or two small fondant decorations around the base. These could depict a special hobby or line of work (think a small golfer or an astronaut.)
Showstopping Tuxedo Cake
A tuxedo cake design is an all time classic that's great for many different occasions. It makes a fabulous groom's cake, a birthday cake for a special birthday, or even a celebratory cake for a new job.
It's not too difficult to replicate either: just bake our basic cake recipe below, cool, and frost the cake using a basic vanilla buttercream. Add a white fondant 'shirt' to the front of the cake.
Next, add a layer of black fondant around the cake, taking care not to take the white portion. Cut down in the shape of a wide V to expose the shirt, the way a tuxedo would. Next, make a line down the middle of the shirt using a butterknife.
Finish the cake with a black fondant bow tie, some black fondant buttons, and a large number cake topper. You may personalize this cake by making it one or two-tiered, changing the color of the bow tie, or even changing the color of the 'suit.'
Snowy White Birthday Cake
This cake is technically unisex, but it makes a stunning men's birthday cake all the same. Bake our basic recipe below and allow your cake to cool.
Next, frost using the whitest buttercream you can make or find. You'll want to ensure an even finish with no crumbs of cake showing through the frosting.
Top tip: if you refrigerate your cake slightly before frosting it, it'll be a little bit firmer, making it less likely for crumbs to break off.
Next, decorate your cake with piped heaps of the same frosting around the top. If you like, add a small dusting of white edible glitter or little flecks of edible gold flakes. Add a simple gold Happy Birthday cake topper.
Elegant Birthday Cakes for Women and Girls
Women's birthday cakes are often elegant creations anyway. What you don't want is a cake that's so 'elegant' it teeters on the edge of boring. Our elegant birthday cake ideas below are pared back and simple to recreate, but still exciting to look at.
Are you looking for more birthday cake ideas for girls? Here you'll find them.
Elegant Coco Chanel Cake
When it comes to elegance and style, Coco Chanel was the queen of both — and for many remains so today. An elegant Coco Chanel-inspired cake is perfect for the woman who loves elegance and fashion.
Making it couldn't be easier either: start by baking our basic recipe below and cool. Frost your cake in the whitest buttercream you can make or buy.
Next, layer medium-thick white fondant on and around the cake. Make diamond-shaped imprints throughout the fondant, to resemble Chanel's famous handbag design.
Finally, add tiny silver-colored sugar balls at each cross-section to look like small buttons. Finish your cake with a large, black-colored fondant Chanel logo at the front. Take care to not smudge any black food coloring onto the white fondant. Finish with a simple number cake topper.
Elegant Hawaiian Birthday Cake
This pretty cake is both elegant and tropical — perfect for a beach themed birthday. Bake our basic recipe below and cool your cake fully. Next, prepare three bowls of vanilla buttercream.
Add a few drops each of yellow, orange, and red (or pink) food coloring and stir until fully mixed. Frost in layers, then blend smoothly until you have an even, ombre-style finish.
Decorate using fondant hibiscus or plumeria flowers. You can make these in advance (molded fondant stays good for up to two months when kept in a cool, dark place) or buy them readymade from a baking goods retailer. Finish with a wooden number cake topper.
Regal Purple Birthday Cake
Purple is the color most often associated with royalty and luxury. This purple birthday cake is both regal and very easy to make at home.
To create this, just bake our basic birthday cake recipe below, then cool the finished cake to room temperature. Frost using a simple vanilla buttercream.
Add a smooth layer of deep purple fondant. Top tip: darker, slightly pink-hued purple looks more royal than pale violet and lavender colors. Thicker fondant sheets show less unevenness in the cake below, but are sweeter to eat.
Finally, add some edible gold flakes around the top edge of your cake. Decorate with organic, edible flowers. Roses are great for this purpose and can be chosen to tie in with the rest of the birthday theme. Top using a simple wooden name or number cake topper.
Simple Elegant Birthday Cake Designs
The best way to design your own elegant birthday cake is to keep it simple. Start by baking a truly delicious cake using our basic recipe below.
You may wish to add extracts or flavorings to make it bespoke, or stud the batter with sumptuous chunks of high quality chocolate for a decadent, gooey mouthfeel.
Next, use the best buttercream you can find (ideally a homemade recipe) to coat your cake evenly and smoothly. The most elegant cake designs are simple yet perfectly executed. You'll want no discolorations in the frosting or cake crumbles showing on the outside.
Once you've accomplished this, add simple decorations. Pretty wooden cake toppers with the person's name or a lovely happy birthday message are great.
A gorgeous number candle is a nice touch. Simple colorful fondant balls that look like delicate balloons are always popular, and can be layered down one side of the cake. Edible gold flakes always look good too and aren't as expensive as they sound.
The key message here is to take your time with whichever design you're making. Craft a delicious cake with good quality ingredients. Decorate it with a few simple things that remind you of the birthday boy or girl. Then you can't go wrong.
Best Quotes & Captions for Elegant Birthday Cakes
Elegant birthday messages are less about the messaging itself and more about how it is presented. You may wish to draft your message beforehand, then copy it into a beautiful card in your best cursive hand.
If you're stuck for ideas on what exactly to write, that's okay. We have a few quotes and captions you can incorporate into your own personal message:
'Happy Birthday! You're one of the brightest stars in the sky, and I'm so happy to know you.'
'Happy birthday to a very special person, friends like you make everything better.'
'Your birthday makes this day all the more special and beautiful. Wishing you another year of good health, happiness, and prosperity.'
'Happy Birthday! May you always pirouette through life with elegance and grace.'
Here you'll find more beautiful birthday wishes.
Beautiful Gift Ideas That Match an Elegant Birthday Cake
Elegant birthday gifts are all about quality rather than quantity. If you want to give something that exudes elegance and style, go for one great item rather than many little ones. This list will serve as inspiration for the best gifts to go alongside your elegant birthday cake:
High-Priced Items: if your budget can stretch a little, you can buy some of the most elegant gifts. A beautiful leather handbag for a lady or a stylish watch for a gentleman may be cherished forever.
Just make sure you know the style of the person you're buying for and if they already have one of these items they use all the time. In that instance you'd be better off buying an electronic accessory such as great quality headphones or a new fitness watch (if they use one).
Medium-Budget Items: medium-budget items include lovely perfumes or colognes. If you know what type of scent the birthday boy or girl favors, you may wish to buy them some of their favorite products.
You could also gift a matching body lotion or shower gel to coordinate with their favorite perfume. Other medium-budget items might be a lovely shawl or a silk scarf, or a high-quality pair of socks.
Smaller Gifts
Cheaper gifts can still be elegant and thoughtful. Some of the best presents don't break the bank. A lovely mug by a local potter, artwork, or a print of a cherished location are all perfectly elegant gifts.
A beautiful plant in a nice flowerpot is a great way to express love and appreciation, and often one the recipient can enjoy for years to come.
Whichever gift you choose to give, ensure you present it well. You may wrap presents in an elegant way by using simple, high quality paper or fabric. Avoid garish coloring or excessive prints. Add a simple but beautiful card with a heartfelt message, and you're sure to hit the mark.
Basic Recipe for an Elegant Birthday Cake: A Simple Guide
Our simple recipe for an elegant birthday cake is delicious yet easy to follow. You can amend it to suit your tastes, too.
Just add scrumptious extracts of rose, almond, orange, or even a few tablespoons of rum for flavor. You may run chunks of white or dark chocolate through the batter as well, for an extra gooey, decadent finish.
You can easily modify this recipe to suit any number of allergies or dietary requirements as well: the flour can be replaced with a gluten free variety.
Sugar may be reduced or replaced with a fruit concentrate, coconut sugar or agave syrup. You can replace the eggs with aquafaba or yogurt. Milk can be substituted with oat or almond varieties, depending on which you prefer.
2 ¼ cups self-raising flour
1 ½ cups granulated sugar
½ cup salted butter
2 tsps vanilla extract
1 ½ cups whole milk
3 medium eggs
And here's how you do it:
First, preheat your oven to 350 F. Thoroughly grease two 9" cake tins or one 9"x13" pan by using butter or coconut oil
Using a mixer, combine the butter and sugar until pale and fluffy.
Meanwhile, combine the milk, eggs, and vanilla extract in a separate bowl.
Gradually add the butter and sugar cream to the flour and eggs. Whisk until you have a smooth, lump-free batter.
Pour your cake batter into the prepared cake tins. Bake for 30-35 minutes or until the center is softly browned and the cakes are springy when pressed.
Cool your finished cakes to room temperature. Now you may frost and decorate them per one of our elegant styles above.
Alternatives to an Elegant Birthday Cake
If you'd prefer to leave the baking of an elegant birthday cake to the professionals, that's perfectly alright. You may wish to add your own touch of elegant baking, though.
Perhaps there will be a buffet at the birthday party. Whether you choose to make one or several, our elegant alternatives to birthday cake are sure to impress.
Macarons
Macarons are slightly tricky to make, but once you've found the right recipe and follow it to the letter you'll do just fine. The best thing about macarons is that they always look elegant and exude French sophistication.
You can make them in just about any color, though plain ivory-colored macarons with a simple salted caramel filling are amongst the best.
Elegant Cupcakes
You can make 24 cupcakes using our basic recipe above. Once they've cooled, you may frost them using a delicious buttercream.
Again, we'd recommend using neutral, soft colors and only a few simple decorations. Even leaving them plain and just frosting them beautifully will make for an elegant addition to any birthday buffet.
Croquembouche
If you're feeling particularly creative, you may wish to make (or buy) a croquembouche. Croquembouche is essentially a giant profiterole mountain.
It's made by piling lots of cream filled profiteroles into a pyramid shape. The entire creation is then bound together with scrumptious caramel. It's a bit tricky to get right, but certainly very elegant.
Frangipane Tart
Frangipane tart just sounds elegant. Yet it's just a buttery tart filled with a cream made of eggs, sugar, butter, and ground almonds.
It's a delicious, fragrant dessert that's often topped with halved plums or apricots. Perfect for an elegant yet slightly rustic birthday theme, and even better if you grow stone fruit in your own garden.
No Bake Cheesecake
No bake cheesecake is perhaps amongst the simplest desserts you can make. Yet, done well, a cheesecake can look elegant and taste delicious.
If you're going down this route, make sure you make your cheesecake 12-24 hours before the event. Chill without any decorations or toppings and add fresh strawberries and whipped cream just before serving. You can also add a touch of gold flake on top for that extra bit of luxury.
Tips to Get the Birthday Cake Classy and Elegant
By now you'll know just what makes a birthday cake classy and elegant. Simplicity is key, as is following any recipes you use to the letter. Below are a few more top tips worth repeating, so you can craft the most elegant birthday cake for your birthday boy or girl.
Use Coordinating Colors
Simple colors coordinated perfectly are more effective than a rainbow of clashing hues. As a general rule, lighter tones are a little more forgiving than darker ones. A white cake will always look dashing and is easier to achieve than if you had to work with a very dark fondant which can stain.
Use the Best Quality Ingredients
A delicious cake is the best kind of cake. Using a recipe such as our basic cake recipe above is the first step to a great cake. The second is to use top quality ingredients.
For instance, there are lots of different varieties of cocoa to choose from. There are different types of flour for different use cases. Using cake flour is a safe bet that will result in lighter, fluffier cakes.
Take Your Time
The biggest factor in creating a great cake is to take your time. Plan ahead, have all your ingredients at hand, and follow your recipe carefully.
Unlike cooking, baking isn't very forgiving when it comes to improvisation. Taking your time and baking an elegant birthday cake in peace and quiet will ensure the best possible outcome.
You might also be interested in...