6 Best Birthday Cake Pop Ideas + 5 Delicious Flavors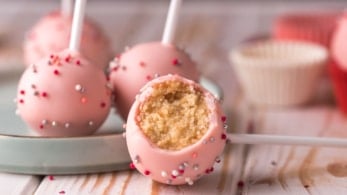 Cake Pops are now pretty much a standard sight in popular cafes – you can even get them at Starbucks. Yet they were only invented in 2008, by a blogger known as 'Bakerella.' Here you'll find the best birthday cake pop ideas and tasty alternatives.
But why are cake pops quite so delicious? Easy, they're miniature cakes which have all the decorations and additional yumminess of a big cake. They're just bite-sized. Birthday cake pops are particularly good.
These often feature a good amount of flavor, such as vanilla or chocolate, and sprinkles or dollops of frosting. Below are some of the very best bitesize birthday cake ideas – cake pops for everyone.
Birthday Cake Pop Ideas for Men and Boys
Cake pops are a fun treat for both birthday boys and girls. They're a great alternative to traditional cake, especially for those wanting to try a few different varieties. They also make a fun party favor for any birthday. Below are our favorite cake pop ideas for men and boys.
Here you'll find more birthday cake ideas for boys.
Soccer Cake Pops
Perfect for the sports fan in your life: Soccer cake pops. To make these, just follow our basic recipe below, then coat using white candy melts.
Next, use black fondant to make tiny hexagon shapes and add these all over the small white balls to create soccer balls.
Billiard or Pool Cake Pops
Billiard or pool ball cake pops are easy to make. All you need to do to recreate these is follow our basic recipe below. Use different colors of candy melts to coat the individual balls. Finally, add white fondant circles and write the numbers on these using an edible ink marker.
Baby Blue Cake Pops
Did you know? Baby blue cake pops are great for a little boy's birthday party or even a baby shower. To make these, you'll want to bake our basic recipe.
Once done, coat the pops using baby blue candy melts. When your cake pops are standing up to dry, dust them with edible pale blue glitter. Done.
This recipe is super easy but you can also buy baby blue cake pops.
Are you looking for beautiful unicorn birthday cakes? Here you'll find them.
Best Birthday Cake Pop Ideas for Women and Girls
Cake pops can be as girly as you want to make them – trust us. Our favorite birthday cake pop ideas for women and girls involve lots of color and edible glitter. Below are some of our top design ideas to re-create the best cake pops at home.
Are you looking for more birthday cake ideas for girls? Here you'll find them.
Glittery Pink Cake Pops
These gorgeous cake pops make for a wonderful birthday treat for younger girls as well as ladies who just love glitter. Follow our basic recipe below and dip in pale pink candy melts or white chocolate. Next, coat the cake pops in edible pink glitter. They'll look like tiny pink disco balls.
Frozen-Themed Cake Pops
These are incredibly easy to make yet so effective – perfect for a young Frozen fan or just someone celebrating their birthday in the winter. Simply bake our basic recipe below, then coat the cake pops using pale blue candy melts. Add some white sprinkles and a white sugar snowflake on the top of each pop.
Bridal White Birthday Cake Pops
These are great fun for a summery birthday or, indeed, a wedding or bridal shower. Just follow our simple recipe, then coat each cake pop in white chocolate.
Add some white sprinkles and edible white sparkles, and you're done. If you like you can decorate each cake pop with a small bow, to make them super elegant.
Delicious Cake Pop Flavors
Cake pop flavors are essentially just like their bigger cake counterparts. They're delicious bite-sized wonders that are made to pack a flavor punch. Below are the top cake pop flavors, including the 'original' cake pop.
Vanilla Birthday Cake
Arguably the most popular cake pop flavor is 'birthday cake', as made by Starbucks. It's a fragrant vanilla sponge mixed with vanilla frosting and coated with pink candy melts and sprinkles. This flavor tastes just like birthday cake, which is why it's so satisfying – especially alongside a big cup of coffee.
Chocolate
Who doesn't love chocolate cake? Chocolate cake pops feature chocolate sponge mixed with sumptuous chocolate frosting and, generally, coated in more chocolate.
They're a little like a chocolate brownie, but less gooey and (almost) more chocolatey.
Salted Caramel
Salted caramel has been a popular flavor since it was first created some 50 years ago. Cake pops with salted caramel tend to be filled with a little bit of gooey caramel and surrounded by salted caramel sponge mixed with caramel buttercream.
Top tip for making anything filled with gooey caramel: freeze balls of caramel before forming the cake ball around it. This will make it much easier to craft.
Red Velvet Cake Pop
Red velvet cake was the original cake pop flavor Bakerella created some years ago. It's easily replicated by whipping up a red velvet box mix, which is mixed with cream cheese frosting once cooled.
Coat with white candy melts and red sprinkles for a delicious and good-looking birthday treat. This particular color combo is also lovely as a Valentine's Day surprise.
Strawberry
Our final top cake pop flavor is strawberry. To make these, you'll want to add strawberry juice or dried strawberry to your batter. Mix with vanilla buttercream and frost with white chocolate.
Sprinkle more freeze-dried strawberry pieces or red sprinkles on top of the finished cake pops and serve. These make a fun alternative to chocolate-covered strawberries, too.
Simple Birthday Cake Pop Designs
Sometimes the simplest designs are the best, so don't worry about creating Instagram-worthy cake pops in never-before-seen designs.
Start with a delicious recipe (our basic one is so simple even novice bakers can make it) and follow it to the letter.
Make sure you take your time and let your cake cool fully before working it into balls. Add lollipop sticks and coat your finished 'balls' with chocolate or candy melts to make cake pops.
If you want to get creative, use coordinating colors of candy melts. Contrasting colors that are opposite on the color wheel look great, as do various shades of one color.
Decorate your finished cake pops with sprinkles, small candies, freeze-dried fruit pieces, or fondant decorations. Flowers, letters, and numbers are all fun and easy to add. You could also add some edible glitter to make them shine.
Finally, if you want to add a luxurious touch, you can tie bows to the lollipop sticks in coordinating colors.
Best Quotes & Captions to Write on Birthday Cake Pops
You've got two options when it comes to cake pops: writing on them or adding a message alongside them. Given how small cake pops are, you can't fit a lot of text on each one.
However, you can have fun with them. Below are some of our favorite ideas:
Add 'cake' and 'pop' to individual cake pops
Add numbers to each cake pop
Add letters to cake pops to spell out a name or message
Write a message in front of your cake pops: "Happy birthday — you're popping fantastic"
Here you'll find more funny birthday quotes.
Beautiful Gift Ideas That Match Birthday Cake Pops
Birthday cake pops themselves make fantastic gifts – they're just so cute and sweet. Just going through the effort of making these and adding little decorations makes them a perfect gift on their own.
With that said, you can combine your cake pop present with other items to make a truly bespoke, handmade gift.
You can arrange your cake pops in the form of a bouquet or add chocolate 'soil' to a clean pot and 'plant' them. Coat your cake pops in different shades of green candy melts and add green sprinkles for cute cake cacti.
Or place artificial clean foliage around the outside and add brightly-colored cake pop flowers to the middle.
Alternatively add cake pops to a gift hamper with cake-themed treats: cake-scented bath products, bath bombs, and socks with sweet prints all make great additions.
Pair these lovely treats with your own sweet treats for a beautiful handmade surprise. Handmade gifts are always a great idea as they're from the heart and show you invested time and effort for the birthday boy or girl.
Recipe for Birthday Cake Pop Like from Starbucks
Birthday cake pops are super easy to make from scratch — and they'll save you oodles. Our basic recipe is so simple, even baking novices will be able to follow it.
If you use pink candy melts and sprinkles to coat them, they'll taste just like the Starbucks version. Plus you'll have the added benefit of being able to eat loads without them costing a small fortune.
Best of all, if you have dietary restrictions or a food allergy, you can make some changes to suit your needs: simply replace the eggs with aquafaba or yogurt for a vegan alternative, or swap the cake mix for a gluten free variety.
Ingredients:
1 box of vanilla cake mix (for example Betty Crocker)
1 cup of water
1/2 cup of vegetable oil
3 medium-sized eggs
1 cup of buttercream
12 oz of candy melts or baking chocolate
38 lollipop sticks
Optional: sprinkles
And here's how you do it:
Preheat your oven to 350 F and grease a cake tin of your choice (we like a 13×9" one).
Whisk the cake mix, eggs, water, and vegetable oil in a bowl until well-combined.
Bake your cake according to the package instructions. Cool to room temperature when done.
Crumble the cake into a large bowl and mix with the buttercream. You'll want to whisk it using a mixer until it looks a bit like damp sand, but not batter.
Use a tablespoon per cake pop and roll approx. 1"-sized balls. Put the balls on a parchment-lined tray and refrigerate for a minimum of four hours.
Melt your candy melts or baking chocolate per the package instructions. One at a time, dip a lollipop stick in the melted candy melts or chocolate, then add to a ball. Dip back into the melted candy melts or chocolate to coat fully.
Place your cake pops in a styrofoam block or box so they can set upright. Add sprinkles if you like or otherwise decorate to your liking.
Top tips: work with a small batch of cake pops at a time so they stay nice and cool, making them easier to work with. When you've coated one in melted candy melts or chocolate, tap it a little at the side of the bowl to shake off any excess liquid.
Alternatives to Birthday Cake Pop
If you don't have time to make those Pinterest-worthy cake pops or would rather make something different but equally delicious, we've got you covered: below are some of the best alternatives to cake pops.
These are fun to make, decorate, and gift. Serve them on their own or as a sweetie 'buffet' together with your cake pops.
Cupcakes with Delicious Frosting
Cupcakes are easily and quickly made. Simply follow your favorite cake or cupcake recipe or use a box mix to whip up some cupcakes.
Once your cakes are baked and have cooled to room temperature, frost them with buttercream. You can easily decorate these in a similar fashion to cake pops, by adding sprinkles or chunks of chocolate or fudge.
Cake-Sized Cookies
Have you ever had a Crumbl Cookie? Why not bake a similar, large-sized cookie and serve it up as a replacement birthday 'cake.' Make your favorite chocolate chip cookie recipe and bake a large cookie instead of many smaller ones. Decorate with sprinkles or chocolate sauce and some fun birthday candles.
Birthday Doughnuts
Most people love doughnuts. They're a great alternative to birthday cake and can either be made at home or bought from a favorite shop.
You can bake or fry your favorite doughnuts, then decorate with sauces and sprinkles. Doughnuts can also be filled once baked, making them an extra special treat.
For a fun way of presenting doughnuts, 'hang' them on pegs on a small doughnut wall.
You might also be interested in...