6 Best White Birthday Cake Ideas + 3 Tasty Alternatives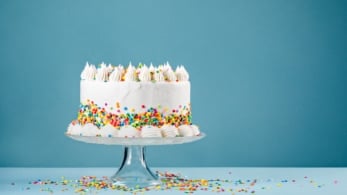 White is often reserved for wedding cakes, yet it's a fantastic color for birthday cakes as well. White is both elegant and luxurious, as well as being fairly forgiving when you're making a white cake at home. Find here the most delicious white birthday cake ideas as well as tasty alternatives.
In the West, white is usually associated with weddings, purity, and peace. In the East, white is more commonly used for sad occasions.
Therefore it may seem a little unusual to have a white birthday cake, depending on where you come from. If purity and calm, neutral styling of white cakes appeal to you, we have the best white birthday cake ideas below.
White Birthday Cake Ideas for Men and Boys
A white birthday cake may not immediately spring to mind as the design to use for men and boys; but trust us, white cakes are elegant and manly when they need to be.
The cake ideas below cover everything from James Bond-inspired style to kids party fun.
Here you'll find more birthday cake ideas for men.
Elegant White Birthday Cake
If white is the ultimate 'theme' of your birthday party and you want a simple yet elegant cake design, we have just the thing for you: simply recreate our basic recipe below and cool your cake to room temperature.
Next, frost the entire cake with a simple white buttercream. Use a ribbed cake scraper to smooth all around the side of the cake, creating a lovely wavy effect.
Finally, smooth the top of your cake as you normally would. Top with a beautiful birthday candle or a wooden cake topper. This simple cake is both good-looking and easy to make at home.
Black and White Tuxedo Birthday Cake
For the ultimate 007-style flair, make this show stopping cake. Start by baking our basic simple cake recipe (further on in this article) and allow your cake to fully cool.
Next, frost using a white buttercream. Carefully layer a white or off-white sheet of fondant all over the cake. Top tip: a slightly thicker sheet will show less imperfections but be sweeter. Smooth the fondant to remove any little bubbles.
Next, add the edges of the tuxedo jacket in a v-shape to the front. You'll want these to look like the jacket is just slightly opened, showing the shirt underneath.
To complete the illusion of the shirt, press a line down the center (until you reach the edge of the v-shape) and add white fondant buttons. Complete with a fondant bow-tie and a gold or silver-colored cake topper.
White Confetti Birthday Cake
This cake is incredibly easy to replicate, yet plenty of fun. It's a good design idea to bear in mind for times when you don't have that much time to craft a birthday cake, too.
Simply bake our basic recipe below and cool your cake to room temperature. Next, frost the entire cake using white buttercream. Try to make the buttercream fairly smooth, but don't worry about it looking slightly rustic. This will just add a bit of charm to a rather simple cake.
Next, add multi-colored sprinkles all around the bottom 3" of the cake. You don't need to make this look like a completely straight band around the cake.
Instead, you're aiming for a subtle ombre-style effect. Add a fun birthday candle or a simple wooden cake topper to the top, and you're done.
White Birthday Cakes for Women and Girls
White birthday cakes symbolize purity and elegance. They're beautiful at any time of year and can easily be recreated at home. White cakes for women and girls exude charm. If you enjoy a good princess cake, these give off a lot of that same regal vibe.
Are you looking for more birthday cake ideas for girls? Here you'll find them.
White and Gold Birthday Cake
This cake design just screams luxury. Start by baking our basic cake recipe below and allow your cake to cool to room temperature. Frost using a white or just off-white buttercream.
Make sure you smooth your frosting around and on top of the cake using a scraper. Avoid catching any cake crumbs that might make the frosting look a little messy: top tip, the colder your cake before frosting, the less likely crumbs will break off.
Next, decorate your finished cake using gold flakes and gold-colored fondant balls. The latter can be placed just off-center on top and at the base of the cake.
Alternate them with white fondant balls to match the frosting. And you're done. This cake is incredibly simple yet very effective.
White Macaron Birthday Cake
If you're not afraid of a challenge, a plain white birthday cake decorated with homemade white macarons is a real showstopper. Just bake our simple white cake recipe below and fully cool.
Frost using beautiful white buttercream. For this cake, you'll want to smooth the frosting quite well using a scraper tool.
Next, decorate the top of your cake by standing the macarons facing inwards in a circle. Add some edible white glitter to the base and top of the cake and top with a simple wooden cake topper.
This one looks simply spectacular done well, and you'll get plenty of questions of, 'did you really make that yourself?'
Rustic Frosted White Cake
If you've ever seen 'naked' wedding cakes, you'll instantly recognize this design. To recreate it, you'll want to bake our basic recipe and allow it to cool down.
Next, frost liberally between your two cake layers to create a strong edge. Now frost around the outside of the cake, but only so much as to lightly cover the sponge.
Top tip: refrigerate your room temperature cakes before doing this. The cooler the sponge, the less likely you'll lose crumbs into the buttercream while frosting it.
Once the top and sides of your cake are entirely smooth, you can add decorations of your choice: some edible flowers look lovely just off to the side of the cake, fresh strawberries or fondant foliage are great on top, and of course you can also just leave it plain.
Finish with a rustic wooden cake topper. This cake design is naturally also a great contender for weddings, engagements, and baby showers.
Simple White Birthday Cake Designs
White birthday cakes are actually the most effective when you keep the design fairly simple. A delicious cake frosted beautifully with white buttercream is a dream even if you add nothing else to it.
So keep it simple: make sure you follow the recipe you're using to the letter (our basic one below is really easy and will yield a delicious cake.) Allow plenty of time for the finished cake to cool. Frost using the best buttercream or frosting you can make or find.
If you want to add any decorations, simple wooden cake toppers are really effective. Real edible flowers and fruit are also always a great addition to any cake, and will add a touch of freshness.
Best Quotes & Captions for White Birthday Cakes
The best birthday messages are always personal and from the heart. With that said, a white theme can perhaps leave you wondering what to say.
Below are a few simple suggestions for messages you can incorporate with your own special text. Handwrite them on a beautiful clean white card for an elegant, beautiful addition to your gift (and your white cake.)
'Happy Birthday, friend! You're one of the brightest stars in the sky, and I'm so happy to know you.'
'Happy Birthday! Sending special wishes your way for an extra special day.'
'Happy Birthday to the most fantastic man/woman I know.'
'When we met, I knew you'd always be a part of my life. I admire your kindness, your fun personality, and your beautiful heart. Happy Birthday!'
'Happy Birthday. My warmest wishes for your continued personal and professional success.'
Here you'll find more birthday wishes.
Beautiful Gift Ideas That Match a White Birthday Cake
White-colored gifts are amongst the most elegant and luxurious presents you can buy. Even simple white gift packaging can exude elegant simplicity. Below are some of our favorite white gift ideas that go well alongside a white birthday cake design:
White balloons: perhaps not a real gift itself, but white balloons can look incredibly classy and pretty, particularly when bought as decoration for a special birthday. White balloon arches make for a beautiful and special photo backdrop for a white color theme party.
White pearls: pearls symbolize innocence, serenity, longevity, and wisdom. They're also incredibly beautiful. You can get pearl earrings for relatively little money, while a gifted necklace or bracelet may set you back a bit more.
White toiletries: a beautiful gift set with a white-hued lotion, shower gel, and perhaps a nice bath salt can look luxurious and much more expensive than it perhaps was. White candles are also particularly classy. Aim for a nice scented candle in beautiful, pure white packaging.
Basic Recipe for a White Birthday Cake: A Simple Guide
If you follow our simple recipe for a delicious white birthday cake you're half-way to crafting the perfect showstopper.
The best part is that you can make this recipe yours by adding all sorts of extras: white chocolate chips make for a delicious, gooey surprise in your finished sponge. Adding extracts such as rose, almond, orange, or rum flavoring will give you subtly different flavors.
You may also substitute most of the ingredients if you suffer from food allergies or intolerances: the eggs can be replaced with yogurt or aquafaba, the milk with oat or almond varieties, the butter with a vegan option of your choosing.
You may also reduce the overall sugar content of our recipe or substitute the sugar with coconut sugar, agave syrup, maple syrup, or a fruit concentrate of your choice.
2 ¼ cups self-raising flour
1 ½ cups granulated sugar
½ cup salted butter
2 tsps vanilla extract
1 ½ cups whole milk
3 medium eggs
And here's how you do it:
Preheat your oven to 350 F. Meanwhile, grease two 9" cake tins or one 9"x13" pan with a vegetable oil of your choice or butter.
Using a mixer, blend the sugar and butter until fluffy and pale in color.
Whisk the milk, eggs, and vanilla extract in a separate bowl until these are thoroughly combined.
Gradually add the butter and sugar cream to the eggs. Fold in the flour until you have a lump-free, smooth batter.
Pour your cake batter into the prepared tins. Bake for 30-35 minutes or until the center is softly browned yet springy to the touch.
Always make sure you allow your cake to cool fully before you frost it. Once it has reached room temperature you may add fillings, buttercream, and decorations of your choice.
Alternatives to a White Birthday Cake
Perhaps you're pressed for time and making an entire cake just isn't possible at the minute. Maybe you find decorating an entire white cake a little daunting.
Fear not, if you'd rather make something a little simpler, the alternatives below are great. Number 3 is decidedly not simpler, but an absolute showstopper. Add these to your white birthday cake design for the ultimate effect.
Birthday Waffles With White Chocolate
Waffles are always a good choice, especially if you own a waffle maker. They're quick and easy to make, you can flavor them with vanilla or cocoa powder, and you can top them with anything you like. For a white birthday theme, top with white chocolate sauce and fresh fruit. Delicious.
White Birthday Cupcakes
White birthday cupcakes couldn't be easier to make: just follow our simple recipe above, but bake 24 cupcakes instead of a cake. Use plain white or white lace cupcake liners.
Frost the cooled cupcakes with a delicious white buttercream: vanilla, cream cheese, or white chocolate are great choices. Add edible white glitter for a subtle snowy effect.
White Macarons
Macarons are amongst the more 'feared' baked goods you can make at home. Yet they're not actually so daunting once you've found a good recipe. Just make sure you really take your time with these.
To make these extra white, use a French meringue technique. Fill with a white chocolate ganache. Keep them simple – you don't need to decorate these at all if you don't want to. They're beautiful as they are.
You might also be interested in...