5 Best Cake Flavors + 3 Tasty Alternatives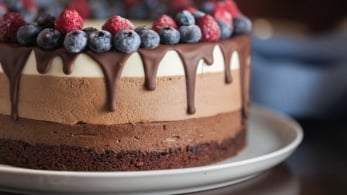 Cake has been around since Ancient Egypt, when bread-like bakes were served with sticky, sweet honey. In Ancient Greece, cheesecakes were served for dessert. In Rome, it was delicious fruit cakes studded with nuts and raisins. Learn here everything you need to know about the different cake flavors.
Over time, there have been thousands of experiments with different cake flavors — some mouthwatering, some just plain weird. Think chocolate beetroot cake as an example.
Yet even with these stranger culinary creations, cake is still an integral part of food culture in many parts of the world today.
Below, we find out more about what really makes a classic cake, and the best flavors for every occasion; as well as the very worst flavors that have ever existed, of course.
What to Know about Cake Flavors
As you'll know by now, cake has been around for centuries, and our modern cakes originated some time in the 1700s. Yet there's so much more to the how and why. Here we dig into the history of cakes, and where and why they were first baked.
Origin of Cake Flavors
Birthday cakes originated in Germany in the Middle Ages. The Germans called their annual celebrations Kinderfest (children's party.) The birthday boy or girl would receive a cake with a candle for each year of their life, as well as an extra candle to symbolize the next year.
They received well wishes alongside their cake, but no additional presents.
Wedding cakes, on the other hand, have been an integral part of celebrations since Ancient Rome. Back then, a wedding bread was baked. The groom broke this over the bride, symbolizing good luck, fertility, and the bride's submission.
There are different kinds of cakes used for celebrations around the world: in Japan mochi rice cakes are part of their New Year's celebrations.
In India the mawa cake offers a rich insight into the history of Irani refugees. The German Black Forest Gateau (Schwarzwälder Kirschtorte) dates back to the 1500s and was created in a region famed for its cherry trees.
As you can see, cakes offer a lot of insight into the history and culture of countries around the world.
The Best Cake Flavors You Need to Try
It's hard to look across hundreds of years of history and pick out the definitive best cakes there ever were.
Yet some recipes have persisted over the years, having been passed on from generation to generation. Below are some of the very best of these you'll need to try.
Mexican Tres Leches Cake
Tres Leches Cake originated in the 19th century, when it was created as a kind of Mexican take on Italian tiramisu or English trifle. What makes this cake so delicious is its moisture content.
The sponge is soaked in evaporated, condensed, and whole milk. The finished cake is then topped with marshmallow fluff or whipped meringue and decorated with maraschino cherries.
You may also flavor your cake with spices such as nutmeg, cinnamon, and vanilla extract.
Japanese Mochi Rice Cakes
Mochi rice cakes have been around for centuries. They're made using glutinous rice, regular white rice and starch, before being filled with sweet fillings.
Red bean paste is a popular type of filling. Historically, mochi were enjoyed by the aristocracy. They were said to symbolize good fortune and sustenance for those who need it.
If you do try making these at home, make sure you get all of the ingredients from an Asian supermarket and follow your recipe to the letter. Mochi can be a little tricky (and very sticky) but are well worth it for the delicious result.
French Galette de Rois
Galette de Rois, or cake of the king, has been an important part of France's culture since the 1400s. It's traditionally baked for the 12th day of Christmas (January 6th) to celebrate the Epiphany, when the Three Kings came to Jesus in the manger.
It's a fabulous puff pastry cake filled with a cream of butter, eggs, sugar, and sweet almonds. You'll frequently find a small charm hidden inside. This is called a fève, and the person who finds it in their slice of cake is usually awarded a small gift.
Pavlova from Australia/New Zealand
Pavlova is a more recent cake invention, dating back to the 1920s or 30s. There's some dispute over whether it was first created in Australia or New Zealand.
Regardless, it was named after the Russian ballet legend Anna Pavlova. It's an airy meringue-based cake topped with heaps of fruit, including strawberries and kiwis.
The clever adding of corn flour to the meringue's ingredients means the cake is able to develop a crunchy outer shell when baking, with a marshmallowy interior.
Ancient Greek Cheesecake
The original cheesecake was made using flour, honey, cheese, and wheat, and likely didn't taste much like the cakes we know and love today.
Modern cheesecakes are either baked or not, and are creamy, delicious desserts frequently topped with fruit, cookies, or sweet sauces.
One of the all time most popular cheesecakes — the New York cheesecake — is made with a filling of full-fat Philadelphia cheese, sugar, vanilla, eggs, and sour cream, as well as a touch of grated lemon zest. This is baked on top of a butter, sugar, and digestive biscuit crust.
Best Wedding Cake Flavors
Having covered the best cake flavors over all, choosing the perfect wedding cake should be easy. But is it?
Wedding cakes can be traditional or eclectic, with some being downright out there. Below are some of the best flavors you can pick for your big day.
Chocolate Wedding Cake
If you're very traditional, nothing's quite as satisfying as a deep, rich chocolate cake. It's the second or third most popular flavor with many bakeries.
This makes it a firm contender that isn't going out of style any time soon. If you're opting for a chocolate wedding cake, try and incorporate some unusual sides or style elements. Edible flowers or citrus fruit are very complimentary.
Olive Oil Wedding Cake
This is a modern flavor that's gained popularity in recent years. The cake is moist and full of flavor, even before any fillings and frosting are added.
Depending on the olive oil used it can also have subtle citrus or earthy flavors. It's great with a citrus buttercream or even a jam or curd. This flavor is ideal if you're having a rustic wedding or are opting for a Mediterranean-inspired theme.
Spice Wedding Cake
Spice cake is the perfect flavor for couples celebrating a Fall wedding. If you love all things Pumpkin Spiced Latte (PSL), a pumpkin spiced cake may be in the cards for you as well.
Most spice cakes are light and fluffy sponges with the likes of added allspice, ginger, nutmeg, clove, and cinnamon. Add a sumptuous vanilla or cream cheese frosting or go super sweet with a maple-flavored version.
Best Birthday Cake Flavors
Birthday cakes are generally down to personal preferences: for some, it's got to be a classic vanilla sponge with strawberries and cream, others prefer something unusual like a Kinder chocolate cake. There's really no limit to your imagination here. Below are some of our all time favorites.
Carrot Birthday Cake
Carrot cake spiced with cinnamon, nutmeg, and a bit of ginger and frosted with soft, white cream cheese frosting. Is your mouth watering yet? The best carrot cakes are moist and perfectly spiced.
They're ideal for Fall and Winter birthdays, but if you were born at the height of Summer and want a carrot cake suit yourself.
Red Velvet Birthday Cake
Another cream cheese frosting-covered classic: the red velvet cake is an all-American favorite. It's a chocolate cake tinted with red food coloring.
Did you know: traditionally the red color actually came from the use of non-Dutched cocoa. The addition of buttermilk and vinegar to classic red velvet recipes make it slightly tart to taste. These ingredients, while strange-sounding, also give the cake a softer texture, which is where this cake got its name.
Ice Cream Birthday Cake
This flavor isn't technically a 'normal' cake but it is delicious. Ice cream cake is made by layering different flavors of ice cream.
The cake is then frosted and served quickly — any delay would mean the cake would melt. Classic flavors such strawberry, vanilla, and chocolate are great for ice cream cakes. You can get creative though and use any flavors you love.
Unique and Special Cake Flavors
Regardless of the occasion, it's great fun to experiment with cake flavors. There are an abundance of unique and special flavors you can make or buy for your next event. Some use quite normal ingredients, others are unusual and perhaps even surprising.
Lavender and Honey Cake
Lavender and honey is a gorgeous combination that is floral, sweet, and a little bit earthy. It is readily available and can even be grown at home.
As long as it's organic and washed (so you're not baking any tiny critters) lavender is easy to work into a cake batter. A little goes a long way and will add a delicious fragrance.
You can steep lavender first and add the liquid, or add the petals of your lavender directly. The added honey will add floral sweetness. Delicious.
Matcha Tea Cake
Cake flavored with tea — pretty much any tea — is delicious. Earl Grey and lemon is a frequent favorite, but nothing is quite as popular, adored even, as matcha tea flavored cake.
Matcha can be bought as a powder and added to any kind of baked good. It's delicious added to a basic vanilla cake recipe. Pair with cream cheese or vanilla buttercream frosting for a scrumptious treat.
Almond and Nutella Cake
This may not sound that unusual, but it's certainly special. Cake made with the addition of ground sweet almonds is nutty, earthy, and naturally quite sweet.
Filling it with lashings of nutella turns this into a gooey, chocolatey, nutty treat. Just be mindful of serving anyone with nut allergies, as this cake may be unsuitable to them.
Best Cake Filling Flavors
When you think of the best cake, is it the sponge or the filling you dream of? Is it both? To our minds, a good filling or frosting really makes a cake. It can save a slightly dry cake, elevate one lacking flavor, or just really tie together delicious, complimentary flavor profiles.
German Buttercream
Arguably one of the tastiest fillings and toppings you can make: German buttercream is pastry cream with added butter. It's a little less sweet than its American counterparts and silky smooth.
German buttercream is great as a filling for more decadent, sweet cakes. A simple chocolate cake filled with a vanilla German buttercream is a treat.
Lemon Curd
If you've ever made lemon curd at home you'll know how hard it is to not eat it all in one sitting. Lemon curd is delicious in a variety of desserts.
Did you know it makes a wonderful, tangy filling for cake though? You can pair it with vanilla, coconut, even dark chocolate. Lemon curd gives a wonderful sweet and sour balance to lots of cake creations.
Salted Caramel
Salted caramel has been a popular addition to sweet confections since the 1970s, when Henri Le Roux 'invented' it in France. You can add salted caramel as a filling on its own or work it into a buttercream.
Either way, salted caramel makes an irresistible filling. It's no surprise that salted caramel is one of the most loved flavors in America today.
The Weirdest Cake Flavors
Not all cake flavors are delicious. Some are downright weird, and yet others are both strange and delicious. Below are a few of the weirdest cake flavors you can make, which are surprisingly good. Just keep the secret ingredients to yourself until everyone has tried these.
Avocado and Vanilla
Soft avocado is said to add a lovely texture and moisture to cakes. Paired with vanilla (or even chocolate) it makes for a healthy recipe. Avocado can even replace butter for a lower calorie, healthier alternative.
If you're following a healthy diet, adding avocado to your cakes instead of butter or vegetable oil may be a great alternative. Don't mind the green tinge your lighter cakes will take on though.
Beetroot Chocolate Fudge Cake
Beetroot is naturally quite sweet and lends a lot of moisture to cakes. Therefore, adding mashed beetroot or beetroot juice to your chocolate fudge cake recipe will make it extra gooey and delicious. The taste itself isn't really noticeable, though you may get a lovely, natural red tinge throughout your cake.
Japanese Salad Cake
You probably won't want to make this at home, but it does take the prize for the top weirdest cake: in Japan, people actually enjoy elaborate 'salad cakes.'
These cakes are mostly made from a mix of fresh and cooked vegetables. Some also include a 'sponge' which is a baked mixture of eggs, soybean powder, and vegetable oil. Frosting tends to be a mix of tofu and cream cheese colored with natural food dyes such as beetroot juice.
The Most Popular Cake Bakeries
If baking cake yourself doesn't sound like something you'd like to do after all, you're in luck: below are some of the best cake bakeries to try. Whether you're getting a cake made for a special occasion or just want to enjoy something a little different, here are some of the most mouthwatering options.
Nothing Bundt Cakes
Nothing Bundt Cakes handcraft bundt cakes (unsurprisingly) in a huge variety of flavors. There are classic flavors such as red velvet, chocolate chip, and lemon, and unusual varieties like strawberries & cream and snickerdoodle. Nothing Bundt Cakes are sold in 40+ states as well as in Canada.
The Cheesecake Factory
If you love cheesecake, this is the place for you. The Cheesecake Factory offer a whopping 35 flavors of cheesecake and cakes. The most popular options include the Very Cherry Ghirardelli Chocolate Cheesecake, White Chocolate Raspberry Truffle, and Oreo Dream Extreme Cheesecake.
Alternatives to Cake Flavors
If cake just isn't your favorite or you'd rather make something a little less elaborate, fear not. You can easily make most cakes in smaller versions. Below are some alternative presentations you can use. Why not use these to try a few different flavors at the same time?
Cake Bar Flavors
Cake bars are essentially just mini versions of bigger cakes. You can easily make these using the same standard cake recipes and adjust for size.
You may also wish to try different fillings and frosting for each smaller cake. This is a great option if you're making your own wedding or engagement cake and want to test lots of different flavors ahead of time.
Cake Pop Flavors
Cake pops are miniature bite-size cakes in popsicle form. As above, you can use any regular cake recipe to make these.
They don't work great with regular frosting though, and should be dipped in melted chocolate or candy melts instead. You can then decorate them with sprinkles, gold flakes, or drizzled sauces.
Cupcake Flavors
Cupcakes are easy to make using a regular cake recipe. If you're baking our simple recipe below, you'll be able to make 24 cupcakes.
Adjust your baking time by reducing it a little and checking they're done but not over-cooked. Once finished and cooled, you can decorate cupcakes using the buttercream of your choice.
Again, these are great for trying out different flavors as you can frost and fill each cupcake with something different, if you like.
Easy Cake Recipe with Classic Flavors
Arguably the most classic contemporary cake flavor is vanilla. The recipe below will give you a scrumptious vanilla cake. You may wish to experiment with other classic flavors by adding cocoa powder, grated carrot, or spices such as nutmeg, clove, and cinnamon.
If you need to adhere to any dietary restrictions or have food allergies you may substitute some of the ingredients listed: eggs can be replaced with yogurt or aquafaba, milk with an oat or almond alternative, butter with a vegan option.
You can reduce the amount of sugar used or replace it with coconut sugar or a fruit concentrate of your choice.
2 ¼ cups self-raising flour
1 ½ cups granulated sugar
½ cup salted butter
2 tsps vanilla extract
1 ½ cups whole milk
3 medium eggs
And here's how you do it:
Preheat your oven to 350 F. Grease two 9" cake tins or one 9"x13" pan with butter or your choice of vegetable oil.
Whisk the sugar and butter with a mixer until pale and fluffy.
Mix the milk, eggs, and vanilla extract in a separate bowl.
Next, gradually blend the butter and sugar cream with the egg mixture. Whisk in the flour until you have a smooth, lump-free batter.
Pour your batter into the prepared tins and bake for 30-35 minutes. Once done the center should be softly browned yet springy to the touch.
Cool the cakes to room temperature. Frost and decorate to your liking.
You might also be interested in...