6 Best Black Birthday Cake Ideas + 3 Tasty Alternatives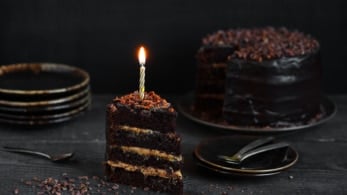 Black is an interesting color. It can symbolize both elegance, maturity, and even masculinity in some cultures, and symbolize mourning in others. The darkness is frequently associated with more somber occasions. Find here the best black birthday cake ideas and tasty alternatives.
In some parts of the world black actually represents rebirth, mystery, and magic. If a magical birthday cake sounds just right for you, you're in luck.
Below are some of the most fierce and elegant black cake designs we could find. These aren't all that tricky to make at home either, especially if you follow our basic recipe for a fragrant black cake.
Black Birthday Cake Ideas for Men and Boys
Black may not have been your first thought when it comes to cake; yet you can really craft some unusual and exciting designs using black frosting and fondant. Below are some of our very best ideas for creating black birthday cakes that'll really wow your guests.
Elegant Black Birthday Cake
A simple, pared back black birthday cake can be the most effective design. To create this, follow our basic recipe below and allow to cool. Coat the entire cake in dark chocolate frosting.
If you want your frosting to be even darker, you may add black food dye or squid ink. This will give a close to black finish to your buttercream. Use a cake scraper to smooth all around the edges and on top of the cake.
Finally, decorate with little bits of edible gold flakes on top and down one side of the cake. You may also add some black fruits to the same side on top of the cake — fresh blackberries or fig halves look wonderful and sophisticated. Finish the cake with a simple gold cake topper.
Black and White Birthday Cake
Black and white birthday cakes ooze elegance. The simplest ones can be made to suit almost any age and occasion, too. To make this simple black and white cake, start by baking our basic cake recipe.
Once your cake has fully cooled, frost it with white buttercream. This doesn't need to be too smooth, but it should be even. If you're going for a more rustic finish, ensure it's the same all the way around the cake and on top.
Finally use a small cookie cutter to cut out small shapes from a sheet of black fondant. You can use dots, diamonds, or even hearts. Add the shapes evenly around the entire cake.
They should be spaced out so you have a repeating pattern all the way around. Finish this simple cake with a lovely black and white candle or simple topper.
Black Panther Birthday Cake
Whether you have a little boy who is a huge Black Panther fan or you're wanting to surprise an older birthday boy — this cake is easy to make and looks fantastic.
You just need to bake our basic recipe below. Allow your cake to cool to room temperature and frost it with black buttercream. You may cover your cake with a sheet of black fondant, but we prefer the more rustic look and shine of buttercream.
Top tip: if dark chocolate buttercream isn't quite dark enough for you, add some black squid ink food dye before putting it on the cake.
Next, prepare a Black Panther mask cutout using fondant. The easiest way to do this is to print a simple Black Panther mask drawing. Lay it on top of a medium-thick sheet of fondant, and carefully cut the edges with a sharp knife. Finally, add your mask to the top of your cake.
If you wish, you can add extra detailing with white or gray fondant. Complete it with a simple number cake topper.
Black Birthday Cakes for Women and Girls
Black can be a great base color for some elegant birthday cakes for ladies. Metallic hues really pop against a black background, as do lighter contrast colors.
The cake ideas below offer everything from classy to traditional and even a little quirky.
Black and Gold Birthday Cake
There are many versions of this beautiful cake. Our favorite features elegant black fondant with a beautiful gold-colored rose pattern that looks as though it's been painted on.
To recreate this elegant design, begin by baking our basic cake recipe below. Allow your cake to fully cool before frosting it with dark chocolate buttercream. Next, wrap your cake in black fondant. Top tip: thicker sheets of fondant show less imperfections, though they do make for a more sugary cake.
Once your fondant is completely smooth, you'll want to add a stencil to the outside of your cake. You can make one yourself or buy a readymade stencil online.
Our cake is made using a delicate stencil of cut out rosebuds and foliage. Use edible gold leaf or edible gold spray to add the pattern to the cake. Carefully remove your stencil. Complete with a simple gold-colored cake topper.
Black Forest Birthday Cake
This cake isn't technically completely black, but it comes close and has black in the name. It's also one of the most popular cakes ever, and for good reason: Black Forest Gateau is made with plenty of dark chocolate, lashings of delicious cream, cherries, and Kirsch liqueur.
The cherries add a tartness that cuts beautifully through the sweet chocolate, while the boozy Kirsch gives it a little edge.
If you make this at home, decorate the outside of the cake with long shards of dark chocolate. Top it with grated dark chocolate, whipped cream, and additional cherries.
Top tip: if you're short on time, a faux version using freshly made brownies, cherries, and dollops of fresh whipped cream is also very good.
Black Luxury Birthday Cake
This cake design is for the lady who enjoys the finer things in life. You can make it entirely black or black and white, depending on your preferences.
Bake our basic recipe and cool before frosting the cake using dark chocolate buttercream. Carefully add a layer of black fondant on top and around your entire cake.
Next, use a butter knife to gently press an even diamond pattern all around the cake. Add small gold candy balls to each intersecting diamond. You're wanting to recreate the look of a certain brand of handbag, while also adding a classy shimmer using the gold candies.
Finally, add a gold double-C Chanel logo to the front of the cake. You may stop here, or you can add additional fondant decorations around the cake: a small black shoe, a lipstick, a perfume bottle, or a little handbag.
Finish with a very simple gold cake topper. For the black and white version, use white buttercream, white fondant, black candy balls, and a black fondant Chanel logo.
Simple Black Birthday Cake Designs
As with any mono-colored cakes, black birthday cakes are best when kept really simple. You'll want to start by baking a really good sponge using a recipe of your choice (the one we describe further down in this article is very tasty.)
Allow your cake to cool fully before starting to frost it, to keep your buttercream or icing from melting.
Next you'll want to decide whether you want a cake that is completely black or one that is just a very dark chocolate brown. If it's the latter, you may wish to buy lots of high quality dark chocolate, bearing in mind that darker chocolate is generally less sweet than milk chocolate varieties.
Finally, take your time to frost your cake and make or buy plenty of extra frosting to cover up any little mistakes.
Finish your design by following one of our cake ideas above or by simply adding a few little elements of your own: metallic colors look wonderful with a black cake, particularly gold flakes and gold fondant, as these really pop against the dark background.
Best Quotes & Captions for Black Birthday Cakes
Birthday greetings should be personal and from the heart — incorporating this into a black theme may be a little tricky.
If the birthday party theme is the color black, there may be a lot of mystery and perhaps even a bit of magic involved. We've got just the right inspiration for special messages and quotes you can tie into your own:
'There are three hundred and sixty-four days when you might get un-birthday presents, and only one for birthday presents, you know. – Lewis Carroll'
'I like birthdays, but I think too many can kill you. Happy Birthday.'
'Statistics show that those who have the most birthday live the longest. Happy Birthday.'
'Happy Birthday! May the stars shine on you and all your dreams come true on your special day.'
Here you'll find a lot of funny birthday quotes and wishes.
Beautiful Gift Ideas That Match a Black Birthday Cake
Black-colored gifts tend to exude elegance and look expensive — even when they are not. Below are some of the best black gifts to go along with your birthday cake design. There's something here for every taste and budget.
Budget-friendly black gifts: black leather notebooks and toiletry hampers are great gift options that don't cost the world.
You can easily compile a nice hamper yourself: there are plenty of great black shower gels, creams, and deodorants available.
You may even wish to add some charcoal toothpaste or powder, which is a nice but cheap luxury item. Black mugs are always nice, too, and can be personalized and gifted alongside a nice packet of coffee.
Mid-range black presents: a nice t-shirt or black hoodie can be great mid-budget items to gift. You can get elegant black shirts, personalized apparel, or even a beautiful black dress someone may have wanted for a long time. Black shawls or chunky scarves are good too.
Black-colored luxury gifts: at the upper range we of course have black leather. You may wish to buy a black leather handbag or a beautiful wallet. Black electronics are always popular too, from fancy headphones to accessories for music lovers.
Basic Recipe for a Black Birthday Cake: A Simple Guide
The perfect black birthday cake starts with the perfect recipe: ours is rich, dark, and very flavorful.
Best of all, if you suffer from food allergies or intolerances, you may make the following substitutions: eggs can be replaced with aquafaba or yogurt, flour with a gluten free variety, and sugar with coconut sugar or a fruit concentrate of your choosing.
You can make vegan buttermilk by mixing non-dairy milk with a tablespoon of acid such as apple cider vinegar or lemon juice. Stir until combined and use as directed below.
1 ¾ cups of cake flour
1 ¾ cups of granulated sugar
¾ cup of dark or black cocoa powder
1 tsp baking powder
2 tsps baking soda
1 tsp salt
1 cup of buttermilk
½ cup of vegetable oil
2 large eggs
1 tsp vanilla extract
1 cup of strong coffee
And here's how you do it:
Preheat your oven to 350 F. Meanwhile, grease a 9×13" baking tin with cooking oil or butter.
Mix your dry ingredients in a bowl: stir flour, sugar, cocoa, baking soda, baking powder, and salt.
Stir the buttermilk, eggs, oil, and vanilla extract in a separate bowl using a mixer.
Slowly add the dry ingredients to the wet mixture and keep mixing until combined. Add the coffee and continue to stir until you have a thin, lump-free batter.
Pour your batter into the prepared baking tin and bake for 30-35 mins. The finished cake should be springy to the touch. Top tip: insert a toothpick into the cake. If it comes out clean, your cake is done; if it's still wet, it'll need a little longer.
Cool your cake to room temperature before frosting. Decorate per one of our design ideas above.
Alternatives to a Black Birthday Cake
Black birthday cake can be a little tricky to make and certainly might be time consuming. If you need to make something at short notice, fear not, there are plenty of dark treats you can whip up quickly.
Below are some of our favorite alternatives to black birthday cake which are sure to wow your guests.
Dark Chocolate Birthday Brownies
Dark chocolate brownies are the ultimate go-to if you're short on time but want a decadent treat. To make these, simply follow your favorite brownie recipe.
Top tip: you can even buy a box mix but add extra chunks of dark chocolate to make them gooier and darker-colored. Serve as is in squares or decorate using a dark chocolate drizzle to draw lines across each brownie.
Black Cupcakes
Black cupcakes are a simple alternative to black birthday cake. You can even make these by filling 24 cupcake liners with our birthday cake batter recipe above.
Once cooled, frost using black or dark chocolate frosting. Then decorate with gold flakes or metallic sprinkles, or colorful candies. These are also a particularly fun option for a Halloween-time birthday party.
Black cupcakes look great in black cupcake liners or colorful and metallic varieties, which really pop against the dark cakes.
Black Macarons
Nothing quite says sophisticated elegance like a macaron. These are a little trickier to make but once you've found a recipe you love and follow it to the letter, you'll be just fine.
You can either use squid ink (commonly the main ingredient in black food coloring) or very dark cocoa to make your black macarons. Fill with either dark chocolate ganache or a colorful contrast filling. Salted caramel is always a favorite and looks almost a little golden between the black macaron shells.
You might also be interested in...