6 Best Funny Birthday Cakes & 3 Tasty Alternatives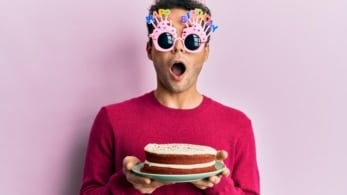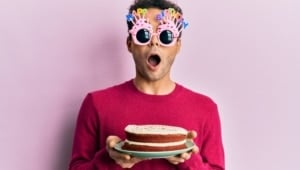 Birthday cakes can be serious business — when it comes to flavor anyway. When it comes to design, we think all bets should be off. After all, if you don't want a drab, boring party, you'll probably not want a cake to match it either. What you want is a cake that is both delicious and fun, and we've got just the ticket.
A funny birthday cake it is then. There's a huge range to choose from: you can craft your cake to have a fun shape or design, add a funny message, or even make it slightly rude.
Whichever you choose to go with, you'll want to make sure you know the birthday boy or girl's sense of humor really well. Once you've nailed that, you really can't go wrong with our top design ideas below.
Funny Birthday Cake Ideas for Adults
You can absolutely make children's cakes funny as well, but those designs will be a lot more obvious and sweet-natured. Our cake ideas are sometimes subtle, and sometimes cheeky.
Some are even fairly… well, ugly on the surface, but hilarious all the same. You'll want to see number 3 on the men's list to know what we're talking about.
Funny Birthday Cake Ideas for Men
Birthday boys tend to fall into two categories: those who find their big day hilarious and those who would rather hide their age. The cake design ideas below are definitely for the former of the two.
If you're celebrating a man who sees the humor in aging, any of these will do. Though we particularly love number 3 for its sheer savageness.
Here you'll find more birthday cake ideas for men.
Senior Moment Cake
This is a great cake if you really don't feel confident in your decorating skills. It looks impressive even with minimal effort. To craft this cake design, you'll need to start by baking our basic recipe but using two square or rectangle tins.
Once these have cooled, frost between the layers and around the assembled cake using yellow icing or buttercream.
Use black or brown fondant paste or dark chocolate to decorate the cake with 'caution' symbols and this message: 'caution: 50 year old having a senior moment' or the age of the birthday boy. You may also wish to add a kinder, 'happy birthday name' on the side of the cake.
Cr*p You're Old Cake
Another hilarious cake, especially if the special man in your life has never quite outgrown toilet humor. Make our basic recipe and frost it using the whitest icing you can make or find.
Add some white fondant sheeting around the outside of the cake, and let it hang off to look like a toilet roll. Add the words, 'Cr*p You're Old' in brown sugarpaste to the side of the cake.
This cake looks even better when accompanied by chocolate cupcakes with chocolate frosting. You can probably imagine where that's going, but these chocolate poop-cakes look best with added sugar googly eyes.
You've Aged Cake
This cake is sure to make him chuckle, provided he's not too vain about his age. Start by baking our basic recipe below, then frost with an icing mixture of your choice.
Decorate with thick sugar paste writing saying, 'You've Aged.' That's it, no fuss and no additional decorative bits. It's one of the simplest cakes to bake but will probably be talked about for years to come.
You'll probably want to keep this cake away from the special women in your life. Unless you like wearing cake on your head, that is. In that case, it's an excellent recipe for hats, too.
If you want to tone it down just a little, you can write 'lost count' on top of the cake instead, which is just a touch more subtle.
Funny Birthday Cake Ideas for Women
If the lady in your life is all about laughing at her age, these cakes are perfect. From subtle and silly (number 1) to just plain hilarious, we've got you covered.
Best of all, you can use our basic cake recipe below to make any one of these cakes. You may even modify the ingredients to include chocolate, alcohol, or additional flavors.
Here are some funny birthday cake ideas for girls.
'Sponge' Cake
This cake design is simple yet effective. To make it, bake our easy recipe below but use two rectangular cake tins. Once these are done, coat each liberally in yellow frosting.
If you like you can add yellow fondant sheets around the outside for a more angular finish. Top each cake with dark green fondant rectangles and layer on top of each other.
The cake should now resemble two literal cleaning sponges stacked on top of one another. Add one simple candle to present this 'sponge' cake to the birthday girl. Bonus points if she's called Victoria, so you can add writing to say, 'Victoria's sponge cake.'
Too Old For DiCaprio Cake
This is probably the easiest cake you could ever make, but it's super funny. Start by baking our basic recipe below and allow it to cool. Frost with a fun colored icing of your choice but try to make it look cute.
Add a secondary color of frosting around the edges to look like cream and sprinkle edible glitter over the top of the cake.
Now for the best bit: write 'Too Old For DiCaprio' in sugarpaste on top of the cake. Enjoy the laughs from both the birthday girl and the guests. Pat yourself on the back for such a clever cake design.
Banana Cake
Another hilarious yet super simple cake. This one is great if the person celebrating really loves banana flavors, as you can tie those in perfectly.
Simply follow our basic recipe below but add in mashed banana. Bake and allow to cool, as normal. Coat generously in cream cheese or banana-flavored frosting.
Next, write the message, 'The older you get, the better you get, unless you're a banana' in fondant icing. Add miniature sugarpaste bananas around the message for decoration and enjoy.
Simple Funny Birthday Cake Designs
The most important thing to consider when creating a funny birthday cake is the recipient's sense of humor. If the birthday boy or girl doesn't find their cake funny, it's not a successful birthday cake.
With that said, a tasty, well-made cake is always a great starting point. Follow our basic recipe below for a moist sponge that is sure to impress. Then decorate with care and you're onto a winner.
Some of the funniest designs are the simplest, as you'll see from our ideas above. Elaborate jokes generally don't do as well unless you're an expert baker. Stick to a theme you know the person celebrating will laugh about, then craft it with care.
Alternatives to a Funny Birthday Cake
The funniest cakes are no good if the recipient doesn't like cake. Below are some top alternatives that are sure to get a chuckle. Serve instead of cake or together with a lovely baked treat for the ultimate surprise.
Birthday Bread
Nothing says simple silliness more than a birthday bread. Either bake or buy a nice loaf (or toast if you're especially daring) and top with a singular candle. If you want to get creative, present the bread with a card reading, 'a toast to your birthday' or 'have a loaf-ly birthday.'
Once the birthday boy or girl has gotten over their shock of getting a birthday bread, surprise them with the following spread: a nice buffet of sweet and savory toppings. We like cold meats, cheese, nutella, jams, and some nice butter. The perfect birthday brunch.
Cheese 'Cake'
The perfect modern cake for weddings and birthdays alike. Layer different wheels of cheese on top of each other for a tiered cake effect. Harder cheeses are better for the base as they'll hold up the weight of subsequent layers. Start off with varieties such as cheddar, gloucester, or parmesan.
Softer varieties will work better on top, including bries, soft blue cheeses, and camembert. Remember to keep your cheese 'cake' out of direct heat or sunlight as cheese can get a little smelly otherwise.
Birthday Candy Bar
Nothing says happy birthday like a candy bar with a candle on top. Think a single bar of Mars or Snickers, with a single, sad candle pierced in the middle.
Of course you don't want this to be the only 'cake' the birthday boy or girl will receive. Start off with the candy bar, and follow it up with an actual candy bar — a wide variety of candies and chocolates for guests to choose from.
Or bake a cake decorated with chocolate bars and candies as an added surprise.
Funny Happy Birthday Messages: Best Sayings & Captions
The best birthday messages are heartfelt and personal. This goes for regular greetings as well as funny ones. You want to write something that speaks to the recipient's sense of humor.
Avoid anything too generic or crude, as these could easily be ill-received. Below are a few top tips to start with, which you can personalize to suit your needs.
'Statistics show that those who have the most birthdays live the longest. Happy Birthday!'
'Happy birthday to the sibling I'm least ashamed of.'
'It's never too late to be what you want to be. Unless you want to be younger, then that's tough luck.'
'Well done on getting older. Have a great birthday.'
'You know you're getting old when your birthday cake looks more like a forest fire than a candlelit dinner.'
Here you'll find more funny birthday quotes.
Funny Birthday Gift Ideas
The most effective funny birthday gifts go alongside a serious gift. Think a nice book or accessory they've really wanted as well as something that will make them laugh. Below are some of our best ideas for funny gifts your recipient is sure to have a giggle at.
Old age pills: this is one funny gift you can easily assemble yourself. Just use an old washed out mason jar and fill with M&M's or Skittles.
Print a label explaining the 'old age pills' — yellow for a bad back, brown for wrinkles, orange for gas, blue for deafness, green for constipation, and red for something rude, if you dare.
A mini me cushion: these come in a variety of options. You can either buy a pillow with your face on it or an actual stuffed doll-shaped toy. Alternatively, you can get socks or bedding with your face printed on them.
Funny socks: while we're on the subject of printed socks, you can now get socks with dessert prints. These usually come wrapped in the shape of the dessert they're printed with, so they're doubly fun. Donuts, cakes, and even burgers for those without are sweet tooth are all options for these fun socks.
Funny Birthday Party Ideas
Some of the funniest birthday party ideas are also the simplest: retro themes are great, especially if they involve a call to dress up. Parties that are all about a quirky hobby of the person celebrating are fun; for example wrestling, cheese tasting, or snorkeling.
Generally anything that involves dressing up is great. You can use this as a theme for funny birthday party games, too. Get some dress up items and silly accessories to make over the birthday boy or girl. Toilet paper always makes for great fashion inventions, as do silly wigs.
If you don't mind going really silly, face paint and general kid-themed stuff is great fun. Kids games such as sack racing, pin the tail on the donkey, and bobbing for apples are all hilarious at adult parties, too.
Basic Recipe for a Funny Birthday Cake: A Simple Guide
Our basic recipe will provide the ideal base for a delicious cake that can be decorated to suit any hilarious theme. If you like, you can even get creative by adding different extracts, cocoa, fruit, or alcohol.
If your guests have allergies or food intolerances, you'll also find it easy to substitute key ingredients: eggs can be replaced with aquafaba or yogurt.
Replace milk with almond or oat varieties, butter with vegan butter or coconut oil, and sugar with fruit concentrates or coconut sugar.
Ingredients:
2 ¼ cups self-raising flour
1 ½ cups granulated sugar
½ cup salted butter
2 tsps vanilla extract
1 ½ cups whole milk
3 medium eggs
Here's how you do it:
Preheat the oven to 350 F and prep two 9" cake tins or one 9"x13" pan by greasing it thoroughly with butter or a vegan substitute.
Combine the sugar and butter by whisking until they're fluffy and pale in color.
Mix the eggs, milk, and vanilla extract in a separate bowl using a stand or hand mixer.
Gradually combine the butter and sugar cream, flour, and eggs until you have a smooth batter.
Slowly pour your cake batter into the prepared tins and bake them for 30-35 minutes. The center of each cake should be softly browned but springy to the touch.
Cool the finished cakes until they have reached room temperature. Then frost and decorate them to your liking.
You might also be interested in...