9 Best 40th Birthday Cakes in 3 Categories + Cake-Themed Gifts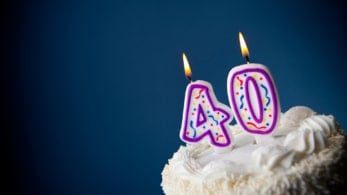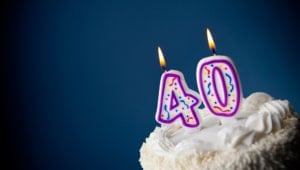 Turning 40 is all about looking at your life and really evaluating who and where you are. It's a time to reflect on your career, hobbies, friendships, and place in life. To congratulate in a wonderful way, you will find here 9 great cake ideas for a 40th birthday.
What better way to do this than with a stunning birthday cake? Whether you choose to make one yourself or have an experienced baker help you, below are some of the best designs anyone could wish for.
As with any landmark birthday, the 40th is a significant turning point to celebrate. Back in the day, 40 was considered old age.
In modern times, 40 is usually the time when people are fully settled into their career and families. In many ways, 40 is the new 30 and it's time to celebrate it with a truly showstopping birthday cake.
40th Birthday Cake Ideas for Him
A 40th birthday cake for the special man in your life is the perfect opportunity to get creative. 40 is also the ideal time to come up with something with a touch of humor. Below we share some of our top cake ideas he'll really enjoy.
Here you'll find more birthday cake ideas for men.
Vintage Birthday Cake
This cake is a little tongue in cheek, and it's sure to get a laugh or two. Start by baking our basic recipe below. Frost your cake and cover it in sleek white fondant. Now add the number 40 on top in black icing, and a choice of fun phrases on the side of the cake:
'Vintage Dude', 'Aged to Perfection', and 'Vintage – [Year They Were Born]' are all great choices. You can stop there, or you can add some small whisky bottles and fondant cigars for decoration.
Era Cake
Another fun cake for a man who doesn't take himself too seriously. The 'era cake' celebrates the decade in which the birthday boy was born. Frost in a selection of era-specific colors (for example fairly garish neon shades for the 90s).
Decorate with fondant items reflective of that decade. Sugar gameboys, cassettes, VCRs, floppy disks, and original iPods are all fun. Top your cake with a large number 40 cake topper in a coordinated color or a candle. This cake is also perfect for a themed party.
DIY Cake
This 40th birthday cake is perfect for the man who really enjoys his DIY. Start by baking our basic recipe in two 9" round pans. Once they're done and cooled, sandwich them together with chocolate buttercream. Frost the entire cake in chocolate buttercream and dust lightly with cocoa powder for a rustic look.
Now decorate the cake with a selection of fondant tools. Think wrench, hammer, screwdriver, some nuts and bolts, screws, saws — anything you can think of. Add a "happy 40th birthday" message in fondant or a simple number 40 candle. Gift this creative cake with a voucher to your man's favorite DIY store.
40th Birthday Cake Ideas for Her
For ladies, a 40th birthday signifies a sort of end to your younger, perhaps wilder years. In their forties, many women are settled well into their careers or their homemaking lives.
They frequently have children who no longer need constant care and attention. So it's time to celebrate and perhaps start some new hobbies.
Here you will find birthday cakes for girls.
Self-Care Spa Cake
There are a few different ways to do this, but the ultimate is the hot tub-shaped cake. Replicate this design by baking our basic recipe below.
Coat in your favorite buttercream frosting, then cover in brown fondant icing. Create foam and bubbles on top of the cake using soft blue-hued and white vanilla buttercream. You can be fairly messy with this as it should look like water and foam.
Add the birthday girl's fondant upper body or head and hands sticking out of the water. A fondant towel on her head and two fondant slices of cucumber on her eyes make for the perfect picture.
Complete with a few candles, since they're always nice to have beside a big bath. Ideally, gift this cake along with a relaxing spa voucher for the perfect combo.
Naked Cake
Popular for weddings, the naked cake is also a fantastic choice for birthdays. It's pretty easy to replicate this cake at home, too. Just bake our basic recipe below or your own favorite birthday cake recipe.
Cut into multiple layers about 3-4" in width. We like to use string or new dental floss for this trick: Just wrap it evenly around the cake and pull, for perfect layers.
Frost generously between the layers. You want to create visible layering that's almost as thick as the layers of cake. Smooth around the edges for a pretty, rustic look. Decorate with a fun cake topper, for example "40 and fabulous" or "forty". Add un-sprayed roses, daisies, or sprigs of lavender for decoration.
Number 40 Cake
It's a frequently used design, but still so special. The number 40 cake is essentially two cakes, a four and a zero. You can double up our basic recipe below and bake in rectangular baking tins for two large numbers. Frost using your favorite buttercream recipe or storebough frosting.
Here's where you can get creative: You can flavor each cake using a different essence, or even make one chocolate and one vanilla.
You can use food coloring the make each number a different color by adding a little to the frosting. Lastly, you can decorate these using organic flowers, fruits, sweets, or even little fondant figurines that represent the birthday girl's hobbies.
Simple 40th Birthday Cake Designs
If you're choosing to bake your own birthday cake, you may want something especially straightforward. Our top ideas are simple to replicate yet just as showstopping as more extravagant bakes.
Simple Silhouette Cake
This beautiful cake is so easy to make at home, yet so effective. Bake our basic recipe or a cake recipe of your choice. Once your cake has fully cooled to room temperature, frost the outside and cover it in smooth, white fondant icing.
Add silhouettes of the important people in their life, for instance their closest family including children, in black fondant. Top with a number 40 cake topper or a large candle. Sweet and simple.
Glamorous Bauble Cake
A luxurious-looking cake, yet so simple to replicate at home. Bake a tall cake using our basic recipe — double up the ingredients if you're wanting a bigger one. Frost generously between each layer using your favorite buttercream.
Frost the outside of the cake until smooth. Decorate using fondant baubles in different colors, for example pink, ivory, and rose gold. Add calligraphy 'forty' lettering to the front or top of the cake. Done.
Funfetti 40 Cake
This is a great cake to craft at home, and one kids can help with as well. Bake our basic recipe, frost, and cover entirely in multi-colored sprinkles. It's that easy.
You can leave this cake as it is and just add a "40" topper, or get a bit creative and add favorite sweets. Macaroons, jelly babies, smarties, or heart-shaped candies look great.
Alternatives to a 40th Birthday Cake
Not everyone loves cake and not everyone wants to bake cake. Some alternatives simply work better for certain dietary requirements. Others are great for sharing. No matter your need, here are some of our top alternatives to a 40th birthday cake.
Cupcakes
Cupcakes make a great alternative for birthday cake. You can use our basic recipe below to make 24 delicious cupcake. Frost using multi-colored buttercream and a selection of fun cake toppers.
There are plenty available online, from basic number 40 toppers to ones with the person's face in a party hat on them.
Waffles
Waffles are always delicious, and even more so for a 40th birthday brunch. Whip up some delightful Belgian waffles, and stack them like a birthday cake. Finish with candles on top and a selection of toppings on the side.
These make a great alternative for those looking for lower sugar alternative to cake, too.
Cheese
If the person celebrating really does not love cake, there's a simple alternative: Cheese! Cheese-wheel cakes have long been popular as quirky alternatives to wedding cake. They make a great option instead of birthday cake, too. Simply stack two or more wheels of cheese and decorate with a 40th birthday topper — done.
Happy 40th Birthday: Best Quotes & Captions
A 40th birthday message should be heartfelt and personal. If you write something thoughtful you really can't go wrong. Lighthearted, joyful messages are always a good idea. If you're lacking any real inspiration though, below are some lovely quotes and captions to start with:
"Life is a book and your forties are the chapter when it all starts making sense."
"Turning 40 is a piece of cake and a few extra candles."
"Happy Birthday! And remember you're not 40, you're 18 with 22 years' experience."
"You are only young once, but you can be immature for a lifetime. Happy 40th birthday!"
Here you'll find more 40th birthday wishes.
40th Birthday Gift Ideas
A 40th birthday is a special occasion and obviously deserving of a special gift. Whether you're close to the birthday boy or girl or they're just an acquaintance, we've got the right idea for you.
If they love cake and you're wanting to stick with this theme, there are plenty of fun ways to do so: You could make a hamper with cake-scented bath salts, soap, and body lotion.
You might buy them a cake-scented candle. Or you could really get unique and buy earrings or a necklace with little cake-shaped pendants. You can even get socks with a cake print, for your all-out cake gift extravaganza.
If you're close to the person celebrating and want to get them a bigger gift, an experience or piece of jewelry are always great. You might get a necklace with their birthstone or a special watch, which you can even have engraved.
Gift experiences are a great way to spend more time with them and prolonging the celebrations, too. Great ideas include wine tastings, a supercar experience, and an overnight stay at a nice spa.
More budget-friendly gifts for a 40th you're less close to include a nice print, an engraved glass, or a special mug with a nice hot chocolate mix. Whatever you choose to give, if it's from the heart it'll be well-received.
40th Birthday Party Ideas
40th birthday parties can be tricky. On the one hand, they're a big deal and should be celebrated. On the other, they're not quite as big as your 50th. So what can you do to celebrate your 40th birthday? Read on to find out.
Your 40th birthday is meant to symbolize the start of a more comfortable life, where you're settled in a career and at home. So why not make your 40th birthday party one big celebration of youth?
Skydiving, cocktail making, and even life drawing parties are great choices for those who really want to live it up. You could organize a scavenger hunt and get a bit silly. Or head to a themed night at a local club.
If this doesn't sound like you, there's also nothing wrong with having a calmer celebration. Go out for a nice dinner with family and friends or treat yourself to a spa day.
Have a baking competition at home and see who can make the tastiest birthday cake. Or throw an old-fashioned canning party and share the produce at the end.
40th birthdays are well out of the time when you've needed to impress others. So whichever you choose, have a party you'll enjoy. Those closest to you will love it regardless.
Basic Recipe for a 40th Birthday Cake: A Simple Guide
Here it is, our basic recipe for an easy to replicate, scrumptious 40th birthday cake. Amend this recipe to suit your needs and feel free to get creative: You can add different extracts, such as orange, almond, or even rose.
Add cocoa powder for a delicious hit of chocolate. Replace the flour for your favorite gluten free alternative, the eggs with aquafaba or yogurt, the milk with oat or almond milk, and the butter with a vegan alternative such as coconut oil. This is a great, flexible recipe that will always turn out beautifully.
2 ¼ cups self-raising flour
1 ½ cups granulated sugar
½ cup salted butter
2 tsps vanilla extract
1 ½ cups whole milk
3 medium eggs
And this ist how you do it:
Preheat the oven to 350F. Grease two 9" cake tins or one 9"x13" pan liberally using your favorite cooking oil or butter.
Mix sugar and butter until pale and fluffy.
Combine eggs, milk, and vanilla extract in a separate bowl by whisking with a mixer.
Gradually mix the butter and sugar cream, eggs, and flour until smooth.
Pour your cake batter into the greased tins and bake for 30-35 minutes. The center should be softly browned yet springy when pressed.
Cool the baked cake to room temperature before frosting and decorating.
You might also be interested in...