6 Best 18th Birthday Cakes + 5 Alternatives to a Birthday Cake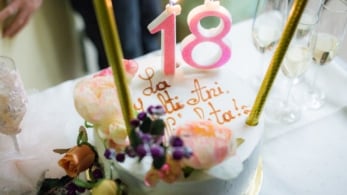 An 18th birthday is special and undoubtedly one of the most memorable ones you'll ever have. Turning 18 marks the beginning of the early stages of adulthood. The birthday cake should be all the more festive. Here you will find the best ideas for a 18th birthday cake.
In western culture, turning 18 is a big milestone. Young people can now vote, establish their credit rating, and even buy a car.
Whether you like it or not, an 18th birthday marks the end of childhood and the beginning of young adult life. Because of this, it should be celebrated in style and what better way to do so than with a great birthday cake.
18th Birthday Cake Ideas for Boys
18th birthdays are a big deal – so are 18th birthday cakes. Whether the birthday boy is just really into great-tasting cake, wants a classy design, or would just love something funny, we've got you covered. The cake ideas below offer something for everyone.
Here you'll find more birthday cake ideas for boys.
Traditional '18' Cake
This is a lovely cake for a traditional guy. Start by doubling up our cake recipe below and baking two 9×13" rectangular cakes. You can make these extra delicious by slicing each cake in half in the middle, and sandwiching buttercream or jam between the layers.
Cut out a large 1 and 8 using paper stencils and frost in buttercream. Gently cover each number with fondant. Add a fondant birthday boy sitting on one of the numbers, and decorate with a 'happy birthday' message and color-coordinated stars. White fondant and blue stars go particularly well together.
Candy Cake
This lovely cake is particularly easy to make, but really tasty. Bake our basic recipe below, frost the cake liberally using chocolate buttercream, and decorate.
You can use a selection of kit kats for the sides of the cake, and maltesers, smarties, or even skittles and m&ms for the top. Poke some kinder buenos or similar treats around the back, for a wild and wonderful chocolate cake. Finish with a number 18 candle and enjoy chocolate overload.
Funny Poo Birthday Cake
Let's face it, most boys like toilet humor. If your birthday boy is no different, this cake will make him laugh. Bake our basic recipe below and use white fondant icing sheets to create the 'toilet.'
Add a lot of chocolate buttercream in the center, and decorate with funny eyes and a mouth. Finish the presentation with a tongue in cheek quote, such as 'Happy Birthday to our Favorite Little…' Bear in mind that you may wish to save this cake for their party with friends rather than discerning grandparents.
18th Birthday Cake Ideas for Girls
Both boys and girls will see their 18th birthday as a kind of rite of passage. For girls, it's certainly time for a particularly pretty, glamorous cake that will dazzle. Whether the birthday girl wants an all out pink princess-style cake or she's after something a little more quirky, we have the best ideas below.
Here you'll find more girl's birthday cake ideas.
Selfie Cake
If your birthday girl really enjoys a selfie, this sweet cake will make her smile. Start by baking our simple cake recipe below. Once the cake has cooled down, coat it in your choice of buttercream then wrap it in sheets of soft pink fondant.
Top tip: If you leave the fondant slightly thicker it will show less imperfections. Wrap pre-ordered printed sugar paper around the tiers. The best way to design these is to use a retro film style template and add 18 photos into each picture slot, one 'selfie' for each year up to 18. Top with a simple number 18 cake topper.
Rose-Dress Cake
A simple yet impressive cake design. Start by baking our basic recipe below into two tiers, using a 9" and 7" round pan. Stack your cooled layers using buttercream to hold them together, and frost the entire outside of the cake liberally.
Now add a sugar paper or rice paper cutout of the back of a girl with her hair flowing down to the outside of the top layer. Decorate the lower layer using sugar flowers or organic, unsprayed roses in the shape of a triangle. This will be the skirt.
Add a simple number 18 cake topper or candle to the top of the cake. Top tip: pick roses or sugar flowers to match the color of the cake topper for a cohesive look.
All About Her Cake
If your birthday girl isn't big into selfies or pretty pink dress cakes, this one is sure to be a hit: start by baking our easy recipe below and sandwich the cakes together using jam or buttercream. Frost the entire cake in the birthday girl's favorite color.
Now add a fondant representation of her, as well as some of her favorite things. Music lover? Try a little fondant guitar, an iPod, and some records. Big into books?
Have your fondant girl sit on some fondant books (bonus if you can write the titles on the spines in icing.) Finish your cake with a number 18 on the side, or a simple 18 cake topper next to the birthday girl.
Simple 18th Birthday Cake Designs
The simplest birthday cakes are sometimes the best. If recreating one of our top ideas above intimidates you, it doesn't need to. For a class yet simple 18th birthday cake design, just follow these steps:
Start by baking our simple recipe below and leave your cakes to fully cool to room temperature. Next, frost the top of the first cake using a buttercream of your choice.
Stack the second tier on top and frost both cakes liberally. Using a large scraper around the sides will ensure a smooth finish, though you can equally leave this looking more rustic.
Add a selection of goodies to the top of the cake to decorate it: you can get fondant balls which look like balloons, different sweets, macaroons, even edible flowers. Finish with a simple '18' cake topper. Wooden cake toppers and those made of glitter card look particularly nice.
The most important thing to keep in mind if you aren't a natural baker is that you're creating something with love. Take your time and follow the recipe diligently, and the birthday boy or girl is sure to love the surprise.
Alternatives to a 18th Birthday Cake
Most people love cake – but not everyone. For those who would rather skip the cake when ordering in a restaurant, the below options make great alternatives. These are also great for sharing or to add to grab bags guests can take home after the big party.
Cupcakes
Our cake recipe below can easily be made into 24 scrumptious cupcakes instead. Add chocolate or peanut butter chips for an added hit of flavor. Frost each cupcake in matching or different colors of buttercream.
Adding a drop or two of food coloring to a buttercream recipe of your choice will create beautiful pastel hues. You can buy cake toppers with the number 18 or even with the birthday boy or girl's face on it online.
Cookies
With the dawn of Crumbl cookies, everyone loves a good chocolate chip cookie to bite into again. Create your own by baking your favorite recipe.
You can either make a large batch of smaller cookies guests can nibble on or a few extra-large cookies. Extra-large cookies have the added bonus of being the perfect surface to write birthday messages on in icing.
Macaroons
Macaroons are fairly intimidating to make yourself, so don't attempt them unless you have plenty of time. Using a recipe of your choice, make these well ahead of time.
Consider either buying or making a stencil using parchment paper. Consistency is key with macaroons. Once you've mastered the basics, these can be an incredible surprise and gift. They're particularly delicious when filled with a simple homemade caramel.
A Candy Buffet
Contrary to number 3 on our list of cake alternatives, this one can be done if you absolutely cannot bake at all. Simply purchase a selection of sweets. Present them nicely using a selection of bowls and tall glass jars. As a bonus, add some colorful paper bags guests can fill themselves.
Crepes
Who doesn't love crepes? These are ideal if the person celebrating likes neither cake nor sweet things in general, but loves breakfast. Crepes can be made a little bit in advance and stacked beautifully. Add a buffet-style selection of tasty toppings.
Crepes are great filled with sweet or savory foods, including cheese, apple, chocolate, caramel, honey, fruits, even prosciutto.
Happy 18th Birthday: Best Quotes & Captions
The best quotes and captions come from the heart. The 18th is a particularly special birthday in a person's life. Your message should be personal and heartfelt.
With that said, writer's block is a very real thing. If you need some inspiration, below are the best ways to say 'happy birthday' to a freshly turned 18-year-old.
"From my tiny little girl to this gorgeous lady, you've grown up so beautifully. Happy 18th Birthday, Daughter!"
"From my tiny little boy to this handsome man, you've grown up so wonderfully. Happy 18th Birthday, Son!"
"To my best friend on your 18th birthday. It's now legal to do all the things we've been doing for the past year."
"Congratulations on turning 18! May your future be as bright as your smiles today. Happy Birthday!"
Here you'll find more funny quotes.
18th Birthday Gift Ideas
18th birthday gifts should be meaningful, but they're also allowed to be fun. There is plenty of opportunity here to gift something that is both beautiful and a little bit humorous.
If the birthday boy or girl really loves cake and you're already making a great one, you can stick with the theme: there are plenty of sweet-themed gifts available to craft a perfect hamper. Cake-print socks and nightwear, cake-scented soaps and lotions, even cake-shaped plushies.
Steer clear of generic gifts such as news prints and cheap 18th birthday tat such as keyrings or glass ornaments.
If you want to get an ornamental present featuring the number 18, there are better options. A large ceramic 18 that guests can sign with special messages or an 18th mug that can be signed before sealing it are much more meaningful.
18th birthdays are also a great opportunity for special gifts: a piece of birthstone jewelry or an engraved watch are great. A special perfume, much-wanted handbag, or even a camera offer unique options.
It's never a bad idea to split a special gift amongst friends and family, too, rather than getting lots of unwanted smaller items.
You can always add a funny budget-friendly extra such as a book on becoming an adult or a card with beer money. Whatever you choose, cater your 18th birthday gift to the person celebrating and make it unique.
18th Birthday Party Ideas
18th birthday parties once used to be raucous affairs. In recent years, people have mellowed a little. Now parties are much more about the person celebrating. That doesn't mean you can't have a wild party, but it gives you plenty of alternative options if these aren't their style.
An old-school slumber party with a few best friends is a great idea. Complement this with a cake tasting including your special 18th birthday cake, as well as some retro movies or games, and you're onto a winner.
Solving a tricky escape room with a few good friends is another fun option that's proven popular. If you select a themed escape room, you may be able to tie this into a great dinner after the game. 1920s Gatsby-style themes are well-loved and easy to recreate, including the cake of course.
Birthday scavenger hunts, games nights, and even a trip to an amusement park are all fun alternatives. Even a Victorian picnic outdoors can be a great option, particularly if the birthday boy or girl is a literature fan.
If none of these sound quite right, an old-school pool party with a BBQ is always a winner.
Basic Recipe for a 18th Birthday Cake: A Simple Guide
Our basic recipe for a delicious 18th birthday cake couldn't be easier to make. You can tailor this recipe to make it your own, too. Get creative by adding different kinds of extracts like almond, rose, or orange. Add cocoa powder or sprinkles for a different flavor or texture.
Those with food intolerances and allergies will be glad to hear that this recipe suits them as well: you can substitute the flour with your favorite gluten free one.
Replace eggs with yogurt or aquafaba and milk with oat or almond varieties. The butter can be replaced with coconut oil or a vegan butter alternative. You can also substitute the sugar for coconut sugar, agave syrup or fruit concentrates. Or just reduce the amount you use altogether.
2 ¼ cups self-raising flour
1 ½ cups granulated sugar
½ cup salted butter
2 tsps vanilla extract
1 ½ cups whole milk
3 medium eggs
Here's how you do it:
Preheat your oven to 350 F and grease two 9" cake tins or one 9"x13" pan well using cooking oil or butter.
Combine sugar and butter using a mixer until both are fluffy and pale looking.
Mix the eggs, milk, and vanilla extract in a separate bowl by vigorously whisking using a mixer.
Gradually add the butter and sugar cream, eggs, and flour together until you get a smooth batter.
Pour the cake mixture into the greased tins and bake for 30-35 minutes. The center should be softly browned but springy when you gently press it.
Cool your finished cake to room temperature before frosting and decorating it to your liking.
You might also be interested in...