6 Best Blue Birthday Cake Ideas + 3 Tasty Alternatives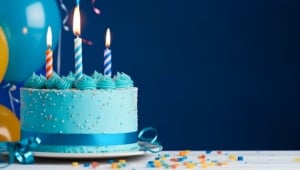 Blue cake is most often associated with new baby boys, gender reveal cakes, and… the Smurfs. It's tricky to combine the idea of a blue cake with that of something delicious in your mind. But did you know that there are creative alternatives to make your blue birthday cake look and taste good?
Blue birthday cake can look like a real showstopper. Whether you're baking for a special little boy's birthday or it's just the favorite color of the person celebrating, we've got tasty blue cake ideas for you.
Best of all, our simple blue birthday cake recipe below includes a clever hack to make your batter blue naturally. So you won't have to step near those artificial-tasting blue food dyes at all (unless you want to, that is.)
Blue Birthday Cake Ideas for Men and Boys
Blue birthday cake is generally associated with being a masculine thing. For this reason there are lots of potential ideas available for boyish birthday cakes. You might be thinking that these will just involve a garish blue sponge and some hastily put on frosting. Think again; the ideas below are elegant, fun, and above all else tasty.
Elegant Blue Birthday Cake
This cake is so simple but such a showstopper at the same time. The only thing you'll need to be careful with is your fondant work, so it looks clean and stylish.
Start by baking our simple recipe below. Allow the cake to cool fully then frost using a buttercream of your choice. Layer deep blue or navy fondant around the cake.
Top tip: if you keep your fondant sheet slightly thicker it'll show less imperfections. Make sure it's really smooth and perfect.
Finish with edible gold flakes and a simple number cake topper. You can also add some small gold-colored fondant figurines. A tiny car would suit a motoring-lover, a small golf club or tennis racket might appeal to a sports fan, etc.
Hot Air Balloon Birthday Cake
You'll have seen this one on Pinterest and other social media, and for good reason: this birthday cake is quirky and sweet. It's better for younger children or even a baby's first birthday, but can be modified to suit older boys and men as well.
To create your hot air balloon cake, start by baking our simple recipe below. You can make your sponge blue or keep it neutral. Once the cake has cooled, you'll want to frost it with vanilla buttercream. Next, gently cover the cake with a sheet of pale blue fondant.
Decorate the finished cake with hot air balloon cutouts. Wooden ones are great and are readily available online. Add clouds and a large number cake topper. To make this cake more grown up, you'll just need to make the hot air balloons more vintage-style and less cartoonish.
Ombre Ocean Birthday Cake
This cake design could not be easier to make, yet it's really good-looking. Just bake our basic recipe below and allow your cake to fully cool down. Next, prepare three separate bowls of basic vanilla frosting. Your base frosting should be as white as possible to avoid any green tinges.
Mix a little bit of blue food coloring into two of the bowls in order to make a medium and a darker blue frosting. Frost the cake using all three of the mixes, blending them to create a sort of ocean wave effect.
You needn't be too careful with these as the slight messiness is what makes the cake.
Top your finished cake with a simple wooden cake topper. Add optional sugar paste sea animals or boats. This cake is great for the boy or man who enjoys diving, swimming, or other aquatic activities. It's also a really good cake to make for an important birthday alongside the gift of a beach holiday.
Blue Birthday Cakes for Women and Girls
Blue birthday cake may not be the first option that comes to mind when planning a girl or woman's birthday.
Yet blue cakes can be stylish and even regal looking — perfect for the princess in your life, whether she's turning 5 or 45. Our blue birthday cake ideas range from showstopping to sweet, and are sure to impress.
Blue and Gold Birthday Cake
This birthday cake is similar to our elegant design above, yet just a little more extravagant. Bake, then decorate using navy-colored fondant sheets.
You'll want these to be as smooth as possible, so make sure you take your time. Layering buttercream underneath the fondant makes it a little easier to smooth and avoids any unsightly lumps caused by dislodged cake crumbs.
Next, you'll want to decorate your cake using edible gold sugar paste balls and edible metallic gold cake drip. Use this sparingly and not all over the cake. You want the finished result to look luxurious, not tacky.
Top with a 'happy birthday' topper in gold card or a beautiful number candle.
Blue Rose Birthday Cake
Blue roses mean love at first sight, as well as mystery and pride. They're unusual and don't actually occur in nature, making them a special representation of your sentiments towards the birthday girl.
A blue rose birthday cake is easy to make. Start by baking our simple recipe below and allow your cake to fully cool down. Next, frost your cake using white vanilla buttercream. You'll want to make this look quite textured to give a rustic effect.
Add blue sugar paste roses to one corner of the cake for decoration. You may also wish to add sprigs of organic lavender or gold flake 'petals.' Finish your cake with a pretty number candle or simple wooden cake topper.
Blue Orchid Birthday Cake
This is another very blue cake with more subtle decoration. It may sound simple, but it's very delicate and pretty when done well. To make this, bake our basic recipe below and allow your cake to fully cool down.
Next, use blue-colored vanilla frosting to coat the entire cake. You may wish to use the trick we used in the ombre ocean cake above: create different shades of blue frosting by adding varying amounts of blue food coloring to separate bowls.
Next, add white fondant orchids to the front side of the cake, to give the effect of their trailing down your beautiful blue cake. You can get readymade fondant flowers online or at a good bakery supplier.
Alternatively, you may wish to make these beforehand. Fondant cake decorations stay good for up to two months if kept in a cool, dark container. Finish your cake with a simple wooden cake topper.
Simple Blue Birthday Cake Designs
Blue birthday cake designs can be achieved in a variety of ways: you may wish to color your sponge blue, color the frosting blue, or cover your cake in blue fondant. You might want to create a simple, neutral-hued cake and add blue decorations.
Dyeing any part of your cake blue can easily be achieved using food coloring. You can buy natural spirulina food dye (made from algae) online or in specialty baking shops. Alternatively, you can make blue food coloring at home.
To do so, cut up a red cabbage and boil it for 10-15 minutes. Strain the cooking liquid and reduce it on low heat until you only have approximately a quarter cup of thick syrup left.
The result will be purple-hued, so you'll want to add a very small pinch of baking soda. The reaction between the two ingredients will cause it to turn blue.
You can now use your homemade syrup as food dye to naturally color parts of your birthday cake blue.
Best Quotes & Captions for Blue Birthday Cakes
Birthday messages should be heartfelt and personal. With that said, if the color blue is a vital part or even a theme in the birthday boy or girl's celebrations, you may need some inspiration. We've got just the thing for you with these unique birthday message ideas you can tie into your own:
"The sun is up, the sky is blue; it's beautiful, and so are you" – John Lennon
"You are my blue crayon. The one I never have enough of, the one I use to color my sky."
"Roses are red, violets are blue, this cake is sweet, and so are you."
"This message may come out of the blue, but I hope you have a very special birthday."
Are you looking for more funny birthday quotes? Here you'll find them.
Beautiful Gift Ideas That Match a Blue Birthday Cake
There are quite a few birthday gifts you can give that incorporate the color blue perfectly. Here are some of our favorites:
Blue topaz or crystal: Swarovski make some particularly lovely blue pendants. The stone is said to promote relaxation, promote truth, and seek forgiveness.
Swarovski also make a small bear carrying bleu forget-me-not flowers, which would make a charming gift alongside one of the floral cake designs above.
Blue gift basket: a blue basket filled with blue-hued treats is a fun, inexpensive gift idea. Fill it with a selection of blue-packaged chocolates, mints, and other treats. Blue socks, a special blue notebook and pen, and blue bath salts are nice additions to this as well.
Blue flowers: There are plenty of blue-flowering plants available that make great gifts. Forget-me-nots are lovely and generally well-received.
Blue hydrangea, especially baby blue ones if you can find them, can look spectacular and are great for a keen gardener. Blue orchids or blue roses are artificially dyed and will lose their color over time, though they also make fun and unusual gifts.
Basic Recipe for a Blue Birthday Cake: A Simple Guide
Our simple recipe for a scrumptious blue birthday cake could not be easier to follow. If you like, you can amend the recipe to make it truly bespoke.
You can add various extracts such as almond, orange, or rose, or pop in white chocolate chunks for some texture. Top tip: use our ideas on food dye including our handy homemade food coloring recipe above to add some color to your batter.
If you have any allergies or food intolerances, you'll be glad to know that this recipe is easily tailored to these, too: simply replace the eggs with aquafaba or yogurt, the milk with almond or oat alternatives, and the butter with a vegan butter alternative of your choice.
You may also substitute the sugar with fruit concentrate, agave syrup, or coconut sugar so it's more suitable to those on a low sugar diet.
2 ¼ cups self-raising flour
1 ½ cups granulated sugar
½ cup salted butter
2 tsps vanilla extract
1 ½ cups whole milk
3 medium eggs
And here's how you do it:
Preheat the oven to 350 F and prep two 9" cake tins or one 9"x13" pan by greasing them well using coconut oil or butter.
Mix the sugar and butter using a stand or hand mixer until these are fluffy and pale in color.
Whisk the eggs, milk, and vanilla extract in a separate bowl until thoroughly combined.
Gradually combine the butter and sugar cream with the eggs and flour until you have a smooth batter.
Pour the cake batter into the greased tins and bake for 30-35 minutes. The center should be softly browned yet springy when pressed.
Cool the cake to room temperature before you frost and decorate it per one of our design ideas above.
Alternatives to a Blue Birthday Cake
If blue birthday cake just isn't your thing or you prefer a simpler alternative, fear not. Below are some of our top suggestions for alternatives to blue birthday cake. Or, if you want to get really creative, you could have them all for the ultimate blue birthday buffet.
Here you'll find tasty vegan birthday cake ideas.
Blue Bell Ice Cream Dessert
Blue Bell ice cream already has the color in its name, but did you know they make some excellent blue-hued ice cream as well? Blue Bell Creameries' Cotton Candy flavor is a yummy treat in shades of pink and blue. Perfect for a birthday treat or for a special baby shower.
Blueberry Pancakes
Blueberries are wonderfully blue on the outside, but everyone knows they turn more of a purple shade once cooked. Circumvent this 'issue' by baking up some delicious vanilla-flavored pancakes and topping them with fresh whipped cream and blueberries.
Blue Jell-O
What's more blue than berry blue Jell-O? Nothing, that's what. Blue Jell-O is great on its own, as part of a fun birthday cocktail (Jell-O shots anyone?) or as a funky side for the kids to enjoy. It's brightly colored and delicious, too.
You might also be interested in...