Chocolate Peanut Butter Banana Cake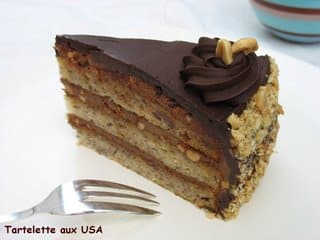 Here it is: cut, shared, eaten, almost gone. Layers of the lightest banana rum cake, peanut butter filling and dark chocolate ganache.
every recipe from Marcel Desaulnier's book has been a delightful journey into chocolate bliss. Textures, flavors, combinations. Some recipe may sound heavy, like this one, and I was rather curious regarding the result, but it came out light and slightly tropical thanks to the rum. Definitely best served at room temperature.