Chocolate Peanut Butter Banana Cake and Caramel Corkscrews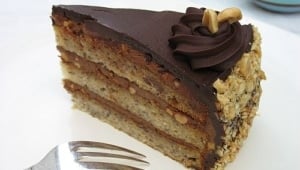 I call this cake "revisited" although it is not entirely exact, but I could not think of a better way to say it. I made this cake for the first time last year, posted this pretty picture and promised to write down the recipe on this blog and never did. I have received many requests for it over the past few weeks months so I finally got my act together and wrote it down. Sorry for those who emailed about it six months ago…I keep being distracted by more pastries and desserts every day! The cake is adapted from Marcel Desnaulniers, sinfully rich and absolutely decadent.
I have also received many requests to post the how-to's of making the caramel corkscrews I used for the Espresso Chocolate Trios and the Chocolate Crepe Cake. I hope the explanations and drawing at the end of this post will unleash the caramel playing gene in you. Just take your time, be patient and the good thing is that even if you mess up, you can still it it!
Chocolate Peanut Butter Banana Cake, adapted from Marcel Desnaulniers
Cake:

2 stick unsalted butter, at room temperature
2 cups all purpose flour
1 tsp. baking powder
1 tsp. baking soda
1/2 tsp.salt
3-4 medium ripe banana,peeled and diced
1 cups sugar
2 large eggs
1/2 cup boiling water
1/2 cup dark rum
1 cup unsalted peanuts for the garnish (optional)
Chocolate Peanut Butter Icing:
1 3/4 cup smooth peanut butter
1/2 cup powdered sugar
4 oz semisweet chocolate, melted
Chocolate Ganache:
12 oz. semisweet chocolate
4 oz. unsweetened chocolate
2 cups heavy cream
2 Tb. sugar
Preheat the oven to 325F. Lightly butter 3 9 inch round pans and line them with parchment paper.
Sift together the flour, baking powder, baking soda and salt. Set aside.
Cream the butter and sugar together until light and fluffy. Add the eggs, one at a time, beating well after each addition. Add the banana pieces at medium speed, until just incorporated. Add the sifted dry ingredients, mix well. Add the boiling water on low speed. Once incorporated, add the rum, also on low speed. Run a rubber spatula around the side and bottom of the mixer to make sure that all the ingredients are well incorporated.
Divide the batter among the prepared pans and bake 25-30minutes, rotating the pans if necessary. Let them cool to room temperature. Invert the cakes and peel of the parchment paper.
In the bowl of a stand mixer, beat the peanut butter and powdered sugar together,and beat for about 4 minutes at high speed until very smooth. Add the melted chocolate and beat on medium high for about 1 minute. Leave at room temperature.
Spread 1/2 cup of the icing over one of the cake layers. Top with another cake layer ad another 1/2cup icing. Place the final cake layer on top. Spread the remaining icing on top of that last layer and down the side of the entire cake. Refrigerate for several hours or until the icing is firm to the touch.
Meanwhile,prepare the ganache: place both chocolates in a large bowl.Heat the cream with the sugar until boiling.Pour it over the chocolates,let stand for 2-5minutes, then stir with a whisk until completely smooth.
Remove the cake from the refrigerator,place the cake on a grid over a parchment paper line baking sheet. Ladle the ganache over the top of the iced cake. Use a cake spatula to spread a smooth coating of ganache over the top and sides of the cake. Refrigerate the cake 20-30minutes until the ganache is firm. Scrape the ganache that has fallen on the parchment paper and fill a pastry bag fitted with a star tip with it.
If you wish to decorated the cake with the peanuts, save about a dozen for the top of the cake, chop the rest coarsely and press them on the sides of the cake. Use the reserved ganache to pipe swirlies on top of the cake.
Caramel Corkscrews:
Picture taken from Bo Friberg, The Professional Pastry Chef
Start with a basic 2 step dry-method caramel:
Over medium high heat, melt 1/2 cup of sugar in a heavy bottom saucepan until golden brown. Immediately add another 1/2 cup of sugar and stir untill all the sugar mixes and melt and becomes dark golden brown. In this particular method,it is ok to stir the sugar,but with a wooden spoon and very slowly. It goes from a semi-liquid golden to a dark brown caramel. It will coagulate but becomes smoother as it melts. This method is very convenient for reheating as you need when your working caramel becomes too stiff, without adding any more color. Remove from the heat and let it cool to a consistency of thick glue. Too thin and it will make pretty strands, too thick and you can play with pulled sugar.
For the corkscrews, I lightly oiled a metal skewer, held it in my left hand (I am right handed),I dipped a wooden spoon into the hot caramel with the other hand and twirled the caramel around the metal skewer, starting from part closer to my wrist and twirled my way up the skewer. Let it dry a minute and let it slide off onto a lightly oiled parchment paper lined baking sheet. Make sure the caramel is thick enough to play with. One easy cooling method is to put your pan into a larger one filled with ice as soon as your caramel has taken on the right color on the stove. If it gets too thick, simply reheat on low for a minute. Oh, and have scissors near by in case those caramel strands start taking on a life of their own!


Last but not least, I want to share with you a cool event that Kristen from Dine and Dish started about a month ago. She asked for volunteers veteran bloggers to adopt new bloggers. I remembered how strange and weird it was to start blogging. Finding your voice, your style, deciding on how much of your privacy to give, getting comfortable. I needed help with the basic styling, the basic editing, the basic everything (but now I have a computer Guru!).
I read and read "blogging 101", scratched my forehead and pulled my hair….not really but close. I really found my groove last year and I thought that Kristen's event was a great way to help new bloggers find their skin or to simply give them a virtual high five for pursuing their dreams.
So, after this long paragraph, let me introduce you to Dana who writes Proof Of The Pudding and Evelin who is the voice behind Bounteous Bites, and I could not be happier to adopt them.
I "met" Dana in November when I stumbled upon her wonderful pear cake that I have made so many times since then, changing the fruits, extracts,…. everybody should have a base cake like this one!
I discovered Evelin through her 2007 blogging recap and started reading through her archives days before Kristen mentioned not having enough veterans for a few bloggers. I volunteered to take adopt another one (what I would do for cake?!!) and when I read it was Evelin, I was tickled pink. Karma/Fate is pretty powerful wouldn't you say?!…or Kristen has psychic powers to have matched me with Dana and Evelin!
Tonight I am actually wondering how to dunk Dana's bagels into Evelin pear and fennel soup…