10 Best Halloween Cupcake Ideas + 3 Tasty Alternatives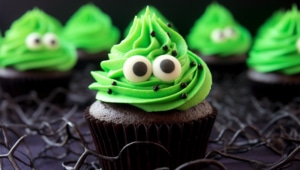 Spooky creatures, pumpkin spiced latte, twinkling lights, and cozy sweaters – which of these says Halloween to you? If you said all of the above, you're on the right path. In this article we look into some of the best Halloween cupcakes, from cute and fun to spooky and silly.
Halloween originated a long time ago, back when it was a Celtic celebration called Samhain. Back then, people believed the dead came back. People dressed up and lit large bonfires to keep evil spirits at bay.
Now you may wish to revisit these ancient traditions for your Halloween celebration; or you might just want to make some tasty cupcakes and pick out costumes from your nearest supermarket. Both are fine, though you should definitely consider baking some treats in either scenario.
Best Halloween Cupcake Ideas
Some of the best cupcake ideas are the simplest. They're made with scrumptious, moist sponge in decadent flavors. Add to that some creamy frosting and fun colors, and you're half-way there. Below are our favorite Halloween cupcake ideas across a range of different styles.
Classic Halloween Cupcakes
These are for an elegant Halloween that's a little more decadent and grown up. Classic cupcakes offer more than just throwing every sweet on the planet in the general direction of trick or treaters. Below are two of our all time favorites.
Chocolate & Pumpkin Cupcakes
If you like Starbucks pumpkin spice lattes you'll love these. You have a few options here, too: one would be to follow our simple pumpkin cupcake recipe below and frost the cooled cupcakes with chocolate buttercream.
The second option is to reverse this and frost chocolate cupcakes with a pumpkin-spiced vanilla buttercream.
Lastly, you could add just a bit of instant coffee to your chocolate cupcake batter for the ultimate pumpkin spiced latte cupcake treat.
Bear in mind that you might want to keep the last option away from any little trick or treaters (unless you're happy for them to stay up the whole night.)
White Chocolate Spiderweb Cupcakes
These classic cupcakes are incredibly easy to make and work well for trick or treaters, bake sales, and small treats for grown ups. Just whip up your favorite chocolate cupcake recipe (even a box mix such as Betty Crocker will do.)
Once baked and cooled to room temperature, frost your cupcakes with alternating swirls of soft white and milk chocolate buttercream.
Draw a toothpick outwards from the center of each cupcake to create a spider web effect. Six or seven lines from the center out will create a lovely 'web' design. Finish with optional little chocolate spiders.
Easy Halloween Cupcakes
If you're baking Halloween treats with children, you'll want them to be as easy and fun as possible. Below are two of our all time favorite Halloween cupcake designs. These are easy to make and little kids will enjoy presenting them to their friends and family alike.
Googly-Eyed Monster Cupcakes
One of the simplest and most versatile Halloween cupcake designs is the googly-eyed monster. Simply bake your favorite cupcake recipe (our pumpkin-spiced recipe below is very easy and delicious) and cool to room temperature.
Next, set aside several bowls of vanilla buttercream and add a few drops of food coloring to each. Mix until each buttercream is smooth and evenly colored.
Allow your kids to pipe a generous swirl on each cupcake. Let them decorate each colorful cupcake with edible googly eyes (ones made of sugar or mini marshmallows are ideal.)
Simple Pumpkin Cupcakes with Halloween Toppers
Another very simple cupcake design that is great for big and small alike is the simple pumpkin cupcake with Halloween toppers. To make this, bake our basic recipe below and allow each cupcake to cool to room temperature.
Frost with your choice of buttercream (cream cheese or vanilla go very well with pumpkin-spiced bakes.) Add store bought Halloween toppers.
Little pumpkins are great fun for younger kids, while older teens may appreciate a spookier choice of toppers.
If you're letting children bake with you, make sure you help them with things like the stand mixer and the oven. The rest is all fairly easy and can be completed by even younger kids.
Cute Halloween Cupcake Ideas
Sometimes you just want a cute cupcake. Not everyone enjoys the spooky side of Halloween – some just want to participate in the fun sides, which is perfectly alright. The two cupcake ideas below are super cute and fun, and can be made by grown ups and kids alike.
Buried Witch Cupcakes
Our all time favorite cute Halloween design is the buried witch cupcake (think Wizard of Oz.) To make this, bake our basic recipe below and cool to room temperature.
Frost the cupcakes using your favorite vanilla buttercream piped into large swirls.
Finally, add little fondant witch hats to one side of the frosting swirls. On the other side of each cupcake, add two cut up pieces of red and white paper straws and fondant shoes.
It will look as though tiny witches were buried by the frosting. These sweet cupcakes are sure to get a smile from any lucky recipients.
Itsy Spider Cupcakes
These little cupcakes are anything but spooky — they're just cute and delicious. Start by baking your favorite cupcake recipe (our pumpkin one below is scrumptious.) Once your cupcakes have cooled, frost with your choice of buttercream.
Next, add an Oreo cookie to the center of each cupcake. Give each 'spider' six little gummy or chocolate fondant legs.
Decorate with sugar paste googly eyes and little smiley faces. If you like, you can also add little fondant spots to each spider's back or give the spiders miniature sugar bows.
Scary Cupcake Ideas for Halloween
If you're baking with older teens or just prefer a more traditionally creepy crawly Halloween, we've got you covered. Our two scary Halloween cupcake designs are truly terrifying. They're delicious, too, if your guests dare to take a bite.
Bleeding Black Cupcakes
These creepy cupcakes look incredibly effective, if not exactly 'real' (thank goodness.) To bake these, follow your favorite chocolate cupcake recipe but be sure to use plenty of dark cocoa powder.
Once baked, remove a little bit of the sponge at the top of each cupcake. Fill with red jam or jelly — cherry is very good. Frost the top with dark brown chocolate buttercream.
The darker the buttercream, the better. Add some red sprinkles to finish and serve, for a spooky surprise.
Fondant Ghost Cupcakes
You can make these little cupcakes as scary or fun as you like. Start by baking our basic recipe and letting your baked cupcakes cool to room temperature.
Next, add swirls of light-colored buttercream frosting to the top of each cupcake. Cream cheese or vanilla work best in this case. Roll out round sheets of white fondant.
Lay one sheet of fondant over each cupcake, as though you're covering it with a little sheet.
Finally, add some eyes and a mouth to each 'ghost' using an edible ink pen. You can add drops of 'blood' using an edible red ink pen too, if you like.
Vegan & Gluten-Free Halloween Cupcake Ideas
Let's face it, vegan and gluten free food used to be fairly synonymous with boring. Thankfully, modern bakes are anything but. Below are two of our favorite vegan and gluten free Halloween cupcake designs, which you can easily make at home.
Frankenstein Cupcakes
These cute little cupcakes are easy to make yet so delicious. Start by baking your favorite cupcake recipe — you can use our simple one below and substitute the flour for a gluten free alternative, and the eggs for aquafaba.
You can replace the pumpkin puree with avocado and add a few spoons of matcha powder instead of the pumpkin spice mix. This will give your 'Frankensteins' their signature coloring.
Once your cupcakes have cooled down, frost them using your favorite vegan buttercream recipe. You can use most regular recipes but substitute the milk with oat or almond milk and the butter with a vegan butter.
Add a few drops of green food coloring or more matcha, for a lovely matcha green tea flavor. Frost each cupcake with the green buttercream and add vegan chocolate buttons for eyes. Draw a mouth and scar using fondant, and done are your cute and spooky Franken-cupcakes.
Little Ghost Cupcakes
You can make very cute ghost cupcakes that are both vegan and gluten free. Simply follow our basic recipe below, but replace the eggs with aquafaba or yogurt and the flour with a gluten free variety.
Once your cupcakes are done baking, allow them to cool down to room temperature. Whip up your favorite vegan buttercream frosting, substituting dairy butter with a vegan alternative and any milk with oat or almond milk.
Try and make the whitest frosting you possibly can. Frost large swirls on top of each cupcake and add two little sugar balls for eyes on each 'ghost.' These make a great little baking project with little helpers, too.
Halloween Cupcakes: Best Decoration and Design Ideas
As you can see, there are plenty of great Halloween cupcake design ideas. You can use any of ours above or make your own by mixing different ideas. Alternatively, bake some simple cupcakes and use the tips below to make them completely bespoke.
Bloody Fingers
If creepy Halloween bakes are your thing, this tip is for you: you can easily bake 'bloody' fingers using your favorite sugar cookie or shortbread recipe. Simply shape each cookie into a finger and add almond halves for nails.
Decorate with jam or jelly (cherry or raspberry works well) and use to top your cupcakes.
Make Your Cupcakes 'Mini'
You can make roughly three times the number of mini cupcakes per regular cupcake. If you prefer smaller-sized cupcakes, or simply want more so you can give them out to trick or treaters, this tip will work for you.
Just fill three times as many mini cupcake wrappers in mini tins as you'd normally bake in a regular sized cupcake pan. Frost as usual.
Use Cute Wrappers
If you really want to make things easy but cute, use cupcake wrappers that are pre-printed with spooky designs. Simply buy them in advance, add to your baking tin, and bake as usual. Frost with your favorite type of buttercream and add a few sprinkles. Done.
Basic Recipe for Halloween Cupcakes: A Simple Guide
Of course you can flavor your Halloween cupcakes any way you wish: dark chocolate, simple vanilla, and even mint (for Frankenstein cupcakes) are all great choices.
But nothing, in our opinion, epitomizes the Halloween period more than pumpkin flavor. So here is the ultimate pumpkin cupcake recipe.
If you have food intolerances or dietary restrictions, don't worry. You can substitute the ingredients as follows: eggs with yogurt or aquafaba, flour with a gluten free variety, and sugar with coconut sugar or a fruit extract of your choice.
Ingredients:
2 cups of all-purpose or gluten free all-purpose flour
½ cup of granulated sugar
1 cup of light brown sugar (packed)
4 large eggs
1 cup of vegetable oil
2 tsps of baking powder
1 tsp of baking soda
¾ tsp of salt
2-3 tsps pumpkin pie spice
1 can of pureed pumpkin
1 tsp of vanilla extract
And here's how you do it:
Preheat your oven to 350 F and prepare two 12-cup muffin tins by lining them with liners of your choice.
Sift and mix the dry ingredients in one bowl, including the flour, baking powder and baking soda, salt, pumpkin pie spice, and granulated sugar.
In a separate bowl, whisk the wet ingredients and brown sugar. Mix the pureed pumpkin, oil, eggs, vanilla, and brown sugar until smooth.
Add the dry ingredients to the wet and mix until just combined.
Fill the pumpkin liners to about ¾ full (allow for each cupcake to rise), and bake for 20 minutes or until softly browned and springy to the touch. Top tip: insert a toothpick into the sponge. It should come out clean when the cupcakes are finished baking.
Allow your cupcakes to cool to room temperature, then frost using one of our fun Halloween design ideas above.
Alternatives to a Halloween Cupcake
Perhaps someone else is already bringing cupcakes to your party, or maybe you want to do something just a bit 'different.' Fear not, there are some great alternatives to Halloween cupcakes.
Number three is our all time favorite, especially if you're having to sit up waiting for the teens to come back from trick-or-treating.
Halloween Cake
A Halloween cake can be such a cute and fun surprise. Start by baking your favorite chocolate cake recipe, but use dark cocoa for a near-black cake.
Once your cake has cooled to room temperature, decorate it with buttercream frosting on top only, and add little baked meringue ghosts.
The easiest way to make these is to bake them per your usual recipe, then use an edible ink pen to add little faces to each one. This cake isn't exactly scary, but it's a sweet treat young and old will appreciate.
Scary Halloween Dessert
Ok this dessert isn't so much 'scary' as it is spooky, but it's creative and will impress your Halloween party guests: Halloween chocolate-covered strawberries. All you need is some firm, large strawberries.
Dip each one in white chocolate or white candy melts and allow them to set lying down, so a little 'tail' forms. Once they've set, paint on spooky faces using dark chocolate.
Enjoy alongside any of the cupcakes above, the Halloween cake, the cheese board, or all of the above. A word of warning: these will be gone super fast, so make sure you make enough.
Halloween Cheese Board
Cheese boards or grazing boards are a great alternative to sweeter treats. This is especially the case at Halloween, when sweet treats are already available in abundance.
The simplest way to make a Halloween cheese board is to start with the basics: add a selection of hard, soft, and mold-ripened cheeses as well as cold meats and nibbles of your choice.
Next, create a select few Halloween-themed treats: cheese 'ghosts' cut out with a cookie cutter, egg and olive eyeballs, and clean plastic spiders.
A clean plastic skeleton buried under the cheese can also be an amusing addition. Squid-ink breadsticks and roasted pumpkin seeds round off the selection nicely.
You might also be interested in...