7 Best Braum's Ice Cream Flavors + 3 Tasty Hacks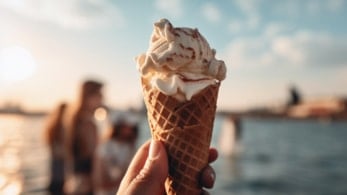 Braum's ice cream is 'ice cream as it should be,' according to the brand. They craft ice cream the traditional way with fresh milk from their own dairy cows. Find here the best and worst braum's ice cream flavors as well as tasty hacks.
Braum's is a traditional ice cream brand with a real focus on their communities. They don't just make great ice cream, they also encourage kids to read and earn ice cream treats in the process.
If that's not reason enough for you to try their delicious flavors, read on for detailed descriptions of the best Braum's ice creams.
What Braum's Ice Cream Flavors Are
Braum's Ice Cream flavors are traditionally crafted and, for the most part, natural. The company pride themselves in using their own produce to create their popular ice cream treats.
There are over 100 flavors available, meaning you have plenty to choose from as well.
Where Braum's Ice Cream Is From
Braum's Ice Cream is from Oklahoma, where it is still produced today. The Braums own a dairy farm in Tuttle, which produces their own milk. Their ice cream is then processed at their local factory, too.
What Braum's Ice Cream Is Made Of
Braum's pride themselves in using wholesome, natural ingredients. Their most basic vanilla ice cream contains fresh whole milk from their own farm, egg yolks, natural and artificial vanilla flavoring, stabilizers, and natural coloring.
The stabilizers are added primarily to keep your ice cream from crystallizing. They're natural products as well.
Origin of Braum's Ice Cream
Braum's originated in the early 1930s, when Bill and Mary Braum had an idea. They thought to themselves that, if you want something done the right way, you should do it yourself.
They still have the family dairy farm in Tuttle, Oklahoma, which remains the heart of the business until this day.
The Best Braum's Ice Cream Flavors You Need to Try
With over 100 flavors to choose from, you'll probably want to try all of them (who wouldn't?) To make your life a little easier, we've collated the top ice cream flavors Braum's have to offer.
From nostalgic old-fashioned ice cream flavors to frozen yogurt, sherbet, and even no sugar added ice cream treats, there's truly something for everyone.
Black Walnut Ice Cream
Walnut ice cream is generally a creamy, satisfying treat, which can be enjoyed at any time of the year. Braum's is doubly nice thanks to their use of real black walnuts studded heavily throughout their walnut-flavored ice cream.
This flavor is made using natural ingredients, making it a pretty healthy choice, too. Try serving Black Walnut ice cream with a homemade, still-warm brownie for the ultimate decadent dessert.
Strawberry Frozen Yogurt
Braum's Frozen Yogurt is 94 percent fat free, making it a diet-friendly choice. Their Strawberry Frozen Yogurt is creamy, delicious, and refreshing.
While it's lower in calories than their regular ice creams, it doesn't taste any less luxurious. This flavor is also made using only natural flavors and real strawberry chunks.
It's great on its own or as part of a refreshing iced yogurt drink or milkshake.
No Sugar Added Vanilla Chunky Chocolate
Braum's craft their no sugar added range using the sweetener allulose. Allulose is a natural byproduct of many fruits. It's a sugar alcohol similar to sorbitol, which is found in berries.
Other than that, the ingredients are chiefly the same as those of their regular range: a satisfying mix of vanilla ice cream with added chocolate flakes mixed throughout.
It's lower in calories than their regular ice creams and doesn't appear to raise blood glucose levels. This also makes this flavor of ice cream a great choice for diabetics.
Brownie Batter Ice Cream
Braum's Brownie Batter ice cream is a delicious chocolate brownie-flavored ice cream. It's laced with brownie batter ribbon and chunks of rich chocolate brownie.
This one is the perfect treat for chocolate lovers. It's also particularly good served in either a chocolate milkshake, as part of our iced coffee recipe hack below, or softly melting into a fresh, warm waffle. Delicious.
Cherry Limeade Sherbet
To the untrained ice cream aficionado, this may sound like a strange flavor. Yet Cherry Limeade has been a fan favorite since the day it was first introduced. It's tangy, sweet, and vibrant in color.
The sherbet is made using a mixture of natural and artificial flavors and colors. It's studded with chunks of delicious maraschino cherries. This one screams retro beach day to us, and if you like cocktail cherries, you're sure to love it.
Pumpkin Holiday Ice Cream
This flavor is available each year in fall, and it's become a real seasonal favorite amongst Braum's ice cream fans. It's made using milk, cream, sugar, and spiced pumpkin puree, and that's mostly it.
If you enjoy the taste of fresh pumpkin pie, you're going to love this. It's also going to be a popular flavor amongst fans of the famous Starbucks pumpkin spiced latte.
According to Braum's, you can serve this as your Thanksgiving dessert. Or go one step further and serve it alongside your Thanksgiving pie, topped with freshly-whipped cream.
Butter Brickle Ice Cream
Braum's Butter Brickle flavor is a sumptuous vanilla ice cream studded with chunks of butter brickle. It's especially creamy, soft, and crunchy all at the same time.
This one is truly special on top of a freshly made waffle or pancake. It's tasty served on its own or with lots of fresh berries. The cocoa butter in the butter brickle candy makes it decadent and chewy all at the same time. This is one to try if you're unfamiliar with the candy, too.
The Worst Braum's Ice Cream Flavors
Let's start off by saying there aren't really any 'bad' Braum's ice cream flavors. With that said, they've created some truly weird and wonderful things over the years.
Below is a list of the strangest ones — by no means bad, but unusual. Give them a try at your own risk; you may forever be known as the person who favors bright blue ice cream.
Birthday Cake Ice Cream
Don't say we haven't warned you. Braum's Birthday Cake flavored ice cream is unlike any other birthday cake flavor we've seen before. It's bright blue and studded with pieces of yellow pound cake.
Marshmallow 'ribbon' is also laced throughout the blue cake batter-flavored ice cream. It's delicious even if it doesn't look like it — and it really doesn't look like it. This one is a particular favorite amongst kids, and makes for a great birthday party treat.
Peppermint
Another ice cream flavor that isn't actually bad, just very different. Peppermint flavored ice cream meets chunks of real peppermint candy. It's a little bit festive for ice cream, but makes a great addition to your Christmas dessert. Serve on its own as a refreshing palate cleanser or as a side to stollen.
Bear in mind that peppermint flavors tend to make ice cream feel even colder, which is also not something everyone likes.
Pistachio Almond
Pistachio Almond mixes pistachio ice cream with chunks of roasted almonds. It's a great flavor if you love both types of nuts, but the color is slightly off-putting.
It's artificially-colored and rather than looking like a true pistachio color, it's a bit neon to our eyes. It's also a slightly strange mix of flavors you'll either love or loathe. With that said, it's not a bad ice cream either, and the roasted almonds are a lovely touch.
Benefits of Braum's Ice Cream Flavors
Braum's is a traditional ice cream brand. They pride themselves in the use of their own fresh milk and the delicious flavors that result from this.
There's more to it though, and their philanthropic side particularly caught our eyes. If you're wanting to enjoy ice cream that also supports a really great cause, Braum's is the one to try. Find out why below.
Variety of Flavors
Braum's have over 100 flavors to choose from. These range from standard options such as chocolate and french vanilla, to truly creative flavors. For instance, Braum's make a Peppermint Chocolate Chip flavor for Christmas-time, a Pumpkin flavor for the Fall season, and such creative inventions as Brownie Batter.
Braum's Book Buddy Program
Braum's special Book Buddy Program is unique to them as an ice cream brand. They offer free ice cream treats for school children in grades 1-5. The idea being that they get rewarded for reading.
Children are given Braum's Book Buddy booklets at the beginning of the school year. The kids collect stickers for each book they've read, and every six earns them a free ice cream. Children can earn up to six free ice cream treats per school year as part of this lovely program.
Delicious Braum's Ice Cream Flavor Hacks and Recipes
Braum's ice cream is delectable on its own. With that said, here are some recipe hacks to make it even more delicious. You can try these with the ice cream flavors we've recommended or your own selection of favorites.
Braum's Iced Coffee
The best kind of homemade iced coffee is made with freshly brewed espresso and ice cream. Braum's Cappuccino Chunky Chocolate is perfect for blending with milk and a shot of espresso.
Top with whipped cream and lashings of chocolate sauce. For a less chocolatey treat, add vanilla ice cream to your iced coffee shake.
Learn here more about the health benefits of coffee.
Black Forest Gateau Ice Cream Sundae
If you like Black Forest Gateau for its boozy cherry and chocolate goodness, you'll love this hack: break up bits of gooey chocolate brownie into a glass or bowl.
Add Braum's Bordeaux Cherry Amaretto ice cream, fresh cherry halves, and whipped cream. This ice cream flavor is made with amaretto flavor, where Black Forest Gateau usually uses kirsch. Add an extra shot of real amaretto or kirsch for a boozy treat.
Chocolate Fudge Surprise
The ultimate chocolatey treat should include chocolate and more gooey chocolate. To make this easy dessert at home, bake or buy some extra gooey chocolate brownies.
Add Braum's Brownie Fudge Sundae ice cream and chocolate fudge sauce. Serve with still-warm brownies and enjoy. This fudgy dessert is great for sharing, though you may not want to.
Best Braum's Ice Cream Alternatives
Braum's ice cream is delicious, but not available everywhere. If you can't get one in your location, below are a couple of tasty alternatives. These cover everything from traditional ice cream, over huge amounts of flavor choices, to the classic American soft serve.
Blue Bell Creameries
Blue Bell Creameries make delicious traditional ice cream flavors, similar to Braum's. They're a Texas-based ice cream company, popular across the US.
Their flavors include year-round classics and 'rotational' ice creams, which are seasonal or special editions. They also make sherbets, light, and no sugar added ice cream flavors.
This makes them an all-round good alternative to Braum's. Their Homemade Vanilla flavor is particularly popular and great in milkshakes.
Baskin Robbins
Baskin Robbins is easy to buy almost anywhere in the US, and even across the world. They've created over 1,400 flavors to date. Baskin Robbins are famous for their 31 flavor concept (even though they've gone way beyond that since their early days.)
The idea behind this is that they have a flavor for each day of the month. Baskin Robbins also offer a selection of vegan, dairy-free, no sugar added, and gluten conscious ice creams and sherbets.
Dairy Queen
Dairy Queen is a popular soft ice cream option in America. Their ice cream Blizzards are somewhat like the McDonald's McFlurries, but there's a bigger selection available.
You can get anything from Cookie Dough to Choco-Dipped Strawberries, and even brownie or strawberry topping core ice creams, which have an extra filling in the center. Dairy Queen are great for on the go, and come in a variety of sizes.
You might also be interested in...