11 Best & 5 Grossest Jelly Belly Flavors + Tasty Alternatives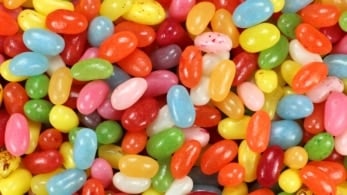 Jelly Belly beans are amongst the most wonderful yet curious sweets you can find. They're tiny, yet so flavorful and fun. Whether you buy bags of individual flavors you love or a large mix, these are always a hit. Here you will find the best and grossest jelly belly flavors to try.
Jelly Bellies have been around since the early 1900s. While there are other types of jelly beans around, most of them are just copies of the original. Most of them also never truly rival the Jelly Belly. Why? Because Jelly Belly jelly beans are incredibly flavorful and contain tons of natural flavors.
Most other jelly beans are just very sweet. The huge variety Jelly Belly has created is also a big plus for loyal fans.
Whether you're already a jelly bean fan or new to the Jelly Belly, let us walk you through why these are so good. There are also some great hacks for unusual Jelly Belly recipes you'll want to try.
What Jelly Belly Is
Jelly Belly jelly beans are small candies made of a thick gel interior and a soft outer shell. Jelly Bellies are famed for their sheer variety of flavors. Today, there are over 50 different kinds of jelly beans you can get from the company.
Bertie Bott's Every Flavor Beans from Harry Potter were also inspired by Jelly Belly. These fictional jelly beans included such flavors as rotten egg and grass. You can get special edition versions of these now, too.
Thankfully Jelly Belly hasn't quite expanded onto those flavors. You can now get cocktail-inspired ones, sport beans that contain electrolytes and vitamins, and limited edition flavors such as Tabasco sauce (weird, but surprisingly tasty.)
Where Jelly Belly Is From
Jelly Belly's founders were originally from Germany, though they emigrated to America in 1866. The Herman Goelitz Candy Company settled in Oakland, California in 1924. Jelly Belly jelly beans are still predominantly produced in California, though there are also factories in Illinois and Thailand.
What Jelly Belly Is Made Of
Jelly Bellies aren't made from a huge range of ingredients. They're actually relatively simple and only include sugar, corn syrup, modified corn starch, flavors, and colors.
It may come as a surprise, but Jelly Belly do use natural ingredients wherever possible. Fruit juice concentrates and purees, as well as natural coconut are all part of their ingredients list.
Origin of Jelly Belly's
Jelly Bellies go back all the way to the late 1800s, when three German brothers emigrated to America to make and sell candy. However it wasn't until later, when Herman Goelitz the son of one of the original immigrants, invented jelly beans as we know them today.
His mini jelly bean had a naturally flavored center and a flavored outer shell. This was a completely new invention at the time. Ronal Reagen was one of the original jelly bean fans, saying he couldn't start a meeting without passing around a jar of the candies first.
In 1976 the son of Herman Goelitz collaborated with a candy distributor. He came up with the name Jelly Belly as well as the logo. The distributor had the idea to sell separate flavor packs instead of one variety one. You can still get individual Jelly Belly flavors today.
Difference Between Jelly Belly and Jelly Beans
Jelly Bellies are, essentially, jelly beans. With that said, the brand Jelly Belly creates much more flavorful jelly beans. Other jelly bean brands have been created over time to copy Jelly Belly.
Frequently these are a lot less flavorful. Generic jelly beans tend to be much sweeter with no real distinction of what they're actually supposed to taste like. Our alternative jelly beans below are tasty, so you could give them a try. They're still nothing like the originals though.
The Best Jelly Belly Flavors You Need to Try
With over 50 jelly bean flavors to choose from, and a wide variety of special edition beans to boot, it might be tricky to find the best. We've ranked some of the tastiest varieties you can get. Try them all and find your own favorites to enjoy.
Buttered Popcorn
Butter popcorn is the ultimate Jelly Belly flavor, and has consistently been ranked as a favorite for years. Why? It tastes just like popcorn, but minus the bits that can get caught between your teeth. If you're going to try jelly beans for the first time, this is one flavor you shouldn't miss.
Watermelon
We've seen these described as a 'picnic inside your mouth' and the description is fairly spot on. If you enjoy watermelon on a hot, sunny day, and love the taste of watermelon candies, these are it. You'll never be able to have just one bag of watermelon Jelly Belly jelly beans.
A&W Cream Soda
Cream soda jelly beans will remind you of your younger days. They taste just like the delicious vanilla soda drink you'll have loved as a kid. These are pretty sweet so they're sure to satisfy any sweet tooth cravings as well.
French Vanilla
A simple yet scrumptious flavor. French Vanilla jelly beans are perfect for mixing with other flavors. Vanilla and chocolate, vanilla and cherry, vanilla and strawberry jam — you name it, it's tasty. They're also really very good on their own.
Green Apple
If you like green apple candy of any kind, you'll like these. They're a little bit like green apple Jolly Ranchers, but in miniature form. The tartness really makes this flavor, plus the intense color just makes them look so fun.
Toasted Marshmallow
This flavor is a little bit vanilla-y and, well, like a marshmallow in miniature form. It's delicious on its own or combined with other flavors.
Juicy Pear
Juicy pear is another all time favorite amongst jelly bean lovers. These are sweet but relatively mild at the same time. They're great alongside a mix of other flavors, almost as a sort of palette cleanser.
Sizzling Cinnamon
Sizzling cinnamon jelly bellies are just the right amount of spicy mixed with sweet. They're great if you love cinnamon and cinnamon-flavored things. These reminded us a little of Big Red gum, so if you enjoy that, these will certainly be a treat for you.
Very Cherry
This flavor actually tops some of the Jelly Belly fan favorite charts. It's bright, fruity, and a little reminiscent of cherry cola. These are good when combined with chocolate-flavored jelly beans, but a little too sweet for us on their own.
Strawberry Jam
These are one of the more unusually flavored beans, but they're so good. Strawberry Jam jelly beans taste pretty much identical to real jam. Mix them with French vanilla jelly bellies and you've got something akin to strawberry cake. Perfect for a summer picnic.
Coconut
Made with real coconut, these jelly beans are simply yet super tasty. You can enjoy them with a pina colada Jelly Belly for an extra tropical treat, or on their own.
These are also relatively mellow and not too sweet. So they're a great palette 'cleanser' amongst a mix of other jelly bean flavors.
Grossest Jelly Belly Flavors
Most of these are part of the Bertie Bott's inspired beans, so don't be too surprised at the flavors. They're funny, and most certainly don't contain any part of the real flavor. They're fairly awful though, so if you've got a queasy stomach to start with, you may wish to steer clear of these.
Booger
Apparently this flavor is just a bit salty. It's certainly not delightful in any sense. If you're prone to gagging at weird tastes, you may wish to skip this flavor. The color alone is enough to put anyone off, but the taste is, unfortunately, a little too lifelike as well.
Sausage
You heard right. These sausage-flavored beans taste just like a very small, very condensed sausage. It's not the worst flavor of the bunch, but fairly horrible when you're expecting a sweet. We'd imagine that these also leave an aftertaste that leaves a lot to be desired.
Soap
This one is one of the best of a bad bunch. With that said, who wants to eat soap anyway? It's one of the milder Bertie Bott's beans, and won't make you sick, but it still tastes bad. Soap is a great one to use when playing a prank on someone though.
Vomit
What could be said about this flavor except try and avoid it at all cost? It's the worst of a bad bunch. Just don't have it. And if you do, have lots of water nearby and a variety of nice jelly beans to ward off the flavor.
Lawn Clippings
This one's okay. It's bright green so it's good for a prank on someone trying a Green Apple bean, for instance. Lawn Clippings just tastes a little bit like fresh grass. Perhaps that's your thing. For most of us, we'd rather pass, but it's not as bad as some of the others.
Tasty and Creative Jelly Belly Flavor Hacks and Recipes
Jelly Belly jelly beans can be used in a variety of recipes. These are all easy to replicate with minimal effort. Don't expect gourmet results, but enjoy the fun.
Jelly beans are easy to melt, so you can add them to baked treats for a hit of flavor. Just be mindful that any melted sugar gets extremely hot, and that heating them for too long may turn them hard.
Jelly Belly Shots
These have very little to do with real jelly beans, but they look fun and are easy to make. Simply layer blue curacao with pineapple choice and a layer of cherry vodka.
If you pour each liquid into the shot glass gently, you'll get a lovely rainbow effect. Enjoy these with a bowl of real Jelly Belly jelly beans on the side.
Jelly Bean Bark
Melt white baking chocolate on a sheet of baking paper. Sprinkle with jelly beans, and you're done. Those are the basics of this recipe. Bear in mind that if you make this with white chocolate and sweeter flavored beans (for example cherry), it'll come out almost too sweet.
Try to vary it by using some unsweetened dark chocolate instead and incorporate some subtle flavors of jelly bellies, such as coconut.
Popcorn & Jelly Bean Candy
This is a delicious, easy to make treat. All you need is to make popcorn whatever way you usually would. Next, mix marshmallows and butter in a saucepan and stir until everything is completely melted.
Coat the popcorn in the marshmallow and butter mixture. Now, add jelly beans and sprinkles (if you like.) One good combination is popcorn with popcorn-flavored jelly bellies, but the options are truly endless here.
Best Alternatives to Jelly Belly Flavors
If Jelly Belly jelly beans aren't your favorite or you'd like to try something different, we have just the list for you. From chocolatey goodies to similar treats, try one or try them all. Jelly beans are delicious, but some of these will hit your sweet tooth just as well.
Here you'll find the best and worst Jell-O pudding flavors.
M&M's
If you love chocolate, but also love how colorful jelly beans are, these are for you. M&M's are fun, small chocolate buttons coated in colorful hard candy shells. They're usually milk chocolate, but you can get a few other flavors as well. There are peanut versions and 'summer candy' ones as well.
Jolly Rancher's Jelly Beans
Do you enjoy Jolly Rancher's candy and jelly beans? You're in luck. These are the same original flavors as the hard candies, but crafted into delicious jelly beans. Flavors include strawberry, blue raspberry, grape, apple, watermelon, and orange.
Haribo Gummy Bears
Haribo Gummy Bears are world-renowned. They're the perfect jelly sweet for many candy-lovers, minus the hard candy shell of jelly beans or M&M's. Haribo Goldbears come in a variety of flavors including strawberry, lemon, orange, pineapple, and raspberry.
You might also be interested in...