6 Best Ideas for Birthday Cupcakes + 5 Designs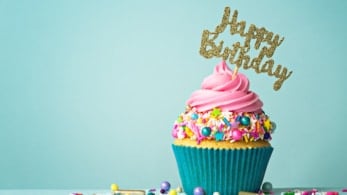 Cupcakes have been beloved treats for hundreds of years. Don't believe us? Amelia Simmons first invented the cupcake back in 1796. Back then, it was referred to as a 'light cake to bake in small cups'. Here you'll find the most delicious birthday cupcakes.
Why? Because birthday cupcakes allow you to experiment a little more. You can make multiple flavors or multiple complementary designs.
You can offer cupcakes as bite sized treats which guests can take home. Birthday cupcakes are also a great option for younger children as they're easier to hold and offer a smaller portion size.
Whatever your reason, below is our selection of birthday cupcake designs you should definitely make.
Birthday Cupcake Ideas for Boys and Men
Our birthday cupcake ideas for boys and men offer a variety of fun designs your birthday boy will love. They're fun, easy to follow, and sure to be a nice surprise.
Feel free to alter our designs to make them bespoke, or follow them to the letter. These birthday cupcakes are great on their own or in addition to a larger birthday cake.
Cactus Birthday Cupcakes
Cactus birthday cupcakes look cute and, if made well, can appear almost real. Start by baking our basic recipe below and allow your cupcakes to cool to room temperature.
You'll want to use neutral cupcake cases so as not to detract from the little 'plants.' Frost with varying shades of green buttercream using a selection of piping nozzles.
Add white sprinkles by hand to simulate the cactus needles. Top with colorful cacti flowers if you wish.
Little Plant Pot Cupcakes
This birthday cupcake design can be made in combination with the cactus idea above. Alternatively, follow this little guide: add a small amount of cocoa powder (about 2-3 tbps) to our cupcake recipe below and bake in new, unglazed miniature terracotta pots.
Once the cupcakes have cooled to room temperature, add some chocolate sprinkles and any optional plant toppers. These are great for children's birthdays as well, as you can make Pikmin-themed or Super Mario Piranha plant pots.
Googly-Eyed Cupcakes
It goes without saying that googly eyes make pretty much anyone laugh, whether they're turning 3 or 33. Some of the most popular cupcake ideas for children in particular are as follows:
Cupcakes frosted with large brown swirls and googly eyes (we'll let you take a guess)
Mini marshmallow sheep cupcakes
Blue-frosted Cookie Monster cupcakes
The latter is particularly fun alongside a selection of birthday cookies, of course.
Birthday Cupcakes for Girls and Women
Birthday cupcakes for girls can be such a sweet, girly surprise. Our pretty designs below incorporate fruits and flowers – perfect for summery birthday parties and special surprise birthday treats.
Of course you can make these for boys as well. Just alter each design to suit your needs and make it truly bespoke.
Here you'll find birthday cake ideas for girls.
Pink Watermelon Cupcakes
Pink watermelon cupcakes are perfect for a summery birthday party. Just bake our basic recipe below but add some green food coloring to the batter to make the watermelon base.
You can add a few drops of flavoring too, though we'd recommend reserving this for the buttercream.
While your cupcakes are cooling down fresh from the oven, whip up some buttercream with a few drops of pink food coloring and watermelon juice or flavoring.
Pipe swirls on top of the cupcakes and sprinkle with dark chocolate chunks.
Flower Bouquet Cupcakes
Some of the craftiest cupcake gifts are lovingly piped flower 'bouquets.' The best thing is that you can use just about any combination of colors, though we think pastel hues are best.
Employ a variety of piping nozzles to create roses, hydrangeas, and other flowers. Present your cupcakes on a beautiful tray or carefully surround them with some paper for a birthday bouquet.
Top tip: you can add edible flowers to the mix or decorate your cupcakes with some. Some beautiful edible florals include nasturtiums (though they're a little on the spicy side and should probably not be eaten with the cupcakes), rose petals, lavender, and violas.
Pineapple Cupcakes
These adorable cupcakes are great for a little girl's tropical-themed birthday (think Moana) as well as an adult birthday party.
For the latter, make them pina colada-flavored and add a touch of rum and coconut cream. Pineapple birthday cupcakes should be made using plain cupcake liners and frosted with bright yellow buttercream.
Add some green buttercream leaves to the top and you're done.
Top tip: if the birthday girl just happens to like SpongeBob, you might want to add some SpongeBob-themed decorations to make miniature pineapple houses. Alternatively, cocktail umbrellas add a pretty touch to grown up Pina Colada cupcakes.
Birthday Cupcakes: Best Decoration and Design Ideas
Some of the best cupcake designs are the simplest, while others are just plain unusual, quirky, and so much fun. Below are some of our favorite birthday cupcake decorations and design ideas you can follow at home.
Use Colorful Frosting
You can easily color your buttercream using a few drops of food coloring. This can be used to create lovely gradients of the same color, contrasting hues, or even rainbow colors.
Colors can go a long way to suit a theme or make cupcakes look like different things: mini watermelons, flowers, or little flower pots, for example.
Top tip: you can use natural ingredients to color your cupcakes and/or buttercream. Beetroot juice, berries, carrots, matcha, and blueberries all add a touch of lovely natural color to bakes.
Add Sprinkles
Sprinkles may sound a little cliché but they can be a really fun addition to birthday cupcakes. There's such a variety available nowadays, and you don't just have to throw them on either.
Add individual sprinkles to make patterns or write letters with sugar 'balls.' Sprinkles are also a great decorative item children can help with.
Just make sure you set out little amounts for them, rather than letting them run loose with the entire container.
Try Different Nozzles
If you're piping your buttercream (which you should), have a play with different nozzles. Depending on the style, these can allow for piping beautiful swirls, spikes, and even petals.
You could frost beautiful cupcake 'roses' and color them in different shades of pink, for example. Or craft an entire bouquet of cupcakes by making different flower designs. This particular design also makes for a fantastic gift.
Fill Your Cupcakes
That's right, you can add lovely fillings to your cupcakes. It's easy to do as well, and, once you know how, you'll wonder why you never made filled cupcakes before.
Simply use a teaspoon to remove a little bit of sponge from the top of your cupcake and add a filling of your choice – salted caramel, chocolate fudge, or vanilla cream are all great options to start with.
Next, frost the top of the cupcake again to 'close' the hole and decorate as usual.
Add Googly Eyes
As you'll have already seen from our fun design ideas above, googly eyes can really make a cupcake. Buy or make edible googly eyes (white chocolate buttons and dark fudge work well) and add them to your designs.
Cactus cupcake with eyes, anyone? Pineapple with eyes? Little googly-eyed sheep and chickies? The options are endless, and you can have so much fun with them.
Basic Recipe for Birthday Cupcakes: A Simple Guide
The best cupcake recipes are often the simplest. Our basic recipe only uses a few ingredients. Try to buy the best quality you can and, above all, take your time to follow the steps.
If you do this, you'll be guaranteed delicious cupcakes that are a delight to frost and decorate.
Top tip: if you or the recipient of these birthday cupcakes have any food allergies or dietary restrictions, you can make some substitutions:
Eggs may be replaced with aquafaba or yogurt, butter with a vegan alternative or coconut oil, and flour with a gluten free variety. You can also decrease the amount of sugar used or replace it with coconut sugar or a fruit extract of your choice.
Ingredients:
1 cup of softened butter
1 cup of caster sugar
1 full cup of self-raising flour
2 large eggs
½ tsp of vanilla extract
And here's how you do it:
Preheat your oven to 360 F and prep a cupcake tray with 24 liners.
Whisk the softened butter and eggs together until fluffy and pale.
Add the vanilla extract and flour and continue to mix until the batter is smooth. Take care not to over-whisk your batter.
Fill the cupcake lines with the batter, taking care not to over-fill them.
Bake for 15 minutes or until the cupcakes are just golden-brown. A toothpick inserted into the cakes should come out clean.
Leave to cool to room temperature, then frost and decorate per our scrumptious ideas above.
Beautiful "Happy Birthday" Captions for Birthday Cupcakes
You can frost your cupcakes and add individual letters to each one, add cake toppers with a bit of text, or simply add a caption when you inevitably showcase them on your social media.
Below are some of our favorite quotes and captions for just that purpose:
"Aim to be a cupcake in a world full of muffins."
"Birthdays are just nature's way of telling us to eat more cupcakes."
"Cupcakes were made for birthdays."
"Eat the cupcake. It's somebody's birthday somewhere."
"Fitness? More like I'm fitness this entire cupcake into my mouth. It's my birthday!"
Here you'll find more funny birthday quotes.
Alternatives to a Birthday Cupcakes
Birthday cupcakes may just not be your cup of tea, which is completely fine. If you're looking for alternatives to the humble cupcake, below are some great options to try instead. Make one or all, instead of cupcakes or alongside them.
Birthday Cake
Birthday cake is probably the main alternative to birthday cupcakes. Best of all, you can use most cupcake recipes to bake a cake instead. Simply prepare a cake tin and use it to bake your batter.
Recipes calling for 24 cupcakes will generally also work for a 9"x13" cake tin. You can take inspiration from our cupcake design ideas above to make your perfect birthday cake.
Cookies
Birthday cookies are a great alternative to cupcakes. You can easily make them at home or buy a range of different cookies for the ultimate cookie buffet (think Crumbl cookies, oreos, and more.)
If you do choose to make homemade birthday cookies, consider arranging them beautifully on a plate or tray. Frost each cookie with one letter of your 'Happy Birthday' message for a sweet surprise treat.
Waffles
Birthday waffles are one of the best inventions around. They're easy to make, yet fragrant and effective. Simply whip up your favorite waffle recipe (or a box mix) and bake in the oven or a waffle maker.
Serve alongside a range of toppings including fresh fruit, cream, sauces, and candy pieces. Don't forget the birthday sprinkles, of course.
Birthday Macaroons
Macaroons are arguably not the easiest things to bake. However, once you've found a recipe you like, you'll be able to whip these up in no time.
Make sure you really prepare all of your ingredients when making macaroons as things like keeping your eggs at room temperature will affect the final result. Pastel-colored macaroons make great birthday treats for boys and girls alike, and are also a lovely addition to a homemade gift.
Celebration Brownies
Birthday brownies are super easy to make and can easily be achieved by even the most novice of bakers. All you need is a simple recipe or a brownie box mix (Betty Crocker make some great ones.)
Follow the instructions, but add some smarties or M&Ms to your brownie batter for a kind of funfetti style. Top the finished brownies with more candies or sprinkles and serve with some well-placed birthday candles.
You might also be interested in...