10 Best Pop Tart Flavors & 3 Tasty Alternatives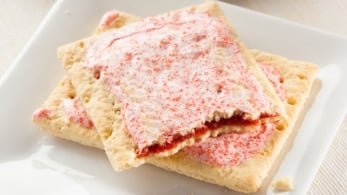 Pop-Tarts — you either love them or loathe them. Either way, these tasty pocket-sized toaster pastry treats have had a loyal fan base since their inception in 1964. Find here the best Pop Tart flavors as well as delicious alternatives.
Pop-Tarts are marketed as 'toaster pastries.' They're made up of two layers of rectangular pastry sheets filled with some form of sweet jam. Most pop tarts are also frosted, and some have sprinkles on top. They're pre-cooked, but should be heated before you enjoy them.
Kellogg's Pop-Tarts are incredibly popular in the USA. They're produced in a huge number of different flavors, with additional limited and seasonal flavors coming out all the time. There are some weird and wonderful flavors, too, which you'll want to look out for.
What Pop Tart Flavor Is
There are 23 flavors of Pop-Tarts available, though they add new ones all the time. Pop-Tart flavors are mostly different fillings plus frosting for some. So some may have more plane frosting, while others have colorful options with sprinkles, cookie crumbs, or swirls.
Where Pop Tart Is From
Pop-Tarts are toaster pastries from the United States. They're most popular there to this day, but also have a loyal fanbase in Canada, the UK, Ireland, Australia, and New Zealand.
What made Pop-Tarts such an immediate hit in the US was that they were marketed as a breakfast alternative that could be ready in 30 seconds. Because of this initial marketing genius, Pop-Tarts remain popular until today.
What Pop Tart Is Made Of
Pop-Tart pastry is made of enriched flour, vitamin B2, corn syrups, dextrose, soybean and palm oils, sugar, and bleached wheat flour. Fillings are largely made using sugars and dehydrated fruit, as well as artificial flavors and coloring.
Pop-Tarts' high sugar content and use of refined flour and unhealthy fats make them a slightly controversial breakfast choice. They are, however, delicious as a treat.
If you're wanting a healthier version of the classic Pop-Tart, they can also be replicated at home using our simple recipe below.
Origin of Pop Tart
The origin of the Pop-Tart is quite controversial. Kellogg's used to be in big competition with rival brand Post. In the early 60's, Post created a pre-made toaster pastry they called Country Squares.
Post marketed their new invention heavily before it was ready to go to market. As such, Kellogg's rallied to create their own toaster pastry, and the Pop-Tart was born. Some of the classic flavors are still available and popular until this day.
The Best Pop Tart Flavors You Need to Try
Pop-Tarts are like candy — if you love one flavor, you'll want to try them all. Below are some of the top flavors right now, from classics to limited edition ones we love. There are even some 'throwback' Pop-Tarts that will take you back to when these delightful little pastries were first created.
1. Frosted Blueberry
Natural and artificial blueberry flavors come together in this popular pop tart. It's very sweet, but very tasty, especially when paired with a nice cup of tea.
The colorful sprinkles on top of the white icing make this Pop Tart look a little like a birthday cake. Enjoy it toasted or straight out of the packet as a picnic dessert.
2. Frosted Strawberry
You can get these as a regular and a 'Throwback' pack, with the latter looking like the original, retro box of strawberry pop tarts. These strawberry-flavored pop-tarts are amongst the most popular you can get your hands on.
They're also fairly standard in most supermarkets, meaning you can try them almost anywhere. Enjoy alongside a bowl of cereal or on their own.
3. Unfrosted Brown Sugar Cinnamon
Golden pastry crust filled with a brown sugar and cinnamon filling — and that's it. These pop tarts are simple and delicious.
They're surprisingly not lower in calories, but the tasty filling and lack of frosting make them seem a bit healthier. They're delicious alongside a cup of tea or a nice, frothy coffee.
4. Frosted Grape
Frosted Grape Pop-Tarts are an original favorite. This nostalgic flavor is filled with delicious grape jelly and topped with white frosting and purple 'crunch-lets.'
These were a popular fan favorite back when pop tarts were still a relatively new invention. They're still much loved today, and are great as a side to anything with peanut butter.
5. Frosted Chocolate Chip
Like a chocolate chip cookie, but in the shape of a pop-tart. Frosted Chocolate Chip Pop-Tarts have chocolate chips baked into the cookie crust rectangle.
They're filled with a chocolate-flavored filling and drizzled with extra chocolate. Kellogg's top tip is to heat these then dunk them into milk. Just as good as it sounds.
The Weirdest and Funniest Pop Tart Flavors
Let's face it, Pop-Tarts aren't exactly known for being healthy foods. Most of them are artificially flavored and colored, and they're more akin to a treat than an actual, wholesome breakfast.
So it comes as no surprise that there are some wild and wonderful flavors out there. Below are some of the strangest, funniest flavors. Top tip: the Frosted Maple Bacon is the one to really look out for.
1. Frosted Watermelon
If you love watermelon-flavored Jolly Ranchers candy, you'll love this. It's a pop tart filled with watermelon and frosted with watermelon-flavored icing.
It's quite likely that none of the ingredients in this pop tart have ever seen a watermelon, but that's ok. It's sweet, candy-like, and actually quite delicious despite sounding so random.
2. Frosted A&W Root Beer
Part of their 'Soda-Mazing' range, the A&W Root Beer pop tart is… a root beer-flavored pop tart. If you like root beer, this will be a flavor you won't want to miss.
If you don't like root beer, you'll probably want to avoid it. It's frosted and coated in root beer-flavored sprinkles, making it just as sweet as it sounds.
3. Frosted PB & J Strawberry
Peanut butter and jelly sandwiches are embedded in most of your childhood memories. That's because they're delicious, sticky, and felt like a treat even when they were actually decently healthy.
These PB & J pop tarts aren't that healthy, but they're just as yummy. They're filled with real peanut butter and strawberry 'jelly' stripes. They're then frosted and covered in sprinkles.
4. Frosted Pumpkin Pie
The Frosted Pumpkin Pie flavor is just the thing if you like all things pumpkin spice come Fall. These are filled with pumpkin-pie filling, as well as real clove, cinnamon, and nutmeg.
They're frosted and sprinkled, and smell like Thanksgiving straight out of the microwave. If you can get your hands on these outside of the US, you're in for a real treat.
5. Frosted Maple Bacon
If you thought you'd seen it all, you didn't count on Maple Bacon. These maple bacon-flavored pop tarts with frosting and artificial bacon bits are a big divider. You'll either love them or hate them.
They're perfect if you like your bacon doused in pancake syrup. They're a bit strange if you don't.
Types of Pop Tarts
There are several types of Pop-Tarts you can enjoy, from classic flavors to more 'out there' ones. If you're a pop-tart fan you'll love them all, but below are some of the categories you'll definitely want to check out.
Classic Flavors
The original classic Pop-Tart flavors included Strawberry, Brown Sugar Cinnamon, Blueberry, and Apple-Berry. These are all still available today, with the exception of Apple-Berry.
Nowadays there are many more standard Pop-Tarts available, with such creative flavors as S'Mores, Raspberry, and Frosted Grape.
Limited Time Only
The limited edition pop tarts vary all the time. Some of these include or have included patriotic Red White and Blueberry Pop-Tarts, Throwback Packs, and Frosted Pumpkin Pie.
They're usually seasonal products, so it makes sense to stock up on your favorites when the time comes. Sometimes Kellogg's do bring back fan favorites, so it's always a good idea to keep an eye out for the ones you like best.
Fan Faves
Some of the most popular Pop Tart flavors are also the most classic ones: Frosted Blueberry and Frosted Strawberry, for instance, have remained firm favorites for years.
Others, such as Frosted Cookies & Cream Pop-Tarts, Frosted Confetti Cupcake Pop Tarts, and Eggo Frosted Maple Flavor Pop-Tarts are newer, but no less tasty.
Recipe for Homemade Pop Tarts
Pop-Tarts are delicious but they're not the healthiest snacks in the world. The simple solution: make your own in your kitchen, and control the ingredients by using pastry and jam of your choice.
You can enjoy these iced or un-iced, decorate them with sprinkles or not. They're a great little kitchen project to make with kids as well, and make fun presents for fellow pop-tart lovers.
Unless you're a kitchen genius, you'll want to use store bought pastry for your homemade pop tarts. Alternative recipes exist, but these are the simplest. Let's face it, you'll want to enjoy your homemade pop-tarts as soon as they're baked, so don't waste any time.
Top tip: you can make these using both puff pastry dough or pie dough. Regular pie dough will result in a more pop-tart looking product, while the puff pastry will give you more tasty, flaky goodness.
These can be frozen and reheated in the toaster or microwave as well, just make sure you leave them for a few seconds before you enjoy them. The filling will be piping hot.
To make homemade Pop-Tarts, you'll need:
1 box of puff pastry or pie dough, ideally already rolled out
jam or filling of your choice
1 egg
2 cups of icing sugar
0.25 cup of milk
0.5 tsp vanilla extract
optional food coloring
Here's how you do it:
Cut the pastry dough into slightly larger rectangles than you'll want, always two at a time.
Fill the pastry with a few spoons of jam and close with the second layer of pastry. Use a fork to seal each pop tart all the way around.
Bake according to the instructions on your box of dough.
Stir the icing sugar, milk, vanilla extract until you get a smooth mixture. Add a few drops of food coloring of your choice if you like.
Frost the cooled pop tarts and add sprinkles or chunks of cookies as you wish. Enjoy.
Best Alternatives to Pop Tart Flavor
If Pop-Tarts are just not your thing or you can't get them where you are, there are some tasty alternatives. Below are some of our favorite sweet treats to get the same sugar hit.
Whether it's a cookie, brownie, or just plain old candy you want, these are the top choices. Top tip: why not create a buffet table of the best sweet treats and have all of these?
Crumbl Cookie Flavors
The iconic Crumbl Cookies were only conceived in 2017, but in that short space of time they have gained popularity exponentially.
Crumbl Cookies tend to be large and filled with lots and lots of decadent ingredients. Think chocolate chip cookies but super-sized. Crumbl Cookies also come in a huge range of flavors, including milk chocolate chip, red velvet cupcake, waffle, and fried ice cream.
Killer Brownie Flavors
Killer Brownies are basically Crumbl Cookies, but in brownie shape. They're decadent and filled to the brim with tasty ingredients.
They're also filled with caramel and extra chocolate chips, making these super sweet but also very tasty. Flavors include triple chocolate, cookie dough, confetti, and the clever kitchen sink brownies.
These are actually blondies and brownies mixed with rainbow sprinkles and topped with chocolate chips and M&M's.
Skittles Flavors
If it's sugar you want, it's sugar you get when you buy a bag of Skittles. Flavors include strawberry, lime, grape, sour mandarin, sour pineapple, and sour raspberry.
Fun fact: across the pond, the purple skittles are actually blackcurrant flavored. Skittles are a fun treat and taste a little like gum mixed with candy.
You might also be interested in...