9 Best Blue Bell Ice Cream Flavors + 3 Tasty Recipe Hacks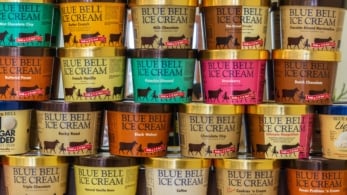 Blue Bell Creameries ice cream was first established in 1907. They initially delivered their iced treats to neighboring farms by horse and wagon. Since then, this Texan ice cream brand has become synonymous with fresh ice cream that tastes homemade. Find here the best blue bell ice cream flavors and exciting facts.
It's easy to see why Blue Bell ice cream is so popular: They offer a traditional take on a family favorite.
From the marketing and product styling to the way their flavors are crafted, Blue Bell make it feel like you're buying a handcrafted, homemade product.
Their range isn't as extensive as some of the other larger brands, but everything is crafted with love and care.
There's a real feeling of comfort with their flavors and design of the tubs. When you buy Blue Bell ice cream, you do get the feeling that it's been made for you especially.
With that said, they're traditional but not behind on what some consumers may require. So you'll also find sugar free ice cream, and low fat, dairy free sherbets.
What Blue Bell Ice Cream Flavors Are
Blue Bell ice cream is a Texan brand with a strong focus on traditionally crafted desserts. Most of the ice cream flavors are available in tubs, but you can get other products as well. There are sundae cups which are perfect for sharing, vintage-style ice cream sandwiches, and a selection of ice cream bars.
Where Blue Bell Ice Cream Is From
Blue Bell Creameries originated in Brenham, Texas in the early 1900s. It's still crafted in Texas today, with a second production facility in Alabama. So you could say it's truly American ice cream, which has stayed close to its roots since its inception more than 100 years ago.
What Blue Bell Ice Cream Is Made Of
Blue Bell Creameries stick to a fairly traditional recipe for their ice cream treats: they use milk, cream, sugar, corn syrup, natural and artificial flavoring, cellulose and vegetable gums, salt, and natural coloring. The gums are added to absorb any excess water, which prevents ice crystals from forming.
This is how Blue Bell ice creams (along with most other commercially produced ice creams) stay so velvety soft and delicious.
Origin of Blue Bell Ice Cream
Blue Bell Ice Cream was established by a group of businessmen in Texas. They began by making butter using excess cream from local farmers. A couple of years went by and they began crafting ice cream, which they still make in Texas to this day.
In the early days their ice cream was delivered using a horse and wagon. Nowadays, things are a little more modern, though the ice cream is still made to taste traditional and homemade.
The Best Blue Bell Ice Cream Flavors You Need to Try
Blue Bell Creameries offer a selection of year-round available flavors as well as rotational, limited edition ones. All of them are delicious. However, we've rounded up our top choices that you must try first.
Whether you have these on their own from a tub or craft them into one of our recipe hacks below, they definitely will not disappoint.
Moo-llennium Crunch
A wonderful flavor that's already over 20 years old now. Velvety vanilla ice cream meets decadent dark chocolate chips, pieces of caramel, chopped almonds and walnuts, and roasted pecans.
It's the perfect ice cream for that end of summer and beginning of fall time. It's delicious on a warm brownie as well, and coated in extra caramel sauce.
Cookie Two Step
Cookie dough ice cream but better. This delicious vanilla ice cream has a hint of brown sugar flavor as well as decadent chocolate chip cookie dough chunks.
To top it off there are pieces of chocolate cream filled cookies throughout the ice cream. It's one of the more unusual takes on cookie dough and one of the most satisfying ones.
Dutch Chocolate
Blue Bell's Dutch Chocolate flavor is one of the simplest yet most delicious chocolate ice creams you can get. It's just a plain chocolate ice cream, but made using the best imported chocolate.
You can really taste that this is made using high-quality cocoa. This also makes it a fine contender for blending into milk for a delightful chocolate milkshake. Just add whipped cream and chocolate fudge sauce on top. Perfection.
Homemade Vanilla
Vanilla ice cream is normally regarded as a slightly boring flavor — not in this case. Blue Bell Creameries' Homemade Vanilla ice cream is one of the all-time favorites of Blue Bell fans.
It's creamy, rich, and tastes just like actually homemade vanilla ice cream. Their homemade vanilla contains both natural and artificial vanilla flavoring for a really intense vanilla-y taste. It's really very good when whipped into a frothy milkshake.
Buttered Pecan
For those who love Baskin Robbins' Buttered Pecan, this one is even better. Blue Bell created a creamy butter pecan ice cream base with slightly salted roasted pecan chunks.
What really makes this is the slight saltiness they added, which adds a lovely kick. Sweet and salty are always a great flavor combination, and this one really doesn't disappoint.
Enjoy on its own or add it on top of a decadent brownie. This one makes a great addition to Thanksgiving dessert too.
Banana Pudding
You either love or loathe banana-flavored desserts. If you're in the first camp, you'll enjoy this banana-flavored ice cream. It's been mixed together with a whipped topping and pieces of vanilla wafer.
It's apparently inspired by an original Blue Bell family recipe. Going back to what we said about Blue Bell ice creams feeling distinctly homemade, this one does so more than any other.
Southern Blackberry Cobbler
This previously discontinued flavor keeps making a seasonal comeback, and for good reason: it's delicious. Blackberry-flavored ice cream is whipped up with sumptuous swirls of blackberry sauce and chunks of flaky pie crust. It's summer in a bowl (or a cone) and a hard one to resist.
We suggest you enjoy this one on its own in a nice waffle cone or on top of a still-warm waffle.
Chocolate Peanut Butter Overload
This one's for the Reese's peanut butter cup aficionados: decadent milk chocolate ice cream meets peanut butter cups and peanut butter cookie dough.
The delicious, chewy chunks of cookie dough really make this one. The slight saltiness provides a welcome contrast to the sweetness of the chocolate. It's an all-round winner. Sadly, this particular flavor is on rotation, so it's not always available.
Peachy Peach
Peachy Peach is a seasonal favorite. It's fairly simple peach ice cream with pieces of juicy, sweet peaches. This flavor is wonderful as part of a special sundae dessert, blended into a frothy, creamy milkshake, or just enjoyed on its own.
It's fruity and fresh, which makes it the perfect summer treat for young and old alike. Besides, the tub looks so cheerful in its peachy orange color, you'll want to buy it just for that.
Discontinued Blue Bell Flavors
Blue Bell do have a range of flavors on what they call 'rotation', which aren't always available.
Some of their currently discontinued flavors include Peaches and Homemade Vanilla, Red Velvet Cake, Banana Pudding, Caramel Turtle Cheesecake, Southern Blackberry Cobbler, and Spiced Pumpkin Pecan.
There's hope at least that the latter will make a comeback around October, when all things pumpkin spiced tend to make a reappearance.
Benefits of Blue Bell Ice Cream Flavors
Blue Bell struck us as an unusual ice cream brand. They appear more traditional than most of their competitors and still appear to value the slow process of making ice cream.
Blue Bell goes by the slogan, 'Blue Bell is the best ice cream in the country.' It's clear to see why when you look at some of their benefits below.
Simple, Traditional Ice Cream
Blue Bell pride themselves in having achieved their growth slowly and with care. They use a direct delivery program to make sure their ice cream is always delivered by their own employees. Blue Bell take great care with the craftsmanship of their ice cream recipes.
This, combined with the simple, slightly vintage style branding makes their ice cream appear homemade. The ingredients are simple too, so you know you're getting good quality.
Variety of Flavors
Blue Bell offer a nice variety of flavors. What we mean by that is they don't have hundreds of different kinds of ice cream, but rather a medium-sized selection of tried and tested flavors.
That means you can try any of them and expect to enjoy it. There's nothing hugely crazy or out there, just good, old fashioned ice cream flavors.
Delicious Blue Bell Ice Cream Flavor Hacks and Recipes
If 'just' ice cream by itself isn't enough for your sweet tooth, there are plenty of recipes and hacks you can use to make something a little different.
Blue Bell actually have a fairly extensive recipe section on their own website, which is worth checking out. Below are some of our own favorite takes on classic ice cream desserts.
You can make these with any of the Blue Bell Creameries flavors you like. Top tip: start with the most classic chocolate, vanilla, and strawberry ice cream tubs first, and then experiment with some of their quirkier flavor combinations.
Blue Bell Ice Cream Milkshake
Who doesn't love an ice cream milkshake? Blue Bell ice cream seems to be made for just such a treat. Simply add full fat milk and one or two scoops of your favorite Blue Bell ice cream to a blender.
Blend until smooth and frothy and enjoy in a tall glass with a straw. Blue Bell's strawberry, vanilla, and chocolate ice creams respectively are particularly good in ice cream milkshakes.
You can make these extra decadent by adding freshly whipped cream and syrup or dessert sauce.
Blue Bell Ice Cream Sandwich
The best ice cream sandwiches use freshly baked cookies as their base. Make yours even better by placing Blue Bell's Cookie Two Step ice cream between two warm chocolate chip cookies.
These make wonderful party treats to enjoy with children, too. Just don't forget to stock up on enough ice cream and cookies, as these will go fast.
Blue Bell Ice Cream Sundae
Ice cream sundaes are the ultimate classic treat. You can make these using chocolate ice cream and pieces of freshly baked, warm brownies or you can go a step further: Blue Bell actually recommend using their Peachy Peach ice cream to make a delicious sundae.
To make this, layer Blue Bell Peachy Peach ice cream with fresh raspberries, raspberry jam, and whipped cream. Top with a handful of toasted almonds and enjoy.
Best Blue Bell Ice Cream Alternatives
Blue Bell isn't available everywhere yet, sadly, so you may need to seek out some alternatives to get your ice cream fix. Below are some of our favorite Blue Bell Creameries alternatives. Some offer similar flavors and styles, some are a little different. See for yourself which you'll enjoy most.
Baskin Robbins
Baskin Robbins are well-known for their creative flavors — by now they've crafted around 1,400 of them. They sell similar ice cream tubs you can enjoy on their own or as part of any of the recipes above.
Baskin Robbins are readily available at most supermarkets. They also have a decent variety for those suffering from food intolerances or those needing to follow certain dietary restrictions.
You can get anything from vegan ice cream to frozen yogurt, and even 'no sugar added' options.
Magnum
Magnum are well-known for their delicious ice cream bars. They also make some tasty tubs of ice cream, with cracking chocolate shells. If you love chocolate ice cream, Magnum is a good alternative to Blue Bell. They're readily available in most supermarkets, so you won't need to miss out on this one.
McDonald's McFlurry
If all else fails, a McDonald's McFlurry is always a good choice for ice cream. McFlurries have a soft serve ice cream base with a faint vanilla flavor and lots of delicious choices for toppings.
Top tip: you can even customize your McFlurry for a small extra fee and ask for extra toppings and sauces. Oreo McFlurry with extra caramel sauce, anyone?
You might also be interested in...