7 Best Easter Cupcakes + 3 Useful Tips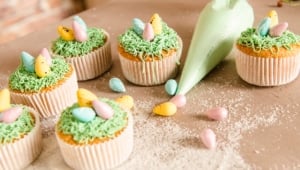 Easter is a time for crafts, baking, and beautiful family gatherings. Easter cakes have been a popular choice for a long time, but have you considered the humble cupcake? Find here the most delicious ideas for simple Easter cupcakes.
From quirky little Easter bakes to elaborate little works of art, Easter cupcakes offer something for every baker.
In this article, we explore the best Easter cupcake designs, some tried and tested and unusual flavors (check out our Hatching Chick design), and the best basic recipe to make your own.
Use it to whip up some delicious Easter cupcakes or experiment by adding flavors of your own.
What Easter Cupcakes Are
Easter cupcakes are mini cakes which have been frosted and decorated for Easter. They usually feature bunnies and little eggs, miniature baskets, nests, and other Spring-time elements.
Easter cupcakes tend to use pastel colors to celebrate brighter days ahead, but can be made with sumptuous dark chocolate frosting as well.
Typical Ingredients in Easter Cupcakes
Most Easter cupcake recipes aren't all that different from regular cupcakes. They'll typically include eggs, flour, sugar, some type of fat, and dairy or plant-based milk.
Flavoring cupcakes with vanilla extract, spices, fruits, or even carrots are all popular choices.
You may also just make vanilla cupcakes and decorate them with elaborate sugar paste designs. If you do wish to add other flavors, cake recipes can usually be modified to work for cupcakes as well.
We recommend carrot cake in this case, for a fun surprise that works beautifully with Easter bunny designs.
Best Easter Cupcake Ideas
The best Easter cupcakes are delicious, so be sure to read our basic recipe once you know how you want to decorate yours. With that said, the world is your oyster when it comes to designs: from cute to funny to elegant and even luxurious, below are the best Easter cupcake ideas.
Easter Bunny Cupcakes
Bunny cupcakes should definitely be on your to-make list, especially if you're baking with kids. They're easy to make and taste delicious, too. Simply follow our basic recipe below.
Once your cupcakes have baked and cooled, frost high swirls of the buttercream onto the centers.
Add fondant bunny ears, a little sugar pearl nose, and some sugar eyes. If you like, you can also give them a gentle dusting of shredded coconut to add 'fur.'
Easter Basket Cupcakes
Easter basket cupcakes can be elegant or fun, depending on the approach you wish to take. Start by baking your favorite cupcake recipe. Allow to cool, then frost with buttercream.
Add gummy candy straws for the handles, and place some colorful mini chocolate eggs in the middle of each basket.
If you'd like to make these a little more elegant, you may wish to make the handles out of fondant in advance and present them with colorful frosting and little matching bows.
Easter Egg Cupcakes
You can have loads of fun with Easter egg cupcakes, but our favorite are fun pastel-colored creations. You'll want a selection of pastel-colored cupcake liners for these.
Whip up your favorite cupcake recipe and bake them in the liners. While they're cooling down post-bake, add your buttercream frosting to a few separate bowls.
Add a few drops of food coloring to each bowl and mix until you have a selection of pastel-colored frosting. Frost each cupcake with a mix of the buttercreams for a fun, pastel-colored look.
Top with a few similarly-hued mini eggs. Top tip: you may also wish to add a chocolate egg to the inside of the cupcake for a fun surprise.
Peep Cupcakes
Peeps are cute marshmallow bunnies that come in a variety of bright colors. They're so much fun, and make great toppers for your Easter cupcakes.
Bake your favorite cupcake recipe (our basic one below is easy and delicious.) While your cupcakes are cooling down after baking, whip up the buttercream but add a few drops of green food dye.
You may also add a bit of juiced spinach to create a lovely green hue that's all natural. Frost your cupcakes and add a Peep to the center of each 'grassy' cupcake. Top with some sprinkles and enjoy.
Bunny Tail Cupcakes
This little cupcake design looks particularly fun on top of chocolate cupcakes, so take out your favorite chocolate cupcake recipe to start with.
Once you've baked your cupcakes and they've cooled to room temperature, frost them with a little bit of green buttercream.
You'll still want the chocolate to peek through, just enough so it looks like a tiny garden. Add a white chocolate ball (Raffaellos are great for this) and top with a small ball of white fondant.
This is your bunny 'bum' and tail. Add some fondant bunny feet to the front of the ball. Your bunny is now sticking tail-side out of the cupcake.
Hatching Chick Cupcakes
We love these cute little cupcakes. To make them, start by baking our basic recipe below. Add a little bit of yellow food coloring to your buttercream while they're cooling after being baked.
Top tip: you can use a little bit of pureed mango or passionfruit (without the seeds) to get a lovely natural yellow hue as well as a pop of fresh flavor.
Frost each cupcake with a large dollop of buttercream, followed by a smaller one. Add two drops of dark chocolate icing for eyes and orange icing for a little beak. Surround each 'chick' with shards of white chocolate 'shell' for a just hatched effect.
Easter Lamb Cupcakes
Easter lamb cupcakes are easy to make and super fun, especially for little ones. You'll want to whip up your favorite cupcake recipe (our basic one below is great for this.)
Once the cupcakes have baked and cooled to room temperature, frost with vanilla buttercream. Add little dark-colored fondant sheep faces to the front of each cupcake.
Finally, stud the rest of the visible buttercream with mini marshmallows – this is the bit kids will love to help with. Enjoy.
Simple Recipe for Easy Easter Cupcakes: A Guide
Basic vanilla cupcakes are always a great idea. Why? Because most people enjoy the soft, fragrant flavors of vanilla sponge paired with creamy vanilla buttercream.
It's a great base from which you can experiment with other flavors, too.
Our recipe is easy to alter to suit any dietary requirements or intolerances as well: simply replace the flour with a gluten free variety, the butter with coconut oil, eggs with aquafaba or yogurt, and the sour cream and milk with vegan alternatives.
You can also cut back on the sugar or simply replace it with coconut sugar or a fruit extract.
Ingredients for the vanilla cupcakes:
1 ⅔ cups of all-purpose flour
1 cup of sugar
¼ tsp of baking soda
1 ½ tsps of baking powder
¾ cup of salted butter (at room temperature)
3 egg whites (at room temperature)
1 tbsp vanilla extract
½ cup of sour cream (at room temperature)
½ cup of whole milk (at room temperature)
For the vanilla buttercream:
2 lbs of powdered sugar (sifted to remove lumps)
1 lb of salted butter
1 tsp of vanilla extract
1 tbsp of heavy cream
1 tsp of whole milk
Step-By-Step Recipe
The recipe is really easy and has not a lot of steps. Here's how you do it:
Preheat your oven to 350 F. Meanwhile, add cupcake liners to your baking tin.
Sift all of the dry ingredients together in a bowl, including the flour, sugar, baking soda, and baking powder. Mix until combined.
Whisk the wet ingredients together in a separate bowl, including the egg whites, butter, vanilla extract, sour cream, and whole milk.
Gently combine the wet mix with the dry mix. Whisk until just combined, taking care not to overbeat the mixture.
Fill each cupcake liner to about ⅔ and distribute the batter evenly amongst your tray.
Bake for approximately 18 minutes or until the cupcakes are softly browned. Top tip: insert a clean toothpick into the sponge. If it comes away clean, your cupcakes are done.
While your cupcakes are cooling, prepare the buttercream. Mix all of the ingredients together in a bowl and whisk until fluffy and creamy.
Pipe a large swirl of buttercream on top of each cupcake. Decorate per our pretty design ideas above and enjoy.
Simple Easter Cupcake Designs and Decoration Ideas
As with any bake, sometimes simpler is better. The best way to make very simple Easter cupcakes that look and taste good is to start with a recipe you love. Our basic one above is just the ticket.
Follow the instructions to the letter, then frost each baked and cooled cupcake with a generous swirl of buttercream. It's worth practicing your piping skills before you frost your cupcakes, as a well-frosted cupcake looks beautiful in itself.
Decorate with a few colorful chocolate eggs or pastel-colored sprinkles for the simplest, quickest Easter cupcake design. You may also wish to add some store bought Easter cupcake toppers or use cupcake liners with a cute bunny or chick print.
Tips and Ideas on How to Make Easter Cupcakes Yourself
Making Easter cupcakes isn't tricky, as you'll find if you use our basic recipe above. However, you may want to get creative with your decorations and make our own unique designs. Here are some of our top tips to make Easter cupcakes yourself.
Use Chocolate Eggs for Decoration
One of the simplest ways to have fun with your Easter cupcake designs is to use chocolate eggs. You can add a selection of mini chocolate eggs to decorate your cupcakes.
Add them to a buttercream 'nest' or just place one on each cupcake for an easy Easter treat. You may even wish to bake chunks of Easter eggs into your cupcakes to add a gooey chocolate surprise.
Add Hidden Surprises
On the subject of chocolatey surprises, cupcakes are perfect for filling. To do this, simply remove a little bit of sponge from the top of each cupcake.
Add the surprise 'filling' of your choice, then top with generous swirls of buttercream to hide the holes.
Some delicious ideas for fillings include chocolate, jam, peanut butter, and caramel.
Experiment with Food Coloring
Easter is a great time for experimenting with colors. There's just something about pastel colors that seems to really add to the feeling of Spring-time.
You may add a few drops of food coloring to your batter and/or the buttercream. You might also wish to experiment with adding natural ingredients to change the colors of your cakes and their decorations.
Berries, beetroot, and spinach are just some of the many foods you can add to color your bakes.
Captions and Phrases You Can Write On Easter Cupcakes
Whether you want to showcase your bakes to your friends on social media or just want a cute caption to add to the tray, we've got you covered.
If you're gifting your cakes, the best messages you can add are always personal ones. However, here are some cute ones you can use for inspiration:
"Wishing you a sweet egg-scape from dieting this Easter."
"I've been hanging with the cutest chicks lately… They helped me bake these cupcakes, too."
"I wish you all a hoppin' good time, this Easter."
"Here's hoping that there are some egg-cellent times ahead."
"Hoppy egg hunting! Or cupcake eating while watching your kids accidentally step on the eggs, whatever floats your boat."
Find here more beautiful "happy easter" greetings and quotes.
Alternatives to Easter Cupcakes
If Easter cupcakes aren't your thing (or you're wanting to dish up a whole Easter baked goodie buffet), that's ok. We've got some great alternatives lined up for you. These are all sweet, delicious treats you'll love to make and share this Easter time.
Easter Cookies
A great alternative to Easter cupcakes: Easter cookies. They are great fun and so easy to make. Our favorite is chocolate chip cookies with crushed Easter eggs or M&Ms thrown in for some color.
Just follow your favorite cookie recipe, but add half crushed mini eggs or M&Ms and half chocolate chips.
Sweet Easter Bread
Sweet Easter bread is made of a yeasted sweet dough, which is braided to hide colorful Easter eggs.
It's made throughout the world and tends to be a show stopping centerpiece of any Easter menu. It's great for dessert as well, particularly if you're after something that isn't too sweet.
Easter Cake (Simnel Cake)
Simnel cake is a little like Christmas cake in that it's laced with plenty of dried fruits. Simnel cake is then topped with marzipan and decorated with 11 balls of marzipan, one for each of Jesus's disciples minus Judas.
It's a delicious treat that's particularly good if you make your own marzipan (easier than you might think.)
You might also be interested in...