5 Best & 5 Weirdest Oreo Cookie Flavors + Oreo Hack Recipe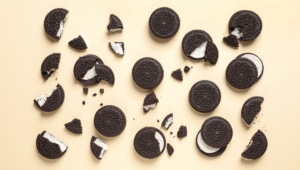 Oreos are available in over 100 countries and likely known by just about everyone in the world. Over time, there have been around 85 flavors of Oreo cookies available across the globe. Here you'll learn everything about the best oreo cookie flavors as well as the worst ones.
Oreos are the (almost) original cookie and cream combination. They're instantly recognisable via the elaborate pattern and 'OREO' writing on the top of each cookie-sandwich side.
The cream filling is much-loved and replicated by Oreo lovers everywhere (more on that later.) In short: Oreos are loved around the world, they're versatile, and there are plenty of flavors to explore and enjoy.
What Oreo Cookie Flavors Are
Oreo cookies are a delicious sandwich-style treat available all over the world. The original is made using two dark chocolate cookies, with a white vanilla-flavored cream sandwiched in the middle.
New flavors have been added and removed for decades. There have been at least 85 variations over time.
Learn here more about dark chocolate.
Where Oreo Is From
The first Oreo was produced by the Chelsea Market bakery in Manhattan, New York. It's an American treat that is still hugely popular in the USA today. Nowadays Oreos are still produced in the US, though they're also crafted at plants in other locations across the world.
What Oreo Cookie Flavors Are Made Of
The Oreo filling we know and love was developed by a food scientist by the name of Sam Porcello, who actually patented his work on the cookie. Oreo cookie fillings before the 90's were made using lard, which was later replaced with vegetable oil, and then canola and palm oils.
Nowadays, Oreos are made of a relatively simple list of ingredients. You'll find sugar, flour, oil, cocoa (treated with alkali), corn syrup, baking soda, corn starch, salt, soy lecithin, vanillin, and chocolate on the packet.
Though this technically makes Oreo cookies vegan, and they're popular with those on a vegan diet, Oreo have advised that cross-contamination is possible. Therefore, vegans should not eat them unless they're fine with the potential of their containing some animal products.
Origin of Oreo
Oreos are just about the original cookie and cream combination so many of us know and love. They're actually an imitation of a chocolate-cream cookie by Hydrox, which was invented in 1908.
Oreos only came to market several years later, in 1912, but their popularity was so huge that the Hydrox cookie has largely been forgotten.
Oreos on the other hand have been the worldwide best selling cookie since 2014. The first oreo cookie was purchased by a grocer in New Jersey over 100 years earlier, in 1912. Back in the day, Oreos were sold in novelty metal boxes for 0.25 Dollar per pound.
The Best Oreo Cookie Flavors You Need to Try
With nearly 85 flavors at one point or another, there are plenty of Oreo flavors you need to try. Below are some of the best ones we've come across. Try one or have them all at a buffet-style Oreo tasting table.
1. Birthday Cake Flavors
The all-time best Oreo cookie must be their delicious birthday cake flavor. Oreo cookies are filled with a birthday cake flavored cream studded with multi-colored sprinkles.
They taste a lot like the traditional Oreo cookies, but slightly heavier on the vanilla. These are perfect for dunking into milk and enjoying as part of your birthday celebrations. Or any other day of the year.
2. Dark Chocolate Creme
A fan-favorite amongst Oreo lovers across the world. The dark chocolate creme Oreos are filled with sumptuous dark chocolate. They're sweeter than the original and more chocolatey.
This makes them a real treat for those with a sweet tooth and chocoholics. Dark chocolate oreos are a great addition to recipes such as milkshakes, but equally good just dunked into a glass of whole milk.
3. Peanut Butter
Peanut butter plus Oreos — what could be better? These popular Oreo cookies have a classic Oreo base, but are filled with delicious peanut butter cream. They make a fabulous snack to pack for trips or picnics.
Peanut butter Oreos are also great mixed into a milkshake or as part of an Oreo-based cheesecake. In short: peanut butter Oreos are great with just about anything, so long as you love peanut butter.
4. Classic Oreos
Classic Oreos are still amongst the most popular flavor options today. They're made up of the classic two chocolate cookies and feature a white, slightly vanilla-y filling in the middle.
There are single and double-stuffed varieties available today, too. The classic Oreo is especially good mixed into a milkshake or crumbled on top of cheesecake. The classic filling is also relatively easy to replicate — but more on that later on in this article.
5. Java Chip Flavor
Java chip has got to be one of the most dunkable Oreo flavors around. The classic cookies are filled with a delicious coffee-flavored cream that's studded with tiny chocolate chips.
It's perfect for lovers of coffee and Oreos, and really good dunked into milk. It's also excellent as part of an iced coffee milkshake. The latter may just be the best summer treat.
The Weirdest and Worst Oreo Cookie Flavors
With over 85 flavors to date, not all could have been expected to be amazing. There are some regrettable flavor choices the cookie company has made over the years. See for yourself which flavors you'd perhaps still like to try and which are just downright weird.
1. Banana Split
Somewhat universally agreed to be the worst Oreo flavor of all time. The banana split Oreo apparently doesn't taste very much like banana, but smells horrendous.
If you've ever smelled an overripe banana rather than eat it, you'll know the smell. It's not pleasant and certainly not enjoyable inside a cookie.
2. Cherry Cola Oreo
If you like cherry cola, you may actually find this acceptable. If the thought of cherry cola sickens you due to its sweetness, just times that by about a hundred. Cherry cola Oreos just don't really work, taste really artificial, and feel like your teeth must surely be rotting faster than usual.
3. Reduced Fat Oreo
This flavor is a good idea in theory, but unfortunately it just didn't work. Reduced fat Oreos taste a little like half the ingredients were just left out. They're much more dry and flavorless than the original. If you're on a diet you'd be better off having only a few real Oreo cookies instead of a packet of these.
4. Hot & Spicy Cinnamon Oreo
If you like the original Big Red bubblegum, you might like this Oreo. What makes it weird is the 'hot & spicy' in its name. It's just a bit strange as an Oreo cookie, but some people enjoy a strange cookie flavor.
If you love cinnamon, this one may just be it for you. If you don't, you'd be better off skipping it.
5. Lemon Oreo
If you like lemon cookies, you might like this one as well. It tastes a little like a cheap Italian lemon confection though, and just didn't seem to gel very well with the Oreo cookie base.
It's probably the least offensive of the bad flavors, but still not particularly good. Interestingly, it is one of the oldest Oreo flavors, having been introduced in the 1920s. The modern version features golden cookies instead of the classic chocolate.
Delicious Oreo Flavor Hacks and Recipes
Oreos are great on their own, dunked into milk, or as part of a more elaborate dessert recipe. You can add them to ice cream (think of the popular McFlurry) or use them in a cheesecake recipe.
You can also enjoy Oreos in a classic milkshake. If it's the filling you love most, we also have an amazing hack for that. Keep reading to find out more.
Oreo Milkshake
They are super easy to replicate: the oreo milkshakes. Just add vanilla ice cream, milk, and some Oreo cookies with any flavor of your choice to a blender. Mix until smooth and enjoy topped with whipped cream and chocolate sauce.
If you prefer the Oreo filling to actual blended cookie pieces in your drink, you can also just scrape those out of the cookies and add them.
Crush the unused cookie halves and top the whipped cream with some of these instead. This will give you a smoother drink that's still distinctly Oreo in flavor.
DIY Dessert with Different Oreo Flavors
You can add Oreo cookies to all sorts of desserts or even just use them to decorate a special cake. The easiest Oreo dessert that truly incorporates them, however, has got to be cheesecake.
Oreo cheesecake is a popular favorite amongst the sweet-toothed crowd. To make it, use Oreo cookies instead of Graham crackers for the base.
Fold crushed Oreo cookies into the finished cheesecake mixture of your choice. Alternatively, make our DIY Oreo cream filling below and fold some of this into the batter. Chill, decorate with extra Oreos, and enjoy.
Crumbled Ice Cream
Make your own version of an Oreo McFlurry at home. Simply mix vanilla ice cream of your choice with a little bit of milk in a blender.
This will give the finished ice cream more of a McFlurry consistency. You can add more or less milk depending on how soft you like your ice cream. Add some crumbled Oreo cookies and stir.
You can enjoy this particular dessert recipe with any kind of Oreo cookies. It makes a fun idea for children's birthdays as well, as you can offer DIY 'McFlurries.'
DIY Oreo Cream
If you love the cream filling part of the Oreo the most, this hack is the one you've been waiting for. Did you know that you can make a simple copy of the cream filling yourself, at home?
All you need to do is mix ¼ cup of vegetable shortening with ¼ cup of softened butter, ½ tsp vanilla, 1/ tsp granulated sugar, 3 ½ cups of powdered sugar, and 3 tbsps of hot water.
Blend thoroughly using a mixer and enjoy with every cookie, milk, and dessert combo you've ever dreamed of.
Benefits of Oreo Cookie Flavors
There are some distinct benefits when it comes to Oreo cookies versus other popular cookies. Below, we list some of the top reasons why you should pick up Oreos on your next shopping trip.
Vegan / Non-Dairy
Oreos don't contain any dairy or animal-derived ingredients. With that said, the company do warn of cross-contamination with other products.
If you're vegan and want a vegan cookie, but don't mind that there could be cross-contamination, Oreos are a great choice. They also contain no dairy, so those suffering from lactose intolerance can safely enjoy them.
Great to Pack as Snacks
Oreo cookies don't melt easily, so they make the perfect snack to add to a picnic basket or packed lunch. Just bear in mind that some schools don't allow nut-based treats. You might wish to avoid taking the peanut butter flavor if that's an issue.
Source of Carbohydrates
Oreo cookies are a decent source of carbohydrates, which helps stave off hunger. Carbs also give your body glucose, which in turn converts to energy.
If you need a small boost and want a sweet snack at the same time, Oreos may just be the thing. Just bear in mind that the cookies are also relatively high in fat and sugars. Moderation is key.
Best Alternatives to Oreo Cookie Flavors
If Oreos are not your favorite or you just want something a little bit different for a change, we understand. Below is a list of our favorite alternatives to Oreo cookies — some strikingly similar, and one that's totally different. All of them have one thing in common, however: they'll satisfy your sweet tooth.
Crumbl Cookies
Crumbl Cookies are probably America's unofficial favorite high-end cookie brand since 2017. If Oreos are your budget, store-bought cookie, Crumbl cookies are the luxury version you'll treat yourself with on occasion.
They're large, delicious cookies filled with tons and tons of chocolate and other treats. Crumbl cookies are very sweet, but really great when you have them with a glass of whole milk.
Hydrox Cookies
The original 'Oreo' before Oreos were ever a thing. Hydrox look and taste a little like Oreos, but, according to fans, they're even better.
The cookies are made of slightly darker chocolate and the cream filling isn't as expansive. They're hard to get nowadays, but if you can get a pack you're in luck. It's also a fun activity to blind-taste Oreos versus these and see which you actually like more.
Back to Nature Classic Creme Cookies
These look just like Oreos, but they're totally different. They're marketed as being plant based, with no hydrogenated oils or high fructose corn syrup in the ingredients.
In essence these are the healthy version of Oreos you never knew you needed. These are more natural than the original Oreos and a little healthier if you're following a diet. They're also very tasty, so you won't feel like you're missing out.
You might also be interested in...