11 Best French Cookies + 3 Tasty Hacks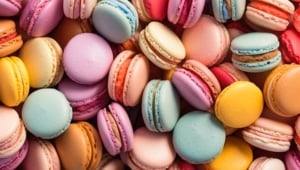 You might wonder where you could possibly start in your French cookie baking journey? There are so many delicious cookies and confections to make. We'll walk you through some of the best varieties to try. We'll also tell you all about what makes French cookies so very good.
France has been known for the art of patisserie for hundreds of years. In fact, the year 1270 saw the registration of the status of French 'oublieurs', the predecessors of modern pastry chefs and confectioners.
The profession of pastry chef became standardized in the 1500s. Since then, French master bakers have created hundreds of mouthwatering cookie creations.
What French Cookies Are
French cookies are inventive baked creations from France. This European country has long been known for their creative bakes, artfully crafted confections, and scrumptious flavors.
French cookies include favorites such as macarons, madeleines, florentines, lace cookies, and more.
How Do French Cookies Differ From Others?
French cookies tend to contain quite a lot of butter and sugar. They're usually crafted with relatively simple ingredients that are of exceptional quality.
You won't find coconut oil, plant-based milks, or unnatural additives in traditional French baking. Of course you can modify French recipes to create vegan alternatives (more on that later.)
One interesting fact about French baking in general is that there is actually a French bread law. This states that French baguettes must never be frozen or contain preservatives and additives.
Best French Cookies You Should Try
French cookies contain good-quality, simple ingredients. They're made using both basic and elaborate techniques. In short: if you want to up your baking game, French cookies are the way to go. Here are the top French cookies you must try.
French Butter Cookies (Sablé Breton)
French butter cookies are very similar to shortbread, so if you like the latter, you'll love these. Sablé translates to 'sandy', and Breton is the region of Bretagne from which these cookies originate.
French sablé cookies are technically a bit crumblier than shortbread. They're great alongside tea or hot chocolate. Best of all, like shortbread, you can form them using cookie cutters and stamps.
French Macarons
French macarons originated in the 1500s and were likely brought to France by Queen Catherine De Medici. Back then, they were small sweets with a crunchy exterior and soft interior.
They soon became the macarons we know and love today. Macarons are known for being relatively tricky to make. Because of this, we've found a few top tips for you:
Don't substitute the almond flour for any other kind of flour
Do sift all of your dry ingredients together
Don't freestyle your meringue – follow a recipe
Do use fresh, room temperature eggs (not egg whites from a carton)
Don't use liquid food dye
Do mix your batter gently and avoid overmixing.
Florentines
Florentines are amongst the most delicious cookies French patisseurs ever created. They're crispy, thin nut-based cookies with fruits, cream, and melted butter.
All of the above are mixed together and baked to form a crunchy base that tastes almost like candy.
Once they've cooled, florentine cookies are then drizzled with melted chocolate or dipped in chocolate.
Madeleines
Madeleines were, so the story goes, first served to the Duke of Lorraine by a girl called Madeleine. This was in the mid 1700s, and they've since become one of the most popular French cookie types for bakers to make at home.
They're actually miniature cakes rather than cookies. Madeleines are made using a simple génoise cake batter.
You need a lot of eggs and butter to make madeleines, but they are delicious. Madeleines are most frequently enjoyed fresh from the oven alongside a coffee.
Eclairs
Eclairs were originally known as 'little dutchess' or 'dutchess-style bread.' They're long choux pastry buns, which are filled with custard or pastry cream.
The buns are then decorated with fondant icing or chocolate. Eclairs are hugely popular in France and the world beyond. They're relatively easy to make once you've mastered choux pastry.
The secret to making the best choux pastry is to use good quality ingredients (your flour is important), and to bake them at a high temperature once done.
Vegan French Cookies
As we've noted above, French baking is largely associated with vast amounts of butter and eggs. With that said, you can make delicious vegan alternatives at home.
Nowadays, since the introduction of aquafaba from chickpeas, you can even make convincing vegan macarons and meringue cookies.
Vegan Butter Cookies
You can make delicious vegan butter cookies by substituting the butter for a vegan butter. Egg yolks are a little trickier, though they can be replaced with chickpea flour, soy lecithin, cornstarch, or avocado.
The latter gives a lovely smooth texture and buttery flavor, alongside the added health benefits avocado has to offer.
Vegan Lace Cookies
Vegan lace cookies are a delicious alternative to regular French lace cookies. Use a vegan butter of your choice and all of the regular ingredients (there are no eggs or milk in these) and you'll have delicious lace cookies.
Lace cookies are best made with almond flour and a tiny amount of oat flour, making these gluten free as well.
Vegan Belgian Galettes
Thick Belgian waffle-style cookies are ordinarily made with butter and a huge number of eggs. You can make them with vegan butter and aquafaba or ground flax seeds instead.
Enjoy these chewy cookies for Christmas alongside a hot cup of cocoa. By the way, these are sometimes also known as French waffles, depending on whom you ask.
Traditional French Cookies
It's up for debate whether the cookies we've listed here are the 'most' traditional. They're certainly a start and will feature in any book on French baking.
Some of these (meringues) are particularly quick and easy to make. Others will require a little more skill. With that said, all are delicious.
Meringues
French meringues are amongst the easiest cookies you will ever make, and so worth learning. You just need to mix egg whites, cream of tartar (this is also helpful when making vegan meringues), and sugar.
Everything is whipped together until glossy, white, and very stiff. The meringues are then piped onto non-stick baking paper and baked at low temperature (200 F works well) until dry and crunchy.
You can eat them as cookies or use them in other recipes, as you'll see in the hacks section of this article.
Palmiers
Palmiers are named after palm trees as these cookies are said to resemble their leaves. They're traditionally made with buttery, flaky, puff pastry, sugar, butter, and spices.
They're not the oldest cookie invention, but they're amongst the most popular. You can find palmier cookies flavored with almost anything, though the ones made with sugar and spices are arguably the best.
Palmiers are best made using readymade puff pastry, unless you're very good at making puff pastry from scratch.
Canistrelli Cookies
You've probably seen canistrelli cookies before but didn't know that that's what they were called. These 'little baskets' from Corsica are also popular in Italy.
They're made with flour, sugar, salt, olive oil, white wine, baking powder, and powdered sugar. Usually, you'll also find them with either added almond, lemon, or anise.
Enjoy them alongside a cup of strong coffee. Fun fact: canistrelli originated in the Middle Ages, so they've been enjoyed for a very long time.
Simple Recipe for French Cookies: A Guide
Since they're arguably amongst the best and easiest French cookies to try, we think you should make sablé breton at home.
Simply replace the butter for a vegan alternative and the egg yolks for avocado and/or aquafaba to make these vegan.
Ingredients for 20 cookies:
¾ cup of salted butter (at room temperature)
½ cup of caster sugar
4 large egg yolks (1 set aside for the egg wash)
2 ¾ cups of all-purpose flour
1 tsp of sea salt
1 tbsp of water
And here's how you do it:
In a large bowl, whisk the butter and sugar together until creamy, fluffy, and pale in color.
Mix in the egg yolks until combined.
Sift in the salt and flour and continue to mix until you have a slightly clumpy dough. Use your (clean) hands to knead the dough until it's fully incorporated.
Put your dough in the fridge for about 45 mins.
Preheat your oven to 350 F. Meanwhile, prep a baking tray by lining it with non-stick parchment paper.
Roll out the cookie dough to your preferred thickness (about ¼"). Cut out your cookies and add them to the prepared baking tray.
Prepare the egg wash by whisking the remaining egg yolk together with the water. Brush the cookies gently and let them sit for 5 minutes to dry.
Bake for 15-18 minutes until gently browned at the edges and golden all over. Cool and enjoy.
Tasty Recipes and Hacks with French Cookies
As you'll know by now, French cookies are an absolute delight to eat. They're fun to experiment with too. Just think what could be made better by adding French cookies to it.
Below are a few of our favorite hacks and basic recipes that incorporate French cookies for the ultimate taste indulgence.
Cake with Colorful Macaron Topper
You've likely already seen this somewhere on Pinterest. French macarons make the perfect topper for cakes. Best of all, once you've mastered making both a simple sponge cake and basic macarons, you can create a true showstopper.
Follow your favorite cake recipe and, once cooled, frost it with smooth buttercream using a cake scraper.
You can do a very simple naked cake effect as well: Just stack sliced rounds of cake with buttercream and then frosting a thin layer all the way around.
Finally top your beautiful cake with homemade macarons. The trick here is to make macarons using the same food dye you're using in your buttercream. This will give the cake an elegant and cohesive look. Your guests will be stunned to find out what you've created.
Fruit Salad with Meringue
Did you know that you can make vegan meringue cookies? Whether you make the traditional French variety with egg whites or use aquafaba with cream of tartar to stabilize it, meringues are delicious and pretty easy to make.
Best of all, the large amount of sugar in meringues along with the absence of fat makes them last for 2-3 weeks in the pantry.
So if you find yourself longing for a special dessert and you have meringue cookies leftover, try this: whip up your favorite fruit salad using a variety of delicious fruits.
Strawberries, kiwi, melon, banana, and pineapple are all great options, but any fruit will work. Top with some lightly crushed meringue cookies and serve alongside homemade whipped cream or vanilla ice cream.
French Cookie Ice Cream Sandwich using Macarons
Ice cream sandwiches are great, macarons are great. So what about ice cream sandwiches using French macaron cookies? You'll want to pipe some larger macaron disks when baking your next batch of cookies.
Allow them to cool before sandwiching your favorite ice cream in the middle. Caramel or toffee and nut flavors work particularly well alongside the macarons' almond base.
Top tip: prepare your macaron halves ahead of time and assemble just before serving. These make a great dessert at a special dinner party. As with all macarons, they take well to being colored with food dye.
Alternatives to French Cookies
Are you enjoying baking French cookies from scratch? Then you may wish to foray into other French patisserie creations. There are many different recipes to try, but the ones below are amongst the very best. Number three is particularly tricky, but worth the effort.
French Ice Cream Profiteroles
You may have had cream-filled profiteroles before — little choux pastry 'balls' filled with creamy goodness. But what about ice cream profiteroles?
You'll need to bake your choux pastry per your favorite recipe, then halve each one. Aim for slightly larger profiteroles than you'd ordinarily make.
Fill each half with a generous helping of ice cream, and serve drizzled with chocolate or caramel sauce.
Pain Au Chocolat
Pain au chocolat is a little like a croissant filled with 'sticks' of chocolate. They're delicious and you can easily make them by using this handy trick: buy your favorite readymade puff pastry dough and cut out rectangles.
Next, add slivers of thick chocolate approximately 1" into either side of the pastry. Roll the dough inwards with the chocolate inside it until they meet in the middle. Bake per the package instructions and enjoy.
Mille Feuille Pastry
Mille feuilles are also known as 'custard slices' in English. They're made by layering thin puff pastry rectangles with a creamy filling. The top slice is generally decorated with ganache and icing.
These are quite a lot of work, particularly if you make your own pastry. Top tip: use readymade puff pastry and focus on making the perfect cream filling, which is a lot easier.
Either way, mille feuille are delicious and a real showstopper at any party.
You might also be interested in...