5 Best Boba Flavors & 6 Types of Bubble Tea Recipes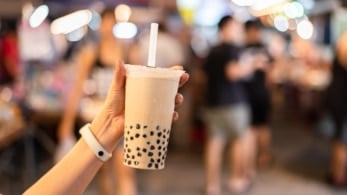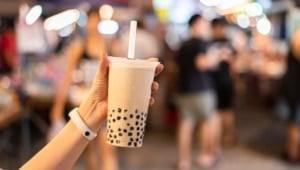 Boba tea is a popular drink that combines tea flavors with a milk or juice base, and boba, or pearls, usually made of tapioca or a jelly topping. Learn here what boba tea is and which boba tea flavors you should definitely try.
Many shops specialize in various boba tea flavors, served chilled on ice, though you can enjoy a warm version of this drink, typically as a milk tea. It's a delicious drink with bursting flavors with lots of great recipe options and variations.
This trendy beverage originated in Taiwan, when leftover tapioca dessert was added to an iced tea. Boba tea is also believed to have originatedin Japan, where variations of this drink are popular. Would you like to learn more about this tasty drink?
What Boba Tea Is
Boba tea is a milk or juice-based drink blended with tea, to create a smoothie, or chilled drink. The main feature of this beverage is the tapioca pearls, or jelly, which are added as a topping. It's a refreshing drink enjoyed with a thick straw so that you can chew on the pearls or jelly topping.
Where Boba Tea Is From
Boba tea originated in Taiwan, where the drink was first made in the 1980s. Initially, it was created with milk, tea, and bubbles, which can be tapioca pearls, jelly, or similar dessert-like toppings, such as fruit jelly.
The drink quickly became popular in cafes throughout Asia and later became trendy worldwide.
What Boba Tea Is Made Of
One of the first things you'll notice about boba tea, is the variety of flavors and blends available. The basic recipe includes blending fruit, milk, tea, and bubbles, which are shaken and served on ice.
Additional flavors available for customized teas, such as chamomile, lavender, hazelnut, and more, are available.
The Difference Between Boba Tea and Bubble Tea
Boba tea and bubble tea are essentially the same. The only difference is the name, boba or bōbà, which means bubbles in Chinese or the tapioca balls added to the drink.
Depending on where you order your bubble tea, you may find a wider range of options and flavors, from classic recipes to more customized specials that blend fruit and milk teas together. Some cafes offer signature boba teas that are unique to their brand or menu of drinks.
How Bubble Tea Is Made
The basic recipe for bubble tea is blending milk and juice together, with your choice of tapioca pearls or jelly. Many boba drinks infuse teas or additional flavors, such as matcha, black tea, rooibos, lavender, jasmine, taro, coconut, and more.
Some boba teas are blended into smoothies, while others resemble fruit juice or flavored milk with pearls. Some cafes and shops offer boba tea kits, where you can blend flavors of your favorite drink using powders and pearls with your choice of tea or milk.
The Best Boba Tea Flavors You Need to Try
If you're new to boba tea, you'll find an impressive variety of drinks, from the classic flavors to fruit-based smoothies, milk teas, and more.
Some boba teas offer dairy-free alternatives, using a soy, almond, oat, or coconut milk base, and low-calorie options, including minimal sugar or alternative sweeteners. The boba teas below are the top flavors you'll want to try, especially if you're new to this delicious beverage.
Classic Flavors
The essential, classic recipes you'll want to order are the first boba teas. These include tea and milk-based drinks made with the most popular teas, including black, green, rooibos, and jasmine.
You'll find many other tea blends and milk varieties, including non-dairy alternatives and sugar-free options. Bubble teas are also made at home with just a few key ingredients.
Original Milk Tea
The original milk tea recipe is a great option to start with, if you're making boba tea at home. You'll need one bag of black or green tea, three teaspoons of sugar or a sweetener, three tablespoons of cream or a non-dairy alternative, half a cup of ice, hot water, and two tablespoons of tapioca pearls.
To create this drink, steep the tea bag in hot water for up to five minutes, depending on how strong you want the flavor.
Remove the tea bag, and add in the milk, cream, or non-dairy milk you prefer with your choice of sweetener and tapioca pearls. Pour the milk tea over ice to serve and enjoy.
Matcha Milk Tea
Matcha milk tea is a delicious, healthy drink offering many nutritional benefits, including antioxidants, a natural boost of energy, and a tasty flavor. You'll need matcha green tea powder for this drink, which can be purchased at your local supermarket, specialty grocery store, or online.
To prepare the powder, you'll want to invest in a whisk and bowl to prepare the powder with hot water.
This simple recipe uses one teaspoon of matcha green tea powder, half a cup of water, one or two tablespoons of sweetener, preferably honey or maple syrup, one cup of ice, and one cup of milk.
The first step in preparing this tea is to whisk the matcha powder into a foam with hot water, which can take one to two minutes. Set this mixture aside to cool, add ice, sweetener, and milk to a tall glass, and pour the match tea mixture over the top, stirring before serving.
Brown Sugar Boba Tea
This tasty recipe is a variation of the classic black tea boba flavored with brown sugar. It's one of the most popular flavors in cafes due to its sweet taste. Brown sugar boba tea is easy to recreate at home with simple ingredients.
You can prepare this recipe identically to the classic black tea boba recipe, adding brown sugar syrup, which gives the beverage a caramel or toffee-like flavor.
Using the same ingredients and portions as black tea boba, add the brown sugar syrup to the bottom of the glass, with the tapioca pearls, ice, and milk, then pour the steeped black tea over the top into the serving.
Taro Boba Tea
Taro is a wonderful vegetable that tastes like coconut. In boba tea blends, taro is blended with coconut, offering a distinct, mildly sweet, aromatic taste. It's a drink typically blended with green tea as a base, with taro powder and condensed milk.
This colorful, purple drink is made with two cups of water, green tea or loose-leaf tea (jasmine is also commonly used), half a cup of condensed milk, half a cup of sugar or sweetener, three tablespoons of honey, half a cup of tapioca pearls, four tablespoons of taro powder, and ice.
Prepare the tea in hot water, steeping the tea bag or loose leaves for up to five minutes, then strain and whisk in the taro powder.
Cook and drain the tapioca pearls, straining them before adding them to the bottom of a glass. Pour over the taro-infused tea, along with the sweetener and milk.
You can use coconut milk to enhance the natural flavors of taro, honey, or maple syrup as an alternative to sugar. Blending jasmine and green tea is another great way to enjoy this drink.
Fruity Boba Flavors
Fruit-flavored boba teas are a nice twist on the original milk-based version of this drink. For a thicker, smoothie beverage, you'll find many great fruit flavor options, including berries, melons, and even avocado or mango.
These drinks are prepared similarly to milk teas, only with water and fruit juice syrup as a base.
Strawberry Boba Tea
This recipe includes one cup of hot water steeped in two tablespoons of strawberry syrup and three tablespoons of sugar or an alternative sweetener.
You can add tapioca, or strawberry-flavored popping pearls as an alternative. This tea is poured over a glass half-filled with ice, popping pearls, and a sweetener.
Peach Boba Tea
Peach boba tea is one of the most popular flavors, and it can be prepared with or without milk. This recipe includes four green tea bags, peach flavor powder, two tablespoons of sugar or sweetener, a quarter cup of tapioca, and ice.
Tapioca pearls are cooked in half a cup of boiling water, which should take about fifteen minutes.
You can use peach flavor powder and add a few slices of peaches, along with the syrup, from a can. This syrup can also be used as a sweetener.
Bring the peaches and sweetener to a boil, along with added sugar or sweetener, until it is dissolved. Add ice, strained tapioca pearls, and milk (optional) into a glass, then pour the peach mixture over the top. You can also add half a cup of green or jasmine tea.
Types of Boba Tea Flavors
What are the different types of boba tea flavors? As boba tea became a popular beverage worldwide, many variations of this drink were created with unique tea leaves, flavors, milk, and fruit blends.
While traditional boba teas are blended with milk, many innovative boba teas blend fresh fruit, including avocado, mango, taro, or coconut, into a smoothie or milkshake.
Milk Tea
Milk teas are tea-based drinks that simply add milk to hot brewed tea. These drinks can be served warm, or poured over ice with tapioca and sweetener. In its basic form, milk tea doesn't require additional flavoring, though it can be customized with hazelnut, almond, and other flavor syrups.
Thai Tea
Thai tea is a variation of the original black tea boba drink, with the addition of orange or yellow food coloring and spices. For a sweetener finish, you can prepare this beverage with any type of milk, including condensed milk. Thai tea mixes are another popular way to create this drink at home.
Fresh Fruit Tea
Fresh fruit teas feature peaches, mangos, coconut, honeydew, and other fruits blended into a tea and served over ice. While many fruit-flavored teas are made with powder, you can enjoy a fresh fruit variation that is healthier, with your choice of sweetener.
These drinks are typically served with flavored popping bubbles, fruit jelly, or tapioca.
Smoothies
Milkshakes or smoothies are another variations of milk teas, with either a fruit, milk, or non-dairy base. These drinks are thick and often blend fruits such as bananas, berries, mangoes, peaches, avocado, taro, or coconut.
While some of these drinks may not have a tea base, they are typically served with the option of tapioca or another topping.
Black Tea
This simplified version of boba tea doesn't contain milk or fruit as a base. Instead, black tea, or another tea flavor, is steeped and served over ice with sweetener and tapioca. You can also adjust the sweetener to a lower amount or add grass or fruit jelly, as an alternative topping.
Tips for Customizing Your Bubble Tea for Perfect Flavor
There are a few tips to keep in mind before you get started. Once you purchase all the supplies and ingredients, you'll find many variations of these recipes.
Boba tea is an easy drink for any occasion or time of year. The following tips will help you enjoy the homemade process.
Mix and Match Bubble Tea Flavors
Do you have any leftover strawberries, maple syrup, or pudding from a dessert? Adding one or more of these additional flavors can enhance your drink.
Chai tea, rooibos, cardamom, cinnamon, ginger, and many other teas and flavors are great to add to your drink for a delicious taste.
Add Some Cheese
Consider this tip unusual until you give it a try. Whipped cream cheese is a great way to add a bit of savory flavor to your boba tea and thicken your drink.
It's also ideal for smoothies and milkshakes. It's also a popular ingredient in some cafes that feature unique boba tea recipes.
Use Real, Fresh Fruit
You may be tempted to use powdered fruit mixes, which are great to have on hand, though natural fruit blended into tea is delicious and a healthy, natural option.
If you have a lot of fresh fruits in your refrigerator, you can freeze them in smaller bags or portions for easier use when you prepare a drink. Fresh berries, melons, and peaches make great fruits for boba tea smoothies.
Try Different Toppings and Additions
While tapioca pearls are the top choice for boba teas, you'll enjoy many other toppings available, from custard and fresh fruit to red beans, grass jelly, and instant coffee. You can also add flavored syrups for a more robust taste.
Try Different Teas
If you're sticking to black or green tea, you'll be pleasantly surprised at how lovely ginger tea, rooibos, lavender, chamomile, and other teas are.
You'll also enjoy the blend of two teas together, such as chamomile and lavender, or green tea with ginger. It's a great way to experiment with various tea flavors with your favorite milk or fruit base.
You might also be interested in...