Carrot Cupcakes: Celebrate A Birthday And A Craving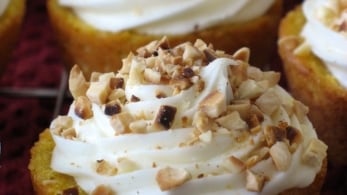 Today is my brother's 34th birthday so "Joyeux Anniversaire Arnaud"!
I had a serious craving for carrot cake or muffin or cupcake last night so I figured I would make a small batch and send him one via this blog as a token of my love and friendship.
I don't mean to get all too sugary sweet but I am fortunate that over the years our relationship evolved as well as it has and from being bickering sibblings with a short age difference we are now able to go on vacation together, share a kitchen and forget about the small stuff. I only wish, now that I have finally discovered what a great guy he is, that we did not live that far away from each other as he and his family are in Toulouse, France.
Back to the recipe…I often precook vegetables on the weekends for the days I have late evening training sessions and the last thing I want is to spend one more minute on my feet. I remember I had cooked carrots, broccoli and cauliflower in the hope I'd get around to making pretty vegetable purees or souffles one night…did not happen so when I opened the freezer and found 2 cups of cooked pureed carrots the only thought that came to my mind was "carrot cake"…Eh Doc! At least I am getting my vegetables in…!
I had bookmarked the recipe ages ago and just got around to doing it, killing two birds with one stone by celebrating a birthday and indulging a craving. I decided not to use nuts or other fruit such as pineapple or raisins in the filling because all I wanted to taste was the sweetness of the carrots, but feel free to add them if you fancy them. Thank goodness I ended up giving most of them to the neighbors because I could have easily polished off a whole tray!
Carrot Cupcakes With Cream Cheese Frosting, adapted from Joy of Baking:
Makes 12 cupcakes
2 cups cooked and mashed carrots, cooled
2 cups (280 grams) all-purpose flour
1 teaspoon baking soda
1 1/2 teaspoons baking powder
1/2 teaspoon salt
1 1/2 teaspoons ground cinnamon
4 large eggs
1 cup granulated white sugar
1 cup (240 ml) canola oil
2 teaspoons pure vanilla extract
Cream Cheese Frosting:
1 stick (115 grams) unsalted butter, room temperature
8 ounces (227 grams) cream cheese, room temperature
2 cups (230 grams) powdered sugar, sifted
Preheat oven to 350 and spray a muffin pan with cooking spray. I did not use muffin liners but feel free to do so.
In a separate bowl whisk together the flour, baking soda, baking powder, salt, and ground cinnamon. Set aside.
In bowl of electric mixer, beat the eggs until pale. Gradually add the sugar and beat until the batter is thick and light colored. Add the oil and the vanilla extract. Add the flour mixture and beat just until incorporated. Fold in the carrots and chopped nuts. Evenly divide the batter among the muffin tins and bake 25 to 30 minutes or until a toothpick inserted in the center comes out clean.
Remove from oven and let cool completely on a wire rack before frosting.
Frosting:
In bowl of electric mixer, beat the cream cheese and butter, on low speed, until very smooth with no lumps. Gradually add the sifted powdered sugar and beat, on low speed, until fully incorporated and smooth.
Decorate with nuts or coconut or anything you like.