Chocolate Ice Cream Pops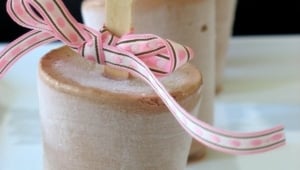 It's hot here…really hot. Leave it to South Carolina to skip spring and go right into summer!
We are starting to crave ice cream…bad! I am impatiently awaiting David's new cookbook, the ice cream maker is all polished and shiny but we need something to cool us down…now! Yes, we could go and buy some but what fun would that be when I can whip this little cuties out?!
The day I made the Banana-Chocolate Bonbons I doubled on the recipe since it was pretty tasty. Turned out that half of the chocolate pudding stayed in the fridge while I tended to other creations. To top things off, we did not really feel like eating it "like that", so I came up with these.
Dark Chocolate Ice Cream Pops:
Chocolate Pudding:
1/2 cup sugar
2 tablespoons cornstarch
4 ounces fine-quality bittersweet chocolate
2 Tb cocoa powder
1 1/2 cups whole milk
1 large egg yolk
1 tablespoon unsalted butter
1/4 teaspoon vanilla
In a heavy saucepan whisk together sugar, cornstarch. Add chocolate and cocoa powder to sugar mixture. In a bowl whisk together milk and egg yolk and gradually whisk into chocolate mixture. Bring mixture just to a boil over moderate heat, whisking constantly, and boil 1 minute, whisking. Remove pan from heat and whisk in butter and vanilla.Divide pudding between two 8-ounce ramekins. Chill puddings in freezer, surfaces covered with plastic wrap, until cooled, about 30 minutes.
1 cup heavy cream, whipped to stiff peaks.
For the pops: once the pudding has cooled, gently fold the whipped cream into it. Pour the batter into 4 ice cram pops, or 4 glasses like I did. Put a wooden ice cream stick on the middle, and freeze until firm.
Easy to make on a hot day and easier to eat on a hotter day!