Dairy Free Starbucks: 9 Best Drinks & 3 Alternatives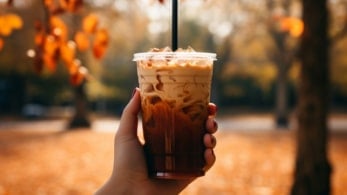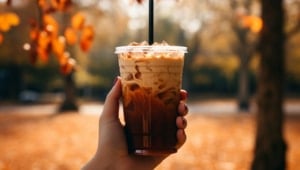 As of 1997, Starbucks first introduced a dairy-free alternative to their regular milk. Nowadays, you can choose from five different alternatives. Find here the best dairy free Starbucks drinks you should try, plus tasty alternatives.
Starbucks began its journey at the now famous Pike Place Market in Seattle in 1971. From there, the first Starbucks sold coffee inspired by the cafes of Italy. In those days, the only dairy free drinks you could get were coffee… without milk. Things have come a very long way for Starbucks since.
What a Dairy Free Starbucks Drink Is
Long gone are the days when a dairy free drink at Starbucks meant a coffee without any milk added to it.
Now, dairy free Starbucks drinks are a selection of coffees, teas, and juices all made without any added dairy milk or with the addition of a plant based alternative.
Flavors and Ingredients of a Dairy Free Starbucks Drink
Good news: dairy free Starbucks drinks are available in every flavor you'd expect from a regular dairy milk variety. With the introduction of their dairy free, plant-based milk alternatives, the world is your oyster when it comes to picking drinks.
The flavors depend a little on the type of plant based milk you choose. Soy milk tends to be a little lighter and taste fairly watery, while almond milk is very creamy and nutty.
Oat milk is a nice in between, which is neither too light nor too heavy. Coconut is an obvious choice for fans of more tropical flavors. Starbucks' own original nut blend is probably the closest alternative to regular dairy milk.
What Types of Plant Based Milk Starbucks Uses
Starbucks offer soy milk, coconut milk, oat milk, almond milk, and their own original nut blend. The latter is made using a special mix of light rice milk, sweet hazelnuts, and creamy cashew nuts, giving it an appearance of regular dairy milk with subtle flavors of chocolate and nuts.
Best Dairy Free Drinks at Starbucks
You can make nearly any Starbucks drink dairy free by substituting any milk for one of the plant-based alternatives. With that said, some drinks are better than others with these substitutions.
Some are also already on the menu as delicious dairy-free varieties of their own. Below are some of our favorite dairy free drink choices at Starbucks, along with details such as calories, special ingredients, amount of caffeine, and more.
Hot Dairy Free Starbucks Drinks
Starbucks are well-known for their delicious coffee-based hot drinks. Both the regular and flavored varieties are great. Here are a few of the best ones. Have them as-is or modify them with your favorite plant-based milk or choice of roast.
Apple Crisp Oatmilk Macchiato
The Starbucks apple crisp oat milk macchiato is a sumptuous Fall-time drink. It combines steamed hot oat milk with apple brown sugar flavoring, two shots of blonde espresso roast coffee, and a drizzle of spiced apple syrup.
Delicious, but at 320 calories for a grande cup, quite a hefty treat. It's modest on the caffeine, however.
Honey Almondmilk Flat White
This yummy drink will only set you back around 170 calories for a grande.
It's made with steamed hot almond milk and sweetened with Starbucks' signature honey blend syrup. It contains three shorts of ristretto using their blonde espresso roast, so expect a big hit of caffeine.
Oleato Caffé Latte with Oatmilk
The oleato caffé latte with oat milk is made with steamed oat milk, two shots of blonde espresso roast coffee, and Starbucks' signature oleato infusion.
Oleato, in case you're unfamiliar, is Starbucks coffee infused with extra virgin olive oil, which makes your drink even more smooth and creamy. It does give the grande size 330 calories, but it's worth it.
Cold Dairy Free Starbucks Drinks
Let's be honest, who doesn't love a Starbucks frappuccino? You might be wondering what your options are when it comes to dairy-free Starbucks. The good news is you can have (almost) anything on the menu made with plant-based milk alternatives. Below are our favorites.
Iced Brown Sugar Oatmilk Shaken Espresso
As far as cold drinks are concerned, the iced brown sugar oat milk shaken espresso is one of Starbucks' most diet-friendly ones.
It only contains about 120 calories for a grande, less if you opt for a smaller version. This refreshing coffee-based drink contains oat milk, brown sugar syrup, three shots of blonde espresso roast coffee, and a dusting of cinnamon powder.
This is a very caffeinated drink and certainly not for faint-hearted coffee lovers.
Pink Drink with Coconut Milk
Starbucks' own 'pink drink' is a popular option for those hot summer days. It's made with coconut milk, ice, and a scoop of freeze-dried strawberries.
At only 140 calories for a grande this is a diet-friendly, caffeine-free cool drink option. If you don't like coconut milk, it's just as lovely with soy or oat milk.
Espresso Frappuccino
Just pick your favorite vegan milk and the barista will blend it with a shot of espresso and some frappuccino syrup.
A grande will set you back around 210 calories, less if you pick a lighter milk like soy instead. This particular frap really lets the coffee flavors shine through and isn't particularly sweet — great for coffee lovers.
It's not too strong on the caffeine content, though. Don't forget to ask for it without whipped cream to make it completely dairy free.
Seasonal Dairy Free Starbucks Drink
Starbucks seasonal drinks have a huge fanbase, especially when it comes to their Fall-time treats. They're delicious, warming, and you definitely don't want to miss out on them.
Here are a few of our favorite dairy-free varieties.
Modified Pumpkin Spice Latte
The standard pumpkin spice sauce sadly contains sweetened condensed milk. With that said, you can ask for an almond milk latte (or another plant-based milk of your choice) and pumpkin spice topping.
This will essentially just give you a sprinkling of spices, but it's the closest you'll get to a PSL unless you make it yourself at home. In that case, you can make your own syrup using just pumpkin puree and sugar.
Apple Crisp Oatmilk Macchiato
A grande apple crisp oat milk macchiato has around 320 calories, but it's well worth it for a delicious Fall-time treat.
This hot seasonal drink is made with steamed oat milk, apple brown sugar flavoring, two shots of blonde espresso roast coffee, and a sprinkling of spiced apple drizzle. This drink contains a moderate amount of caffeine.
Sugar Cookie Almondmilk Latte
Sugar cookie almond milk lattes sound heavenly – and they are. A grande has just 180 calories to boot, making it a great diet-friendly treat.
These are made with just steamed hot almond milk and two shots of blonde espresso roast coffee, as well as Starbucks' own sugar cookie syrup. It also comes with yummy red and green sprinkles on top, making it sweet and festive.
Dairy Free Starbucks Drinks off the Menu
If you've never heard of Starbucks' 'secret' menu, you've missed out.
While this menu isn't actually printed anywhere, you can order the drinks below by asking for specific ingredients. Start with these extra special ones, then work your way through the rest of this worst-kept secret.
Peppermint Matcha Latte with Oatmilk
To get this delicious drink, all you need to do is order an oat milk matcha latte with peppermint syrup. It's that simple. Regular matcha lattes contain three scoops of matcha powder, ice, and your favorite milk.
A grande will be around 200 calories, less if you're opting for a light milk such as soy. Matcha is also less caffeinated than regular coffee, great if you're watching your caffeine intake.
Purple Drink
This secret menu drink is deliciously refreshing and totally vegan. Have your barista create it for you by mixing passion iced tea with soymilk, vanilla syrup, and a few scoops of blackberries.
It looks beautifully purple, and tastes like a summery treat. It's also low on caffeine, perfect for later in the afternoon.
Blue Drink
The 'secret' blue drink is easily ordered at Starbucks: just ask for a passion iced tea with soy milk and vanilla syrup. This makes it pretty similar to the purple drink, but with a smurfy kind of color. This cool drink has very little caffeine, is super refreshing, and just fun to have.
Healthy Alternatives to Dairy Free Starbuck Drinks
If you're following a dairy free diet and also want to eat and drink healthier overall, you may want to check out some healthy alternatives to Starbucks, too. Below are some of our top healthy drinks you can get from popular shops and cafes in America.
Jamba Juice
Jamba Juice are known for their delicious smoothies and juice drinks. The Jamba Go Getter offers a good hit of caffeine while being a dairy-free alternative to your favorite coffee.
It contains matcha green tea, Jamba's vegetables and fruit juice blend, mangos, kale, and orange juice.
Booster Juice
Booster Juice is another brand of yummy smoothies. Their Tropi-Kale juice is made from a mix of kale, mangos, bananas, apples, and pineapple.
You can also add some of their 'super boosters' to your favorite drink, including whey protein, hemp hearts, collagen powder, chia seeds, or pea protein.
Top tip: if you prefer one of their dairy-based smoothies, you can ask Booster Juice to substitute for oat or almond milk at no extra charge.
Kung Fu Tea
Kung Fu Tea offer a variety of both hot and iced cold teas with alleged health benefits. For example, their Longan Jujube Tea is said to be based on Chinese traditional medicine, helping fight fatigue, insomnia, and even anxiety.
Their oolong tea is another popular traditional tea variety, which is said to be good for your dental health and bones, as well as your heart and brain.
Recipe and Tips: How to Make a Dairy Free Starbucks Drink at Home
If you prefer making your Starbucks drinks at home, you're in luck. There are hundreds of copycat recipes online that will allow you to make something that tastes just like Starbucks — with your own favorite dairy free ingredients.
Below are some of our favorite tips and hacks for making a dairy free Starbucks drink at your home.
Add Delicious iÍngredients
Make your own Starbucks ingredients at home with their own delicious recipes. Starbucks publish quite a few of their own 'copycat' recipes for your enjoyment.
One of our favorites is for caramel syrup, which you can stir into drinks or use to top them. To make this, mix 1 cup of sugar with ¼ cup of water.
Gently heat until the sugar has fully dissolved, then boil for two to three minutes. Stir and simmer until your syrup resembles honey.
Remove from heat, and carefully add ½ cup of hot water and one tablespoon of vanilla extract. Stir and enjoy.
Use Starbucks Flavored Non-Dairy Creamers
Did you know that Starbucks sell non-dairy creamers in a variety of delicious flavors? So you can easily make your own Starbucks drink at home.
Their flavors include such delicious varieties as pumpkin spice flavor, hazelnut flavor, and caramel flavor. They're made with almond milk and oat milk, coconut oil, and natural flavors.
Use Starbucks Coffee Beans
You can readily buy Starbucks coffee beans at their shops and online. Everything's there from seasonal flavors, such as the always loved pumpkin spice coffee, to different whole bean roasts, and even readymade cold brews.
There's also instant coffee, if you want to have the full Starbucks experience at home without a fancy coffee machine.
Top tip: there are many alternatives available online and in stores. Canyon instant coffee, Mount Hagen instant coffee sticks, and Verve coffee roasters are said to be among the best.
Dairy Free Food at Starbucks
Starbucks don't just offer dairy-free drinks, they also have a great selection of dairy-free and vegan foods. They have plenty of bakery items and breakfast foods available, as well as some dairy free lunch options.
Bagels
The 'everything' bagels, plain bagels, and cinnamon raisin bagels are all dairy-free and vegan. If you visit Canada, you'll also get the option of a vegan sprouted grain bagel. You can enjoy these plain or with an organic avocado spread, hazelnut butter, or almond butter.
Loaf Bakes
If you enjoy a little bit of cake with your coffee, Starbucks have a delicious selection of dairy free varieties. These include their banana walnut & pecan loaf and their pumpkin & pepita loaf.
They are also trialing a vegan dark chocolate fudge brownie, which could be available soon.
Breakfast
You can get delicious dairy-free and vegan breakfast options at Starbucks alongside your coffee. Enjoy their rolled & steel cut oatmeal or their seasonal fruit blend.
The patty on the impossible breakfast sandwich is also dairy-free, though unfortunately nothing else on the sandwich, including the bread, is.
You might also be interested in...