Dunkin Donuts Refreshers: 15 Best Drinks & 7 Tips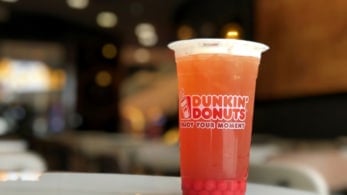 Are you wanting to find the best drinks at Dunkin Donuts? There are so many amazing menu items to try, it can be hard to choose. Plus, there are a few tricks to know to help you get just what you want. Here you will find out which dunkin donuts refreshers are the best plus valuable tips.

Luckily, we can help you out with this complete guide. You won't have any trouble finding the best refreshers, other delicious beverages, and ordering the right drink for you. We've got all covered, including:
What exactly Dunkin Donuts Refreshers are
The different flavors available, their ingredients, and calories
Whether or not Dunk Refreshers contain caffeine
The 8 best Dunkin Donut Refreshers on the menu
The different types of drinks you should try at Dunkin Donuts
Our top tips to reduce the calories on your drinks
Healthy drinks from Dunkin Donuts
Our top 4 alternatives to Dunkin Refreshers.
Let's jump right in.
What Dunkin Donuts Refreshers Are
Refreshers are delicious iced drinks available from Dunkin Donuts, which come in a variety of fruit-based flavors. They have a green tea base, mixed with concentrate and sweeteners creating a complex amazing taste.
They are perfect for a hot day, a long car ride, or a pick me up at any time – and they pair well with the food on offer as well.
Flavors in Dunkin Refreshers
The current Dunkin Refresher flavors are Mango Pineapple, Peach Passionfruit, and Strawberry Dragonfruit. These rotate all the time and vary based on location, so keep an eye out for these and more at a Dunkin near you.
The flavoring comes from the fruit-flavored concentrate in the drink. There are lots of flavors on offer and they're very popular, so you're sure to find something you like.
Ingredients
Dunkin Refreshers contain brewed green tea, ice, and the flavor concentrate. The concentrate varies slightly between flavors but typically includes water, sugar, citric acid, green tea extract, fruit juices, and occasionally natural coloring.
The refreshers also come with a healthy and tasty energy boost from B vitamins. These are vital for metabolic functioning, and help you release the energy from your food, so it's a great idea to get an influx of them with your meal.
Calories
The calories in a Refresher vary based on the size of the drink and can vary slightly between the different flavors. On average, a small has 90 calories, a medium has 130, and a large has 170.
While these drinks do have sugar in them (necessary for their amazing taste) the calorie count is not bad for a sweet drink and less than a Coke or similar soda of that size.
Do Dunkin Refreshers Have Caffeine?
All Dunkin Refreshers have a green tea base and contain green tea extract – so yes, they are caffeinated. A small drink has approximately 66 milligrams of caffeine in it, a medium contains around 99 milligrams, and a large has around 132 milligrams.
This caffeine content is perfectly within daily recommendations, as long as you're not having more than two in a row.
The caffeine, along with the B vitamins, is what makes refreshers give you that boost. If you're not after caffeine, no worries: Dunkin Donuts has a wide selection of caffeine-free beverages available.
You can also reduce the caffeine content in your drink by opting for coconut milk or lemonade in place of green tea.
Best Dunkin Donut Refreshers on The Menu
Now that you know a bit about these delicious drinks, here's a rundown of all the amazing flavor combinations you can try. Have fun sampling all the core choices on the menu, and mix it up to your liking by subbing out the green tea base.
Swapping to coconut milk makes your drink more creamy and satisfying (while still being easy on the stomach), while the lemonade option makes for a tarter and thirst-quenching treat.
Mango Pineapple Refresher
The Mango Pineapple Refresher is a tropical delight, blending the flavor of those two juice fruits beautifully with the green tea, making for a sweet and relaxing drink.
This fan favorite was off the menu for a while but is now back as a permanent option, so you'll be sure to get a chance to try it. Its vibrant orange color is the perfect match for sunny day vibes, and it's sure to give you the fruity boost you need in your day.
Mango Pineapple Coconut Refresher
If you're wanting to take the tropical feeling to the next level, try swapping the green tea base for coconut milk. Who knew you could get a (virgin) piña colada from Dunkin Donuts?
This creamy dream gives you all the indulgence with fewer calories and a healthy natural energy infusion from the B vitamins in the beverage.
Mango Pineapple Lemonade Refresher
Take things in the other direction and add some sour to your sweetness. The lemonade version of this drink adds delicious fresh notes that complement the tartness of the pineapple, without sacrificing any of the sugary goodness.
This drink is perfect for a hot day, and hydrates and refreshes you without too much caffeine.
Peach Passion Fruit Refresher
This Refresher is a little more subtle in flavor – if you're after a calm, sippable drink this could be the choice for you. That's not to say it's not still delicious.
The sweet suppleness of the peach flavor is perfectly paired with the tarter, tropical passionfruit making an interesting and scrumptious combo. Plus, peach iced tea is a classic for a reason.
Peach Passion Fruit Coconut Refresher
Adding in coconut milk makes for the perfect cool sweet treat, and looks scrumptious as well. When you choose this option, the sunset pinky orange of the standard drink is transformed into a light orange delight.
This would be a great option for a drink later in the day: less caffeine, and an aesthetically pleasing creamsicle-colored drink to finish off your day.
Peach Passion Fruit Lemonade Refresher
The lemonade version of the Peach Passion Fruit Refresher is a zesty, fruity indulgence. This drink is perfect because when you're thirsty, lemonade is a classic go-to beverage. Why not enhance the classic with the complex fruiting notes you'll get in this crafty concoction?
Strawberry Dragonfruit Refresher
This Refresher is an absolute classic and is a super popular choice for a Dunkin drink. The sweet summery flavor of strawberries and the wilder punch-packing dragon fruit combine into a taste bud-tingling explosion. Hydrating, energizing, and totally delicious: what more could you ask for?
Strawberry Dragonfruit Coconut Refresher
Strawberry and cream is a classic flavor combo, and this drink looks adorable as well. While the sunset deep magenta color of the standard refresher looks amazing anyway, it can't beat this super-cute light-pink version.
This beverage is reminiscent of strawberry ice cream with an underlying tropical tinge from the coconut and dragonfruit, making it a top choice for any Dunkin's lover.
Types of Dunkin Donuts Drinks You Should Try
If you're not in the mood for a Refresher, Dunkin Donuts has lots of other beverages on offer. Whether you're in the mood for hot or cold, caffeinated or not, there's sure to be something for you.
Some of the most popular options are coffee drinks, specialty drinks, and Coolattas.
Coffee Drinks
Dunkin is known for its coffee and naturally has loads of different options to choose from. You could keep it simple with a standard cup of joe fresh out of the pot, or you could get something a little fancier such as a latte, or macchiato.
There are also plenty of cold coffee options, including a frozen blended coffee for those wanting a real chill.
Specialty Drinks
Looking to treat yourself? Why not try one of Dunkin Donuts' signature iced lattes. These creamy and caffeinated warming beverages are topped with a luxurious helping of whipped cream and syrup and come in two flavors: Caramel Craze and Cocoa Mocha.
If you're wanting all the sweetness but none of the heat, you can get either flavor in the iced variety as well.
Coolattas
If you want something delicious and cooling but not so caffeinated, you've got to try a Coolatta. Dunkin Donuts take on the slushy with these scrumptious blended beverages, and they're sure to brighten your day. They are available in three flavors: Blue Raspberry, Strawberry, and Vanilla Bean.
Tips to Get Low-Calorie Drinks at Dunkin Donuts
If you're trying to stay on the lower-calorie side of things, that doesn't mean you can't still enjoy a beverage from Dunkin Donuts.
One great thing about their menu items is that almost all of them are customizable, so you can get the same drinks you know and love and just swap a few things around to cut off some calories. With these tricks below, you'll be able to enjoy an amazing and tasty treat – guilt-free.
Go for Drinks Without Whipped Cream or Drizzles
While the whipped cream and drizzled syrup adorning many Dunkin drinks look amazing, they do add quite a few calories without doing much to alter the flavor of the drink itself.
This might mean opting for the standard iced latte rather than the signature iced latte, or simply asking for the cream and drizzle to be left off.
This simple trick won't affect the taste of your favorite drink at all, plus it'll make it easier to drink without the messy toppings getting on your nose or spilling down the sides.
Opt for Skim Milk or Plant-Based Milk Instead of Cream
If you're after a milky coffee, take advantage of Dunkin's numerous substitution options to cut some of the calories out of your creamer. Swap out cream or whole milk for skim or a plant-based alternative. Out of the plant-based options, coconut milk shaves off the most calories.
Almond milk gives you the same calorie count as skim, but watch out for coconut: while it is a healthier option, it contains more calories than other alternative kinds of milk.
Choose a Small or Medium Size Instead of a Large
Less is more. If you're wanting to enjoy an unaltered drink from Dunkin, especially one that's sugary or super creamy, try moving down a size or two. This way you can have exactly what you want, while still massively reducing the calorie count.
Ask for Less or No Added Sugar or Syrup
Many of Dunkin's drinks offer add-ins of flavored syrup and sugar, and you might have gotten used to selecting these sweeteners when ordering.
Try the drink without the add-ins: it will still taste pretty close to what you're used to, but you'll save a lot of calories without the extras. One thing to keep in mind is that the flavor options are already sweetened, so if you do treat yourself to a syrupy drink there is definitely no need to add sugar as well.
Select a Drink With Less Milk
An easy way to avoid these add-ins is to just order a drink that doesn't include them. For instance, swapping your iced signature latte for an iced Americano saves you a whopping 400 calories on one drink alone. This is based on the Dunkin menu preset options for a medium size drink of each type.
Stick to Black Coffee or Unsweetened Tea
If you're really trying to crack down on calories, stick to the basics. A medium cup of black coffee has only five calories, and a cup of tea doesn't have any.
Keeping your drink choices simple is by far the biggest way to avoid calories from beverages, and there's certainly no need to do it all the time either. Even once in a while will cut down on your calorie intake.
Avoid Sweetened Frozen Drinks and Flavored Lattes
The super-sweet frozen drinks and big-flavored lattes are the biggest calorie culprits on the menu, so you may want to steer clear of them.
Frozen blended drinks are the most calorie dense of the bunch. The frozen chocolate with french vanilla swirl comes in at 900 calories, and the frozen coffee with caramel swirl comes in at a staggering 1120 calories.
Good Healthy Drinks You Can Order at Dunkin Donuts
Luckily, there are plenty of drink options on the menu that don't pack a calorie punch. You can definitely still enjoy a beverage from Dunkin without having to worry about your calorie intake.
Here are some top choices for healthy drinks.
Americano
An Americano is two shots of espresso and hot water, leading to a delicious energizing drink that is good for you as well. You can get these beverages iced as well if you're wanting something cold. Both versions come to just 10 calories for a medium or large, and only 5 for a small.
Breakfast Black Tea
This simple warming beverage is sure to charm your taste buds and lift your spirits. It'll also give you a boost of caffeine-induced energy if you want, but you can opt for decaf instead if that's more your speed.
Dunkin offers a range of other teas as well, including chamomile, herbal, and green. All tea options are calorie-free.
Hot Cappuccino
Steaming hot coffee and creamy frothed milk: what more could you ask for? The cappuccino is a great choice for those wanting a slightly more decadent beverage while still keeping their health in mind.
Choosing a smaller size and skim milk can bring the calorie count of this beverage to below 50, but even if you go for the largest size and whole milk it's still under 200 calories.
Hot Chocolate with Espresso
If you're craving a sweet coffee drink, try getting the espresso version of Dunkin's signature hot chocolate. This drink blends cozy hot chocolate with energizing caffeine in a mocha marvel and is lower in calories than any other chocolatey coffee on the menu.
The small size comes out to a little under 200 calories, with the medium being just under 300. You can also go for a classic hot cocoa if you don't feel like coffee.
Black Cold Brew Coffee
Slow brewed overnight in cold water, this black coffee tastes more full-bodied than other iced coffees and is super good for you. It comes out at just five calories on its own. If you're craving a little richness, you can choose to add cream as well, and it's still only 90 calories.
Hot Black Dark Roast Coffee
You can't go wrong with a classic cup of coffee. Dunkin's fresh-brewed black coffee, made from Arabica beans, is sure to warm you up and give you an energy boost. The coffee comes in at only five calories, regardless of size.
Unsweetened Iced Tea
If you're after a refreshing beverage and a caffeine boost, you can't go wrong with an iced tea. Unfortunately, sweet tea tends to be loaded with sugar, but you can just opt for an unsweetened iced tea or green tea.
On their own, these teas come out to only five calories. You can also add in blueberry or raspberry flavor for an extra treat, which only adds 10 calories.
Alternatives to Dunkin Refreshers
Don't have a Dunkin Donuts near you, or just looking for other options to sample? Lots of places have drinks similar to Refreshers, so if you're after an amazing thirst-quenching treat there's sure to be one around.
No guarantees they'll be better than Dunkin's though.
Starbucks Refreshers
Starbucks Refreshers are a popular drink, known for looking and tasting amazing. Choose from Strawberry Acai, Pineapple Passionfruit, and Mango Dragonfruit to find your perfect beverage.
You can also add lemonade to any of them for a tart kick, or coconut milk to transform them into the iconic "Drinks".
Jamba Juice Smoothies
Jamba Juice smoothies are sure to hit the spot if you can't find a Refresher. They have near-endless smoothie options, so you're sure to find that fruity delight in any flavor you could want. They also offer cold brew coffee or matcha.
Smoothie King Smoothies
Smoothie King is another great choice, boasting a wide range of healthy smoothies. You can add protein powder and other supplements as well to really get the most out of your drink. Or, opt for one of their Feel Energized Blend range, and get your coffee and smoothie in one for the ultimate pick-me-up.
Robeks Smoothies
Robeks is another great and super healthy choice. Choose from any one of their smoothies ranges, classic, health-boosted, added protein, and many more. They also offer a range of toasts if you're feeling peckish, such as banana-peanut-butter or avocado and egg, as well as smoothie bowls.
You might also be interested in...