5 Best Pumpkin Spice Syrups + 3 Tips For DIY Syrup (+ Recipe)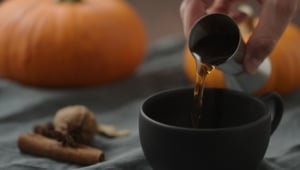 If you've ever had Starbucks' famous pumpkin spice latte, you'll likely be counting down the dates to it every year like the rest of us. Pumpkin Spice Syrups are not only delicious, but also versatile. Learn here which syrups are the best.
Pumpkin spice blend is actually over 200 years old. It was first mentioned in an American cookbook by the simple name of American Cookery. The author described a mixture of either ginger and nutmeg or allspice and ginger to use in the blend.
Fast forward to the early 2000s, and Starbucks begin their conquest: They sell millions of pumpkin spice flavored drinks internationally each year from then on. Yet, while it may seem like an incredible marketing coup on behalf of the best-known coffee house in the world, it's actually quite easy to make at home.
What Pumpkin Spice Syrup Is
If you've read our piece on simple brown sugar syrup you're already half-way there. Pumpkin spice syrup is a flavored version which adds vanilla, cinnamon, cloves, ginger, and nutmeg. You can add a little bit of canned pumpkin purée to the mix to make it taste like actual pumpkin pie.
Ingredients of Pumpkin Spice Syrup
1 cup brown sugar (2 cups if you're wanting a thicker, longer lasting syrup)
1 cup water
1 tsp vanilla extract or one whole vanilla bean
1 tsp finely-ground cinnamon
1/4 tsp finely-ground cloves
1 tsp ginger a dash of nutmeg
Optional: 2 tbsp canned pumpkin purée
Recipe: How to Make Pumpkin Spice Syrup Yourself
Similarly to other types of sugar-based syrups, pumpkin spice syrup is made by combining your brown sugar and water in a saucepan and boiling gently.
You can either mix the sugar and water base at a ratio of 1:1 for a thinner syrup or 2:1 for a heavier, longer-lasting syrup. A 1:1 syrup will last a good month in the fridge, while a 2:1 syrup will be good for up to six months before it begins to turn cloudy.
Bring your syrup to a boil before reducing the heat to a simmer for about 10 mins. Add the spices, bearing in mind that coarser spice powders will add a degree of graininess you may not want. If you enjoy a spicier syrup, you can add 2 tablespoons of ginger instead of one.
Adding canned pumpkin purée will give a more authentic pumpkin flavor rather than just spice, but it will also make your syrup a little thicker.
Once the syrup has boiled down to a smooth consistency and there are no sugar grains left, remove any optional vanilla pod. Then leave it to cool. When it has reached room temperature it can be transferred to an airtight jar or bottle and refrigerated.
The Best Pumpkin Spice Syrups
With the dawn of the Starbucks pumpkin spice latte more and more companies are selling their own. Whether you're looking to make your own delicious coffee-concoction at home or want a sumptuous condiment over pancakes or waffles, it's all good.
Below is a list of some of the best pumpkin spice syrups out there.
Torani Pumpkin Spice Syrup
Made using natural flavors and pure cane sugar, popular syrup brand Torani's pumpkin spice syrup is very popular. It's great as a seasonal additive to coffees and hot chocolate. Some find the spice flavors of this syrup more subtle, so if you're looking for a softer flavoring, this is the one for you.
Monin Pumpkin Spice Syrup
Sugar, water, natural pumpkin, clove and cinnamon make this a fairly healthy option for those who like to stay away from artificial flavors.
Monin has long been a popular syrup brand and this syrup is no exception. It's a little less sweet than others and subtly spiced. It is, however, a popular choice for replicating pumpkin spice lattes at home.
Maison Routin 1883 Premium Pumpkin Spice Syrup
Routin's premium pumpkin spice syrup is a little pricier than its competitors but you get more spices in it. This pumpkin spice blend contains cane sugar, water, and natural flavors including cinnamon, ginger, nutmeg, and clove.
It smells and tastes delicious and is a bit heavier on the spices overall, meaning a little goes a long way.
Tate & Lyle Pumpkin Spice Syrup
Tate & Lyle's pumpkin spice syrup uses fairtrade sugar, which makes it a great choice for conscientious buyers. It also uses sugar and natural flavoring, making it a good option for those wanting to steer clear of artificial syrups. It's a popular syrup in online shops, while also being budget-friendly.
Sweetbird Pumpkin Spice Syrup
Sweetbird's pumpkin spice syrup is made up of sugar, water, and flavorings. It's not the most natural you can get, but it is budget-friendly and vegan.
This pumpkin spice syrup is particularly sweet but also very flavorful, making it a great choice for coffee. It's also a top tip for Starbucks lovers, as it does taste very similar to the real thing.
Recipe Tips To Make Your Pumpkin Spice Syrup Even Better
If you're wanting to treat yourself to some delicious yet budget-friendly pumpkin spice syrup, we have all the tips you need. Simply follow the recipe above and tweak it to suit your taste.
For example, you can use a ratio of 1:1 for a thinner syrup better suited to adding into drinks. Or use a 2:1 ratio of sugar to water for a thicker syrup that will stay good in your refrigerator for up to six months.
Tips for Homemade Pumpkin Spice Syrup
You can experiment with adding more or less of the spices on the ingredients list. More ginger will make for a spicier, more warming syrup.
More clove and cinnamon will give you a more festive-tasting concoction. Adding pumpkin purée will give you something pretty close to Starbucks' own pumpkin spice latte syrup. Substituting sugar with sweetener will make a calorie-friendly option.
Use Substitutes For a Sugar-Free Syrup
Using sugar substitutes such as erythritol will result in a low calorie, sugar-free syrup. To thicken the syrup, you'll also need to add a little bit of xanthan gum powder.
Obviously this will make your syrup less natural than using brown sugar, but it's a great alternative for diabetics and those following a sugar-free diet.
Experiment with Different Spices
Remember the 200-year-old American cookery book? Why not experiment with different spice mixes such as ginger and nutmeg or allspice and ginger. Alternatively, you could try adding vanilla essence or a whole vanilla pod. Just remember to remove this before bottling.
Adding finely ground pepper for added warmth, some mild chili for an addition to hot chocolate, or orange peel for a citrusy kick are all great ideas too.
Replicate Starbucks' Own Pumpkin Spice Syrup
It sounds too good to be true, given they don't sell their syrup in any of their cafes. But Starbucks actually give instructions on their website for how to make your own pumpkin spice syrup that's very similar to the real thing.
Just combine 1.5 cups of brown sugar with 1.5 cups of water, six cinnamon sticks, a teaspoon of cloves, a teaspoon of ginger, two teaspoons of ground nutmeg, and four tablespoons of pumpkin purée.
Simmer until all of the sugar has dissolved after about 10 minutes and remove the cinnamon sticks. Voila, pumpkin spice syrup a la Starbucks.
How to Use Pumpkin Spice Syrups: Popular Drinks and Food
Pumpkin spice syrup is a delicious addition to both drinks and food. It's a wonderful way of bringing on the Fall weather and those cooler, darker evenings.
Below we delve into some of the top drinks and foods you can enjoy with pumpkin spice syrup. You'll want to make a big batch of syrup after reading these.
Pumpkin Spice Syrup for Coffee
If pumpkin spice lattes aren't your favorite, pumpkin spice syrup may still be a great addition to your coffee.
Adding a few tablespoons of homemade pumpkin spice syrup to an americano or a frothy cappuccino will make them extra delicious. Similarly, pumpkin spice syrup tastes great in iced coffees or even coffee-based desserts.
Pumpkin Spice Latte
Going back to that well-loved Starbucks favorite, pumpkin spice lattes are an obvious choice for coffee fans. Their own recipe suggests mixing a cup of whole milk, 1 oz of espresso, and three tablespoons of homemade pumpkin spice syrup.
Garnish with half a cup of whipped cream and a pinch of pumpkin pie spice mix. Delicious.
For Muffins and Cupcakes
If you want to experience the spicy flavors of pumpkin spice syrup in baking, it's simple: Just follow your favorite muffin or cupcake recipe and add a few tablespoons for flavor.
Another very clever trick is baking your cupcakes first before adding a few tablespoons of syrup to soak through the sponge. This will give your baking extra moistness and flavor.
For Frosting to Use On Baked Goodies
This one is very simple but effective: Just whip up your favorite frosting and add some pumpkin spice syrup for a decadent treat.
For an exceptional frosting, whip 1 cup of softened butter with 4.5 cups of powdered sugar and 4-5 tablespoons of heavy cream. Gently add in the pumpkin spice syrup for a delicious topping you can use on cakes, cupcakes, and muffins.
Add a few tablespoons of extra strong espresso for the ultimate pumpkin spice latte baked dessert.
For Waffles and Pancakes
The ultimate Fall-time breakfast treat: Waffles. Simply follow your waffle or pancake recipe of choice. Serve hot with lashes of butter and pumpkin spice syrup. For the ultimate decadence, add some pecan nut ice cream. Enjoy with a mug of hot coffee on the side.
For Pumpkin Pie
Pumpkin pie is delicious on its own, especially around Thanksgiving. Yet adding pumpkin spice syrup brings it to another level entirely. For the best dessert, simply add the best vanilla or pecan ice cream you can find to your serving of pumpking pie. Then drizzle everything with homemade pumpkin spice syrup.
Health Benefits of Pumpkin Spice Syrup
It may sound like the most decadent of treats, but pumpkin spice syrup actually offers some health benefits.
While sugar is arguably never high on the list of healthy ingredients, many of the spices and even the pumpkin purée are. Below we look at some of the top health benefits you'll get to reap when enjoying your freshly homemade pumpkin spice syrup.
Antioxidants for Your Health
Pumpkin is a great source for antioxidants that might help in reducing risks of chronic diseases. They're also particularly nutritious and rich in vitamin A, lutein, and zeaxanthin.
Vitamins are said to help boost immunity, so it's not only especially yummy to drink in the colder months, it's also beneficial.
Can Kill Harmful Bacteria
Spices such as clove and ginger can help ward off harmful bacteria. Clove is particularly antibacterial, as well as containing high levels of valuable nutrients and antioxidants. Ginger is helpful at fighting lung diseases and even some forms of heart disease.
May Improve Mental Health
It may sound a little unrealistic, but warm drinks with pumpkin spice syrup are actually associated with improved mental health.
The reasoning behind this is simple: Strong smells are often embedded in memory. While the warm drinks make you feel cozy, the associated unique flavor and smell will bring back that feeling of warmth and happiness time and time again.
Pumpkin Spice Drinks You Can Get at Starbucks (+ Calories)
You can't buy pumpkin spice syrup at Starbucks, but they do share their own recipe quite readily. You'll find more on that earlier on in this article.
If you're craving a Starbucks-own, below are the top three Starbucks drinks you simply must not resist. There are some options that are a little heavier on the calories, as well as some diet-friendlier ones.
Pumpkin Spice Latte
An original grande-sized pumpkin spice latte at Starbucks will set you back about 390 calories. For that, you get a delicious frothy, milky drink with pumpkin spice syrup, whipped cream and pumpkin spice topping.
Top tip: You can order this at 'kid's temperature' so it's not so piping hot and drinkable as soon as you get your hands on it. You can also customize it with different coffee roasts. Or swap the regular cow's milk for oat milk for a healthier, vegan alternative.
Iced Pumpkin Spice Latte
Among the most enjoyable drinks Starbucks has ever created is the iced pumpkin spice latte. Much like the above, but shaken over ice to create a cool and refreshing drink. This one is perfect on those rare warmer Fall days. Besides, it's only 370 calories, making it slightly more diet-friendly than the original.
Pumpkin Cream Cold Brew
A grande pumpkin cream cold brew is only about 250 calories, yet no less delicious than the iced latte. It's essentially an iced cold brew with vanilla syrup, pumpkin cream cold foam, and Starbucks' signature pumpkin spice topping.
It's another refreshing option for a warmer day, and also packs a lot more caffeine for those who need it.
You might also be interested in...