Grapefruit And Pomegranate In White Tea Jelly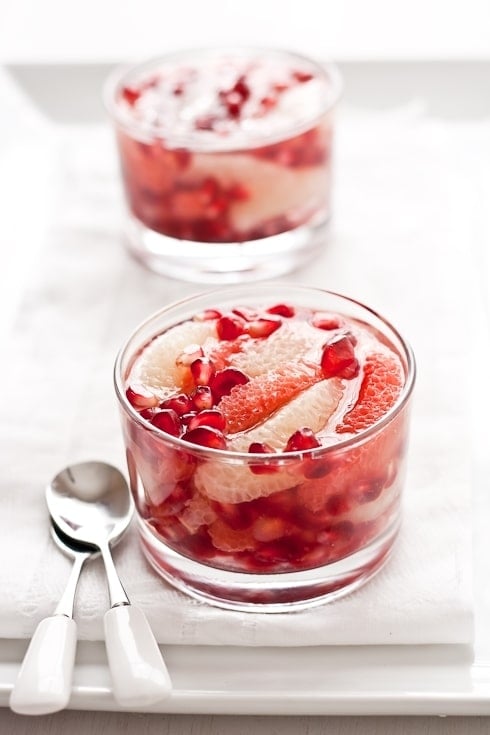 I hope that those of you celebrating Thanksgiving last week got to spend some quality time with their family and friends. Maybe there were a few odd moments and uncomfortable silence but heck, that's family dynamic right?! Our holiday was kind of bittersweet. A house full of close friends, kids, games and laughter interrupted by the news of B's uncle passing away the day before Thanksgiving. Lots of time spent on the road visiting relatives and work/gigs that would not take a vacation (except for Thursday of course).
When calm finally found a momentary reprieve on Friday, I looked around at the little bodies running about the house, verrines of Grapefruit And Pomegranate in Tea Jelly being lined up on the table, friends sitting down together and decided to keep the sweet part of bitter closer to my heart.

I've had this recipe and post in my draft box since Friday but have not had much chance to sit down with my thoughts and write something coherent. The first thing I did that morning was to rush out of bed and drink about a gallon of grapefruit juice. My body was obviously gearing up for detox mode. I pretty much spent the rest of the day noshing on grapefruits, oranges, kumquats (citrus season is just around the corner here in the South) and drinking copious mugs of tea. When I get into this mode, I make sure to never run out of anything tart, sour, juicy and fresh (hmm sounds like I could be describing B's sense of humor!).
It's not that we ate a lot, we just ate at odd hours and foods prepared by salt-shaker happy relatives. I know I am not the only one who drank a pond came Friday morning but I always wonder: what type of foods do you crave after a few extras?

It hit me at three in the afternoon that I should turn all these lovely, clean and fresh ingredients into a dessert that we could all enjoy. One of our friends loves those little fruit and jello cups sold at the grocery store and I know from a sure source (his wife) that it's about the only instance he'll be seen with a fruit. I like the concept (I'm French, anything "aspic" related is part of our food DNA) but I don't like the idea of additives, extra sugars and what not. I also like fruit over gelled mass a lot more. Plenty of reasons to make these at home and play a good game of Scrabble while they set.
I packed glasses and other ramekins with a combination of white and red grapefruits, sprinkled a small handful of pomegranate seeds over each of them and poured just enough white tea jelly to seal the deal. After a couple of hours in the fridge, we had the healthiest and most flavorful fruit dessert of the week. Suddenly my feet starting tapping on the floor, I began to giggle and fidget in my seat. My energy was back! So was my brain and the ability to come up with endless possibilities for these! We made a couple of other batches, one with pomegranate juice and one with Grand Marnier for a more festive and grown up version.

Can hardly wait to make these with Spring berries paired with some green or bergamot tea, or Summer stone fruit with some ginger beer or Champagne…

Grapefruit And Pomegranate In White Tea Jelly
Makes 4
Notes:
For a clean presentation, I like to spend some time making sure I properly segment the citrus, removing as much of the white membrane as much as possible. Click here for a good explanation on how to do it.
On the same vibe, pomegranate can make a royal stained mess and if more cleaning is not on your list that day, click here for an illustrated step-by-step.
2 teaspoons powdered gelatin
2 tablespoons cold water
1 bag white tea or 1 tablespoon loose white tea leaves
1 cup boiling water
2 tablespoons sugar (more if you like a sweeter tea)
2 red grapefruits, peeled and segmented
2 white grapefruits, peeled and segmented
1 pomegranate, seeded
In a small bowl, sprinkle the gelatin over the cold water. Reserve.
Steep the tea into the boiling water for 2-3 minutes or to the strength you prefer. Add the sugar and reserved gelatin mixture until both are completely dissolved. Let cool a few minutes.
Divide the grapefruit sections and pomegranate seeds evenly among four glasses or ramekins and pour just enough tea jelly to reach the top.
Refrigerate until set, about 2 to 3 hours.