Chocolate Espresso Mousse Cakes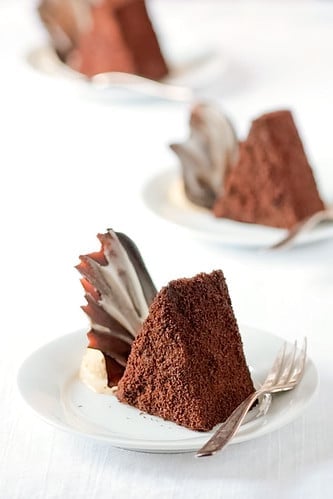 "You sound like you are far away…there are lots of fuzzies on the line", my mom said earlier on the phone as I was standing on the edge of the water watching Bailey timidly dip his paws in the cold marsh.
"Well mom…I am far away…and outside and it's really cold and rainy. That's probably why".
"I know where you are, obviously but what on earth are you doing outside in the rain?"
"I am taking a taking a trip home"
"ugh?…"
"This is picture perfect January Parisian weather, mom. It's cold, it's damp, I can smell the leaves, the grass and I can hear the silence"
"hear the silence. Your grandma used to say that."
Well, I doubt it was bliss, peace of mind, or calm I experienced then as my feet were getting cold and the dog was looping around his leash from boredom but this moment spent outside did make me feel at home for a short while. Mom advised I got in and made myself some coffee, to which I enthusiastically agreed as I had the perfect slice of cake to go with it. Turned the coffee pot on and plated that one little cake I had saved and sat down in front of the fireplace. Then it felt cozy and warm…all the way down to my chilled bones. The temperatures have indeed dipped quite dramatically for the region and I may be the only crazy out there walking with a smile on my face, happy to bundle up in extra layers. It really put me in a mood for chocolate, coffee-ish and/or nutty desserts.

When a friend called asking if I could make a cake for a dinner party of 8 she was hosting, I don't think I even asked her preference. I happily volunteered a moist chocolate cake filled with a silky and rich chocolate mousse with a touch of espresso. I also made a pint of latte ice cream for her to plate with it. A couple days later she called as I was putting the layers in the oven and inquired how the cakes were coming along. I drew a blank, my blood froze solid. "Cakes? How many do you need for 8?!!". She figured that since I like to make individual desserts that I would make petits cakes while I thought since she liked larger cakes that she was expecting one tall cake. Hmmm…since two 8-inch layers were already in the oven I said I'd make eight cakes out of that, somehow.
Instead of trying to cut 16 rounds, fit them into rings and fill with mousse, I went on with my original idea, only slightly modified. Once the layers were baked and cooled, I layered them with the mousse, refrigerated until set, cut the cake in 8 servings and cut off the round edge of each slice so they would stand straight on a plate. I decided to skip an icing of buttercream or ganache as the mousse was already rich. I used the trimmed tops of the cakes instead and I broke these into pieces, dried them in the oven, processed them to fine crumbs and coated each individual gateau with those.
One couple could not make it to the party. Their loss, our choco-espresso bliss…

Chocolate Espresso Mousse Cake Recipe:
Serves 8
For the cake:
1 stick (113gr) butter
1 cup (200gr) sugar
1/2 cup (45gr) natural cocoa powder
2 eggs
1 1/2 cups (185gr) all purpose flour
1 teaspoon (5gr) baking powder
1 teaspoon (5gr) espresso powder
1/2 teaspoon (2.5gr) baking soda
1 cup (250ml) warm water
Preheat oven to 325F. Butter two 8-inch round baking pans, sprinkle some flour into the pans, shake it around and tap the excess off. Line the bottoms with two 8 inch circles of parchment paper. Set aside.
In a mixer fitted with the paddle attachment, mix together the butter and sugar until light and creamy. On low speed, add the cocoa and mix until incorporated. Add the eggs, one at a time, beating well after each addition. Scrape the bowl with a spatula to make sure they are properly mixed in. Add the flour, baking powder, espresso powder and baking soda and mix on medium-low speed while slowly adding the warm water and mix until smooth. Divide the batter between the prepared pans and bake for 30 to 40 minutes or until a toothpick inserted in the middle comes out clean. Let cool to room temperature and unmold the cakes.
Lower the oven temperature to 300F. Level the cakes by trimming the tops off and break them in pieces. Place those on a baking sheet and bake for 15 minutes or until dried. Let cool completely and process them until smooth in food processor. Set the crumbs aside.
For the mousse:
6 oz semisweet chocolate, chopped
1/4 cup (62.5ml) whole milk
1 teaspoon espresso powder
1/2 stick (55gr) butter
1 egg yolk
1 cup (250ml) heavy cream, cold
In a bowl set over a pan of simmering water (make sure that the bowl fits snuggly over the pan and does not touch the water), melt together the chocolate, milk, espresso powder and butter. Remove from the heat and let cool to lukewarm. Whisk in the egg yolk. In a mixer, whip the cream to medium peaks and fold it into the chocolate mixture.
To assemble:
Place one cake layer in a springform pan, top with the mousse and place the second cake layer on top. Refrigerate until the mousse is firm, about one hour. Run a knife dipped in hot water around the edge of the cake and unmold. Use a long knife to cut the cake into 8 slices and make sure to dip it in hot water and wipe it clean each time to get clean cuts. Trim the ends of each slices to obtain triangles. Coat each piece with the reserved cake crumbs.
Serve with ice cream or some whipped cream if desired.