Watermelon & Honeydew Sorbets With Lemongrass Sauce

The reality of the other day's weather hit me like a brick. Chilly and rainy in Paris and hot and humid (doh!) in Charleston which meant only one thing. I'd better post the sorbet combination we had a couple of weeks ago as we are in the tail end of melon season, at least on this hemisphere. I sure hope B. does not run to the freezer after this. The Watermelon and Honeydew Sorbets with Lemongrass Sauce is gone. I may or may not have anything to do with it…
As Fall was creeping up on us in France, I was having to fight my mom on a daily basis as she tried to feed me entire cantaloupes as often as she could. Ok, I am exaggerating. But really, she loves them. Me? I think I overdosed as a child. Don't get me wrong, I like cantaloupe just fine (especially with port and proscuitto) but I'd rather have a thick slice of juicy and ripe watermelon or honeydew at this moment in my life.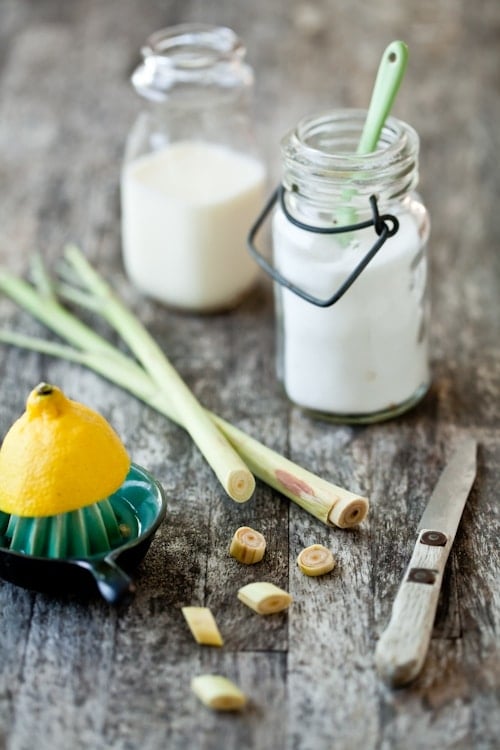 Now turn watermelon and honeydew into sorbets and add a few spoonfuls of lemongrass sauce and well… I am all over that too. My turn to wish I had been less gourmande and saved some for my return. A scoop or two would be greatly appreciated today as I keep on editing the pictures I took last week. I promise you Provence – I am just behind on post processing (read, picking my favorites!).
I started this post on Wednesday evening as I was packing to head back home to the US. My suitcase and my heart were heavier than anticipated and I just set this writing bit aside. I am now back home in Charleston and guess what, if it weren't for the heat and humidity here, I would not feel too much out of place. It's indeed rainy and gray. I guess Mother Nature is kindly easing me back into real life.

Yes, these past two weeks were like a dream. As Shauna mentioned to me yesterday, it was quite a profound trip. Absolutely. The reality of my inbox and to-do list this morning is a necessary evil. I am so grateful for the trip I have just had and all the people who took the time to make it this special. I am also very happy to come back to mounds of work. I know I got that from my grandfather. As we were chatting the other day, he exclaimed "I got to go now. I am starting my second century. I am quite busy you see." And now my restlessness makes sense…
We like cold treats in my family. Ice creams, sorbets, gelato. Two scoops, three scoops, sugar cone, wafer cone…you name it, we like it. When visiting my brother in Toulouse, we stopped at Octave one afternoon and it all made sense. Our table was an array of licorice, coffee, violet, pomelo, rhubarb, apricot ice creams and sorbets. Not all at once and all together! I was quite impressed with the decisive palate of my young nieces. Yep. I liked their parents even more, ahah!

It's not that we go for weird and colorful all the time in this family but we like to be tickled. In life, in love and in food. We have curious minds by nature but I admit it took me a while to warm up to the idea of the combination of cool clean melon sorbets in a milky lemony lemongrass sauce. I was even more worried when I served it B., Caitlin and Jeff. They got tickled. They loved it.
I did not come up with it. Richard Leach did. Yes, him again. And I should have known not to question it. It is splendid! The guy is simply amazing. I can't even fathom the finesse and sensitivity of his culinary brain to nail it time and time again.
I know I was skeptical at first, but I am glad my curious mind steered me to try the combo. A pleasant hit of melons, citrus and lemongrass with every bite. The smooth interaction of ice and cream. It all worked. Perfectly.


Watermelon & Honeydew Sorbets With Lemongrass Sauce, adapted from Richard Leach.
For the watermelon sorbet:
4 cups watermelon, seeded and diced
1/2 cup sugar
2 tablespoons lemon juice
For the honeydew sorbet:
4 cups honeydew, seeded and diced
1/2 cup sugar
2 tablespoons lemon juice
For the lemongrass sauce:
2 cups milk
1/2 cup sugar, divided
2 1/2 stalks lemongrass
3/4 cup lemon juice
Prepare the watermelon sorbet:
Combine all the ingredients in a blender and process until smooth. Pass through a fine sieve or chinois. Process in your ice cream machine according to the manufacturer's instructions. Keep frozen until ready to use.
Prepare the honeydew sorbet:
Repeat the exact same steps as with the watermelon sorbet.
Prepare the sauce:
In a medium saucepan set over medium high heat, stir together the milk, 1/4 sup sugar and 2 stalks of lemongrass, finely chopped. Bring to a simmer. Remove from the heat and let sit for 20 minutes. Refrigerate until cold.
In a small saucepan, set over medium high heat, stir together the lemon juice, the remaining 1/4 cup of sugar and the last 1/2 stalk of lemongrass, also finely chopped. Bring to a simmer, remove from the heat and let sit for 20 minutes also. Refrigerate until cold.
Once both mixtures are cold, whisk them together and strain to remove the lemongrass.
Serve with the sorbets.