Rhubarb & Strawberry Crisps – Spring In A Cup!

We have been stocking on the bounty of Spring produce left and right lately. Strawberries, peas, rhubarb, ronde de Nice, baby Vidalias, etc… The farmers market is in full swing and my mind is buzzing with photographs to take of all this beauty.

It was torture however these past two weeks to cook for two and only one could eat. Yes, I had mild complications from the tooth extraction and for two weeks I was barely able to finish a bowl of soup. I would make Bill a meal and send mine through the blender. Eating was problematic so I would set out a my soup and eat a few spoonfuls at a time throughout the day.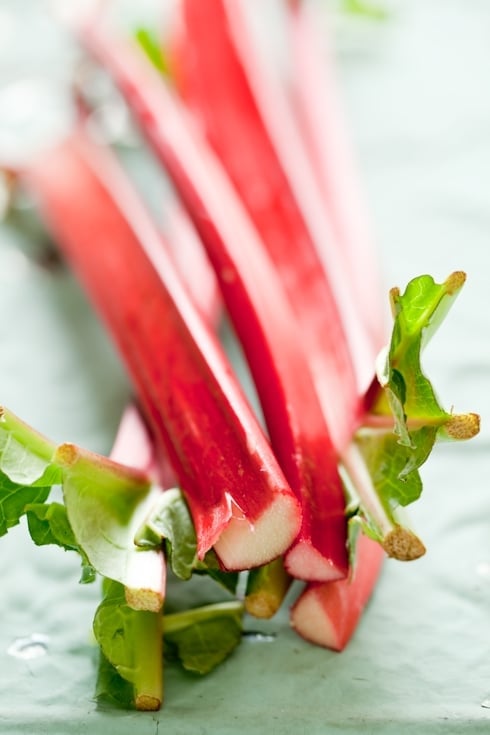 Last Sunday I was finally able to eat my first solid meal. Little bites at a time. I have nothing against soups, I love them, and I became quite creative with mine but I am a chewer so it was getting old! Since we had friends coming over for dinner that Monday and my brain started going crazy happy on the meal planning!

I spent the day in the kitchen chopping, cooking, tasting, anticipating like a child the moment when we would all sit down and share a meal. A good meal. Imperfect, bountiful, mismatched, seasonal. With friends who made me laugh until I was about to burst.

I had prepared dessert thinking we'd be too full for it but I had forgotten about the crew at the table. Gourmands, epicureans, bon vivants. They would not pass on dessert. Especially Rhubarb and Strawberry Crisp. True Summer in a cup. I served them with a creme fraiche ice cream I must make again and blog about soon. Unfortunately there was none left for the photoshoot. That good.
We had the leftover crisps with a little heavy cream whisked just until it gets thick, no whipped and it was just as perfect. Every bit of sunshine on a spoon.


Rhubarb & Strawberry Crisps:
Makes enough for 6 to 8 depending on your ramekins
Ingredients:
For the topping:
1 cup sugar, divided (1/2 and 1/2)
1/2 cup all purpose flour or gluten free flour of your choice (I used millet flour here)
1/2 cup gluten free oats or quinoa flakes
1/4 cup packed light brown sugar
zest of one lemon
1/4 teaspoon ground cardamom
pinch of salt
6 tablespoons cold unsalted butter
For the filling:
juice of one lemon
3 cups chopped rhubarb
2 cups chopped strawberries
3 tablespoons cornstarch
2 teaspoons kirsch or brandy
Crème fraîche, thick cream or ice cream, to serve with (if desired)
Directions:
Preheat the oven to 350F and position a rack in the middle. Lightly butter the inside of 6-8 ramekins and place them on a baking sheet lined with parchment paper.
In a medium bowl, stir together 1/2 cup of the sugar, flour, oats, brown sugar, lemon zest, salt and the cardamom. Add the butter and work it into the flour mixture with your fingertips until crumbly. Cover the cover and refrigerate while you prepare the filling.
In a large bowl, stir together the remaining 1/2 cup sugar and lemon juice with the chopped rhubarb and strawberries. Add the cornstarch and liqueur and fold well with a wooden spatula.
Divide the fruit mixture in between the prepared ramekins. Divide the crisps topping equally over each portion. Bake for about 35 to 40 minutes, until the filling is bubbly and the topping is browned. Top each crisp with a dollop of crème fraîche, thick cream of ice cream if desired.