Swedish Cardamom Rolls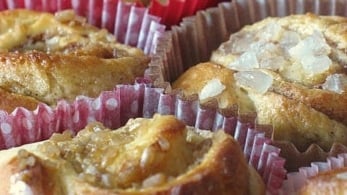 You might be thinking that Tartelette has gone off the deep end, obsessed with cinnamon rolls. Well, obsessed might be a bit big, "me likey some cinnamon rolls" although not grammatically correct would be more appropriate to label my affection for fluffy dough rolls filled with spices. First there were these, then these yummy knockoffs and now these inspired from Anne from Anne's Food.
During our September Daring Baker challenge, she mentioned Swedish cinnamon buns and I instantly remembered the ones my mom used to make during the winter. She had been given the recipe by a Swedish friend of hers, except that Glenna called them "Bole" or something like that. I did not know any other version while growing and fell in love with them the minute my mom pulled them out of the oven. The scent of cardamom wafting through the house was powerful and magical. Cardamom and cinnamon together in the dough is one of the differences with the American type cinnamon rolls, the other one being that each roll is baked in its individual casing (shorter in Europe, I used muffin paper cups) for a shorter period of time.
Within a few hours I was sitting at the kitchen table with a roll and a cup of tea, my eyes closed…and I was back in time 15 years ago listening to my mother and grandmother talking about our Christmas dinner, the food, the table setting, the linens, the decorations, etc…I felt empty and content at the same time. As children, our games and hobby were held in the kitchen or not very far from it (except on holidays where we were outdoors all the time), and little did they know all the wonderful memories I now have of these days of leisurely baking and chatting.
Now grandma is gone and I religiously make her truffles and cake for Christmas, and mom cannot always come and visit as much as she would want (every weekend :)), but there is one thing that I will never forget to make from now on : Swedish Cardamom Buns.

Swedish Cardamom Buns, adapted from Anne whose is based on a recipe from Bara Bullar of Åsa Swanberg
Makes 24
Dough:
2 packs active dry yeast (yes 2, you can't taste the yeast once baked no worries)
1 eggs
2 cups finger-warm milk
1 pound all purpose flour
1 cup light brown sugar
1 1/4 stick butter, softened
1 tsp salt
2 tsp ground cardamom
Filling:
3/4 stick butter, softened
1/2 cup light brown sugar
1/2 Tb ground cinnamon
1/2 Tb ground cardamom
Decoration:
1 egg, beaten with 1/2 tsp water, and a tiny pinch of salt
pearl sugar
In a bowl, dissolve the yeast with some of the tepid milk. Add the rest of the milk, half of the flour and the egg. Leave to proof, covered, for one hour.
Add the rest of the flour, the sugar, salt, cardamom and butter. Work into a smooth and silky dough. Here's when you might need a bit more flour. Transfer the dough to a clean bowl, cover and leave to proof for 30 minutes. Divide the dough into two. Roll out each part to a large rectangle. Spread with butter, and sprinkle with sugar and cinnamon. Roll each rectangle into a tight roll, starting at the long edge, and cut each roll into about 10-12 pieces. Place each piece in a paper cup on a baking sheet (covered with parchment paper so you won't end up with a mess), cover and leave to proof for 30 minutes.Beat the egg with a pinch of salt and 1/2 tsp of water, and brush this carefully on the buns. Finish by a light sprinkling of pearl sugar. Bake at 450°F for 6-8 minutes, until they're as golden as you like them.