Plum – Raspberry Cardamom Crumbles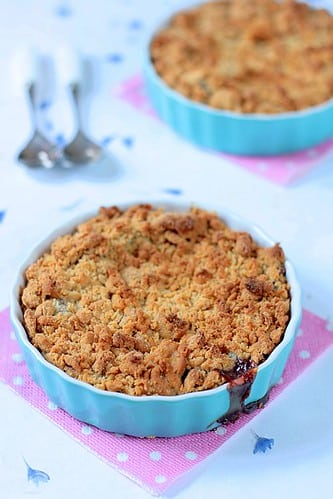 It's been a yucky week….all grey with some rain drops here and there. Rain with warm tempereatures. Thunderstorms and shorts, I'll never get used to this!! I decided to see it as soft and comforting. I baked and I baked without prospect of a good picture taking day. The fridge is overflowing, the freezer is about to get there. In the midst of running out of room in former, I had to start reorganizing the latter. I pulled out one bag each of raspberries and juicy plums to replace them with other desserts that will hopefully be "taken care of". I already told the neighbors to come over for desserts because there is no way B. and I can eat a dozen fast enough. Well we could….but our doctor would not be very happy!
The weather had been threatening us with rain long enough for me to let my guard down and leave the house without an umbrella. Don't ask…Of course I got soaked while leaving the grocery store after a quick run for milk and eggs one early morning!! Actually I was still dripping when I got home that I figured "what's a little longer?" and took the dogs for their long walk. They were wired and going crazy and I needed a quiet house later on to work, not the usual circus of Bailey hanging from Tippy's tail. Once back inside, we were all hungry and in need of a little comforting. I let them chase each other around, that their idea of comfort. Well more like Bailey running like a kid who just put his paw in a plug and Tippy watching, shaking his head as if to say "you crazy dog". I, on the other hand, was craving the comforting smell of a freshly baked crumble and a cup of tea.
Easy, fast, comforting…I don't know about you but at that moment a crumble felt as good as a dry towel.
I tossed together the raspberries and plums and topped them with a streusel topping spiced up with a little cardamom. Thirty minutes and a dry off later, I was rewarded with the wonderful smell of freshly baked "comfort". I exclaimed "you missed all the fun!" when B. got home and saw us all huddled together on the living room floor enjoying the rest of the morning. He saw an extra crumble dish on the counter top and quickly replied "no, I don't think I did" before proceeding to dig in his share with a happy smile. Dessert before lunch….my idea of making the best out of a rainy morning!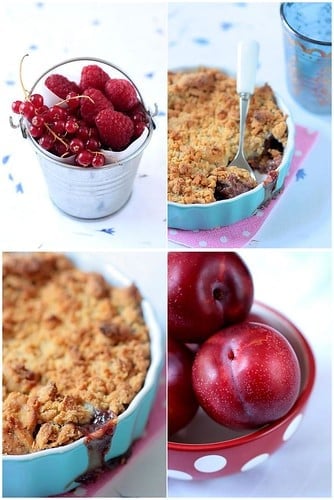 Plum-Raspberries Cardamom Crumbles:
Serves 4
For the fruits:
4 plums, pitted and chopped into small cubes (about one cup diced)
1 cup fresh or frozen raspberries
1/4 cup sugar
zest of one lemon
2 Tb lemon juice
2 Tb cornstarch
Streusel topping:
6 tablespoons butter, cold
1/2 cup light brown sugar
1/3 cup flour
1 teaspoon cardamom
1/2 cup chopped walnuts (optional)
Preheat your oven to 30F.
In a large mixing bowl, combine the fruits and the rest of the ingredients. Toss well, but gently not to break the raspberries too much. Divide between 4 ramequins and place them on a baking sheet as the fruits are most likely to release their juice, causing a spill. Set them aside while your prepare the topping.
In a bowl, combine the sugar, flour, cardamom and walnuts if using. Add the butter cut in small pieces and mix with your fingertips until you get a mixture that ressembles coarse crumbs. Divide th topping evenly among the 4 dishes. Bake for 20-30 minutes or until the topping is golden brown.
You can make this gluten free by substituting the all purpose flour with gluten freee flour or rice flour. Why am I mentionning this? October is Celiac Awareness Month! If you want to venture into gluten free baking, check this article.

Don't forget to enter the drawing to win one of 5 copies of Confetti Cakes for Kids! The contest ends Tuesday October 14th at midnight US Eastern time.