Upside Down Pear Cardamom Cake (GlutenFree)

Growing up, my brother and I did not have any kind of special relationship. We did not dislike each other but we did not like each other either. I guess you could say we had one typical brother-sister relationship. I had crushes on his friends just about every week and he found my friends a bit too Strawberry Shortcake for his taste. We had wrestling fights, screaming fights, pillow fights and he often hid in my closet to scare me before bedtime. Typical.
I often wondered if we would ever find some common ground. Some place of understanding. We did find it when our brother passed away. Right there, in front of me, stood a broken man. He was not this "my brother-this pain in the rear" boy anymore. He was in pieces. I was too. And we picked them up together. We held each other up and found each other then. There is no reason why things happen. They just do. And we knew what we had to do then. And we still do it. Our way.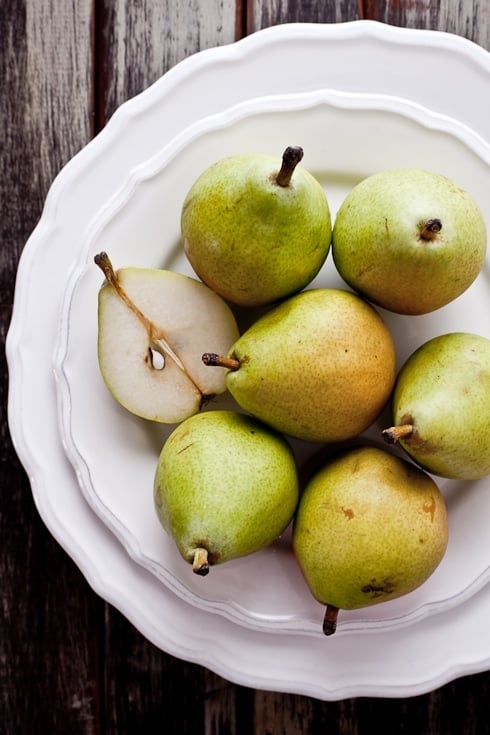 We still don't call each other that often. Or send cards. Or email. He knows I got his back and he's got mine. He's always smart with business and techie advice for me. He loves food and is an amazing cook. He gave me two beautiful and smart nieces.
While chatting on the phone the other day, we were catching up on each other's work, progress, accomplishments and to hear him say that he was proud of me was the biggest validation of my life. Like Christmas had come in March. There was also a pause. Very unusual if you know the speed of my brother's conversations. That's when he dropped a line that I didn't expect…

"Hey, I really like when you write me a post on your blog for my birthday. I also really like when all your virtual friends come wish me a happy birthday." Silence on my part. A bit surprised that he would admit this. I laughed. Out loud. Then I apologized and promised that, yes, I would post something on his birthday. I virtually made him some (gluten free) Upside Down Pear and Cardamom Cakes that we quickly devoured last night.
As a kid, his birthday dinner would always include frog legs with tons of parley and garlic and a chocolate cake with walnuts and oranges that I was not particularly fond of. I did think about making it for him again as a wink to the past but my mom had brought over the new French Saveur and Elle a Table and I kept coming back to the article on upside down cakes in Elle a Table. So many variations from one simple base that it would have been difficult not to find one that suited everyone.

I adapted the base recipe to make it gluten free and added some cardamom to the ripe pears I used in the cake. There is something about pears and cardamom that is almost magical once baked together. Instead of doing the cakes and the caramel with sugar, I used wildflower honey. I am really enjoying baking with sucanat, honey and maple syrup versus regular granulated sugar these days. So much more fragrant. So many more health benefits too.
The cake was moist from the millet and sweet rice flour, oozying with honey and vanilla bean caramel, and the smell permeating the kitchen was unbelievable. We quickly brewed some fresh coffee and sat down with some cake.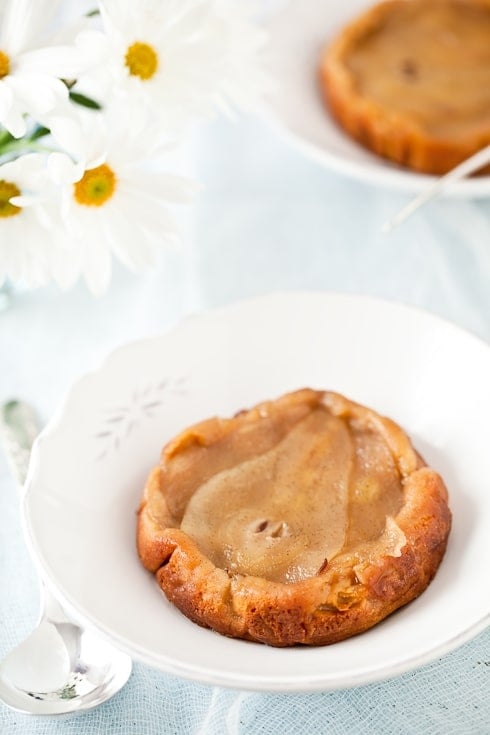 So here's to you Arnaud! Happy Birthday! Joyeux Anniversaire!

Upside Down Pear Cardamom Cakes, adapted from Elle A Table
Makes four 4-inch cake or one 8-inch cake. Serves 6-8
For the honey caramel:
1/2 cup honey
1/4 cup water
1/2 vanilla bean, seeded
For the cake batter:
3 pears, peeled and thinly sliced
3 large eggs
1/2 cup (125ml) honey
1 1/2 (160gr) stick unsalted butter, melted and cooled
3 1/2 oz (100gr) superfine sweet rice flour
2 oz (50gr) millet flour
1/2 teaspoon ground cardamom
Preheat oven to 350F. Line the inside of four 4-inch springform pans or one 8-inch pan with parchement paper. Place the pans on a baking sheet and set aside.
For the caramel:
In a large heavy bottomed saucepan, place the honey, water and vanilla bean seed and bring to a boil over high heat. Reduce the heat to medium and let the syrup simmer down until thickened, should take 5-8 minutes. Remove from the heat. Divide the caramel among the prepared cake pans.
For the cake:
Divide the pear slices among the bottom of each cake pan and set aside.
In the bowl of an electric mixer, beat the eggs and honey on medium speed for about 2 minutes. Slowly add in the melted butter. Add the flours and cardamom and mix until fully incorporated, about 1 minute. Divide the batter in between the pans and bake for 30-40 minutes or until golden brown.
Remove from the oven and let cool to room temperature. Unmold carefully over a plate. Watch out for the oozing honey caramel.