Meyer Lemon Curd and Chamomille Vanilla Mousse Verrines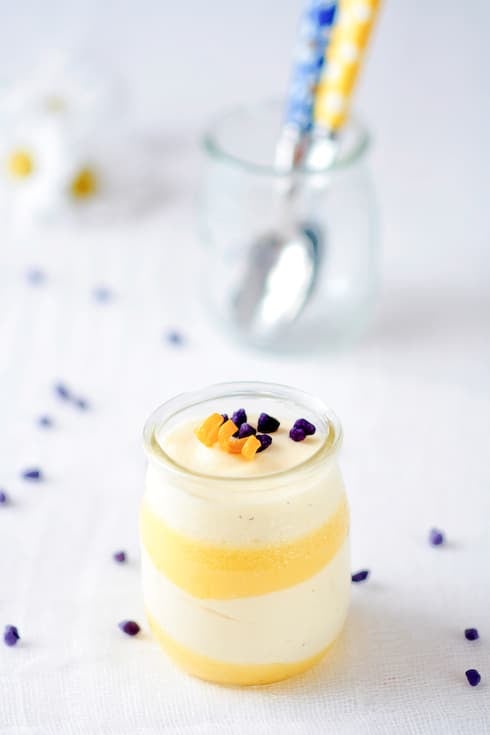 Discombobulated…New favorite word. It's always a bit of a struggle getting things organized with long term guests but there has been a lot of good work getting done. A lot of good meals and good times too. My parents are happily relaxing, talking walks in town, going to the beach, reading,.. with no particular agenda or schedule. Even the pupps are learning "discombulated". There is no telling who is going to walk them, feed them, play with them. All they know is that there are 4 more hands to pet them. Bliss…
Even here it is bit "sans queue ni tete", posting the raspberry mousse tarts with pink macarons before posting about the macarons first. Indeed, a couple days after my parents arrived I made a small batch of pink macarons to go along with a verrine of Meyer lemon curd and chamomille – vanilla bean mousse. Then with the leftover macarons, I made the tarts. I think the mud cake cookie sandwiches were in their right place though. Imagine that!! See…discombobulated again.

With one celiac at home right now, there have been a lot of cremes brulee, cremes caramel, macarons and mousses for desserts. Gluten does sneak everywhere but so far I have been able to keep everybody's sweet tooth happy and healthy. We love citrus. We love colors. We love Spring. I especially love yellow if it is in the form of lemon curd. I am not sure Meyer lemons will be around here much longer so I have been juicing, zesting and freezing away!
Meyer lemons always have a slight cardamom note to me and the curd was very aromatic on its own, but took on a whole other dimension when layered with silky smooth mousse. The mousse itself starts with a pate a bombe which is lightly infused with chamomille leaves and vanilla bean seeds and lighten with some whipped cream. My lovely sister in law sent over a bottle of violet sugar pearls that I sprinkled on top of the verrines. It added a wonderful light flowery Spring note to the verrine and I am looking forward to using it again.

Meyer Lemon Curd and Chamomille Vanilla Mousse Verrine Recipe:
For the Meyer Lemon Curd:
½ cup (125 ml) lemon juice
1 tablespoon (4gr) lemon zest
1/2 cup (100gr) sugar
3 eggs
2 tablespoon (28gr) butter
In a saucepan set over medium heat, combine the lemon juice, zest and sugar and bring to a simmer. Stir occasionally to make sure the sugar is dissolved. In the meantime, whisk the eggs in a medium bowl just until combined. Once the lemon mixture is hot, slowly pour it over the eggs to temper, continuously whisking to prevent the eggs from scrambling. Return the mixture to the pan set over medium low heat and cook until thick. Do not let it come to a full boil or it might separate. Remove from the heat, stir in the butter and whisk until it is fully melted. Cover the surface with plastic wrap to prevent a skin from forming and let cool to room temperature.
For the chamomille-vanilla bean mousse:
3 egg yolks
pinch of salt
1 1/2 teaspoons powdered gelatin
1/4 cup (60ml) cold water, divided
1/2 cup (100gr)sugar
1/4 cup chamomille buds (flowers), chopped
1/2 vanilla bean, split open and seeded
1 cup (250ml) heavy cream
In the bowl of a stand mixer, whisk the egg yolks and the salt. In a small bowl, sprinkle the gelatin over 2 tablespoons of water, and let it sit while you make the syrup base of the mousse.
Combine the sugar, chamomille leaves and the remaining 2 tablespoons of water in a heavy saucepan. Cover and bring to a rapid boil over medium high heat (prevents crystallization of the sugar on the side of the pan). Once the syrup comes to a boil, uncover and cook until the mixture reaches 238F.
Strain the leaves over a container with a spout, it will be easier to add to the yolks. Pour the syrup slowly and into a steady stream into the egg yolks with the machine running on medium high. Melt the gelatin in the microwave for 10 seconds or until dissolved. Add it to the yolk mixture along with the seeds from the vanilla bean and continue to whisk on medium high until it triples in volume and cools to room temperature.
In a separate bowl, whip the heavy cream to soft peaks. Add it to the mousse base and fold the two gently together. Pour the mousse in a pastry bag fitted with a plain tip (I use Ateco #807).
Layer the Meyer lemon curd and the mousse in jars or ramekins and refrigerate if not eaten right away.
~~~~~~~~~~~~~~~~~~~~~~~~~~~~~~~~~~~~~~~~~~~~~~~~~~~~~~~~~~~~~~~~~
I almost forgot…My mom agreed to be a guest blogger here. Yeah! She is however hesitating on what to make. So, which recipe would you like her to make: her famous "ratatouille" or a tart?