Vanilla and Lemon Syrup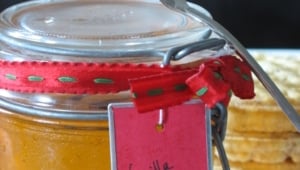 In two weeks we'll be in my hometown in France and then we will have the chance to visit family, go to Normandy, spend a few days in Paris and spend New Year's Eve with my brother, his family and 4 other couples and their kids. This means that we will miss the holidays here and all the decorations and preparations of Christmas in the US, and some people among our friends and relatives here are getting worried that they won't have any holiday sweets because we are leaving…I knew why they really like me now!
The theme here for the first two weeks of December is going to be centered around food gifts and holiday baking.
One year we had difficulties Christmas shopping for the ones around us I decided to make gift baskets for everybody. Some had a theme like "Girls night in", "Movie Night", "Next Camping Trip",…. Some included a gift certificates to the recipients' favorite store, some a homemade card, sachets, picture frame, etc… People liked them so much that they started asking if I was going to do again early October!
Since we are leaving soon and we are already invited here and there for dinner before we go, I decided to start my food gift giving early and post about the different items I will include. There is nothing like something homemade this time of year!
I liked the color and the flavor of this syrup so much that this is where I'll start. Our friends T&D are new foodies but quickly catching up and they like healthful and balance meals as well as the occasional sunday brunch splurge, so this sauce I found on Cooking Light works perfectly next time they make pancakes or waffles. Not too sweet, with a slight tang from the lemon, great consistency.
Vanilla and Lemon Syrup, adapted from Cooking Light:
1 vanilla bean, split lengthwise
2 cups granulated sugar
1 1/2 cups water
1/4 cup fresh lemon juice, strained
1 tablespoon light brown sugar
Scrape seeds from vanilla bean; place seeds and bean in a small bowl.
Combine granulated sugar and remaining ingredients in a medium saucepan. Bring to a boil over medium-high heat, stirring until sugar dissolves. Reduce heat; simmer 10 minutes. Remove from heat. Add vanilla bean and seeds, stirring gently. Cool syrup to room temperature.
Pour syrup and vanilla bean into a glass container. Cover and chill.
Note: Store in the refrigerator for up to 1 month.
Yield: 2 1/4 cups