Matcha And Peach Pate de Fruit Macarons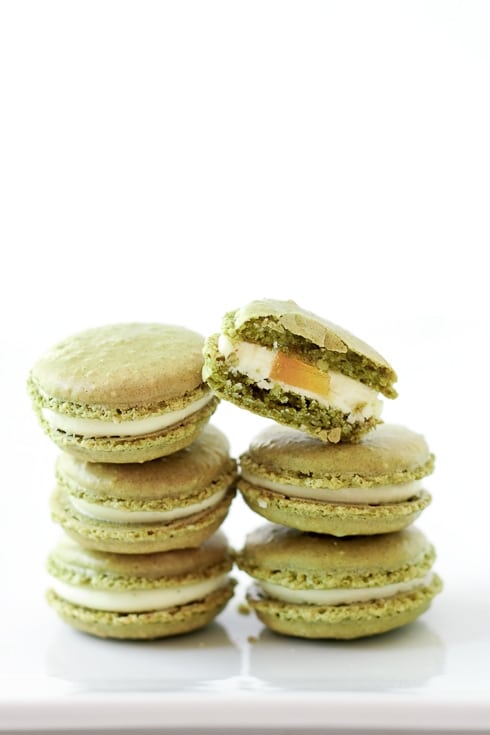 When Spring and Summer roll around, I think in shades of pinks and reds. When Fall and Winter point their nose, I am all about the blues and the purples. Greens are oranges are not my colors. Nope. And yet, the first thing I thought about with the first sign of cooler mornings and breezy nights were Matcha and Peach Pate de Fruits Macarons. Enjoying the last bit of summer produce while cozying up to the subtle taste of matcha tea.
Lately, the mere mention of tea evocates long talks on the porch and a light chill on a late night walk. You can feel the air changing. I can finally feel some coolness under my feet when I let the dogs out early in the morning. I can almost hear the grass crisp up as we come down, ready for us. These first few days of September have really been quite Fall-ish and are probably temporary due a hurricane being just around the corner. Nevertheless, every time this lovely Fall breeze enters the house, we just stop whatever we are doing and enjoy for a few seconds. Even if it is short lived it is worth those few seconds in the day.

When I went to teach Veronica a three dayPastry Bootcamp, she not only gifted me with her hospitality and friendship, but with also a few stashes of vanilla beans, some saffron and a brand new can of the matcha she preferred to use in her macarons. I can see why. From the can to the finish product I could taste and smell the wonderful grassy properties of matcha. If you have never had it before, you might go "wow! what is that?" but trust me it grows on you real fast. It's unpretentious and absolutely delicious in pastry.
I know that our Southern peaches are near their end and I have been stocking, preserving and canning as many of them as I could. This season has been particularly prolific and tasty and as much as it pains me to say goodbye to stone fruits I am happily getting my taste buds ready for pears, pomegranates, apples and pumpkins. Each season is a new palette. Even if it makes me paint in greens and orange which I am so-so about! One thing I have made a couple of times recently is peach pate de fruits. It keeps well, makes great little gifts for my students and is just plain good when the fruits are ripe.
So…in my usual ways, peach in one hand and matcha macarons in the other, I decided to marry the two together in one little perfect bite, mending the bridge between Summer leaving and Fall approaching. Alright, so I was helped by a little mascarpone and vanilla cream in the middle. I had no idea that peach and matcha would be that delicious together. They are. I am making more this weekend!

On a side note, I know that Caitlin and Y are going to be disappointed that I did not do a talking picture post as we joked about while Twittering one night. I was starting to crack up looking at some of the shots and started playing around with captions. Here are some of the outakes for the macarons "beauty" shoot.

One more little thing though before the recipe. There are people you want to meet and there are people you want to meet, eat and laugh with and learn from. For me, Tish Boyle is one of those people. I remember the morning I opened my emails and found one with her name as the sender. I did not click for a few seconds. Really. I turned to Bill and said "if this is not a joke, she emailed me" pointing at one book I love and that she co-authored, Chocolate Passion. I carefully clicked and held my breath. I turned to Bill with the biggest smile ever and said "Tish Boyle wants me!". And we both laughed. Or I snorted my coffee. I can't quite remember. She wanted an interview for the print magazine Desserts Professional, alongside David Lebovitz and Michael Laiskonis. Without hesitation, I emailed back "Yes!" before adding "I love your work". When she responded "I'm honored you even know who I am", I fell in love with her even more, if that was possible. Ugh, hello! I am supposed to say that! Thank you Tish, I am honored beyond belief to be in such good company in a wonderful magazine. You can check the article in their August issue.
Matcha And Peach Pate de Fruits Macarons:
Notes:
Use eggs that have been preferably aged 3-5 days in the fridge. Pierre Herme uses eggs that are aged until they are almost like water, about 5 days. If it's good for Pierre, it'd good for me! The humidity, folding, aging of the eggs (the macs here were made with fresh whites) will affect the outcome. It's all a balancing act of chemistry and action.
For the shells:
90 gr egg whites (30 gr granulated sugar
200 gr powdered sugar
110 gr almonds
1 tablespoon matcha powder
For the pate de fruits:
Notes: I use Certo liquid pectin so I can't vouch for how others might behave. I use a large stainless steel pot so the evaporation and cooking could happen faster.
For a superb pectin free recipe, follow this recipe posted by the awesome Anita from Married with Dinner.
13 oz (380gr) peach puree (weight after you remove skin, pits and processed)
1 tablespoon lemon juice
2 cups (400gr) sugar, divided
3-4 tablespoons liquid pectin
For the mascarpone – vanilla cream:
8 oz (210gr) mascarpone, at room temperature (or substitute cream cheese)
2-3 tablespoons sugar
1 teaspoon vanilla bean paste
or 1/2 vanilla bean, seeded
2 tablespoons heavy cream
Prepare the macarons:
In a stand mixer fitted with the whisk attachment, whip the egg whites to a foam, (think bubble bath foam) gradually add the sugar until you obtain a glossy meringue (think shaving cream). Do not overbeat your meringue or it will be too dry. Place the powdered sugar, almonds and matcha in a food processor and give them a good pulse until the nuts are finely ground. Add them to the meringue along with some food coloring if using, give it a quick fold to break some of the air and then fold the mass carefully until you obtain a batter that falls back on itself after counting to 10. Give quick strokes at first to break the mass and slow down. The whole process should not take more than 50 strokes. Test a small amount on a plate: if the tops flattens on its own you are good to go. If there is a small beak, give the batter a couple of turns.
Fill a pastry bag fitted with a plain tip (Ateco #807 or #809) with the batter and pipe small rounds (1.5 inches in diameter) onto parchment paper or silicone mats lined baking sheets. Let the macarons sit out for 30 minutes to an hour to harden their shells a bit. In the meantime, preheat the oven to 280F. When ready, bake for 15 to 20 minutes, depending on their size. Let cool. If you have trouble removing the shells, pour a couple of drops of water under the parchment paper while the sheet is still a bit warm and the macarons will lift up more easily do to the moisture. Don't let them sit there in it too long or they will become soggy. Once baked and if you are not using them right away, store them in an airtight container out of the fridge for a couple of days or in the freezer.
Prepare the pate de fruits:
Line a 8×8-inch pan with parchment paper and set aside.
Plce the peach puree in a heavy saucepan and add the lemon juice. Stir in 1/2 cup (100gr) saugar and bring the mixture to a boil over medium heat and cook until its temperature register 113F, stirring constantly. Add the remaining 1.5 cups (300gr) sugar and the pectin to the pot and slowly bring the mixture to 200F, still over medium high heat while stirring constantly. Turn the heat down a bit and keep the mixture at 200F for 2 to 3 minutes. Turn the heat back up and slowly bring the mixture to 223F. Keep it there for an additional 2-3 minutes (turn the heat down if necessary to do so). Remove from the heat and immediately pour the mixture into your pan lined with parchment paper. Let set for a couple of hours. Cut shapes with a sharp knife and roll the pieces of pate de fruit in sugar. Refrigerate if not eating all of them at once.
Prepare the mascarpone-vanille cream:
In a large bowl, whisk together the mascarpone and sugar until smooth. Add the vanilla and the heavy cream and whisk until all the ingredients are incoporated. Place the mixture in a piping bag fitted with a plain tip and pipe a dollop of cream onto half of the macarons. Top with a square of pate de fruits and another macaron shell.