Ricotta Cake With Meyer Lemon Curd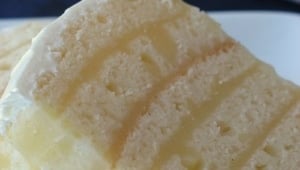 I realize it could sound cliche or a little simple but this cake should really be called "Friendship Cake". It would not have been made, eaten and shared without the giving spirit of great friend:
Over the summer, Mary wrote several posts and shared recipes with Meyer lemons, each more tempting than the next. What started on my part as an innocent "I wish I could find Meyer lemons here" became a tortured "Mary, please send me some, I'll pay for shipping!". Believe me, I searched everywhere in town for the coveted lemon and nothing…people would even give me the odd "why is it so important?". Well, if you have been reading this blog for a while you know by now how much I love anything and everything lemon, sour, tart, tangy and if bloggers on the west coast keep waxing poetic about the fragrant Meyer lemon, then I need to know what one tastes like.
Well, the postman rang the doorbell the other day handing B. a pretty heavy box and he exclaimed "It's for you! From California"….Oh gosh, did I make a Recchiuti purchase in my sleep? Did I sleep walk to the computer and ordered Banana Cream Pie from Tartine?…No peeps…even better: Mary had sent me a box full of Meyer lemons! My eyes grew bigger, my tastebuds all awaken by the fragrance coming out from under the newpaper padding. I am aware that we all make food discoveries throughout our life but when you are of age to really enjoy what is under your nose, the experience is quite intoxicating. I have never had a lemon that tasted like a sour clementine with a faint smell of cardamom before. I am sure others will find that funny, but yes, I smell that spice everytime I bring one of those lemons to my nose…and it makes me happy!
I received Mary's gift on friday and I have already put them to good use, not only with this cake, but in a batch of plum jam where I used the rinds to flavor the preserve, in sauces, ice creams and other cakes…just to give you a preview of things to come.
I was craving my beloved yogurt cake sunday afternoon but I wanted to try another recipe, something of the same substance but that would allow me to use the Meyer lemons as well as other ingredients. I was thinking ricotta instead of yogurt, and before following my usual recipe I decided to browse the web. Boy am I glad I did! I think I spent over an hour on both Sigrid's blogs, looking at her magnificient photography and pretending to speak Italian fluently (!) and stumbled upon a recipe for a lemon ricotta cake from the sardinia region of Italy. Bingo! Fate!Kismet! or whatever else you find appropriate. I did not change much but reduce the sugar a bit. I also baked the cake in a rectangular pan and cut it in 5 long pieces, cut these in 3 separate layers and layered them with a light lemon curd filling(no butter in the cake or the curd). Perfect for an afternoon tea. I have to say that this is one of the desserts that never made it to the neighbors: I cut and froze slices so I could savour my precious loot for special times. You know, when you feel like bringing a friend closer to you although they are miles away, like tonight.
Mary, thank you. I truly hope that one day our paths do cross, in the kitchen and around a homemade meal. Yes folks, I have a wonderful friend, and I have never met her.

Ricotta and Lemon Cake, adapted from here:
300 gr flour
200 gr sugar
300 gr. ricotta
3 eggs, separated
1 lemon , zest and juice
2 tsp. baking powder
Preheat oven to 350F.
In a large bowl, combine the ricotta and sugar. Add the egg yolks, the lemon juice and zest, then the flour and baking powder. In the bowl of an electric mixer, whip the egg whites until stiff and getly incorporate them to the egg/flour batter.
Butter and flour a 13×9 inch baking pan and pour in the batter. Bake for 40 minutes or when a toothpick inserted in the middle come out clean. Let cool completely.
Divide the cake in three lenghtwise and 5 crosswise. (you may have leftover slices…just eat them plain or with a touch of jam). In a large loaf cake pan line with plastic wrap, layer slices of cake and Meyer lemon curd. Refrigerate. Slice and eat when you are ready!
Meyer Lemon Curd Filling:
grated zest of 2 Meyer lemons
1cup strained lemon juice
1/2 cup sugar
2 eggs
1 packet gelatin, dissolved in 1/3 cup of water
Combine the zest, sugar, juice in a saucepan, and bring to a simmer.
In a small bowl, beat the eggs until light.Beat some of the lemon mixture into the eggs to temper. Scrape the mixture back into the saucepan and cook stirring constantly until it thickens up, about 5 minutes. Meanwhile, heat the gelatin in the microwave until dissolved, about 30 seconds. Remove the curd from the heat, stir in the gelatin and whisk until well incorporated. Let cool to room temp and use to fill the cake.
Strain and refrigerate, covered with plastic wrap until ready to use.
Update: I realize I forgot to tell you what I used on top of the cake. I took about /2 cup to 3/4 of mascarpone and mixed in some honey and iced the top with this. I have done similar cakes with sour cream or cream cheese instead, worked as well.